Package Blower System Speeds Facility Construction
Litchfield Park Service Co. ("LPSCo") and SunCor Development approached Pacific Environmental Resources Corp. (PERC) in early 2000 requesting that the company construct...
Oct 1st, 2003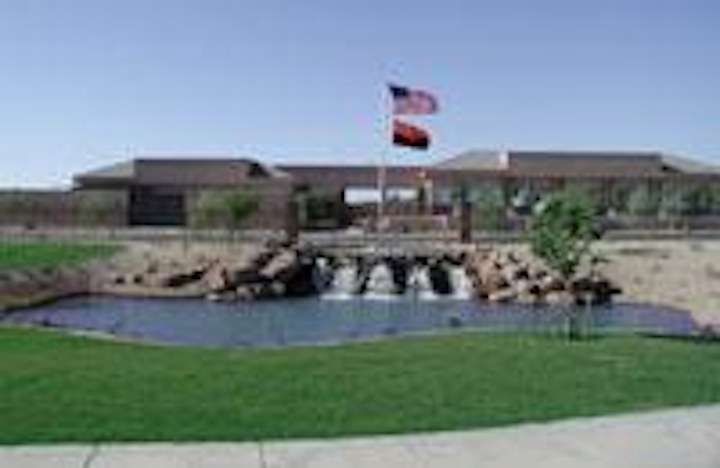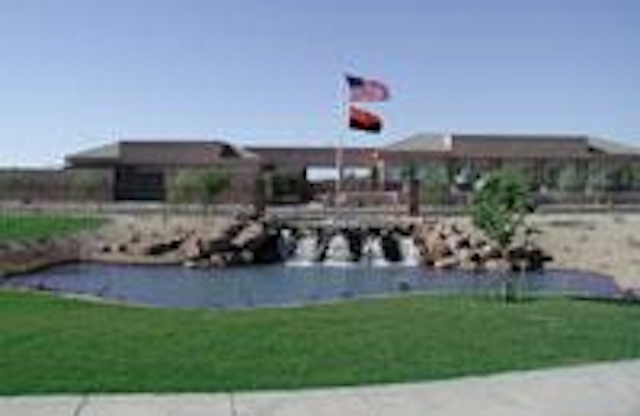 The aesthetically pleasing and environmentally friendly Palm Valley WRF is a welcome neighbor for several growing communities.
Click here to enlarge image
Litchfield Park Service Co. ("LPSCo") and SunCor Development approached Pacific Environmental Resources Corp. (PERC) in early 2000 requesting that the company construct a new multi-phase, technologically advanced wastewater treatment facility. The plant had to produce the highest quality effluent possible and be neighbor-friendly enough to be placed directly within the surrounding communities of Pebble Creek, Palm Valley, Litchfield Park and portions of Goodyear, AZ.
PERC is a design / build / operate company that provides scalable and modular treatment facilities delivered under a single contractual agreement. Clients enjoy the benefits of a small footprint, accelerated schedule to startup, guaranteed capital cost, lower operating costs and guaranteed facility performance. Key to the reduced space requirement and environmentally friendly design is the Omega-paK rotary lobe blower packages from Kaeser Compressors installed in all PERC WRFs.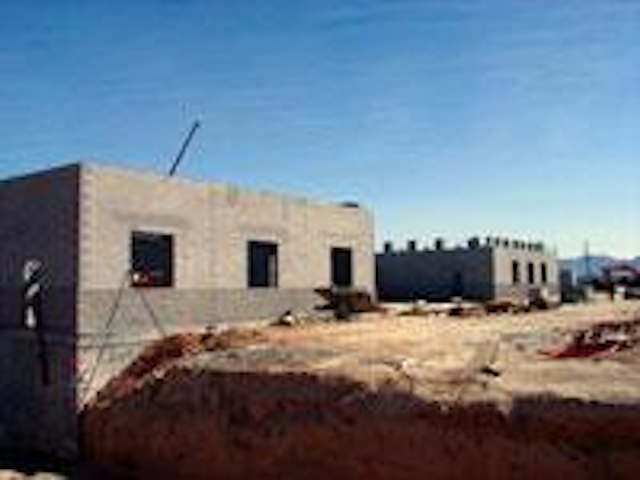 The unique, total solution concept of PERC's facilities allows an accelerated construction and start-up schedule.
Click here to enlarge image
Palm Valley WRF features the PERC Activated Sludge Process™ (ASP) technology using sequential batch reactors incorporating an advanced biological nutrient removal process, an Auto Thermophilic Aerobic Digestion (ATAD) process and UV disinfection.
Kaeser Compressors' Omega-paK FB 620 100 hp rotary lobe blower packages are an integral part of the PERC ASP™ design and are used in both the biological process train and biosolids stabilization. Kaeser's equipment also provides air to the facility's jet aeration system, which is crucial to ensure the system produces high quality effluent.
There are six FB 620 packages installed in the Palm Valley WRF. Their space-saving design allows service access but requires minimal floor space. In fact, the Omega-paKs require approximately 40% less space than competitive blower packages. PERC is able to significantly reduce the overall size of its facilities due to this feature. The energy-efficient packages offer reduced pulsations to protect piping and extend the service life of downstream aeration and diffuser equipment.
The blower units also feature sound-dampening enclosures that reduce noise levels to approximately 76 dB(A) – low enough to hold a conversation right next to an operational unit. Palm Valley was the first PERC facility to use these blower packages, and because they exceeded all quality and performance expectations, the blower packages are now incorporated into every WRF that PERC designs and builds.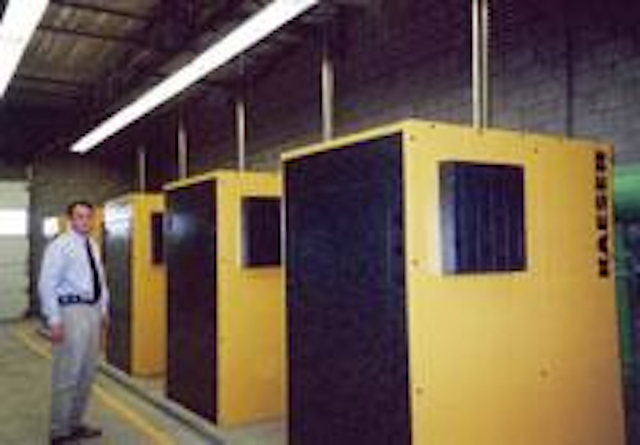 Steve Owen from PERC reviews the finalized installation of six FB 620 100 hp Omega-paKs.
Click here to enlarge image
The facility's operation is quiet, odorless, and extremely efficient – standing only 150 feet from the neighboring property. In fact, the facility is so neighbor-friendly that a housing development is planned directly across Palm Valley WRF's property line.
The facility features brick accents and professional landscaping. Because it has such a small footprint and all offsite odors are eliminated, LPSCo was able to incorporate a park highlighted by an elaborate water feature using 100% effluent from the facility. The West Valley Fine Arts Center also designed an art piece that resides in the park, entitled "Recylcamation!" representing mankind's impact in both harming and preserving the Earth.
PERC's design/build/operate approach delivered a total solution for LPSCo, Suncor, and Palm Valley WRF. The company was able to open an Arizona Department of Environmental Quality (ADEQ) Class A+ treatment facility in less than 18 months from start to finish.
Palm Valley WRF is currently operating in its first phase and processes 4.1 mgd. The second phase will provide an additional 8.2 mgd in capacity. Palm Valley WRF's effluent is guaranteed to meet ADEQ Class A+ standards and is currently being used to irrigate four golf courses and for spray irrigation on agricultural land. The effluent may also be used for ground water recharge into the surrounding area.
In the future, Palm Valley WRF will expand beyond the planned phases to include an additional set of buildings and treatment tanks to support the growth of the surrounding communities.
For more information regarding PERC and Palm Valley WRF, please contact sowen@percwater.com. For more information on Kaeser Compressors and their Omega rotary lobe blowers, please contact info.usa@kaeser.com.