NEW PRODUCTS
Palintest has introduced a the Photometer 8000, which can analyze all of the major inorganic constituents of water together with treatment additives and pollutants.
Oct 1st, 2003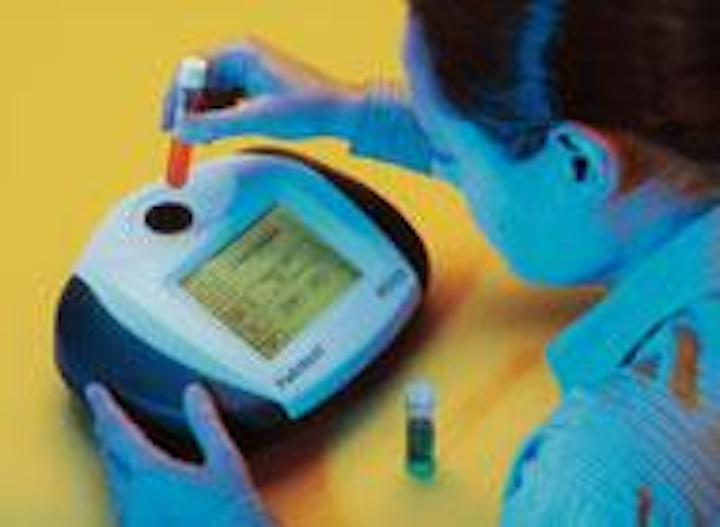 Photometer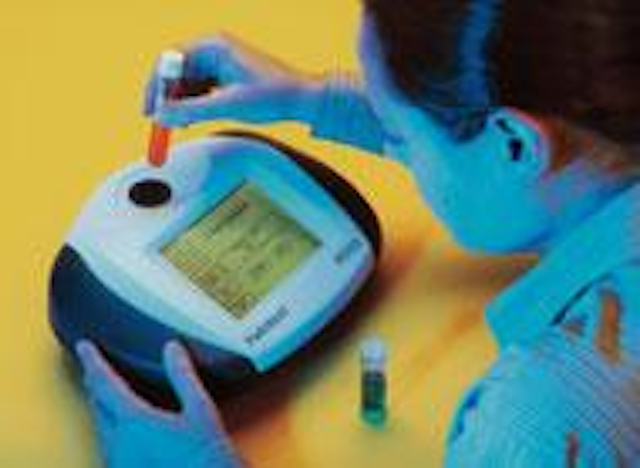 Click here to enlarge image
Palintest has introduced a the Photometer 8000, which can analyze all of the major inorganic constituents of water together with treatment additives and pollutants. The photometer features an enhanced optical design that uses light to measure color change sin water samples treated with the company's test reagents. It features automatic wavelength selection and test recognition via a unique optics system using precision lenses to focus the light source and a reference reading.
Palintest USA
Erlanger, KY
Tel: 800-835-9629
Web: www.palintestusa.com
Leak detector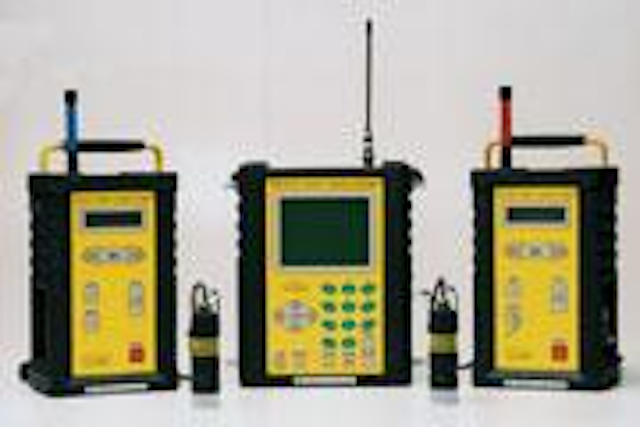 Click here to enlarge image
The new LC-2500 Leak Noise Correlator from SubSurface Leak Detection correlates four times faster when compared to the LC-2100. The radio transmitters also are four times more powerful, transmitting up to 3500 feet to the main processor unit. The correlator main unit has a 24-bit digital signal processor and a large LCD display with automatic temperature adjustment, allowing
SubSurface Leak Detection Inc.
San Jose, CA
Tel: 408-249-4673
Web: www.subsurfaceleak.com
Leak diverter system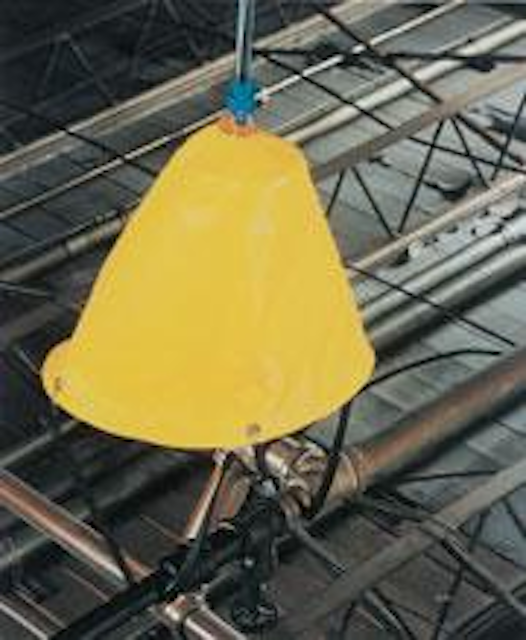 Click here to enlarge image
New Pig offers the Pig® Leak Diverter System™ for pipes. Designed to protect workers, floors and equipment from leaking pipes, the system features flexible collection funnels that hang from pipes and redirect leaks to floor drains or containers via a standard garden hose connection. The system's 18 oz. coated vinyl construction is durable and reusable. In addition, an 18" diameter top opening allows a large leak volume with a flow rate of 3.33 gal/min when used with 1/2" hose. New Pig Corp.
Tipton, PA
Tel: 814-684-0101
Web: www.newpig.com
Pipe couplings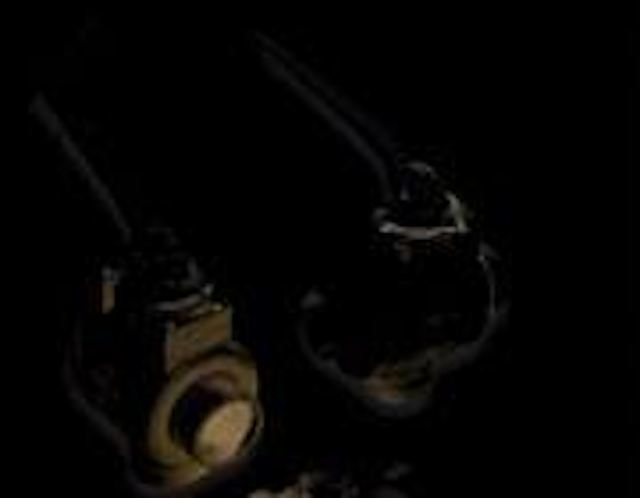 Click here to enlarge image
Anvil's Gruvlok® Figure 7400SS Coupling is standard material ASTM A743 CF8M (Type 316) cast stainless steel, which is ideal for corrosive environments. Any of the company's gasket material, including the patented Gruvlok® "S" gasket for steam services, may be used in the 7400SS coupling for a broad array of applications. The company's stainless steel fittings are full flow design with ends grooved to specifications.
Anvil International, Inc.
Portsmouth, NH
Tel: 603-422-8000
Web: www.anvilintl.com
Polymer mortar pipe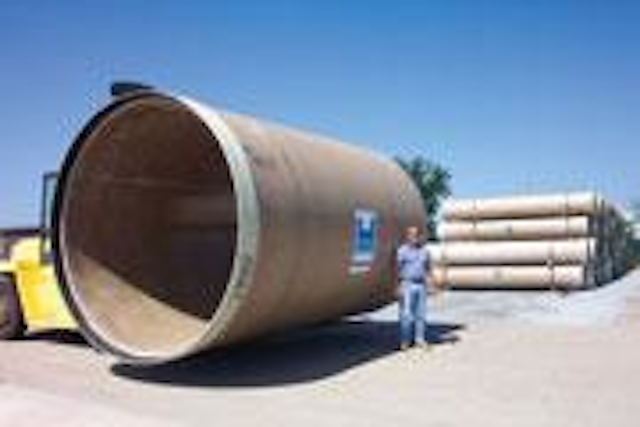 Click here to enlarge image
Hobas Pipe USA has added another larger size to its product line. The company now offers 110-inch diameter, centrifugally cast, fiberglass reinforced, polymer mortar (CCFRPM) pipe. Because of its thin wall construction, the pipe achieves this ID with an OD of only 114 inches. It is suitable for direct bury, sliplining, microtunneling and above ground installation for new construction and rehab.
Hobas Pipe USA, Inc.
Houston, TX
Tel: 800-856-7473
Web: www.hobaspipe.com
Submersible pump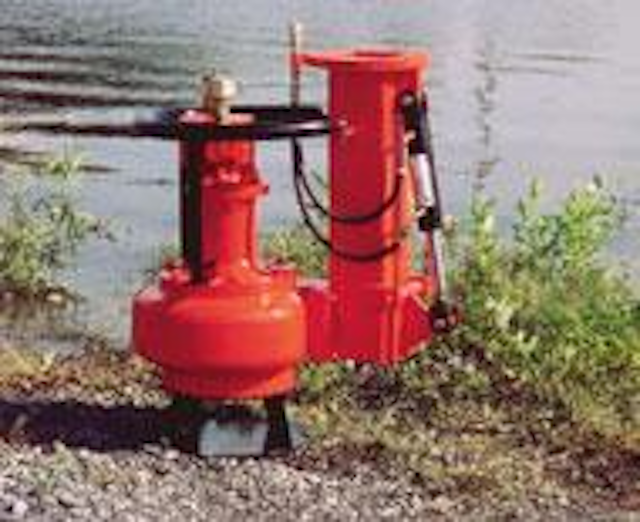 Click here to enlarge image
A new hydraulic driven submersible pump from Godwin Pumps handles thick, solids laden liquids and up to 5-inch diameter solids. A remote actuated "slurry gate" enables the pump to be used as a mixer in applications where sludges are so thick they are initially unpumpable. After mixing to a pumpable consistency, the gate can be closed and the sludge pumped away. Uses include municipal wastewater treatment plant sludge tank cleaning and emptying.
Godwin Pumps
Bridgeport, NJ
Tel: 856-467-3636
Web: www.godwinpumps.com
Hydrant flusher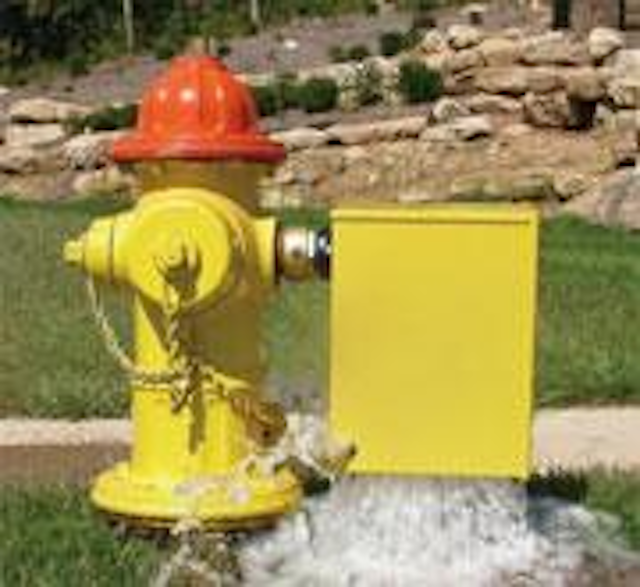 Click here to enlarge image
To keep residuals high at dead-ends automatically, Kupferle Foundry has released it's new #9700 Automatic Hydrant Flusher. The flusher attaches to any 2 1/2" NST nozzle, and then the flushing cycle can be selected, usually at night. Man-hour savings can be realized by flushing troublesome dead-ends without sending personnel.
Kupferle Foundry Co.
St. Louis, MO
Tel: 800-231-3990
Web: www.blow-offs.com
Mixing system
The SolarBee is a solution for solving mixing problems in finished water reservoirs and tanks. The solar-powered, high flow, low energy circulator can be installed inside a reservoir/tank with the solar panels mounted on the outside. If chemicals are used, a chemical injection unit can be supplied with the injection line run to the intake of the circulator so it can be used to disperse and completely mix the chemicals in the reservoir/tank.
SolarBee® - Pump Systems, Inc.
Elk City, OK
Tel: 800-243-2915
Aluminum doors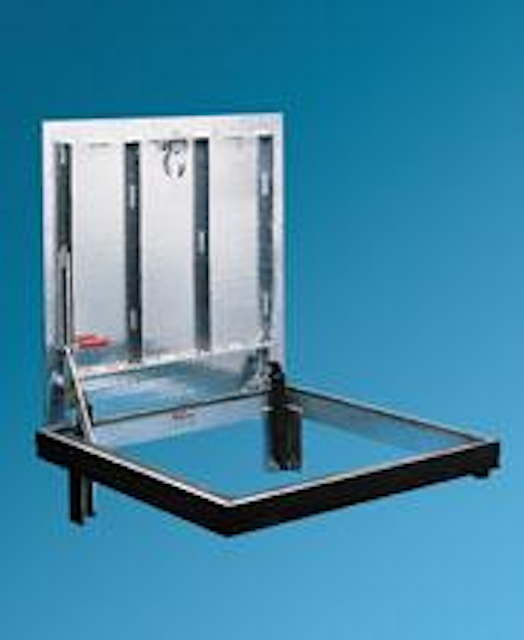 Click here to enlarge image
Bilco's J-AL Door can be used in most corrosive environments and is ideal for use in wastewater treatment facilities. Available in single- or double-leaf design, the aluminum door is designed to provide access to areas located underground or beneath/between floors. The doors can be operated by a single person, and function dependably in harsh environments. Special anti-corrosion hardware includes forged aluminum hinges, a 5086 aluminum cover plate, electrostatically coated compression springs and advanced composite spring housing assemblies.
Bilco Inc.
New Haven, CT
Tel: 203-934-6363
Web: www.bilco.com
Radio systems
The new Dataradio OIP, the latest product to enhance the Integra-TR product family, allows customers to construct a reliable IP/Ethernet network over licensed radio frequencies. The system optimizes IP/Ethernet communications by using sophisticated compression techniques. It is equipped with two different modes of operation, an easy-to-use transparent bridge mode or an advanced router mode. The system allows users to form multi-hop store and forward networks, which significantly reduces the need for expensive infrastructure, lowering the total cost of deployment.
Dataradio Inc.
Waseca, MN
Tel: 800-992-7774
Alignment tool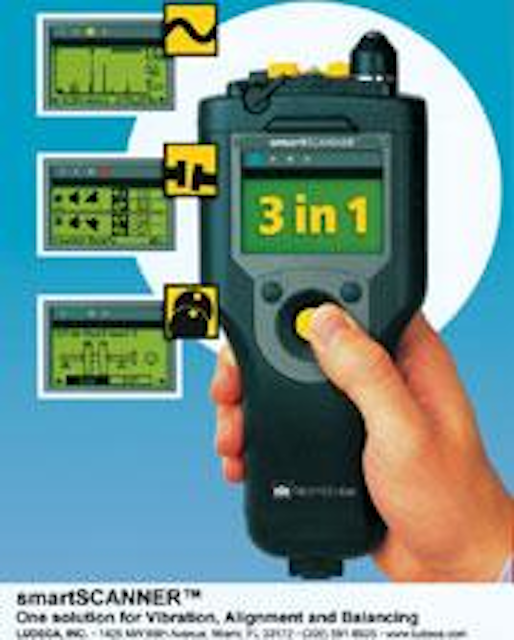 Click here to enlarge image
The smartScanner™ from Ludeca is a joystick operated combination tool for corrective and predictive maintenance tasks on rotating machinery. It offers data collection machine analysis and correction. Shaft/coupling alignment and rotor balancing address two of the most frequent causes of rotating machinery damage or failure, and the vibration module permits collection and trending of vibration data to observe the development of problems, allowing maintenance to take remedial action before damage occurs.
Ludeca Inc.
Miami, FL
Tel: 305-591-8935
Web: www.ludeca.com
Clamp-on flowmeters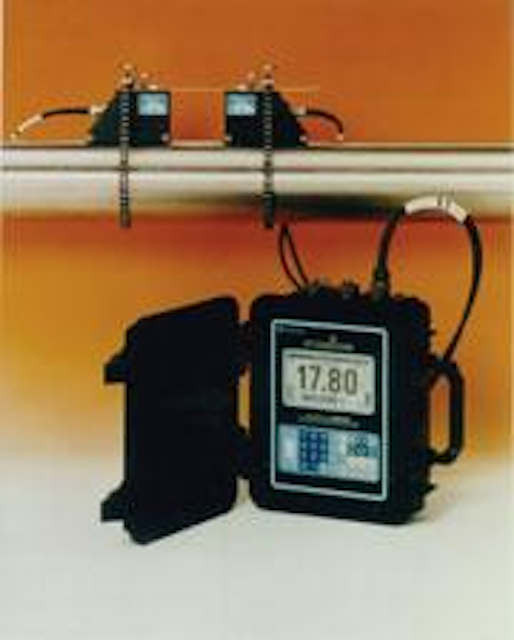 Click here to enlarge image
Controlotron's System 1010WP is a clamp-on flowmeter available in submersible configurations for use on virtually all-full pipe applications including pump performance monitoring and testing. Options include a pipewall thickness gauge, single or dual channel or path operation and Reflexor™ mode for liquids with medium to heavy suspended solids or aeration. The flowmeters support all industry standard data inputs and outputs such as; 4 to 20 mA, 0 to 10 vDC, RS – 232, pulse frequency, alarm relays. They can measure the flow in pipes from 1/4" to 360."
Controlotron Inc.
Hauppauge, NY
Tel: 631-231-3600
Web: www.controlotron.com
Composite wastewater sampler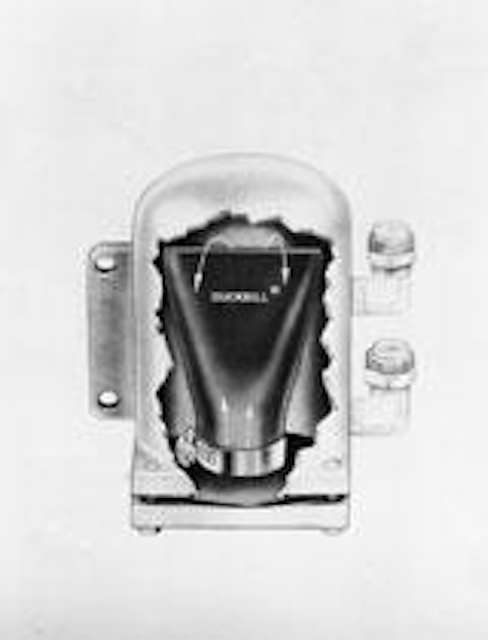 Click here to enlarge image
Markland's Model 105 Composite Sampler operates with no mechanical moving parts. Pneumatic remote sampler heads are available in aluminum, stainless steel or PVC. Air post-purge and 70 ft. sample lift are standard. Samples can be clock or flow proportional, and an external connection is provided to activate the sampler from other instrumentation, such as pH, conductivity, liquid level, etc.
Markland Specialty Engineering Ltd.
Rexdale, Ontario
Tel: 416-244-4980
Web: www.sludgecontrols.com
Ammonia, nitrate analyzer
The Myratek® Sentry C-2™ Analyzer provides real-time measurement of ammonia and nitrate levels at any point in the treatment process -- even in the heaviest mixed liquor. The analyzer's patented collection chamber captures and evaluates a sample on the spot. The analyzer is calibrated in the actual environment it will measure. It uses a sophisticated mathematical algorithm to self-calibrate at the point of use, taking into account water quality, temperature and other factors.
Myratek Inc.
King of Prussia, PA
Tel: 610-265-8620
Web: www.myratek.com
Sampling valve
The Quik™ Sampling Valve from Strahman Valves is designed for taking a quick sampling where a small, controlled sample is desired. Employing a combination of both rising stem and quarter-turn valves, the sampling valve enables the liquid flow to be regulated during the sampling process. A custom, ergonomically designed handle provides a lock-in-place feature for operator safety. An automatic quarter-turn actuator can be mounted to the valve pad as well.
Strahman Valves Inc.
Florham Park, NJ
Tel: 215-504-9215
Web: www.strahmanvalves.com
COD test method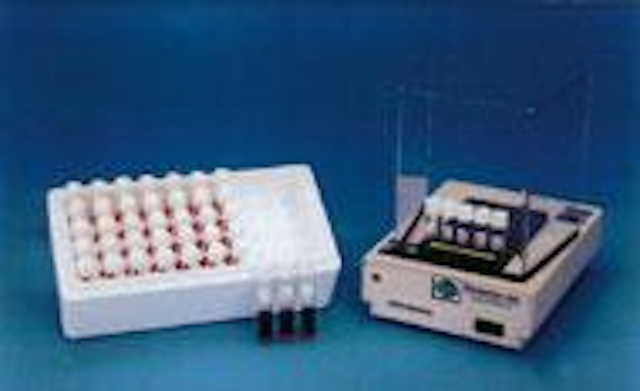 Click here to enlarge image
The accu-Test™ COD test method, available from Bioscience, can now be used for evaluation of wastewater. COD measurements are often used to predict BOD and determine waste strength when EPA reporting is not required. The colorimeter-based test uses the EPA accepted micro-version of the Standard Methods procedure.
Bioscience Inc.
Bethlehem, PA
Tel: 610-974-9693
Web: www.bioscience.com
Polymer mixing
Severn Trent Services has introduced a new liquid polymer blending unit enhanced with a programmable logic micro-controller, the Semblex® Polymax Series L. The compact system introduces and activates the polymer solution using a two-stage tapered mixing system, avoiding damage that can be caused by high-energy, high-sheer devices.
Severn Trent Services
Fort Washington, PA
Tel: 610-269-2100
Web: www.severntrentservices.com
Nitrification system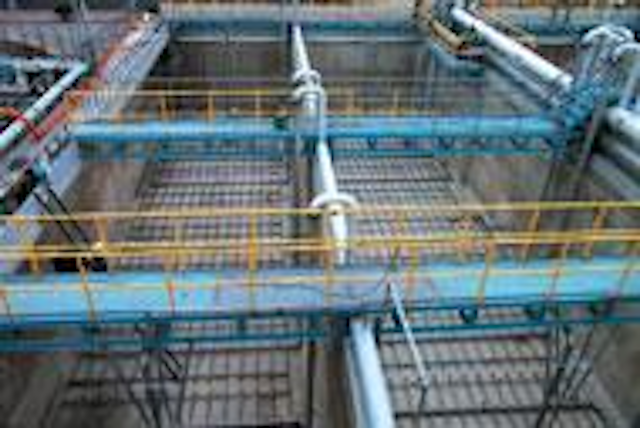 Click here to enlarge image
Kaldnes North America can upgrade an existing BOD plant into a total nitrification system or increase capacity of an existing nitrification plant to meet new higher projected flows. By using the company's method, the solids inventory in the current wastewater treatment system will multiply without increasing the solids load to the existing clarifiers. The Kaldnes Moving Bed™ Biofilm Reactor process is comprised of the company's media, Medium Bubble Aeration System and engineered Kaldnes Screen Assembly where the buoyant elements are kept in constant motion throughout the entire volume of the reactor.
Kaldnes North America
Providence, RI
Tel: 401-270-3898
Web: www.kaldnes.com