PRODUCTS & SERVICES--PUMPS
The FPU500 Series peristaltic pumps from Omega offer variable flow capability. A motor turns the pump's rollers, which squeeze fluid through precision bore tubing in a wave-like motion.
Oct 1st, 2003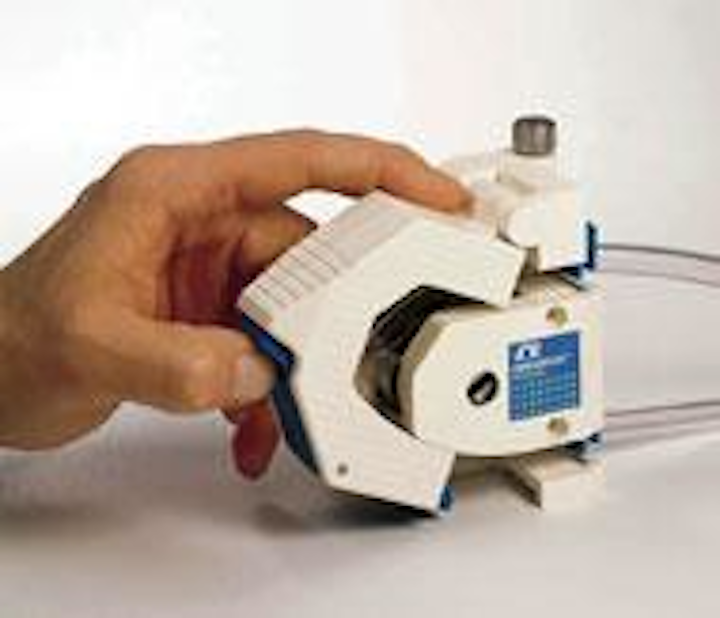 Peristaltic pumps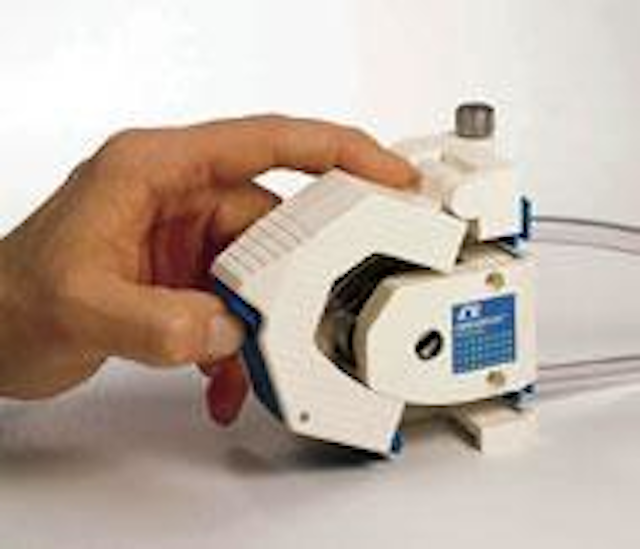 Click here to enlarge image
The FPU500 Series peristaltic pumps from Omega offer variable flow capability. A motor turns the pump's rollers, which squeeze fluid through precision bore tubing in a wave-like motion. The fluid does not contact the pump. This makes the pumps ideal for use in sterile, corrosive, or general fluid flow operating environments. The pump is self-priming and non-siphoning. As one section of the tube fatigues, simply move the tube along to an unused section and continue pumping. No tools are required to load the tube. One pump may be used for many different applications, or mount two pumps onto the motor.
Omega Engineering Inc.
Stamford, CT
Tel: 203-359-1660
Web: www.omega.com
Diaphragm metering pump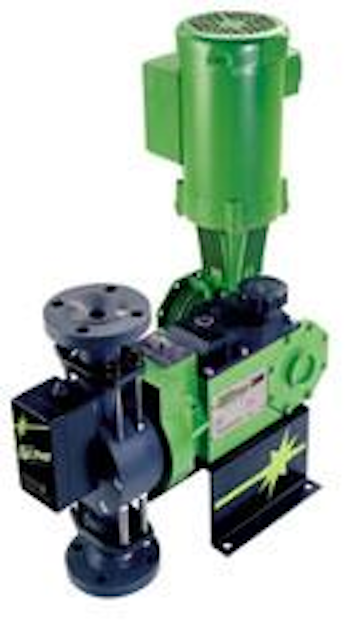 Click here to enlarge image
Pulsafeeder's newest pump features a patent pending vapor handling system that ensures dosing accuracy with a true diaphragm metering pump. The new Pulsar HypoPump® meters sodium hypochlorite and its vapors effectively and efficiently. It offers simplified maintenance, less downtime, higher productivity and lower cost of ownership.
Pulsafeeder, A Unit of Idex Corp.
Rochester, NY
Tel: 585-292-8000
Web: www.pulsa.com
Vertical turbine pump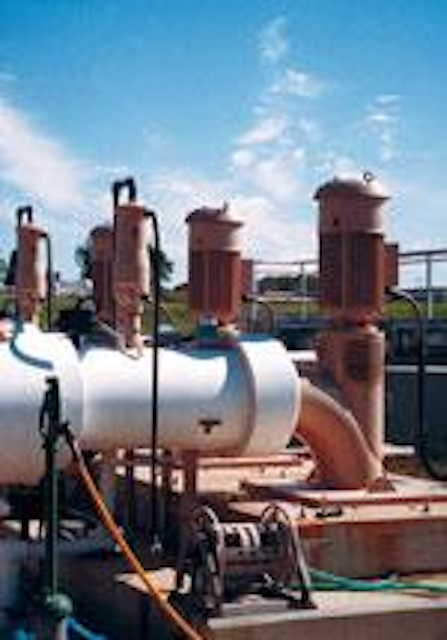 Click here to enlarge image
Patterson offers the MPVT®, a solids handling pump with improved hydraulic performance and efficiency, along with low vibration and noise levels. Its life span can be up to four times longer than submersible competitors.
Patterson Pump Co.
Toccoa, GA
Tel: 706-886-2101
Web: www.pattersonpumps.com
Submersible pumps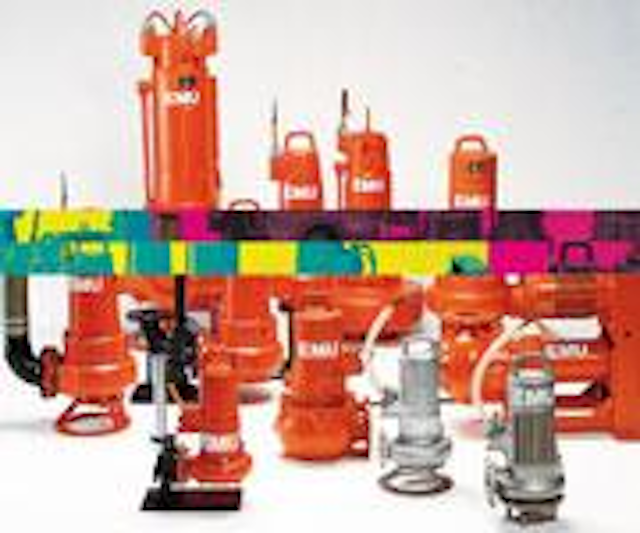 Click here to enlarge image
Submersible EMU pumps from USFilter David Products are totally sealed, with an entirely self-contained cooling technology that functions equally well when completely submerged or when standing exposed day after day in the baking sun. Cooling is accomplished by an internal heat exchanger that allows the hot oil to dump its heat load to the liquid being pumped. The spiral shaped heat exchanger keeps the oil in contact with the pumped liquid long enough to assure that at least 85% of the heat is exchanged.
USFilter Davis Products
Thomasville, GA
Tel: 800-841-1550
Web: www.usfilter.com
Metering pump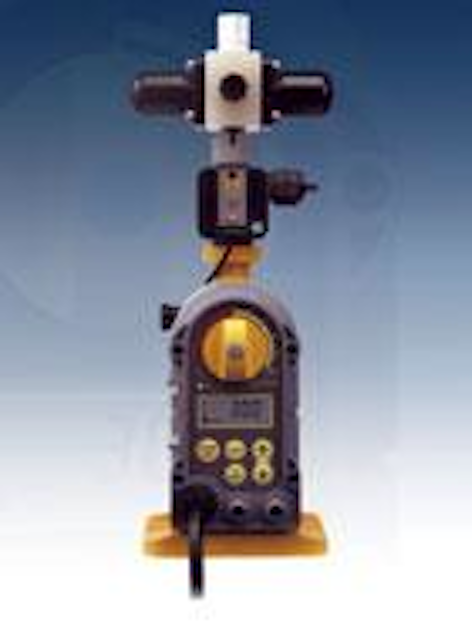 Click here to enlarge image
The new PZiA Electronic Metering Pump from Neptune Chemical Pump Co. features an integrated, automatic discharge volume control. Special circuitry is built into the unit to allow for on-board calibration of pump flow under actual process conditions. Once calibrated, the pump can be set to a flow rate, or an analog signal can define the flow rate. The pump will then automatically adjust to maintain the precise flow rate, automatically compensating for changes in temperature, pressure or viscosity. The pump includes a Flow Checker for verification. The Flow Checker is an oval gear meter, which transmits actual flow data to the pump controller. The pump speeds up or slows down as necessary to maintain the required flowrate. The discharge volume during calibration, the instantaneous pump flow rate, or progress during batch operation is displayed on the pump's backlit LCD display, allowing for measurement without the need for stopping pump operation.
Neptune Chemical Pump Co., Inc.
Lansdale, PA
Tel: 215-699-8700
Web: www.neptune1.com
Progressing cavity pumps

Click here to enlarge image
Progressive cavity pumps in exotic materials resistant to aggressive chemicals are now available from seepex. These pumps are designed for metering NaOCl, FeCl3, H2SO4, NaOH, HCl and strong acids and bases. Pump bodies are constructed of HDPE or cast metal with Halar® linings. Wetted rotating parts can be constructed of AISI 316ti, duplex stainless steel, Hastelloy® or titanium. These pumps do not pulsate and can be fitted with a variety of variable speed drives.
seepex, Inc.
Enon, OH
Tel: 937-864-7150
Web: www.seepex.com
Variable speed pump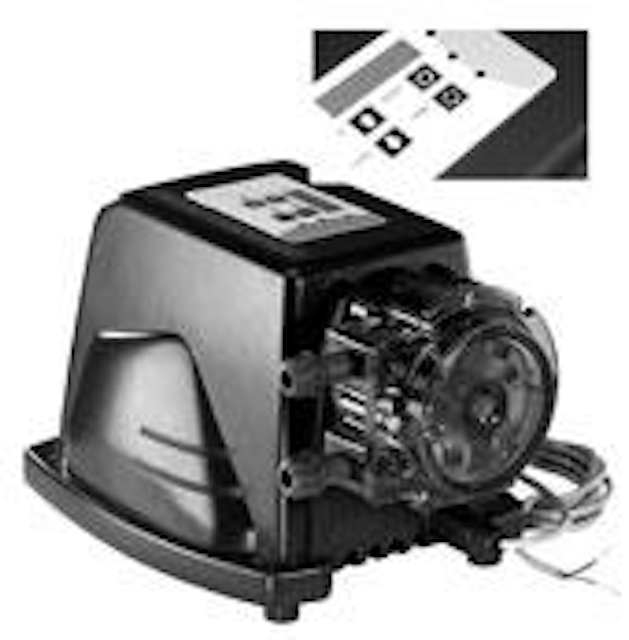 Click here to enlarge image
G.H. Stenner has introduced the SVP Series, a new variable speed peristaltic metering pump with optional 4-20 mA input for automatic control. Capable of 1.66 gph at 100 psi and 3.5 gph at 25 psi, the series is designed to respond directly to a 4-20 mA input signal from water treatment controls including pH and ORP monitors to maintain proper water chemistry and treatment of effluent discharge water. It features a 4-button keypad for manual adjustment and an LED display for easy viewing.
G.H. Stenner & Co., Inc.
Jacksonville, FL
Tel: 800-683-2378
Web: www.stenner.com
Thermoplastic pumps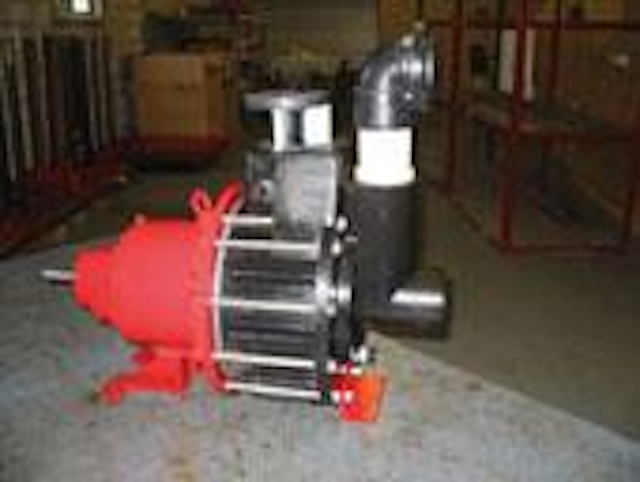 Click here to enlarge image
The new Vanton line of heavy duty self-priming, magnetically driven horizontal end suction centrifugal pumps is provided with all fluid contact structural components molded from solid homogeneous thermoplastics such as polypropylene and polyvinylidene fluoride (PVDF). Unlike metals, nonmetallic materials do not corrode. In addition to their chemical inertness, the thermoplastics also offer superior abrasion resistance. The pumps are recommended for use at temperatures to 275°F, for flows from 5 to 175 gpm at heads to 175 feet.
Vanton Pump & Equipment Corp.
Hillside, NJ
Tel: 908-688-4216
Web: www.vanton.com
Vacuum pump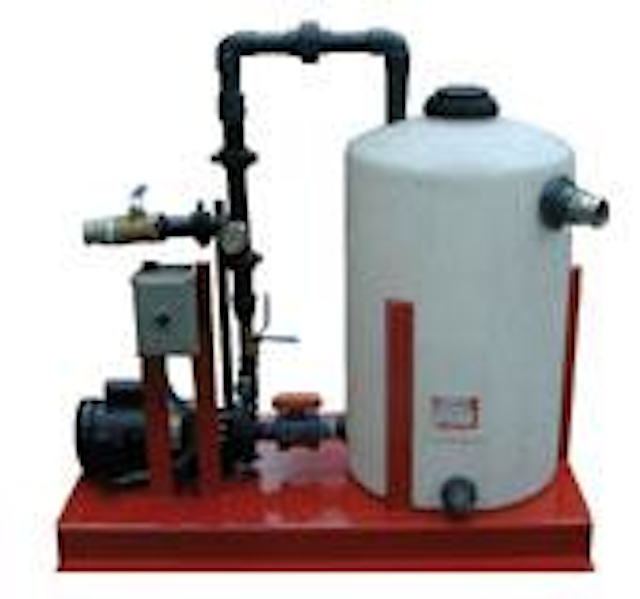 Click here to enlarge image
Used in conjunction with Flo Trend System's Container Filters, the Flo-Vac® Pump can provide the vacuum required to enhance dewatering and improve cake dryness. The pumps are connected to the Container Filter, where circulating liquid in the tank creates a vacuum that assists in the dewatering of various types of sludge. Excess liquid entering the tank by this vacuum method can gravity discharge through an overflow connection or another pump can be added to pump the liquid to another discharge area. Available tank sizes range from 45 gallons to 1000 gallons.
Flo Trend Systems
Houston, TX
Tel: 713-699-0152
Web: www.flotrend.com
Metering pumps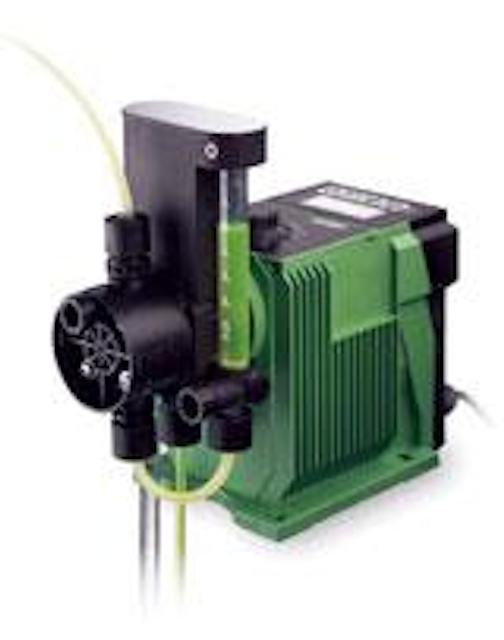 Click here to enlarge image
Alldos is a developer and manufacturer of high-quality metering pumps, disinfection systems and measurement and control equipment for the environmental technology and water treatment sectors. Its patented Plus 3 liquid end is available on 208 model pumps with capacities from 0.05 to 1.7 gph. Its dual head design eliminates off-gassing effects associated with high concentrations of NaOCl / Sodium Hypochlorite / Bleach.
Alldos, Inc.
Marietta, GA
Tel: 800-956-7996
Enclosed screw pump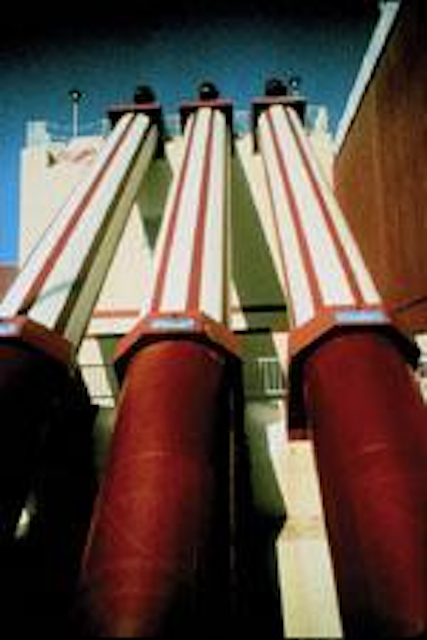 Click here to enlarge image
The Internalift pump from USFilter is available in a wide range of capacities. The pumps can lift 23,000 gpm of stormwater more than 60 feet. Continuously welded flights form the interior of the pump cylinder, and the cylinder turns as a single unit. This design offers a variety of benefits over other types of pumps – no leakage, no friction, no jamming, no plugging. Far less maintenance is required, and the enclosed design minimizes safety, odor and weather concerns.
USFilter
Sturbridge, MA
Tel: 800-547-1202
Web: www.usfilter.com
Diaphragm pump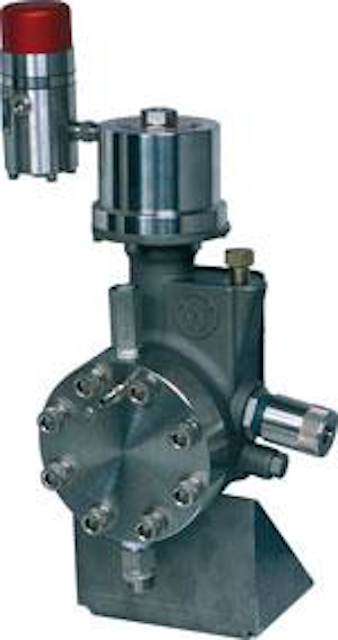 Click here to enlarge image
Williams and Milton Roy have combined technologies to design a pump blending the mRoy® hydraulic by-pass diaphragm design with the Williams "V" Series pump. The result is the low volume, high turndown characteristics of a pneumatic drive coupled with the chemical containment and high pressure capabilities of a hydraulically actuated diaphragm. The Wilroy is a hydraulically actuated diaphragm pump, which delivers chemical containment, low maintenance and over pressurization protection. This entirely new pump is available in four different sizes from 0.5, 2, 5, and 9 gallons per hour.
Milton Roy
Ivyland, PA
Tel: 800-235-3421
Web: www.miltonroy.com
Process pumps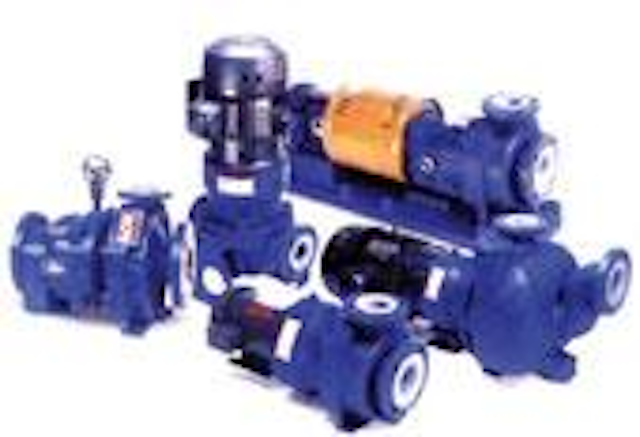 Click here to enlarge image
Goulds Pumps, one of the fluid companies of ITT Industries, has a complete line of heavy duty, magnetically driven process pumps for chemical feed applications in water and wastewater treatment plants. The Tefzel® lined model 3298 will handle the most caustic, corrosive fluids. It is available in frame mounted, close-coupled, vertical in-line and self priming configurations to fit any application layout. Liquid-end parts are lined with a thick layer of Tefzel® (ETFE) for universal corrosion resistance and an impenetrable barrier against leakage. Being sealless and magnetically driven, the pump has no expensive conventional mechanical seals to fail.
Goulds Pumps
Seneca Falls, NY
Tel: 315-568-7122
Web: www.gouldspumps.com
Close coupled pumps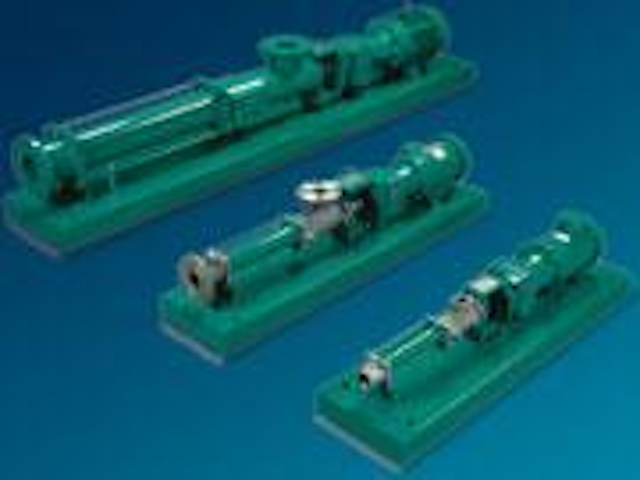 Click here to enlarge image
Netzsch Nemo® Pumps now offers a Close Coupled BY Series Pump. Maintaining the same standards as all the company's progressing cavity pumps, this design is available in a wide range of sizes at an affordable price. Because the pumps come complete with a pre-designed drive and baseplate, they can quickly be assembled and delivered. The pumps can handle high-viscosity and shear-sensitive materials. Key features include: Flow ranges from 0.25 to 160 gph, pressure ranges 0 to 180 psi, low shear rate, non-pulsating flow and capacity change with rotor/stator change without affecting pump dimensions. Pumps are available bareshaft or complete with constant or variable speed drives.
Netzsch Inc.
Exton, PA
Tel: 610-363-8010
Web: www.netzschusa.com
Sealless ANSI pumps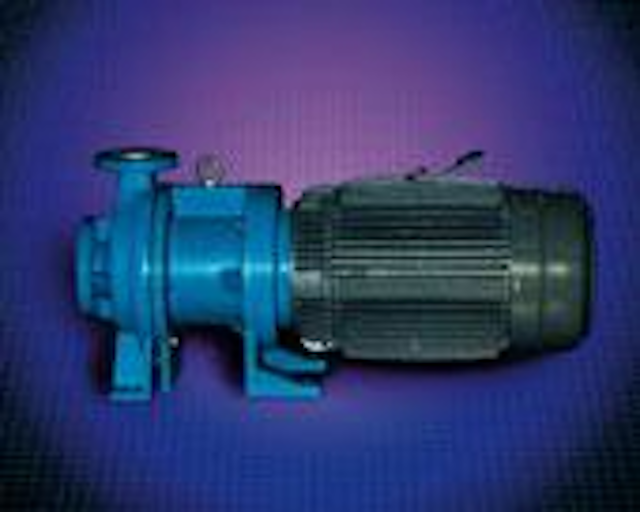 Click here to enlarge image
Magnatex® Pumps offers the Texel® MTA Series Pumps. They feature an ANSI compatible design combined with a chemically inert PFA lining. The pump conforms to ANSI B73.3M hydraulic and dimensional standards, thus preventing the need to alter piping or base plates of existing ANSI installations. Its sealless, magnetic-drive design eliminates the need for costly mechanical seals. The pump's PFA fluoropolymer lining offers chemical corrosion resistance making it compatible with mineral and organic acids, bases, alcohols, hydrocarbons and halogens.
Magnatex Pumps, Inc.
Houston, TX
Tel: 713-972-8666
Web: www.magnatexpumps.com
Wastewater pumps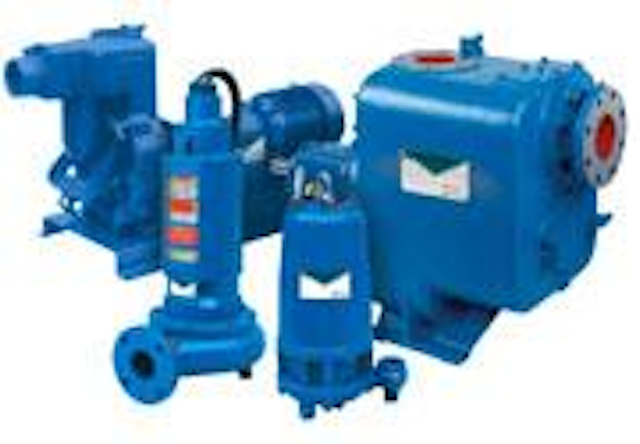 Click here to enlarge image
Marlow Pumps' engineered wastewater products range from submersible effluent wastewater and grinder pumps to self-priming wastewater pumps. Its explosion-proof sewage pumps have a flanged discharge up to 4" and can handle solids up to 3" in diameter. Its grinders have NPT discharge up to 2". The company also makes packaged grinder systems and custom control panels.
Marlow Pumps
Seneca Falls, NY
Tel: 315-568-7337
Web: www.marlowpump.com
Peristaltic pumps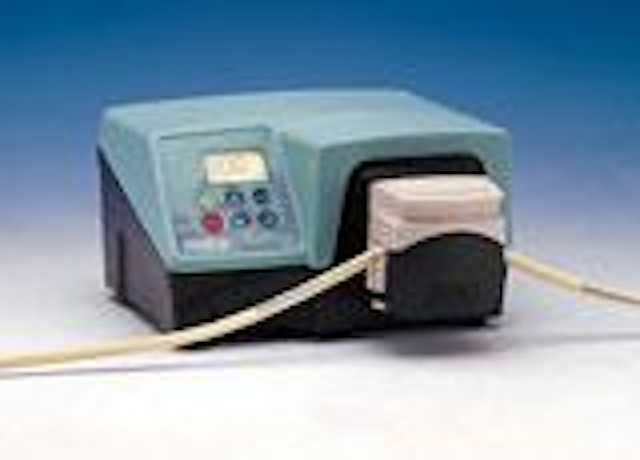 Click here to enlarge image
Watson-Marlow Bredel offers the 323 peristaltic pump. Designed to provide high-performance pumping for environmental applications, the pump is ideal for chemical metering. The pumps can handle harsh chemicals such as sodium hypochlorite, ferric chloride, alum, sodium bi-sulfite, caustic, aqueous ammonia, polymer, and many others. In addition, the pump will not vapor lock from hypochlorite off-gassing. Because the pump's tube is the only replacement part, tube change-over can be completed in three seconds, making the pump virtually maintenance-free. A typical pump rebuild costs less than $15. The 323 pump is reversible, offers seven different tube sizes with turndown ratios of 20,000:1, and requires no pulsation dampeners, strainers, or back pressure valves.
Watson-Marlow Bredel Pumps
Wilmington, MA
Tel: 800-282-8823
Web: www.wmbpumps.com
DAF pumps
Click here to enlarge image
EDUR Centrifugal DAF Pumps, offered by Shanley Pump, are designed for handling dissolved air flotation applications and liquid-gas mixtures. They are ideal for waste activated sludge thickening. The pumps can help produce better quality white water, which increases the percent solids of the float by more than 50% while reducing the amount of sludge sinking to the bottom of the DAF. Ultimately, the time required by the operators to draw off the bottom sludge is greatly reduced. The DAF re-aeration power consumption can also be reduced by more than 35%. The pumps are available in two series, as closed-coupled or foot-mounted design, and can handle flows up to 300 gpm.
Shanley Pump & Equipment, Inc.
Arlington Heights, IL
Tel: 847-439-9200
Web: www.shanleypump.com
Float controllers
Click here to enlarge image
Sigma Controls is now delivering its new duplex or triplex pump "Smart" Float controllers. The Myriad FPC is ideal for duplex or triplex pump down systems. Its microprocessor incorporated electronics constantly monitor all aspects of pump performance, via pump inputs such as pump overload trip and or motor over temperature. All floats are continuously monitored for leak, float open circuit, float sequence and float short circuit. A float failing will cause actuation of the discrete float alarm outputs and will adjust the logic to operate the pumps normally with the remaining floats. The economical system comes with four Sigma Series 2000 float switches with internal monitoring hardware. Outputs are provided for three pump controls, float out of sequence alarm, high level, pump fault and float fail alarm.
Sigma Controls, Inc.
Perkasie, PA
Tel: 215-257-3412
Web: www.sigmacontrols.com
Chopper pumps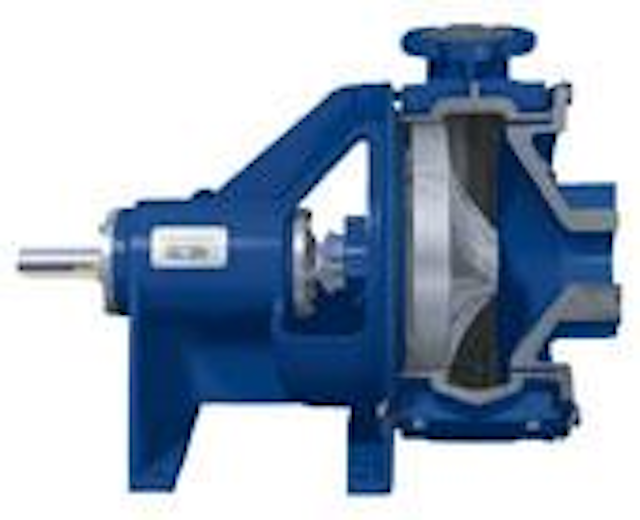 Click here to enlarge image
Fairbanks Morse Pump has introduced a new pump line, the 4600 Series Vortex and C Chop™ Chopper Pumps. These hard metal vortex pumps handle flows from 50-3000 gpm, and heads to 200 feet using a fully recessed impeller. They are ideally suited for grit applications with higher concentrations of solids and sludge. Owners of Fairbanks Morse Vortex pumps can upgrade their pumps with the company's interchangeable and backward-compatible Chopper Pump retrofit, or replace existing vortex pumps with a C Chop unit. The retrofit modifies pumps from an open, straight-through passage to a chopping and slicing action, with efficiency improvements.
Fairbanks Morse Pump
Kansas City, KS
Tel: 913-371-5000
Web: www.fmpump.com
Diaphragm pumps
Click here to enlarge image
Dorr-Oliver Eimco ODS® Pumps are designed for long-term, heavy duty operation handling concentrated, abrasive and/or corrosive sludges and slurries. They can be automated to match pumping capacities to process flow requirements. The pumps can be operated dry indefinitely. They are self priming and cannot air bind, have no stator to burn out and no mechanical seals to fail. They can be adjusted during operation for maximum flexibility of both capacity and discharge pressures.
Dorr-Oliver Eimco
Allentown, PA
Tel: 610-740-1015
Web: www.glv.com
Blower packages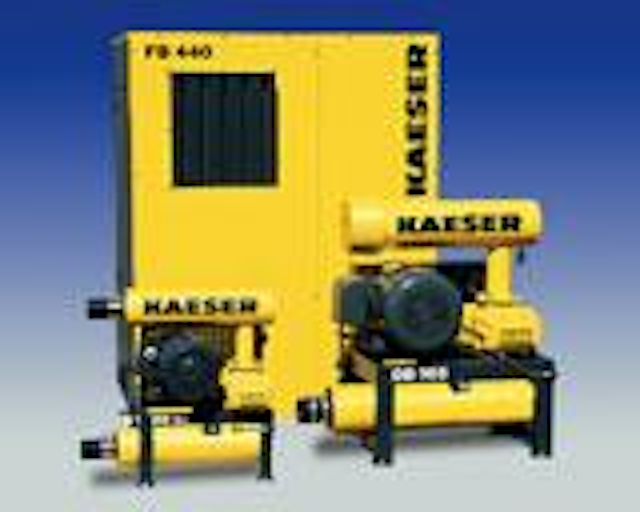 Click here to enlarge image
Kaeser Compressors Omega-paK blower packages are available with optional sound enclosures that reduce the risk of hearing loss. The ventilated sound enclosure has hinged, lockable maintenance doors for access to pre-piped oil drain, filter contamination indicator, automatic belt tensioning device and inlet filter. Noise levels in the low 70s dba range are typical. The blower packages are available in flows to 4,400 cfm at pressures to 15 psig and vacuums to 15" Hg. Units feature long bearing life, total splash lubrication, heavy duty construction and a two year warranty and 24-hour emergency parts replacement guarantee.
Kaeser Compressors
Fredericksburg, VA
Tel: 800-777-7873
Web: www.kaeser.com
Pump motors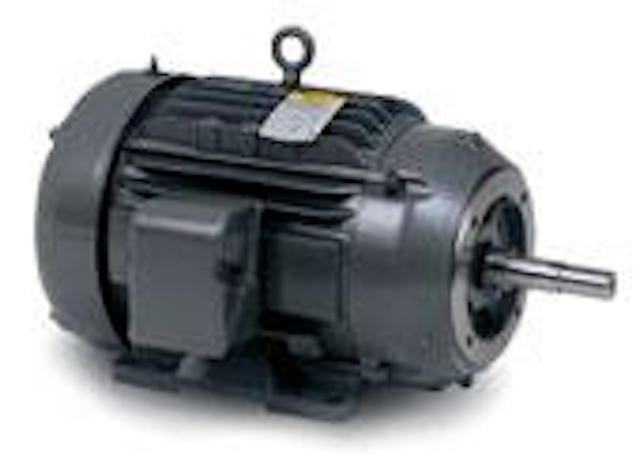 Click here to enlarge image
Baldor Electric Co. offers almost 300 industrial pump motors from stock. Its pump motor line includes single and three phase TEFC and ODP Jet Pump Motors; ODP Square Flange Pump Motors; single and three phase TEFC and ODP Close-Coupled Pump Motors, TENV and TEFC Washdown Duty Closed-Coupled Pump Motors; Explosion Proof Close-Coupled Pump Motors; single and three phase Jet Pump Explosion Proof Pump Motors; and three phase Shaft Pump Motors. All the company's pump motors are ready for immediate delivery from over 30 stocking warehouses across the U.S. and Canada. For increased energy saving on continuous duty pumps, JM style pump motors are also available from stock with a NEMA Premium™ efficiency rating. Custom motors through 1500 horsepower are available with two-week lead times.
Baldor Electric Co.
Fort Smith, AR
Tel: 800-828-4920
Web: www.baldor.com
Custom power units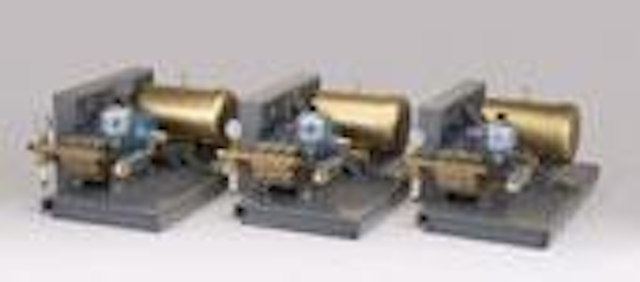 Click here to enlarge image
Cat Pumps' custom-designed Power Units continue to expand with new options and expanded performances. All sizes are available from portable units up to 200 horsepower, 320 gpm and pressure capabilities up to 7000 psi. Each power unit includes base, belt guard, electric motor, pump and accessories individually selected for the specific application. Optional gas, diesel, hydraulic drives, stacked bases or handle and wheels are also available. A lead time of 2-4 weeks is standard. Single or multiple pump units are available to meet system flow requirement. The pump liquid-end construction is available in forged brass, cast 316 or Block-Style 316.
Cat Pumps
Minneapolis, MN
Tel: 763-780-5440
Web: www.catpumps.com
Centrifugal pumps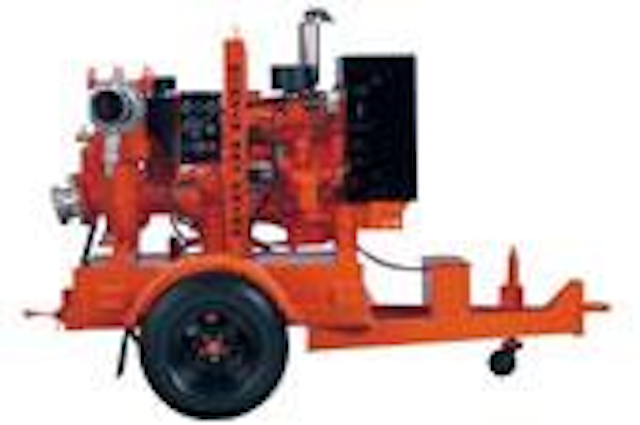 Click here to enlarge image
The Godwin Dri-Prime®, an automatic self-priming centrifugal pumpset available in sizes from 2" to 16," has been proven in emergency and planned municipal applications including sewer bypass, domestic water boosting, storm water dewatering, and standby back up pumping for lift stations. With maximum flows to 10,000 gpm, heads to 600' and solids handling to 5" in diameter, the pump features automatic self-priming to 28 feet of suction lift and dry-running capabilities. The company provides rental, sales and service of pumps and accessories available for immediate dispatch 24 hours a day, 7 days a week.
Godwin Pumps
Bridgeport, NJ
Tel: 856-467-3636
Web: www.godwinpumps.com
High pressure pumps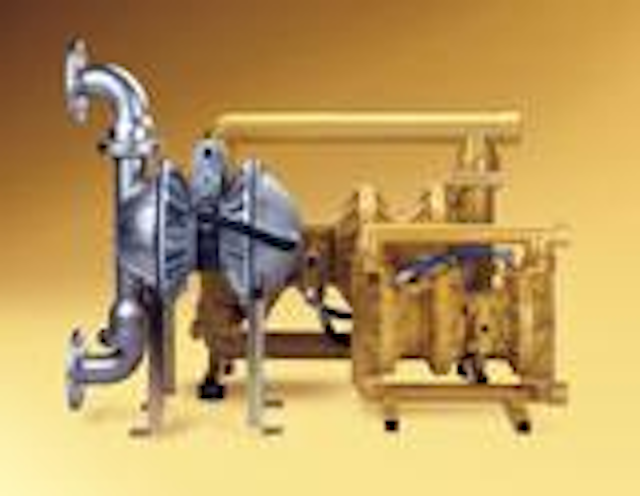 Click here to enlarge image
Versa-Matic has teamed up with Blagdon, a European pump manufacturer, to offer a complete line of high-pressure pumps. This new series includes three models that address a range of high-pressure applications that standard air-operated double diaphragm pumps may not have the power to handle. The VM E2HP 2" Standard Flow pump is made from stainless steel and delivers up to 200 psi, with standard flow at a rate of up to 69 gal/min. The BL N25 1" and BL N50 2" Full Flow pumps both deliver pressure as high as 238 psi. The N25 has a standard flow rate of 30 gal/min, while the N50 can achieve a standard flow rate as high as 90 gal/min.
Versa-Matic Pump Co.
Export, PA
Tel: 724-327-7867
Web: www.versamatic.com
Progressing cavity pump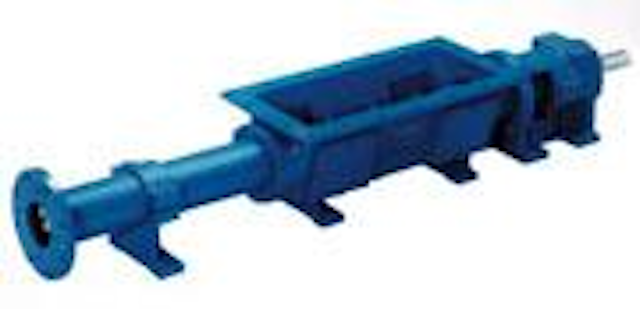 Click here to enlarge image
The Moyno® 2000 Progressing Cavity Pump is designed to handle a wide range of applications from shear-sensitive chemicals to difficult-to-process slurries and sludges. It features a crowned gear universal joint drive train configuration to provide torque and thrust control. Patented joint seals protect the gear joints from pumpage contamination. The gear joints are grease-lubricated to run at 180° F, far cooler than oil-lubricated joints. The rear gear joint location reduces the radial load on the drive shaft and bearings and requires minimal pump disassembly to service. The pump line offers capacities of 2–2500 gpm and pressure capabilities to 1,000 psi.
Moyno, Inc.
Springfield, OH
Tel: 877-486-6966
Web: www.moyno.com
Submersible pump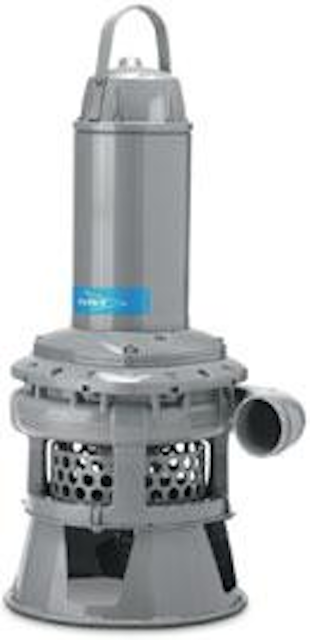 Click here to enlarge image
A heavy duty submersible pump designed to handle various types of slurries has been introduced by ITT Flygt. Designated as the 5150, the pump is ideal for use in most any other application where solid granules are present, which can rapidly erode pump volutes, impellers and other wear parts. To extend the life of the pump, all wear parts are made of high chrome. The company's Spin-out™ feature expels abrasive particles from the seal chamber, preventing damage to the outer seal. The Plug-in™ seal system permits fast seal replacement. The pumps are available with a wide range of Class H motor sizes. Capable of handling 15 starts per hour, built-in sensors warn against high temperatures and stator leakage. An inspection chamber between the seal unit and bearings employs a built-in sensor for early detection of any fluid build-up, reducing the risk of internal damage and increasing reliability.
ITT Flygt Corp.
Trumbull, CT
Tel: 203-380-4700
Web: www.flygtus.com
Silencing systems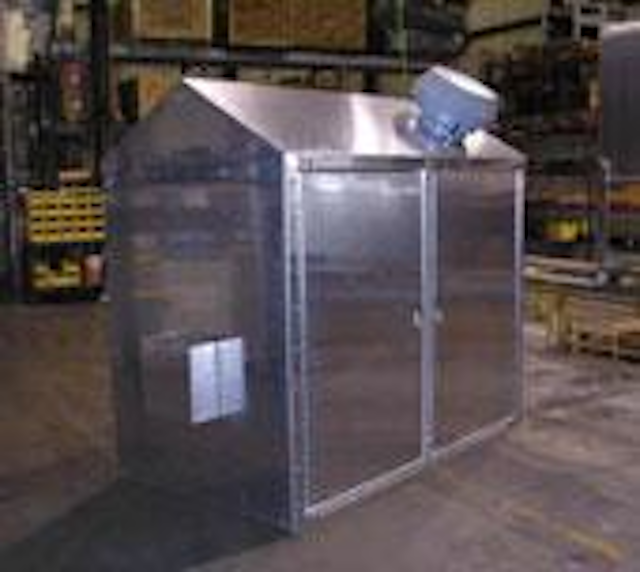 Click here to enlarge image
Stoddard Silencers has released a new Package Standard Enclosure (PSE) sound enclosure. The sound enclosure is specially designed to enclose rotary blower packages. It can decrease mechanical and vibration noise as much as 15-20 dbA attenuation, and exceeds OSHA noise regulation requirements for silencers. Constructed of heavy gauge aluminum, the enclosure is corrosion resistant, strong and lightweight. It is designed for all-weather installation and can be installed either inside or outside a plant. It is easily assembled over existing equipment.
Stoddard Silencers, Inc.
Grayslake, IL
Tel: 847-223-8636
Web: www.stoddardsilencersinc.com
Chopper pumps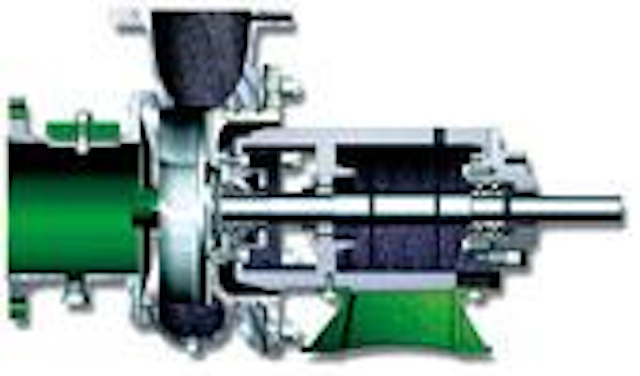 Click here to enlarge image
Vaughan has introduced its latest "flushless" mechanical seal design in the E-Series horizontal and vertical dry pit chopper pumps. The pumps are ideally suited for applications such as digester recirculation or mixing, where high sludge concentrations are required. The new flushless design eliminates the need for expensive seal water flush systems by incorporating the company's patented 316 stainless steel cartridge style mechanical seal with silicon carbide faces. They are available in both horizontal and vertical dry pit configurations from 3" to 12" discharges.
Vaughan Co., Inc.
Montesano, WA
Tel: 360-249-4042
Web: www.chopperpumps.com
Progressive cavity pumps
Click here to enlarge image
Liberty Process offers a selection of spare parts for progressive cavity pumps. A large inventory of rotors, stators and seals are in stock for same day delivery. They are available in a wide variety of models, sizes and materials for the most commonly used progressive cavity pump designs. Only parts that meet or exceed ISO 9001 performance standards are offered.
Liberty Process Equipment, Inc.
Arlington Heights, IL
Tel: 847-640-7867
Web: www.libertyprocess.com
Centrifugal pumps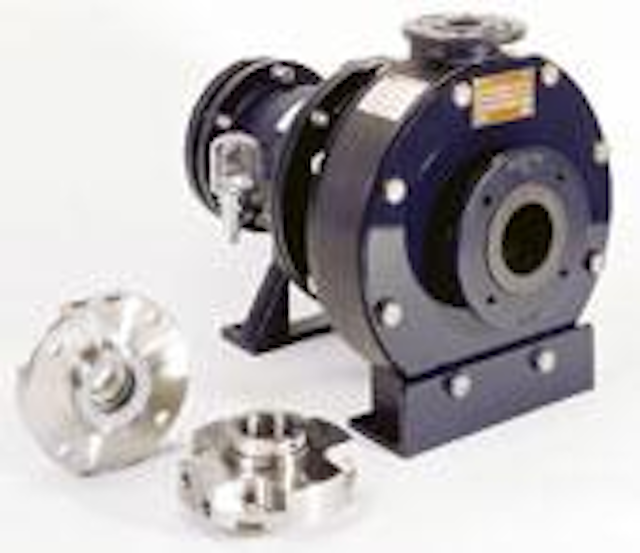 Click here to enlarge image
Stan-Cor Series pumps from Wanner Engineering now feature Streamline™ cassette seals. The cassette seals provide significant cost savings in industries that pump highly abrasive fluids by reducing inventory requirements and eliminating the need for a seal repair program. These seals feature a unique cassette-within-a-cartridge design, making resealing as easy as popping a new cassette into place. The Stan-Cor Series non-metallic centrifugal pumps are designed specifically for pumping dirty, abrasive, corrosive and reclaim process fluids.
Wanner Engineering Inc.
Minneapolis, MN
Tel: 612-332-5681
Web: www.wannereng.com/stancor
Compact regenerative drive
Efficient utilization of electricity (i.e., regenerative braking and power factor), improved levels of harmonic mitigation, and the ability to run at full power in 80 percent brownout conditions are benefits of features built into ABB's new ACS DriveIT Low Voltage 800-17 regenerative, four-quadrant motor drive. The ultra-compact drives -- up to 80% smaller than alternative units -- range from 75 - 1,250 horsepower (custom units are built up to 4,000 hp). And a complementary regenerative drive, the ACS 611, is built for 20 - 75 hp applications.
ABB Inc.
New Berlin, WI
Tel: 262-785-3252
Web: www.abb-drives.com
Package lift stations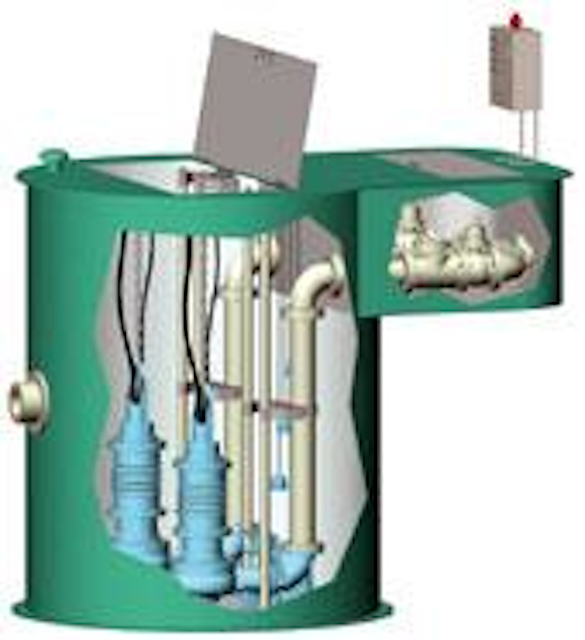 Click here to enlarge image
Easy-Lift Package Lift Station systems from Yeomans Chicago are a solution for expanding municipal sewage collection systems. Standard simplex and duplex arrangements are available with pump sizes up to 40 hp. State of-the-art control panels include the unique "Intellipump" controller and provide simplicity of operation. Numerous basin, piping and cover options are available to cover a wide range of applications.
Yeomans Chicago Corp.
Aurora, IL
Tel: 630-236-5500
Web: www.yccpump.com
Sump pump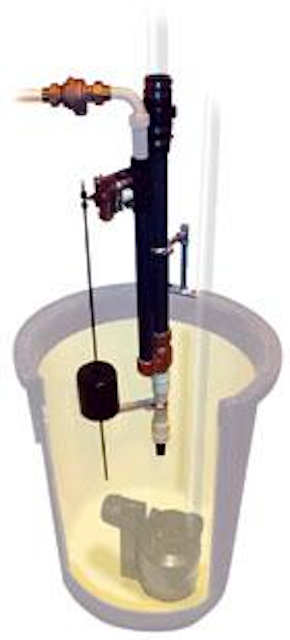 Click here to enlarge image
A.Y. McDonald offers the Guardian® emergency backup water-powered sump pump, Model 747H20. The pumps are designed for use in ground water systems and use in sump crocks in homes, motels and hotels, schools, hospitals, industrial buildings, computer and record storage rooms. The pumps feature a patented activation valve for Positive ON, Positive OFF. They are designed for both intermittent or continuous use and supplied with an approved backflow preventer. The pumps are made with high quality brass and PVC materials for corrosion resistance. Designed for de-watering, the pumps have a discharge size of 1 1/4" PVC Sch. 80 (IPS) and an inlet size of 1" FIP threads.
A.Y. McDonald Mfg. Co.
Dubuque, IA
Tel: 800-292-2737
Web: www.aymcdonald.com
ANSI Dimensional pumps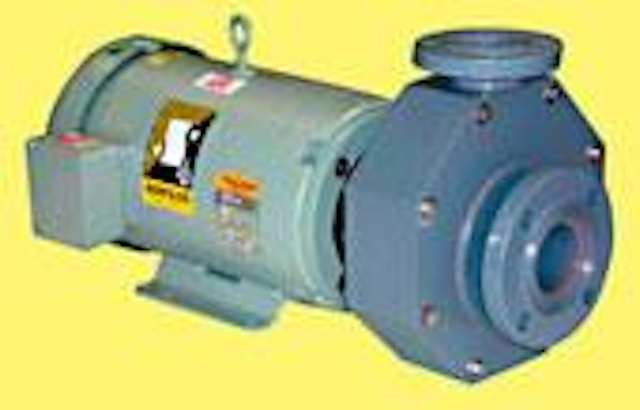 Click here to enlarge image
Serfilco offers ANSI dimensional pumps machined from solid CPVC. The Series 'HA' horizontal pump provides flow rates to 650 gpm and features non-metallic solution contact for resistance to aggressive chemicals. Pumps are available with single or double mechanical seals, close-coupled or long-coupled and with 60hz or 50hz motors.
Serfilco, Ltd.
Northbrook, IL
Tel: 800-323-5431
Web: www.serfilco.com
Trash pumps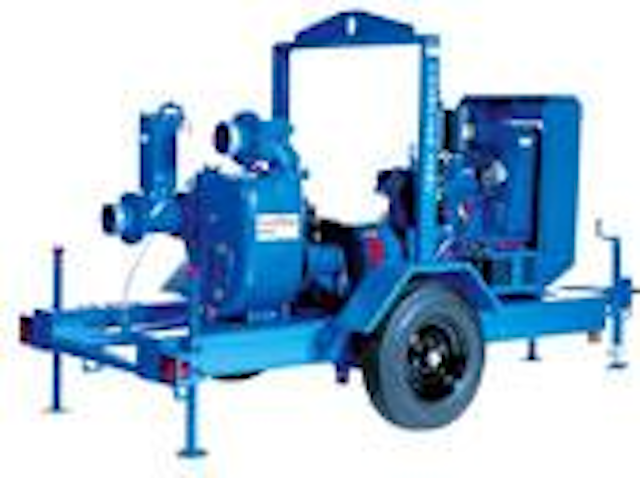 Click here to enlarge image
Thompson Pump has developed the Enviroprime® system for its dry prime, compressor-assisted trash pumps. The system prevents blow-by — sewage, debris and chemicals — from discharging onto the ground, keeping the surrounding environment clean and safe. The system uses an air compressor to separate air from the water that is moving through the pump, which prevents the pump's venturi from clogging and causing a shutdown. With the air escaping separately, the fluid can continue through the pump without any unwanted blow-by discharge. The separation cycle is continuous. Trash pumps are available in a variety of sizes and models, all with the ability to transfer liquids containing solids up to 3" in diameter.
Thompson Pump
Port Orange, FL
Tel: 386-767-7310
Variable frequency drives
GE Industrial Systems, a division of the General Electric, has launched the AF-300 Mini Variable Frequency AC Drive, designed for optimum process control. The drive offers variable speed control for AC induction motors in a space saving package. The ability to control the speed of an AC induction motor allows maximum energy savings when applied to a fan or pump. The mini drive introduces a new set of features not previously offered in other GE micro drives, including: Energy Saving Mode; Side-by-Side Mounting; Predictive Maintenance Alarm; Simplified Dynamic Torque Vector Control; Built-in DB Transistor; and Optional Internal DB Resistor Kit.
GE Industrial Systems
Plainville, CT
Tel: 770-999-7295
Web: www.geindustrial.com