PRODUCTS & SERVICES--PIPES
Many municipal water departments have been finding problems with odor, taste, turbidity, and overall water quality from the use of oleate-based lubricants on gasketed pipe water main installations.
Oct 1st, 2003
Pipe joint lubricant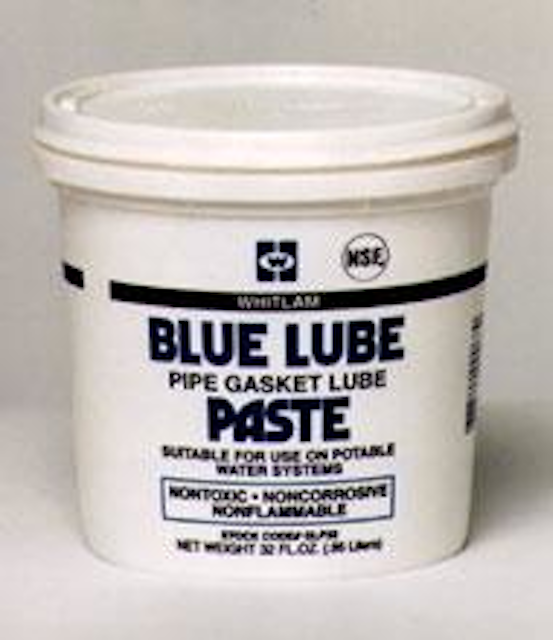 Click here to enlarge image
Many municipal water departments have been finding problems with odor, taste, turbidity, and overall water quality from the use of oleate-based lubricants on gasketed pipe water main installations. Independent tests preformed by major municipalities have shown Blue Lube Gasket Lube Paste, a water-based lubricant, will not promote turbidity, or transfer taste and odor, and completely flushes out of the system. The product is both NSF Standard 14 and NSF Standard 61 approved.
J.C. Whitlam Manufacturing Co.
Wadsworth, OH
Tel: 800-321-8358
Polymer mortar pipe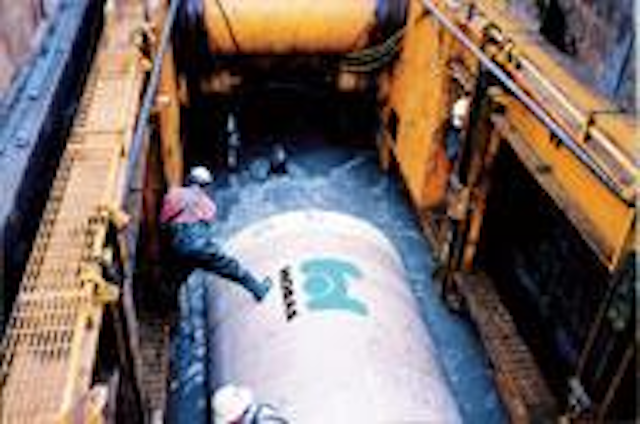 Click here to enlarge image
Hobas centrifugally cast, fiberglass reinforced, polymer mortar pipe is widely used in new construction and rehab. Key applications are sanitary sewers (gravity and force mains), potable water and corrosive environments. The pipe can help municipalities overcome two important challenges: expansion of their facilities to keep up with new development and coping with a failing underground infrastructure. Although corrosion resistance is a benefit, the pipe is specified for its hydraulics, light weight, high strength, ease of installation and long life. Installation methods include direct bury, microtunneling/jacking, sliplining, tunnel lining and above ground. Sizes range from 18 to 108 inches.
Hobas Pipe USA, Inc.
Houston, TX
Tel: 800-856-7473
Web: www.hobaspipeusa.com
Fabricated spools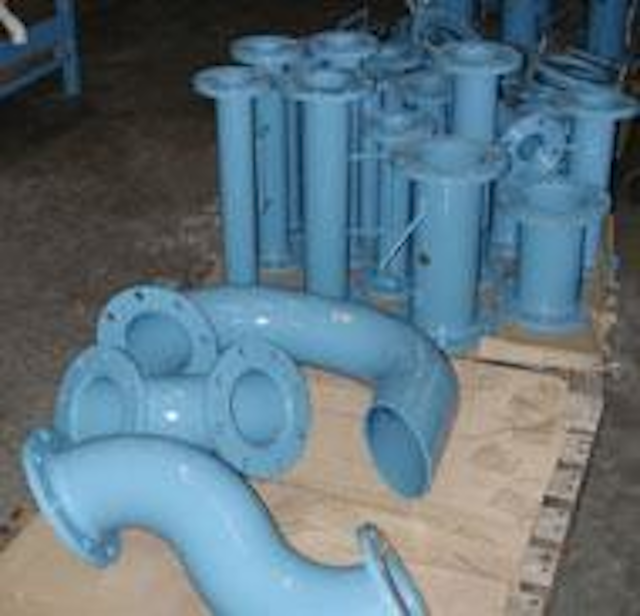 Click here to enlarge image
The Mars fabricated spools, meter test spools and fittings come in many sizes, lengths and configurations and can also be custom designed and fabricated to meet specific needs. By providing a precise fit, corrosion resistant coating such as epoxy or nylon, excellent strength and short laying lengths, they work well in any application.
Floyd S. Salser, Jr. & Associates
d/b/a MARS Company
Ocala, FL
Tel: 800-782-5268
Web: www.marswater.com
Cutting, beveling machine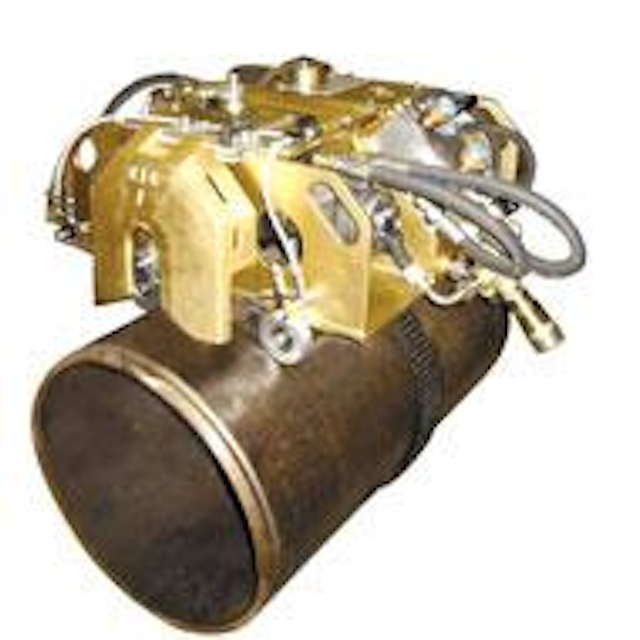 Click here to enlarge image
The Pneumatic or Hydraulic Powered CGM-1 Chain Drive Machine from Mathey Dearman will simultaneously cut and bevel 6" to 72" pipe with a wall thickness of 1/4" to 2 5/16". The machine will cut and bevel most machineable materials such as carbon steel, stainless steel, ductile iron, cast iron and most other alloys without a spark or flame. A Hydraulic Model of CGM-1 is available for operation at ocean depths up to 130'.
Mathey Dearman, Inc.
Tulsa, OK
Tel: 800-725-7311
Web: www.mathey.com
Tapping machine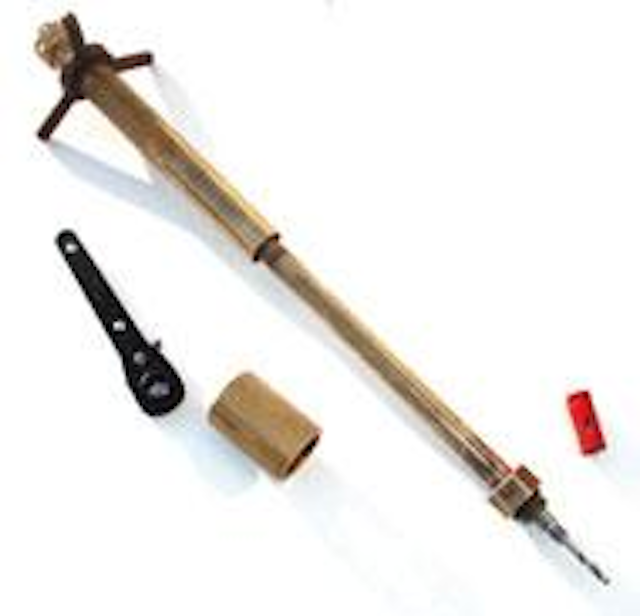 Click here to enlarge image
The 901 Drill Master from APAC International is a versatile tapping machine with a history of over 40 years. It performs taps on dry or pressured mains of 3/4"-2" CC and 3/4"-2 1/2" IP, via the use of a service saddle and a full port valve. It weighs less than 10 pounds and requires no air or electricity. The machine is made of naturally corrosive-resistant brass.
APAC International
Livermore, Ca
Tel: 800-448-9549
Web: www.apacproducts.com
Orbital weld head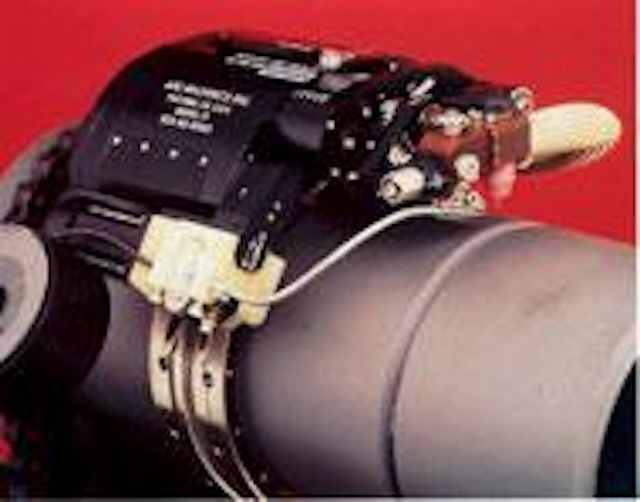 Click here to enlarge image
Arc Machines' Model 15 is a precision tool with low radial clearance for GTAW welding of all pipe sizes from 3" pipe up to an unlimited sizes, including flat plate. It is intended for field use in industries where weld quality requirements are stringent and the use of the GTAW process is beneficial. This weld head features rotation, wire feed, automatic voltage control, cross-seam steering, torch oscillation, and extremely quick mount/dismount times. Several different torch types are available. Each torch has different functions, features, and dimensions that are configured to the Model 15 Weld Head.
Arc Machines, Inc.
Pacoima, CA
Tel: 818-896-9556
Web: www.arcmachines.com
Push camera system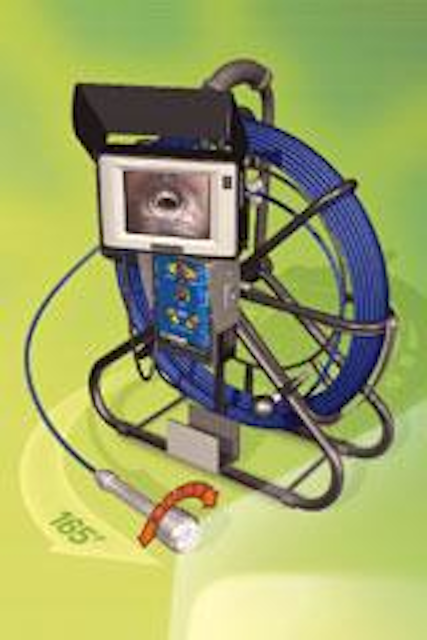 Click here to enlarge image
Envirosight®, a producer of video pipeline inspection technology, has just released the new RavenEye® self-leveling push camera system for inspection of main lines, laterals and drain pipes. This system uses digital video and images to document pipe conditions. It weighs just 24 lbs, and offers a self-leveling picture, 512 Hz sonde transmitter for locating problem areas underground, and an integral LCD with on-screen footage counter. The camera extends 165 feet, giving the end-user a small package that performs in many different field environments and applications.
Envirosight® LLC
Randolph, NJ
Tel: 973-252-6700
Web: www.envirosight.com
PVC fittings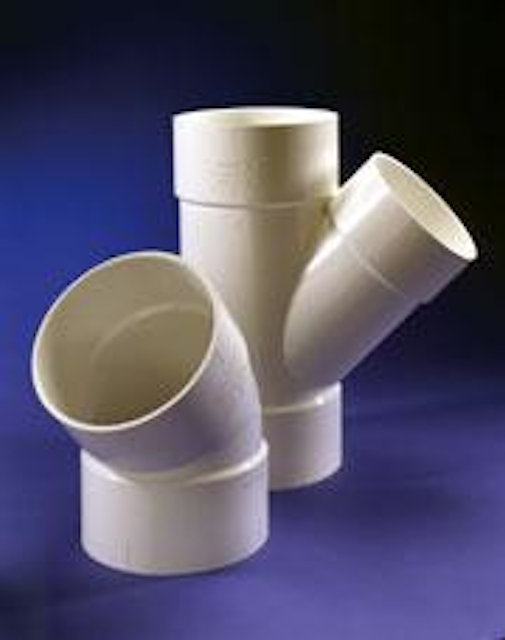 Click here to enlarge image
Charlotte Pipe and Foundry's new line of 10" and 12" PVC DWV molded fittings are now available. These new large-diameter fittings offer contractors and engineers a stronger, more durable and more dependable alternative to fabricated large diameter fittings. Initially, the company will be offering a range of reducer couplings, elbows, wyes and tees in 10" and 12". New large diameter configurations and products will be added in the future.
Charlotte Pipe and Foundry
Charlotte, NC
Tel: 800-438-6091
Web: www.charlottepipe.com
Tubing cutter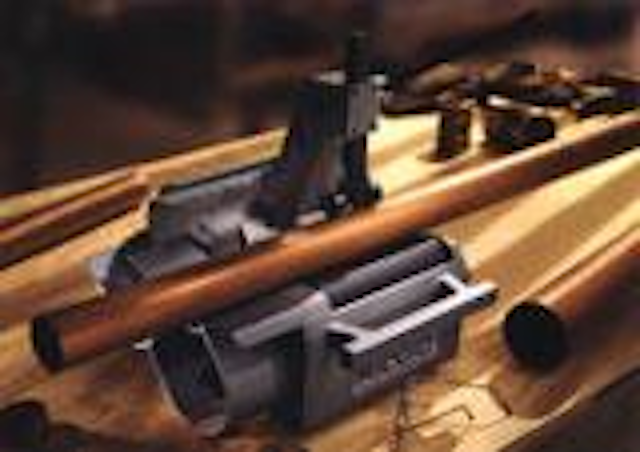 Click here to enlarge image
Ridge Tool has introduced the Ridgid® Model 122XL Copper Cutting and Prep Machine, designed to cut and prepare copper tubing. The machine allows the user to cut, clean and debur 1/2" to 4" tubing and ream 1/2" to 2" tubing. An optional, quick-change fitting brush system and storage rack allows the preparation of 1/2" to 4" copper fittings for soldering. The new unit saves time and effort by eliminating the need to manually revolve a cutter around the tube. It also reduces the number of tools needed on the job site because it lets the user perform multiple tasks with just one compact machine.
Ridge Tool Co.
Elyria, OH
Tel: 800-769-7743
Web: www.ridgid.com
Foaming root control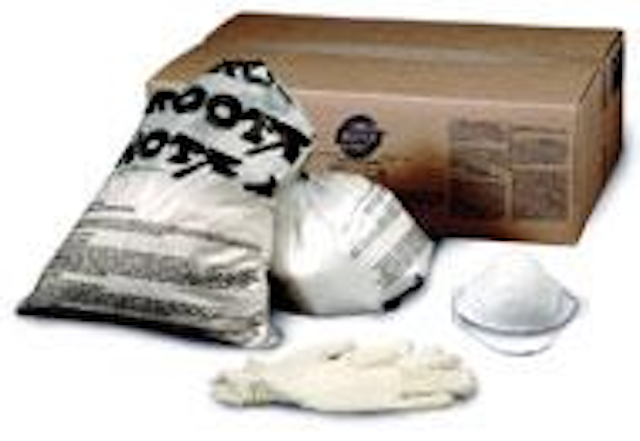 Click here to enlarge image
RootX foaming root control is engineered to be a simple yet effective method for eliminating damaging root growth in municipal and residential pipelines. By simply adding water, it creates a root killing foam which will reach to the top of the pipe where 90% of root growth occurs. The foam can be applied with existing sewer cleaning equipment or directly from the package. The product is available in a 20 lb. bag for use with the company's FDU (Foam Dispersal Unit) that attaches to a jetter truck hose at the upstream manhole. Adding water from the truck creates foam; retrieving the FDU spreads the root-killing foam, coating the roots and pipe walls. The product is also available in 2 lb. and 4 lb. jars for smaller diameter pipes and for application through a toilet or into a septic tank.
RootX
Salem, OR
Tel: 800-844-4974
Web: www.rootx.com
Pipe lining system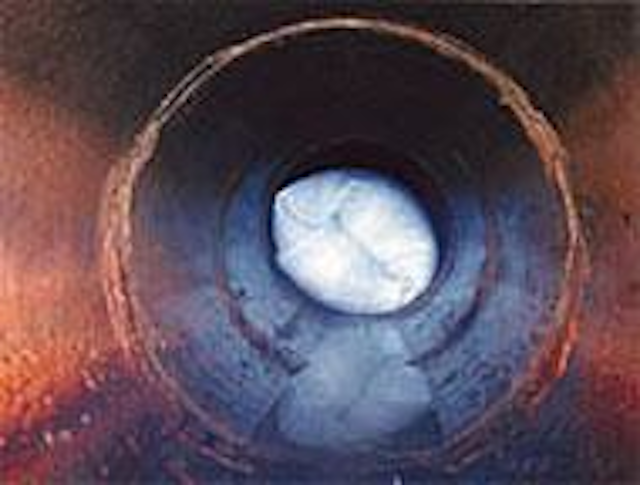 Click here to enlarge image
National Liner, offered by National Envirotech Group, is a cured-in-place-pipe (CIPP) trenchless rehabilitation system designed to rehabilitate sanitary and stormwater pipelines ranging from 6"-120" in diameter. Once the liner is inverted and expanded into the pipeline, heat is used to activate a quick-curing resin system that, in conjunction with the felt liner, forms a new structural pipe within the host pipe. The lining system is installed by network of qualified utility contractors.
National Envirotech Group
Houston, TX
Tel: 281-874-0111
Web: www.nationalliner.com
Data collection, management
CUES, a manufacturer of CCTV inspection equipment, has developed a new generation of data collection and management software, Granite XP. The software was designed to work with mapping and asset management systems used by municipalities and private contractors. It has a flexible format to meet the needs of operations, engineering, and maintenance personnel. The new software exceeds many requirements of the industry and conforms to the individual needs of the user. System features range from graphical interfaces to built-in report and code generators. An online live demo of the software is available.
Cues Inc.
Orlando, FL
Tel: 800-327-7791
Web: www.cuesinc.com
Pipe survey software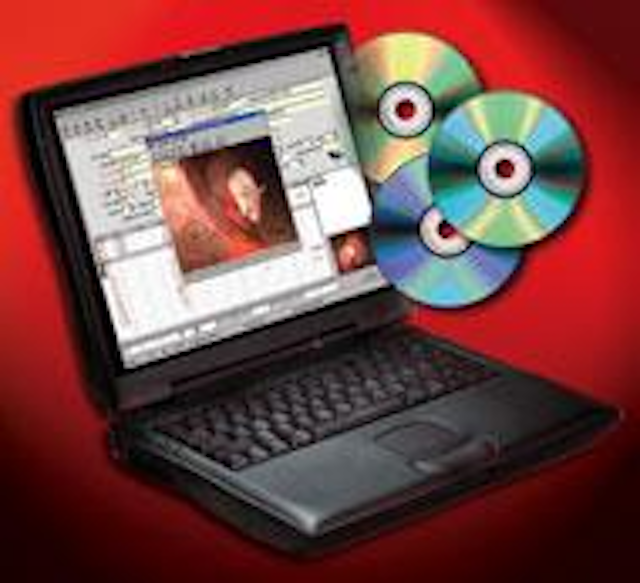 Click here to enlarge image
flexidata™ – Pipe Survey Reporting Software Version 6.1 with DVS (Digital Video Survey) offers a streamlined solution for the collection and sharing of pipe survey data that works with all CCTV systems. It offers seamless capture of survey data, features a pause tool for digital survey recording, creates detailed reports, interfaces with Hansen, GBA Master Series and other well-known asset management programs, and provides an ability to benchmark sewer conditions with built-in analysis reports which are needed for CMOM or GASB34 compliance. The latest version 6.1 also offers numerous options and customization abilities.
flexidata
Thousand Palms, CA
Tel: 800-688-8094
Web: www.flexi-data.com
PE pipe fusion machine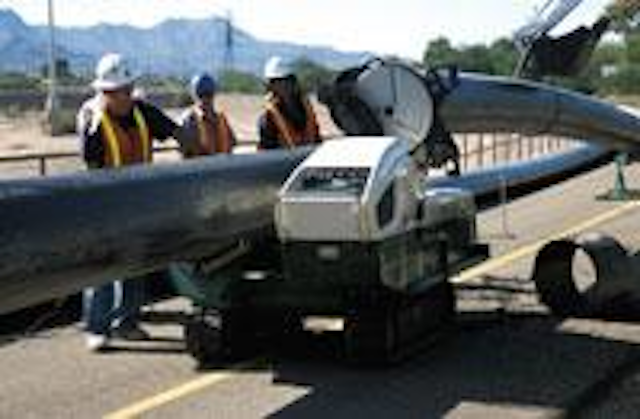 Click here to enlarge image
From unloading to loading, and everything in between, the McElroy TracStar line of fusion equipment is designed with speed in mind. One timesaving feature is its ability to maneuver into position under the pipe ends for fast alignment. The onboard powerhouse eliminates the need for a separate generator and the track system allows for pipeline construction in almost any terrain.
McElroy Manufacturing
Tulsa, OK
Tel: 918-831-9286
Camera inspection system
The P374 Intrinsically Safe MiniCam from Pearpoint is Approved, Labeled and Listed as intrinsically safe for inspection and entry to Zone 0, T6 environments. It is ideally suited for industrial and small commercial inspections. This addition to the company's portable inspection system line is a fully self-contained unit for inspections in lines 1" to 4" with a range of 200 feet. Features include: 360 TVL resolution, CMOS camera technology, sapphire glass, maintenance free white LEDs, and manually set focus.
Pearpoint, Inc.
Thousand Palms, CA
Tel: 760-343-7350
Web: www.pearpoint.com
Flexible ball joints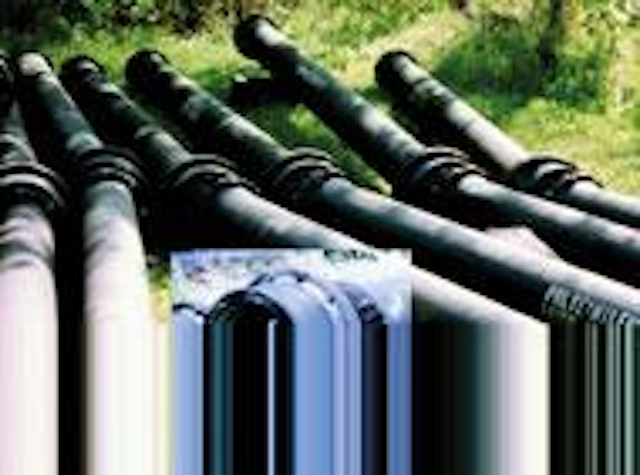 Click here to enlarge image
For pipeline protection against damage from bending movements where protection against linear expansion is not required, the Flex-900 Flexible Ball Joint from EBAA Iron provides a minimum of 15 degrees of deflection for pipeline connections in sizes of 4" through 12." The joint is available with a choice of mechanical joint, flange, restrained PE or any combination of connections. Each unit is manufactured entirely of 60-42-10 ductile iron and conforms to the material and other applicable requirements of ANSI/AWWA C153/A21.53. In addition, each joint receives a 15-mil, fusion-bonded epoxy lining for corrosion protection.
EBAA Iron Sales Inc.
Eastland, TX
Tel: 800-433-1716
Web: www.ebaa.com
Pipe coupling system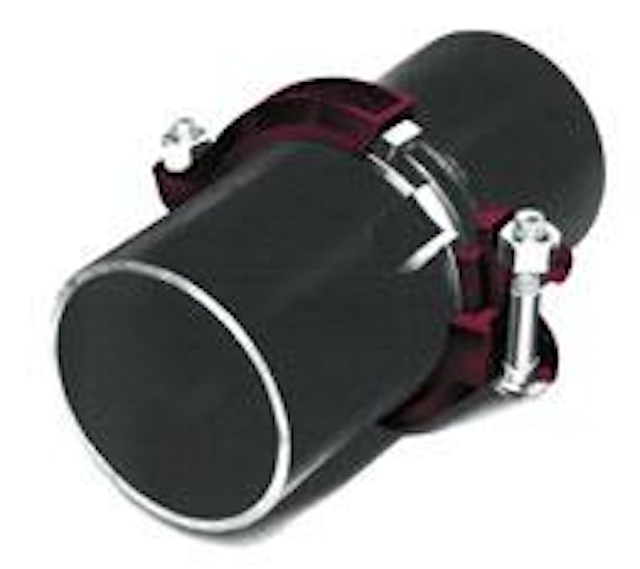 Click here to enlarge image
The new AWWA compliant Gruvlok® pipe coupling system, from Anvil International, allows grooved ductile iron piping to be installed in substantially less time than conventional threaded or flanged connections and is engineered to comply with ANSI/AWWA C606. Use of the system reduces installation and maintenance time, and allows pipes and equipment to be rotated a full 360 degrees at each coupling, or removed without having to disturb other parts of the system. This new product line consists of a full selection of couplings, flanges and fittings in 3" through 24" sizes with operating pressures as high as 500 psig.
Anvil International, Inc.
Portsmouth, NH
Tel: 603-422-8000
Web: www.anvilintl.com
Pipe products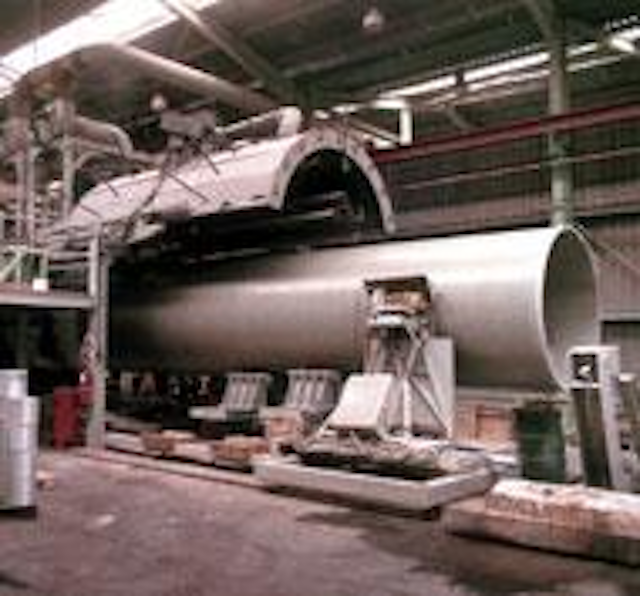 Click here to enlarge image
Amitech USA offers Flowtite and Meyer Polycrete pipe and products. Flowtite is lightweight, corrosion resistant pipe with high axial strength. It is produced in six standard pressure classes and four different stiffness classes - in diameters ranging from 12"-96". It is 1/10th the weight of concrete pipe and can be produced in joint lengths up to 40'. Meyer Polycrete pipe is suitable for microtunneling and pipe jacking applications. Made of polymer concrete, it possesses high compressive strength and corrosion resistance. It is produced in diameters ranging from 6" to 120", in a variety of shapes and joint lengths.
Amitech USA
Zachary, LA
Tel: 225-658-0947
Web: www.amitechusa.com
Pipe maintenance equipment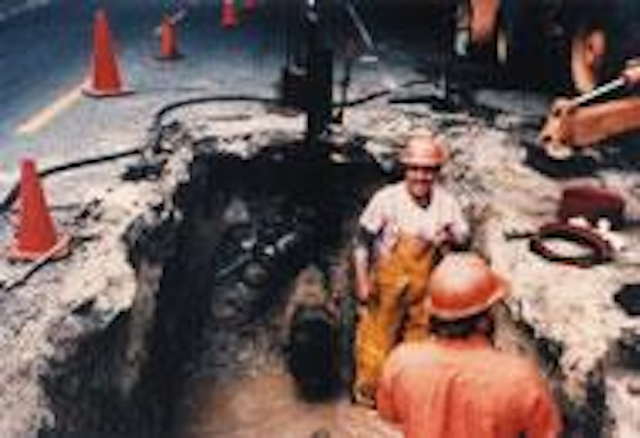 Click here to enlarge image
Severn Trent Services' Hydra-Stop offers a variety of pipe maintenance equipment designed to perform line stopping, valve insertion and line tapping with one integrated system.
Severn Trent Services
Alsip, IL
Tel: 800-538-7867
Web: www.severntrentservices.com
PVC pipe liner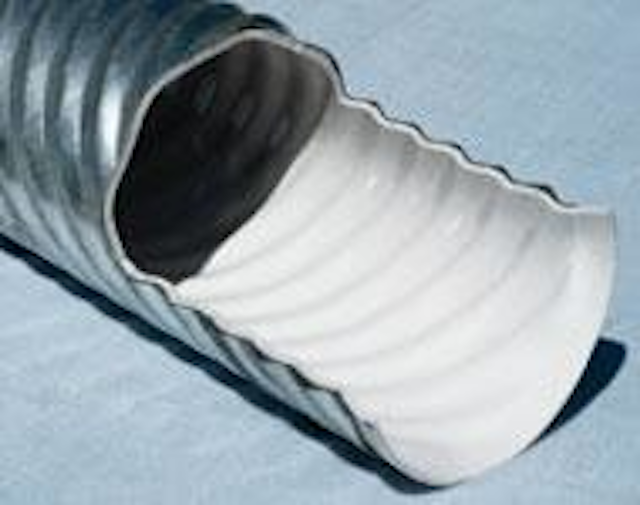 Click here to enlarge image
Ultraliner PVC Alloy Pipeliner has sufficient material stiffness to provide full independent structural integrity when installed in 4–24" pipelines. The tight-fitting liner has high impact strength, a high degree of dimensional stability, offers abrasion and chemical resistance, and the ability to relieve high levels of stress without structurally compromising the material. Through its "blow molding" installation process, the liner will conform to the shape of existing pipelines, including size transitions, bends, offset joints, dips, protruding taps, and other irregularities. It even conforms to corrugated pipe.
Ultraliner, Inc.
Oxford, AL
Tel: 205-831-5515
Web: www.Ultraliner.com