Polymer Mortar Pipe Used To Rehab Sewer Line
The City of Los Angeles operates the largest wastewater collection system in the nation consisting of more than 6,500 miles of sewers.
Apr 1st, 2003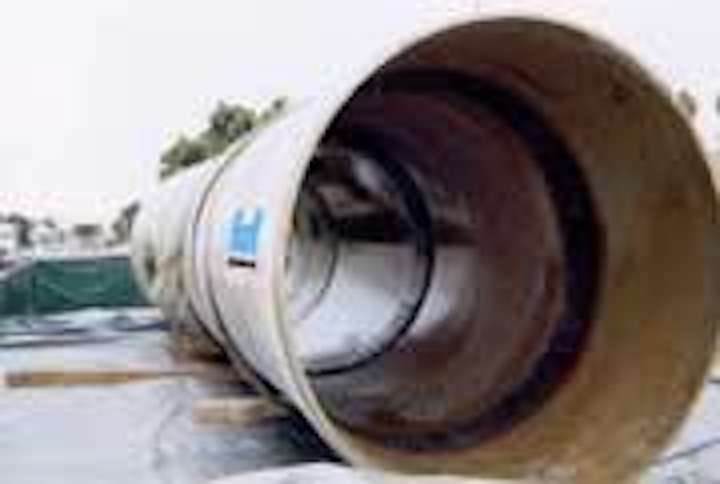 The City of Los Angeles operates the largest wastewater collection system in the nation consisting of more than 6,500 miles of sewers. As the city has grown, many underground utilities have been further buried under roadways, down tight alleyways and, in some cases, directly under buildings or other new structures. As these utilities aged, the effects of hydrogen sulfide attack, root intrusion and other problems became apparent. Their location, size, length and orientation created unique challenges for the engineers, owners and contractors.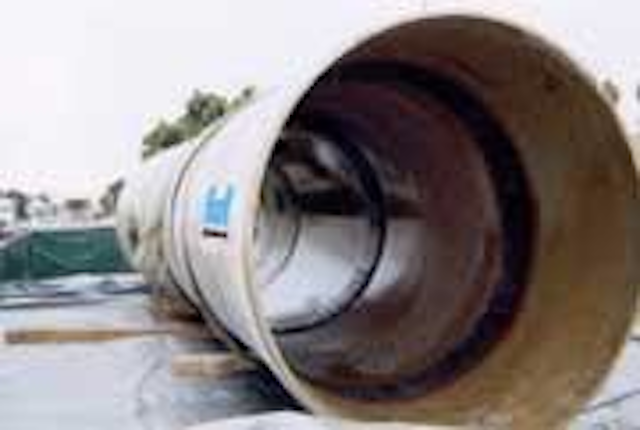 Radius fittings were manufactured on site to match the alignment of the existing sewer.
Click here to enlarge image
On a recent project, the North Central Outfall Sewer - North Outfall Sewer (NCOS-NOS) Interceptor Sewer System Rehabilitation Phase 3, approximately 60 percent of a 66-inch diameter pipe more than a mile long was inaccessible using traditional open cut methods. The access had to be through small and isolated segments of the exiting sanitary sewer where live flow had to be maintained. This outfall, originally a 75-inch diameter clay-tile-lined reinforced concrete pipe, ran through neighborhoods and under residences and businesses including a bank. For this critical installation, Los Angeles specified Hobas centrifugally-cast, fiberglass reinforced, polymer mortar pipes.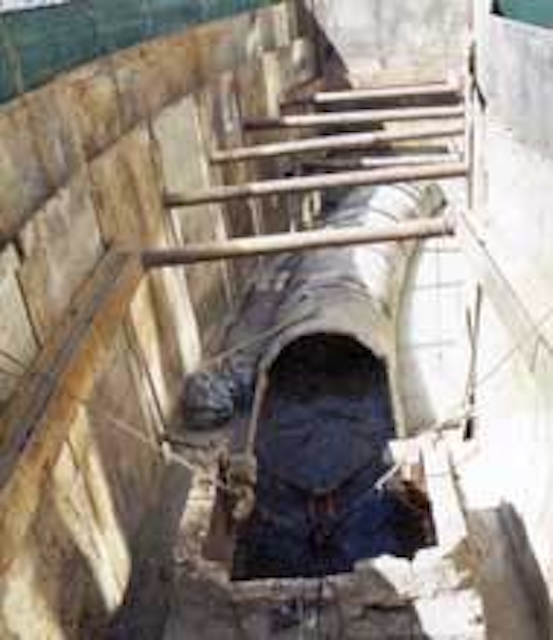 A section of the existing sewer was removed to provide an insertion pit for the curved sections.
Click here to enlarge image
The contractor, Mladen Buntich Construction Co. of Sunland, CA, is a veteran installer of Hobas pipe. They have used it on a dozen previous jobs in the LA area. Their familiarity with the pipe enabled Buntich to reline many difficult reaches without incident.
"We knew using Hobas could save us money," said Lee Roesner, PE, project manager. He pointed out that the alternatives, which included other ways to accommodate traffic or bypass pumping, would be costly and perhaps impossible.
The pipe was installed at the rate of one pipe every five minutes in the 2,000-foot run. This rapid insertion rate was accomplished using an average pushing force of less than 40 tons, well below the 200-ton capacity of the pipe. In two separate areas, Buntich pushed 2,000 linear feet of pipe directly under several private homes.
The existing conditions and limited access prompted some creative installation methods. One inaccessible area of the deteriorated, existing sewer had a 100-foot long 90-degree radius curve. Buntich made several radius fittings with gasket sealed joints to structurally reline the sewer. These were pushed into the curved sections without disrupting flow.
"With our experience, we knew we could do this on site," said Roesner. "It is easy to do by cutting the pipe to length and laying back up."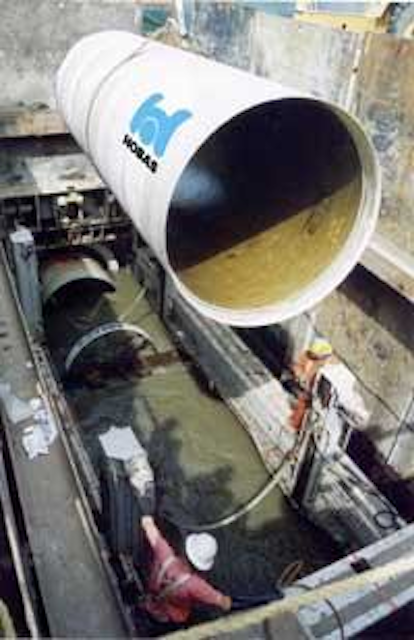 Lightweight sections of Hobas pipe can be handled with a sling. Because they are gasket-sealed, bypass pumping is not required.
Click here to enlarge image
Buntich set up a virtual manufacturing facility at the site that saved both time and money. The crew fabricated radius fittings to match the existing curves using field measurements for the exact configurations. They also manufactured 63-inch by 48-inch Tee sections by laminating 48-inch riser sections to the 63-inch main line. The riser sections were installed after sliplining was complete.
Hobas pipe is widely used for sliplining because of its long-term corrosion resistance, structural reliability, superior hydraulics and adaptability for maintaining live flow without disrupting service. The pipe is manufactured in sizes from 18 inches to 102 inches in pressure and non-pressure classes. For more information, visit the company's website at www.hobaspipeusa.com.