Utilities Use Resilient Wedge Gate Valves To Tackle Tough Problems
Utilities across the country are using resilient wedge gate valves to help repair or upgrade their piping networks.
Apr 1st, 2003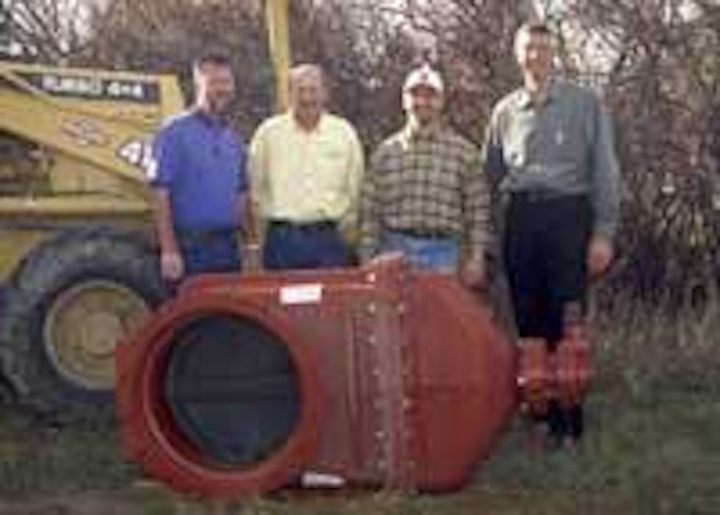 Utilities across the country are using resilient wedge gate valves to help repair or upgrade their piping networks.
As part of a $1.6 million expansion project, it was necessary for the Gainesville Regional Utilities (GRU) in Florida to connect a new 36-inch-diameter, cement-lined ductile iron water line to an existing 36-inch line of the same material.
A sharp increase in water demands at GRU's Murphree Water Treatment Plant, coupled with severe drought in the area, precluded a shutdown of the existing raw water pipeline for the amount of time required to "cut a package" into it. Such a package would have consisted of a 36-inch mechanical joint tee, sleeve(s), valve and thrust restraint systems.
Instead, GRU opted to perform a "wet tap" using American Flow Control's Series 2500 Resilient Wedge Gate Valve.
"Particularly on projects involving our 16-inch and larger water transmission pipelines, GRU prefers wet taps because we don't have to shut down a significant component of our water transmission system when we do them," said John Gifford, P.E., senior utility engineer. "There's no change in the pressures or flows, and our customers aren't inconvenienced. Cutting into the line for a tee and a valve would be too disruptive, and that is just not something we want to do."
GRU now has performed several large-diameter wet taps, but the 36 inch project in 2001 was the most ambitious. More recently, GRU wet taps with AFC valves have included one using a 24 inch valve on a 30 inch water main and a 16 inch valve on a 36 inch water line.
The Series 2500 valves provide leak-tight shutoff for flow isolation and also provide a full-size cutting feature, an unobstructed waterway free of pockets, and a ductile iron body and bonnet that are twice as strong but lighter than cast iron. A fusion-bonded epoxy coating provides resistance to corrosion.
For the 36-inch and 24-inch wet taps, the AFC 2500 Series valves with bevel gearing were installed in the horizontal position. AFC tapped into the housing of the valves and installed a 2-inch threaded nipple and ball to allow for "blow down" of the metal pipe cuttings from the tap. This feature precluded the cuttings from interfering with the closing of the valve, as they were forced out of the valve by water at normal pipeline operating pressures.
Martinsburg
The Martinsburg Utilities in West Virginia ordered more than 150 Series 2500 Resilient Wedge Gate Valves and a large quantity of hydrants during a recent $25 million upgrade to its water system. Utilities Director Stephen Knipe said he chose the wedge gate valves over butterfly valves for several reasons: their smooth, uninterrupted waterway, high pressure rating, positive shut-off, ease of maintenance and durability.
"The 2500s have performed up to and beyond expectations. Their bottle-tight seal assured us of true testing on our new lines, and the resilient seating eliminates the need for bypass valving in larger sizes," Knipe said.
North Platte
For Nebraska's North Platte Water Department, American Flow Control valves and hydrants are an integral part of a $6 million water and sewer project nearing completion that will extend utility services to a key portion of the city.
The project, the Newberry Access Water and Wastewater Systems Improvements, will loop a 24 inch water main around more than three square miles of land, mostly undeveloped commercial property southeast of the city. The project includes sewer service to the same area through sewers up to 27 inches in diameter and a new sanitary lift station. It will supply water and wastewater services to a regional Wal-Mart distribution center currently under construction.
Among other things, AFC supplied 37 Series 2500 24-inch Resilient Wedge Gate Valves with bevel gears for the project. Kirkham Michael Consulting Engineers of Omaha, NE, specified these valves for the first time in North Platte.
"From the information we have and the references from others that are using them, it would appear that these valves will reduce the maintenance requirements compared with other types of valves used in this situation," said Kirkham Michael's Roger Coffey.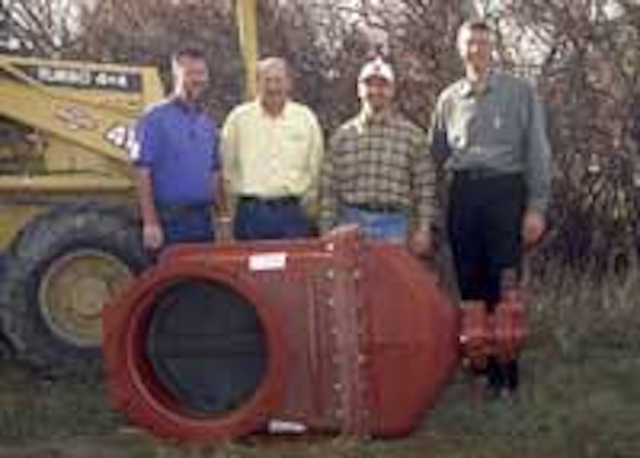 Shown with a Series 2500 Resilient Wedge Gate Valve used at the Newberry project in North Platte are from left: Jerry Deal, superintendent of the North Platte Water Department; Dave Dunning, areas sales representative for distributor USFilter in Omaha; Bob Keller, water foreman in North Platte; and Roger Coffey, the project engineer with Kirkham Michael Consulting Engineers of Omaha.
Click here to enlarge image
"The unobstructed flow will reduce the head loss in the system, and the ability to work on the valve in place, if there is a problem, is an attractive feature," Coffey said. "Due to the size of the transmission main and the number of valves required to provide future distribution to the developing area, we felt the AFC 2500 valves would provide the durability and operational flexibility to meet the service conditions in the system."
Coffey noted that the design and construction of the water and sewer facilities was on a fast-track schedule to meet commitments made to Wal-Mart.
"The design incorporated facilities and products that could meet the short delivery times required to keep the construction rolling," he said.