Pipe Patching System Keeps Wastewater Flowing
The City of Orlando, FL, had experienced problems with a 42 inch force main that runs from a lift station to the Iron Bridge Water Reclamation Treatment Facility.
Apr 1st, 2003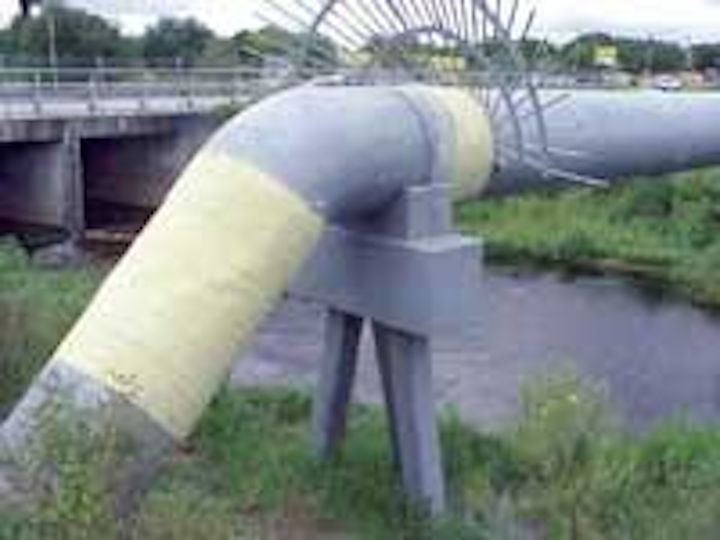 The City of Orlando, FL, had experienced problems with a 42 inch force main that runs from a lift station to the Iron Bridge Water Reclamation Treatment Facility. The 20-year-old pre-stressed concrete cylinder pipe (PCCP) had developed a leak adjacent to an aerial crossing. Copious amounts of hydrogen sulfide gas liquefying to sulfuric acid were causing its deterioration.
Orlando's Public Works Department (PWD) monitored the pipe regularly, yet it was a resident who, last August, reported sewage percolating out of the ground.
Ron Proulx, Assistant Bureau Chief for Orlando's PWD, contacted Neptune Research, Inc., the manufacturers of Syntho-Glass products. PrimeLine Products, the national distributor for Syntho-Glass products for the water/wastewater industry, was also notified. Using this new material, PWD crews successfully repaired the leaking pipe, preventing an ecological and public health catastrophe.
Moonlight crews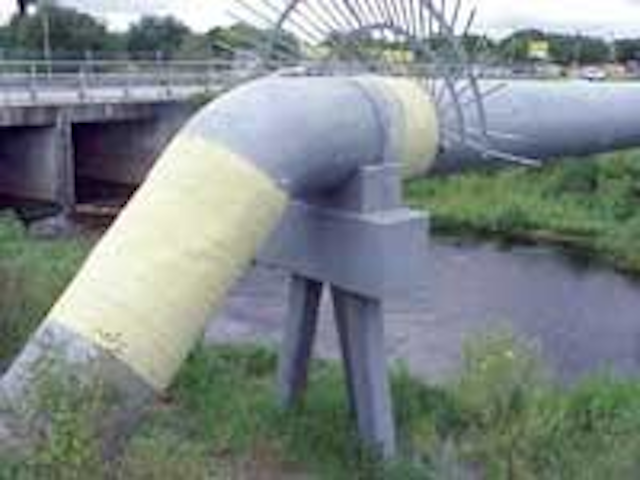 A 42 inch pre-stressed concrete cylinder pipe force main, damaged by the corrosive effects of hydrogen sulfide, was repaired by Orlando using a specialized epoxy along with Syntho-Glass® to "lock in" the primary repair.
Click here to enlarge image
Pump Station Number 249, one of Orlando's largest, pumps 12 to 20 million gallons of sewage a day to the Iron Bridge Water Reclamation Treatment Facility. Sewage is discharged through five miles of 42-inch diameter PCCP. PCCP is pre-stressed reinforcing wire (rebar) covered with a steel plate, then surrounded by an inner and outer concrete layer. Together, they total two inches thick.
The pipe failed 10 miles from downtown Orlando in a suburban area. Normally, PWD crews would cut out the corroded section and replace it with repair couplings. This takes 10 to 12 hours.
"Had we chosen that option," Proulx said, "major bypass pumping would have been required, since we can't shut down the force main. It would have been a miserable, tough job, and cost the city quite a bit more money."
Although paralleling Route 50, the eight-foot-deep force main was far enough away to be easily exposed without delaying traffic. A three-man crew began excavating at midnight when the flow was lowest. To reduce it further, flows from some lift stations upstream were diverted. The crew discovered sulfuric acid had eaten through two feet of the pipe's crown.
After excavating completely around the pipe's full diameter, the men knocked away the outer layers of the pipe and exposed the damaged crown. They cleaned the outside of the pipe and welded a new steel plate to the existing steel cylinder. Then they covered that with Dynamix epoxy followed by a quick-setting cement.
"What we needed was a secondary patch to lock the first one in place," Proulx said. "We chose Syntho-Glass because of its quick cure time – 30 minutes at 75 degrees Fahrenheit – and ease of application."
A crossover from the gas and oil industries, Syntho-Glass can repair gravity sewer lines or up to 60 psi active leaks in pressure pipe. The 100 percent fiberglass cloth is impregnated with a urethane resin. Since this was the first time PWD crews had handled the material, company representatives were present during the repair.
After submerging an 8-inch by 50-foot roll in water to activate the urethane, one man pulled the wrap tightly around his section of pipe, then passed the roll to the next man to do the same. Each wrap was overlapped 50 percent. Although the repair area was only two feet long, the total wrap extended four to five feet in case some undetected damage had occurred on either side of the patch. They went back and forth until eight layers of Syntho-Glass were applied and finished the job in six hours. The wrapped area is now as strong or stronger than the original pipe.
"Most of the soil in Orlando is sandy," Proulx said. "We also have a high water table, but with excellent drainage characteristics. The liquid portion of the sewage probably percolated into the ground to a certain extent, but the sand acted like a filter. Any solids were contained at the site, and that soil was hauled to an approved dump site."
Clean sand was trucked in to replace it.
Reconnaissance crews also spotted cracks in the same force main where it made an aerial crossing over Little Econ Creek.
"A rupture into this body of water would be disastrous," Proulx said.
Taking no chances, the PWD wrapped the suspect lengths of pipe with Syntho-Glass. This repair was done during the day.
"Syntho-Glass saved the city thousands of dollars and bought us the time to finish designing a new parallel force main," Proulx said. "The design work is 60 percent complete. Eventually, after the installation of the new force main, flows will be diverted and the old PCCP will be inspected and rehabilitated. With the installation of the new force main, it will enable us to divert flows from one force main to another and it will give us some flexibility if one or the other is accidentally damaged."