New Literature
McElroy Manufacturing has released the latest version of its award winning fusion catalog and reference guide covering the latest innovations in joining polyethylene pipe.
May 1st, 2003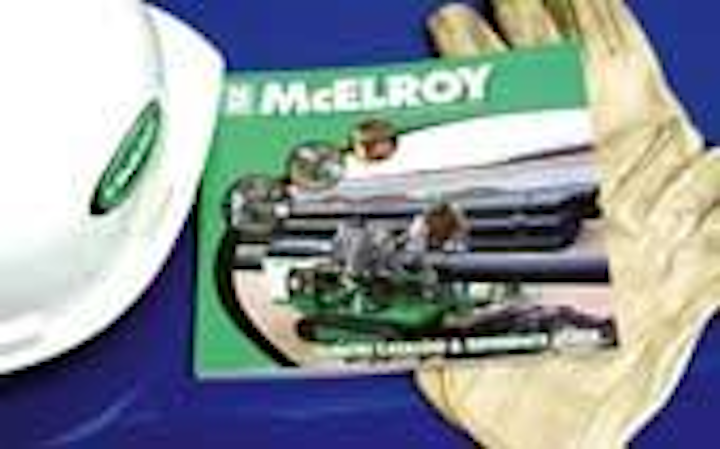 PE pipe fusion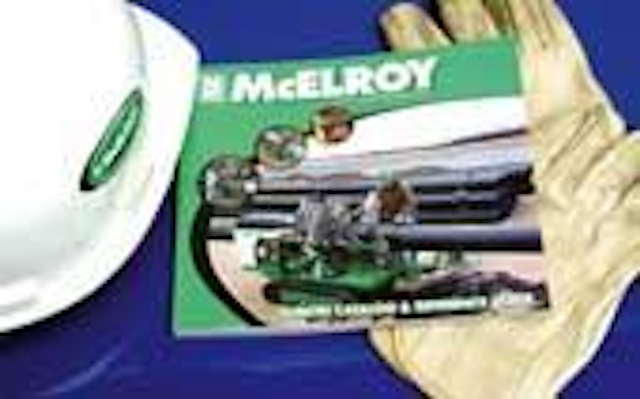 Click here to enlarge image
McElroy Manufacturing has released the latest version of its award winning fusion catalog and reference guide covering the latest innovations in joining polyethylene pipe. The guide has been updated from cover to cover and presents in detail the company's entire product line including the newly expanded line of TracStar™ machines. The 160-page, full-color guide also includes a reference section with helpful information such as machine specific cylinder force selection guides, various reference charts, and fusion pressure calculation instructions.
McElroy Manufacturing
Tulsa, OK
Tel: 918-836-8611
Web: www.mcelroymfg.com/catalog
Pump website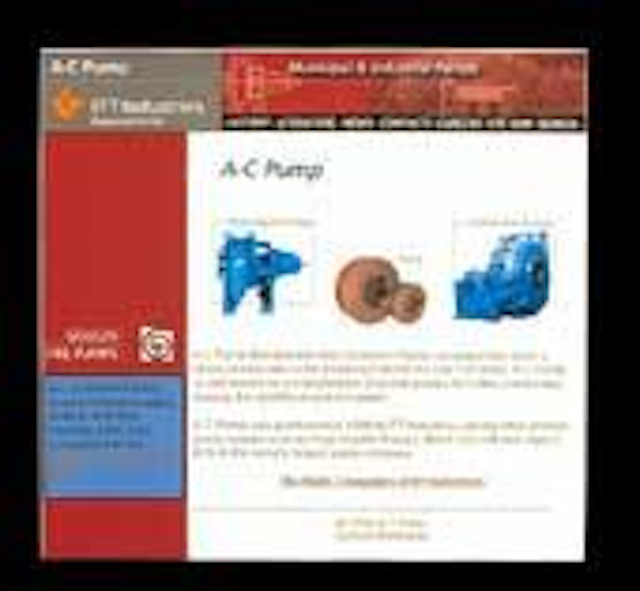 Click here to enlarge image
A-C Pump, one of the fluid businesses of ITT Industries, has launched a website for water, wastewater and industrial pump users. The new portal enables users to navigate through markets and pump types to select the specific model of pump needed. Complete parts information, including specially priced, excess inventory listings can also be accessed. Downloadable sales brochures outline the features and capabilities of each product line.
A-C Pump
Seneca Falls, NY
Tel: 315-568-7122
Web: www.acpump.com
Valve products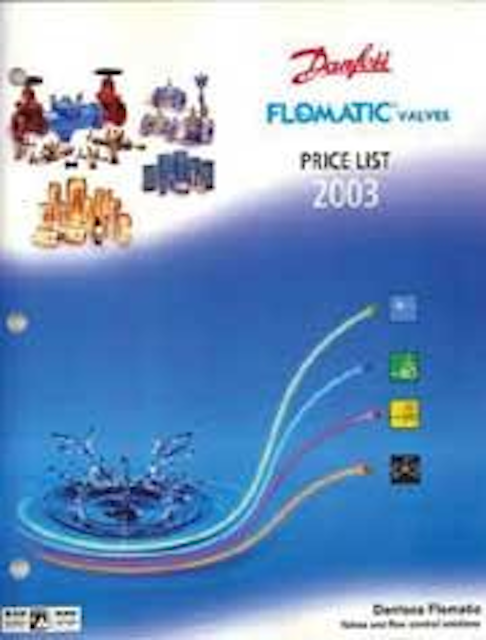 Click here to enlarge image
Danfoss Flomatic has published a new 36 page four-color condensed catalog and price list which includes many new products. During the last year the company has expanded on its valve manufacturing in almost every one of its valve categories including check valves, backflow preventers, butterfly valves and automatic control valves.
Danfoss Flomatic Corp.
Glens Falls, NY
Tel: 800-833-2040
Web: www.flomatic.com
Calibration catalog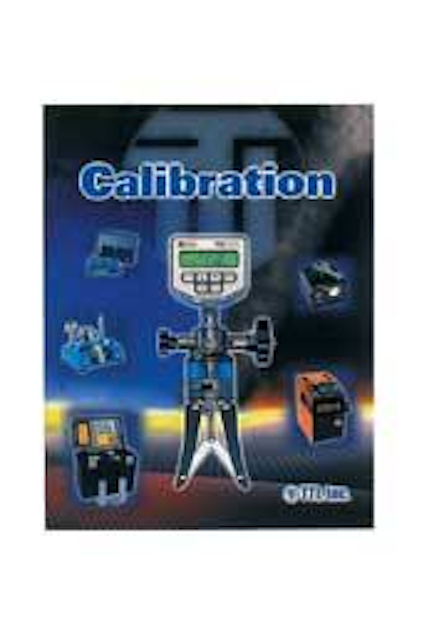 Click here to enlarge image
TTI has published a Calibration Catalog detailing its product and service offerings. The catalog showcases the company's temperature, pressure and signal calibrators and promotes services offered by its calibration laboratory. The 94-page catalog includes many new or redesigned products manufactured by Tek Know, Eurotron, SI Pressure Instruments, Iso-Tech, Martel and Hathaway.
TTI Inc.
Willison, VT
Tel: 802-863-0085
Web: www.ttiglobal.com
Sealless pumps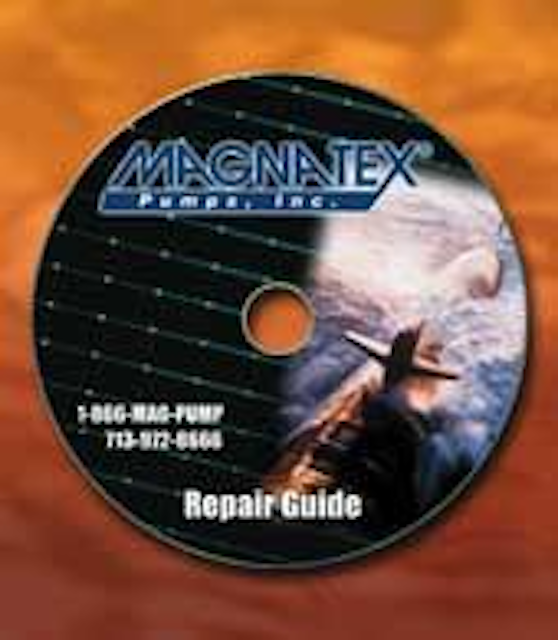 Click here to enlarge image
Magnatex® Pumps is offering a new CD Product Guide to its full line of metallic and Texel® fluoropolymer-lined magnetically driven, sealless pumps. The interactive CD provides a brief history of the company, in addition to technical information on the complete line of pumps, including: performance ranges, specifications and materials of construction. Differentiating product features are outlined along with key performance advantages that offer significant benefits to end-users.
Magnatex® Pumps, Inc.
Houston, TX
Tel: 713-972-8666
Web: www.magnatexpumps.com
Blower brochure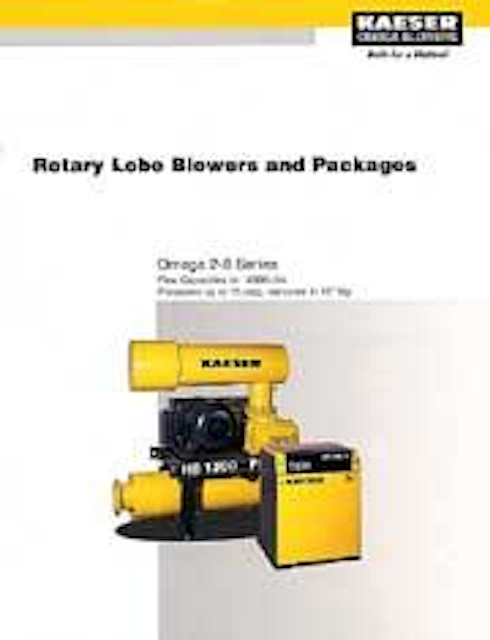 Click here to enlarge image
Kaeser Compressors offers a redesigned Omega Blower brochure. The publication features information on the company's rotary lobe blowers and blower packages. These heavy-grade blowers are available in two lobe and three lobe designs with flows to 4400 icfm at 15 psig or 15" Hg. Dimensional specifications and performance information are included as well as dimensional drawings and information on warranties and guarantees.
Kaeser Compressors Inc.
Fredericksburg, VA
Tel: 800-777-7873
Web: www.kaeser.com
Measuring instruments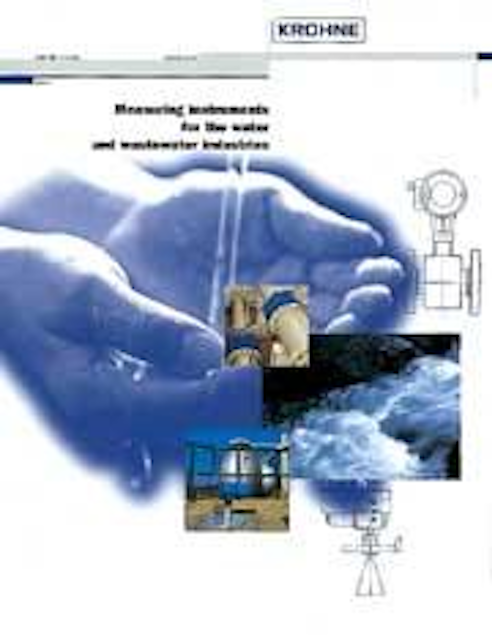 Click here to enlarge image
Krohne has released a new product guide describing its measuring instruments for water and wastewater applications. The brochure features electromagnetic, ultrasonic and variable area flowmeters as well as level measuring devices. Instrumentation outlined in the brochure specifically address the needs of water resource management. Products feature include the Aquaflux magmeter and the BM 100 Reflex Radar, continuous level gauge, among others.
Krohne Inc.
Peabody, MA
Tel: 800-356-9464
Web: www.krohne.com
High-rate clarification
USFilter has developed a new interactive compact disc detailing the Actiflo® ballasted high-rate clarification process through a virtual demonstration. The process, developed by USFilter's Kruger Products, combines conventional-type water clarification with microsand to treat effluent. It can be applied to both ground and surface waters where either better performance or cost reduction is desired.
USFilter Kruger Products
Tel: 919-677-8310
Web: www.usfilter.com
Lab products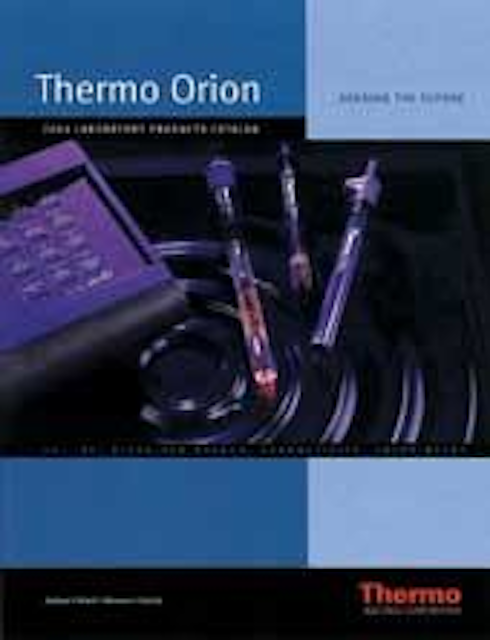 Click here to enlarge image
The new 136-page 2003 Thermo Orion Lab Products Catalog includes dedicated sections of pH, ISE, conductivity, dissolved oxygen and the newly expanded colorimetry section of products. It also includes the company's guides to pH and ion selective electrode analysis, as well as concise overviews of pH, ISE, colorimetry, conductivity and dissolved oxygen measurement theory, offering practical information and application references.
Thermo Orion
Beverly, MA
Tel: 978-232-6057
Web: www.thermo.com/orion
Chemical process pumps
Flowserve Pump Division has published a new full-color bulletin which describes its Mark III In-Line Chemical Process Pump. With exclusive design features, this space-saving pump offers improved pump reliability and extended mean time between planned maintenance (MTBPM). According to the brochure, the pump is designed with the unique SealSentry™ seal chambers including models with flow modifiers which redirect flow from circumferential to axial. This unique seal technology is self-flushing, self-venting and self-draining. Seal life is extended by this purging of heat, solids and vapors.
Flowserve Corp., Pump Division
Dayton, OH
Tel: 800-728-7867
Web: www.flowserve.com