Treatment System to Boost Capacity Without Increasing Footprint
USFilter's Kruger Products has secured a $1.7 million contract with the city of Salisbury, N.C., to supply two Actiflo® high-rate flocculation and settling systems for water treatment.
May 1st, 2003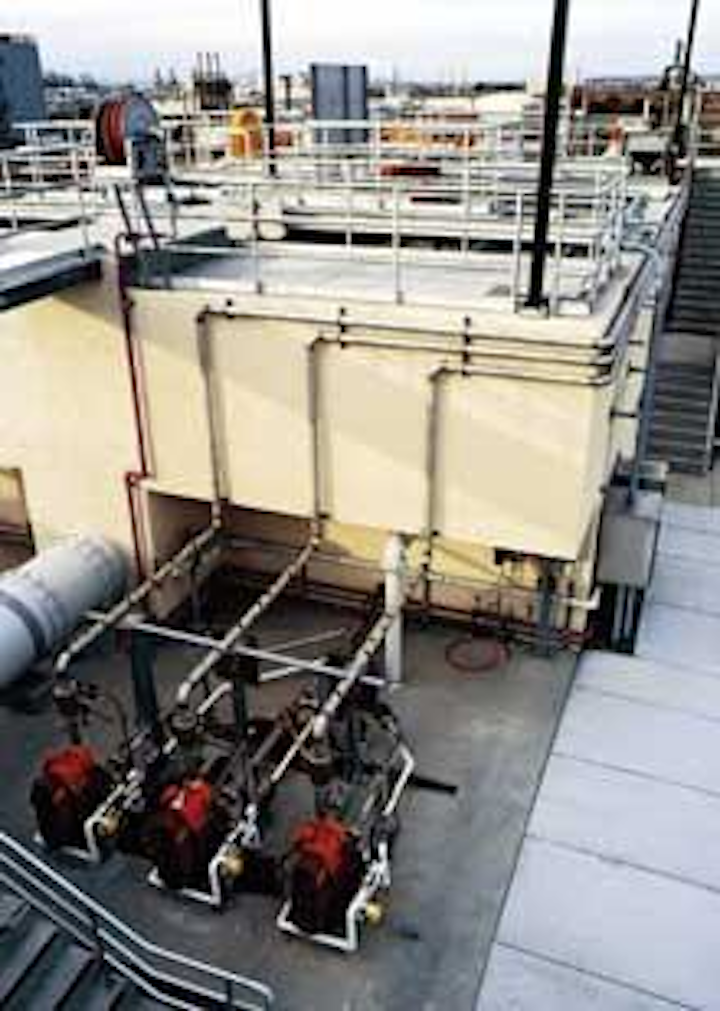 USFilter's Kruger Products has secured a $1.7 million contract with the city of Salisbury, N.C., to supply two Actiflo® high-rate flocculation and settling systems for water treatment.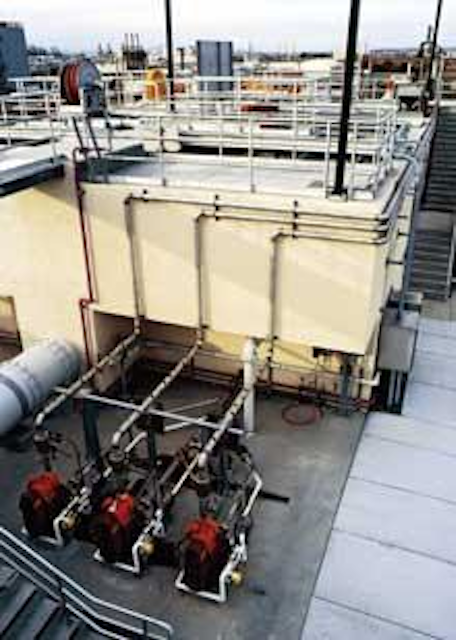 A typical Actiflo facility in operation at the Delta Diablo, CA, wastewater plant.
Click here to enlarge image
The two Actiflo units, the first approved by the North Carolina Department of Environmental Protection, are scheduled to start operation in December 2003. They will provide pretreatment for the city's conventional treatment process in a plant expansion that ultimately will increase drinking water capacity from the existing 12 mgd to 24 mgd.
The city selected the Actiflo process for its high treatment capacity in a small footprint.
"Our water plant is located in the downtown area," said John Vest, deputy utilities director for the city. "We are landlocked and had very little room to expand. We needed a technology that would enable us to add capacity without buying new property. Among the technologies we considered, the Actiflo process best met that requirement."
Extensive state-mandated pilot testing demonstrated that the technology would effectively treat raw water drawn from the Yadkin River. Pilot tests were conducted in a 1 mgd test unit under summer and winter conditions, using natural high-turbidity river water as well as water artificially raised to as high as 400 NTU. The tests documented to city and DEP staff that the process would meet water-quality requirements for removal of aluminum, iron, manganese, total organic carbon (TOC), color, and turbidity.
Salisbury, a city of 26,000 in western North Carolina, will be the second community in the state to install the Actiflo process. Lincolnton, a city of 74,000 near Charlotte, installed a 9 mgd Actiflo system, also for pretreatment.
"The experiences of these two cities document that Actiflo is a cost-effective treatment technology well suited to water sources of variable quality," said Steve Scruggs, executive vice president of engineering with Peirson & Whitman Architects and Engineers of Raleigh, NC, designers of the Salisbury treatment plant expansion.
The Actiflo process has been used in water works for more than a decade for treating surface water to produce drinking water. The process has proven stable and efficient, meeting water-quality standards even with the significant seasonal and weather-related variations in turbidity, which often occur in river water.
The process works on the same principles as conventional water treatment technology. Both use coagulant for destabilization and flocculant-aid polymer to aggregate suspended materials, which are then removed by settling. The primary difference in the Actiflo process is the addition of microsand to speed up floc formation and settling. The microsand aids development of chemical floc far denser and more durable than floc in a conventional clarifier. It also acts as ballast to enhance settling and thus allow shorter detention times and higher clarifier overflow rates. That translates to a smaller system footprint and lower capital costs.
USFilter's Kruger Products supplied all components of Salisbury's two Actiflo units. The project includes all tanks and mechanical equipment, chemical and sand feed equipment, controls and instrumentation.
Information on the Actiflo System will be on display at the AWWA Annual Conference, set for June 15-18 in Anaheim, CA.