Award-Winning Plant Using Technology To Make Greens Greener
The Merrimack Wastewater Treatment Facility (WWTF) in Merrimack, NH, has been providing New Englanders with high-quality biosolids compost for more than 15 years.
May 1st, 2003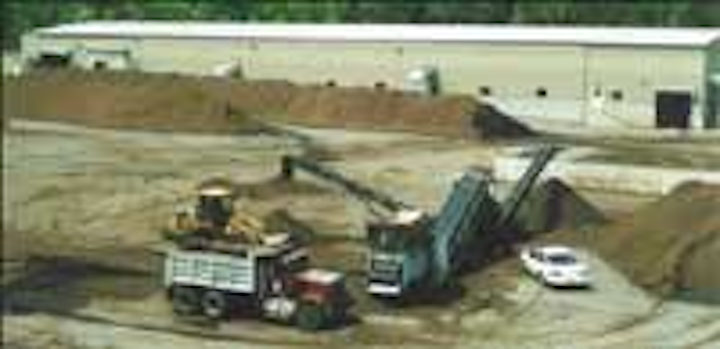 By Paul J. Gormsen
The Merrimack Wastewater Treatment Facility (WWTF) in Merrimack, NH, has been providing New Englanders with high-quality biosolids compost for more than 15 years. The facility treats wastewater from local commercial, industrial, and residential users, as well as septage from five surrounding communities.
Merrimack's fully computerized, state-of-the-art facility handles a design flow of 5 mgd, with a peak flow capacity of 11.5 mgd. More than half of the facility's daily flow (2 mgd) comes from a large local brewery, which is also responsible for producing most of the organic matter in the influent.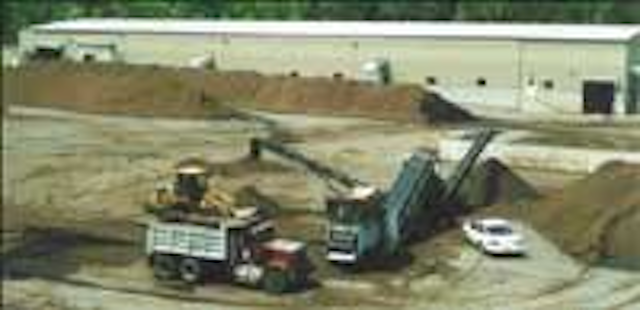 After 18 days of enclosed active composting, the compost is moved outside where it is screened and cured prior to distribution and marketing
Click here to enlarge image
A multi-stage trickling filter and activated sludge wastewater treatment process removes approximately 97 percent of this organic waste from the wastewater. After treatment, the purified wastewater is disinfected before being discharged into the Merrimack River. Wastewater residuals are thickened and dewatered using belt filter presses prior to being processed in a composting facility to create marketable biosolids compost.
One of the first WWTFs in the U.S. to implement a Class A biosolids recycling program and a three-time U.S. EPA-award winner, the Merrimack facility continues to make improvements and upgrades to its composting operation. Material produced at the facility consistently meets the highest state and federal standards for Class A biosolids and, as a result, is indirectly applied to such prominent areas as Central Park's Great Lawn in New York City and numerous golf courses throughout New England.
Treatment Process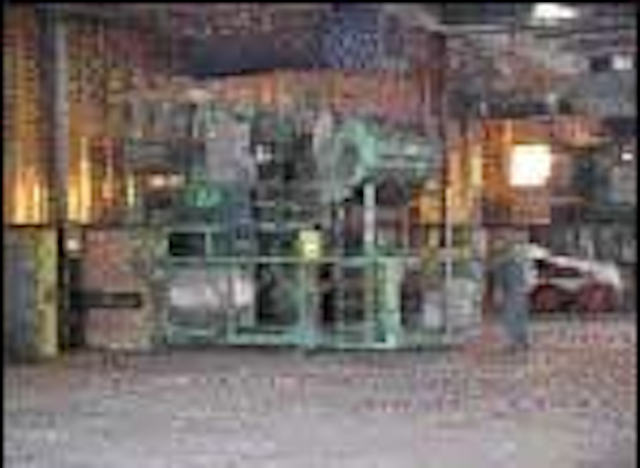 Each day a transfer dolly moves the agitator to the front of each bay where the machine enters the bay to mix and move the composting material toward the finishing area.
Click here to enlarge image
Merrimack installed USFilter's 15-bay IPS composting system in 1994. Prior to building the facility, biosolids produced at Merrimack's wastewater treatment plant were deposited in landfills, incinerated, or dried and composted in open-aerated static piles. The IPS system has proven capable of composting all of the dewatered biosolids generated at the facility, with a composting capacity of approximately 225 cubic yards per day or more than 50,000 cubic yards per year. Of that, the town produces 15,000 cubic yards of finished compost annually.
USFilter's EPA-approved IPS composting system turns wastewater biosolids, sawdust, yard waste and wood waste into compost that meets the U.S. EPA 503 regulatory requirements for Process to Further Reduce Pathogens (PFRP) and Vector Attraction Reduction (VAR). The system's completely enclosed design ensures that the material is adequately mixed, aerated and moistened during the composting process and odors are controlled during compost curing and storage.
The IPS CompMaster™ computer process control system provides organic mix ratios, tracks composting materials and agitators, controls moisture addition, regulates temperatures, collects data and generates reports.
During the composting process, dewatered biosolids are mixed with sawdust and loaded into 15 long, bin-like bays where the organic material is repeatedly mixed and monitored by a computerized system to ensure full pathogen treatment and uniform compost quality. The IPS aeration system blows air into the composting material from the bottom of the bays, stimulating the decomposition and removal of water, heat and carbon dioxide from the organic material. The process air is exhausted directly into a 15,000-square-foot odor control biofilter.
Merrimack's compost facility operates year-round, with finished compost stockpiled in open-air piles during the winter months to meet peak planting season demand in the spring.
The Product
Merrimack's composting process produces a high-quality, nutrient-rich finished compost product that is low in trace metals. To ensure continued quality, the facility has an independent laboratory regularly test the end-product for all regulated components. Jim Taylor, chief operator of the Merrimack WWTP and compost facility, reports that his facility's biosolids products have consistently tested well within federal and state standards.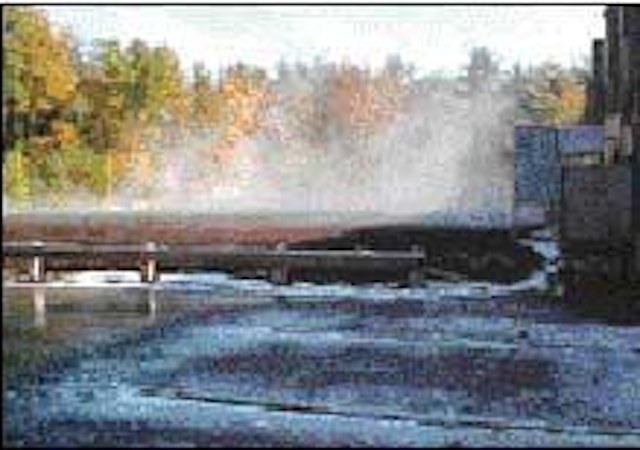 A naturally cleansing biofilter comprised of wood chips and bark is used for odor control.
Click here to enlarge image
Taylor credits the IPS compost facility, a dedicated staff, and the development of an Environmental Management System to Merrimack's successful biosolids production efforts. The facility's compost is recognized in New England as a superior-quality product and, as a result, is in great demand for use as a component of topsoil in commercial and private gardening and landscaping projects.
The Merrimack facility contracts with Amesbury, MA-based Agresource, Inc., an organic waste management company that sells Merrimack biosolids to nurseries, athletic fields, golf courses and general landscapers throughout the Northeast. Merrimack biosolids compost has been used for Central Park's Great Lawn restoration in New York City, at Springer Park in Manchester, NH, and on parts of the Boston Common, as well as on numerous New England golf courses and athletic fields. Merrimack compost was used on an award-winning soccer field at Boston College, and in a sand-compost mixture recently used to repair turf at Boston's Fenway Park.
Agresource President Geoff Kuter says that his customers are dedicated to using Merrimack product because of its quality and fine texture. Merrimack compost was specifically selected for the Great Lawn restoration because of its consistency, nutrient value, and high organic matter content. The compost also met the strict standards set by the State of New York as well as the specific requirements of the Central Park Conservancy.
Golf courses find that the compost's high concentration of organic matter and nutrients help suppress plant diseases and improve plant health in turf grass applications. Researchers at Cornell University are studying Merrimack compost at Beth Page Golf Club on Long Island as part of an Integrated Pest Management program to reduce the use of pesticides on greens.
Agricultural and commercial outlets are not the only ones using Merrimack's biosolids. The facility offers area residents the finished compost free of charge, to use in their gardens or landscaping.
"Our biosolids composting program has truly put us on the map as a leader in environmental conservation," Taylor said. "We remain committed to offering our end-users and community a cost-effective, environmentally friendly service that meets – or exceeds – all state and federal regulations."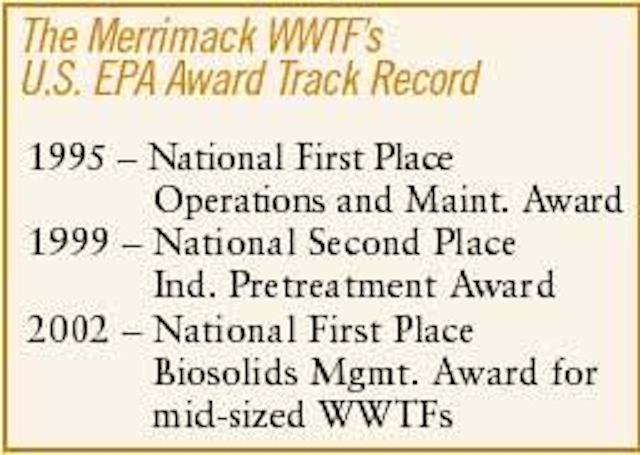 Click here to enlarge image
---
About the Author: Paul J. Gormsen, P.E., is USFilter's IPS business manager. During his 15 years with USFilter, Gormsen has served as design and project engineer for approximately 30 IPS composting facilities worldwide. Before joining USFilter, he was chief of design for wastewater facilities at the State of Vermont's Agency of Environmental Conservation for 17 years.