New Products
Hi-Tech offers a line of solids contact clarifiers for water treatment applications, including: turbidity, color and phosphorus removal as well as lime softening.
May 1st, 2003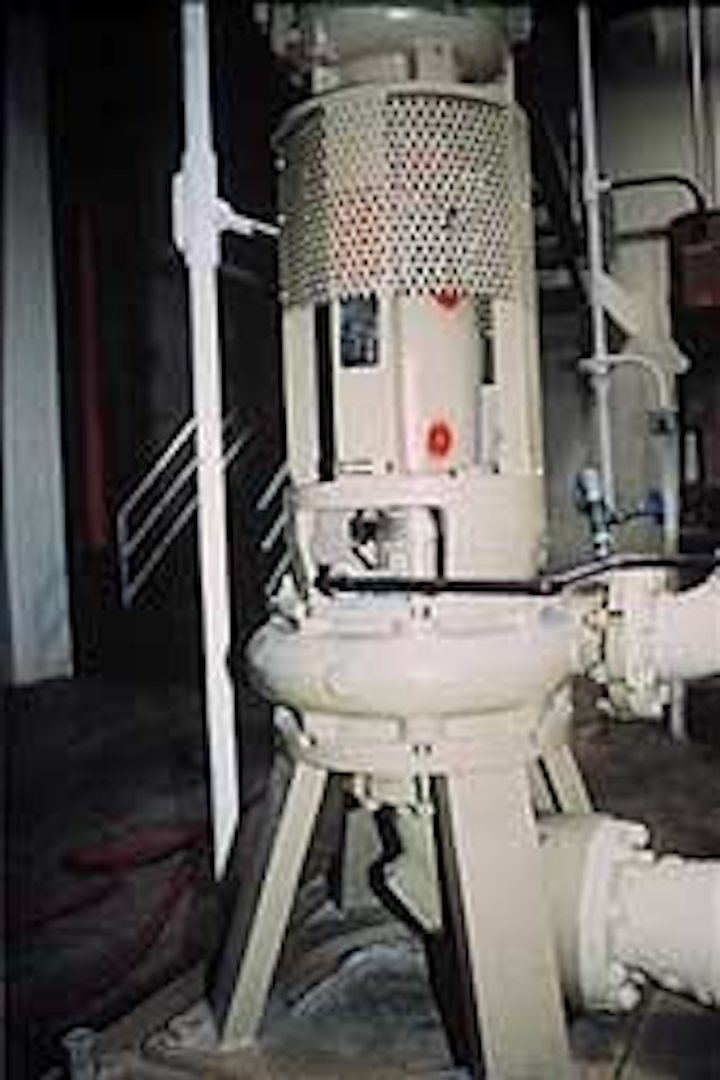 Solids contact clarifiers
Hi-Tech offers a line of solids contact clarifiers for water treatment applications, including: turbidity, color and phosphorus removal as well as lime softening. The heavy duty design incorporates a draft tube and concentric mixer for effective re-circulation and rapid settling of solids. The clarifiers also feature radial effluent launders and reaction cones.
Hi-Tech Environmental, Inc.
Birmingham, AL
Tel: 800-264-7005
Web: www.hi-techenv.com
Sewage pumps
Patterson's Type F and the Forceline® NCS Series non-clog sewage pumps are offered with a sealing arrangement which requires no flush water. The new technology features EnviroSeal's SpiralTrac® throat bushing and Chesterton's Model 442™ split mechanical seals. The system provides savings in areas of maintenance and seal flush water. In addition to savings on initial installation and long-term costs associated with having to flush the stuffing box, maintenance can now be performed to the seal and stuffing box without taking the pump out of service.
Patterson Pump Co.
Toccoa, GA
Tel: 706-886-2101
Double suction pumps
A-C Pump and Goulds Pumps offers a broad line of single stage, double suction pumps. These horizontally split case pumps are designed for a wide range of municipal wastewater applications, including: high flow, low lift, raw water and wastewater. The 3400 Series features double suction impellers to assure hydraulic axial balance in low thrust bearing loads. The in-line suction and discharge flanges in the lower half casing simplifies piping.
Goulds Pump Inc.
Seneca Falls, NY
Tel: 800-734-7867
Web: www.gouldspumps.com
Split roller bearings
Craft Bearing has added a new Stainless Steel Series to its line of split roller bearings. The bearings are cylindrical roller bearings with all the inherent features of cylindrical bearings, plus the added benefit of being precision machined into halves. Bearing inspection or change out is greatly simplified and expedited without disturbing ancillary equipment or shaft alignment. Their self-aligning swivel cartridges and pedestal housings are machined from ductile iron for greater tensile and yield strength. The units are powder coated (baked on) rather than painted for a greater resistance to the elements. Sealing is provided by an aluminum triple labyrinth design, using a double row of "O" ring material in the bore.
Craft Bearing Company, Inc.
Newport News, VA
Tel: 757-247-6000
Web: www.craftbearing.com
Air release valve
Asahi/America offers a new Air Release Valve which acts as a controlled venting solution for piping systems. By automatically releasing air out of a piping system, the valves reduces the potential for water hammer incidents to occur due to air pressure building up. The valves are ideal for pump and filtration stations, along mains and main lines and installed at the highest point in a piping system.
Asahi/America, Inc.
Malden, MA
Tel: 877-242-7244
Web: www.asahi-america.com
Aeration system
The Japanese firm NCC Co. has begun offering a new aeration system called the Tornador. The system creates a "tornado" effect that produces a lifting, turning style of mixing within a basin. The high efficiency aeration system generates air bubbles 50 to 300 microns in size and provides a high shearing force for scum fragmentation. The system uses conventional blowers and is simple to install and operate.
NCC Co., Ltd.
Ogden, UT
Tel: 801-395-1781
E-mail: yamamoto@chikyujin.net
Alternating controllers
Model 2611 Alternating Controllers are new from Time Mark Corporation, manufacturers of 3-Phase monitors, current monitors, voltage sensors, pump and liquid level controls, instrumentation controls, and Signaline timing devices. The controllers are microprocessor-based designs for use where two loads are required to alternate for equal run time. LED indicators show status of the unit's three contact switch inputs and two load outputs.
Time Mark Corp.
Tulsa, OK
Tel: 800-862-2875
Web: www. time-mark.com
Hydrazine analysis
The Ametek/Thermox Model 7025 Hydrazine Analyzer is designed to measure hydrazine in water on a continuous basis. It uses a mass-transport, limited amperometric cell that directly contacts the sample stream. The sensor uses a platinum anode and silver cathode separated by a porous ceramic housing containing a gelatinous electrolyte. Hydrazine contacts the sensor which in turn generates a DC current directly proportional to the concentration of hydrazine.
Ametek, Process & Analytical Instruments Div.
Pittsburgh, PA
Tel: 412-828-9040
Web: www.thermox.com
Grease removal
The Remediator® Grease Treatment System offered by Jay R. Smith is designed to eradicate suspended fats, oils and grease at the source. This task is accomplished through the use of environmentally safe live bacteria which have been specially selected and bred to have broad appetites for the rapid reduction of fats, grease, sugars and other complex carbohydrate and proteins.
Jay R. Smith Mfg.
Montgomery, AL
Tel: 334-277-8520
Web: www.jrsmith.com
Photometric transmitters
Custom Sensors & Technology introduces a new UV, VIS, or NIR based photometric transmitter that can measure the absorbance, reflectance, or fluorescence from a liquid or gas process stream to control the feed rate of a chemical additive, thereby preventing an overfeed or underfeed condition. The photometric transmitter requires only 24 vDC and can be supplied to meet C1D1 or C1D2 electrical area classification.
Custom Sensors & Technology
Fenton, MO
Tel: 636-305-0666
Gas dispersion impeller
Chemineer offers the BT-6 Gas Dispersion Impeller, which efficiently disperses gas in liquids at the highest flow rates as a result of its advanced blade geometry. The impeller uses a concave, vertically asymmetrical blade design that not only forces gas to the walls, it distributes the gas throughout the entire liquid volume, bottom to top, resulting in superior mass transfer and uniformity. In studies of dozens of different impeller styles the BT-6 consistently produced the most uniform gas dispersion, increasing the mass transfer rate by as much as 60% when compared to a flat blade, disc-style turbine.
Chemineer, Inc.
Dayton, OH
Tel: 937-454-3200
Web: www.chemineer.com
Fieldbus transmitter
Emerson Process Management, Rosemount Analytical, Liquid Division has introduced the Model 5081 two-wire transmitter, the industry's only second-generation Foundation Fieldbus transmitter. The transmitter is available as a HART®-compatible two-wire transmitter. This means a user can completely set up and configure the instrument from a remote location, saving both time and money. Using HART and Foundation Fieldbus digital communications protocols provides access to Asset Management Solutions (AMS) and other host applications.
Emerson Process Management
Irvine, CA
Tel: 949-757-8536
Web: www.emersonprocess.com
Enclosure ventilation
Fibox has introduced an enclosure ventilation device featuring a molded in place gasket that ensures a tight seal and eliminates the loose, separate gasket required in older models. Without a design change, users can now select an easier to install, cost saving assembly with the same mounting hole pattern and footprint as in previous models.
Fibox, Inc.
Glen Burnie, MD
Tel: 888-342-6987
Web: www.fiboxusa.com
Water meter testing
Ford Meter Box announces the availability of the Automated Measuring System, AMS. The new system takes the Ford test bench to the next level of water meter testing. It is available for new or any existing Indianapolis Style or Standard Ford test benches. The system consists of modular components and combines the trusted method of weighing metered water with computer automation to ensure accurate measurements.
Ford Meter Box Co., Inc.
Wabash, IN
Tel: 260-563-3171
UV disinfection
The LPX ultraviolet disinfection series from Suntec Environmental incorporates low pressure, high output lamp technology in a UV system that provides higher disinfection levels with fewer lamps than the traditional low pressure, low intensity disinfection systems. Designed with the wastewater treatment plant operator in mind, the systems feature user friendly controls, modular racks and an automatic cleaning system. The company's high frequency submersible ballasts (capable of variable output) are "Cooled by Configuration." Using the wastewater to cool the ballasts eliminates the need for additional cooling systems, cabinets or buildings. This also reduces the overall size of the system and increases its reliability.
Suntec Environmental, Inc.
Concord, Ontario
Tel: 905-669-4450
Web: www.suntecuv.com
Distributed control system
Invensys has introduced an expandable Distributed Control System (DCS) featuring architecture by ArchestrA. The Foxboro® A2™ automation system integrates technology, expertise, and services from across Invensys to provide end-users in general process plants with an automation solution that fits their applications better than programmable Logic Controllers (PLCs) and costs less than traditional DCSs. Based on the company's Eurotherm™ technology, the system I/O combines flexibility, high capability and ruggedness at a low price point. A wide variety of different analog and digital process inputs and outputs come in high-density configurations that minimize space requirements. The system I/O can be remote-mounted on DIN rails close to the process and communicate with the system controllers via Profibus, Modbus, or DeviceNet digital communications.
Invensys plc
Foxboro, MA
Tel: 866-747-6477
Web: www.foxboro.com
Controllers
GE Fanuc Automation North America, an affiliate of GE Industrial Systems, has introduced the new PACSystems™ family of controllers. The family features a single control engine and universal programming environment – which provides portability across multiple hardware platforms. By combining new technology with existing hardware systems, the PACSystems family provides a seamless migration path that protects each user's investment in both I/O and applications development, enabling easy upgrades for improved control functionality. Cimplicity® Machine Edition™ software from GE Fanuc provides the universal engineering development environment for programming, configuration and diagnostics.
GE Fanuc Automation
Charlottesville, VA
Tel: 800-648-2001
Web: www.gefanuc.com
Hydrant diffuser
The Hose Monster® from Hydro Flow Products is designed to accurately measure flow rates and safely diffuse and divert potentially dangerous water flow. Traffic interference and property damage are minimized. The product is used with a short length of hose to send water into a gutter or sewer. The patented design cancels the thrust so the hose just lies where you put it. The exact orifice with laboratory proven coefficient and precisely positioned pitot ensure consistent flow rate measurements.
Hydro Flow Products, Inc.
Rolling Meadows, IL
Tel: 888-202-9987
Web: www.hosemonster.com
Turbine vane pump
The Magnatex® MPT Series Regenerative Turbine Vane Pump is designed specifically for small flows at medium to high heads. This close-coupled, magnetically driven, sealless pump features a turbine vane impeller and rare earth Neodymium magnets for synchronous drive with no slippage and less internal heat than other mag-drive pumps. The close-coupled design saves space, eliminates alignment problems, and reduces installation costs. The MPT Pump requires lower horsepower than competitive pumps. It also provides better pump hydraulics at very low flow rates. Other proven benefits include longer MTBF and lower total cost of ownership.
Magnatex® Pumps, Inc.
Houston, TX
Tel: 713-972-8666
Web: www.magnatexpumps.com