New Coating Protects Concrete in the Wastewater Industry
Two of the biggest challenges facing today's concrete wastewater treatment structures are cracking and deterioration of the concrete from hydrogen sulfide attack.
Mar 1st, 2003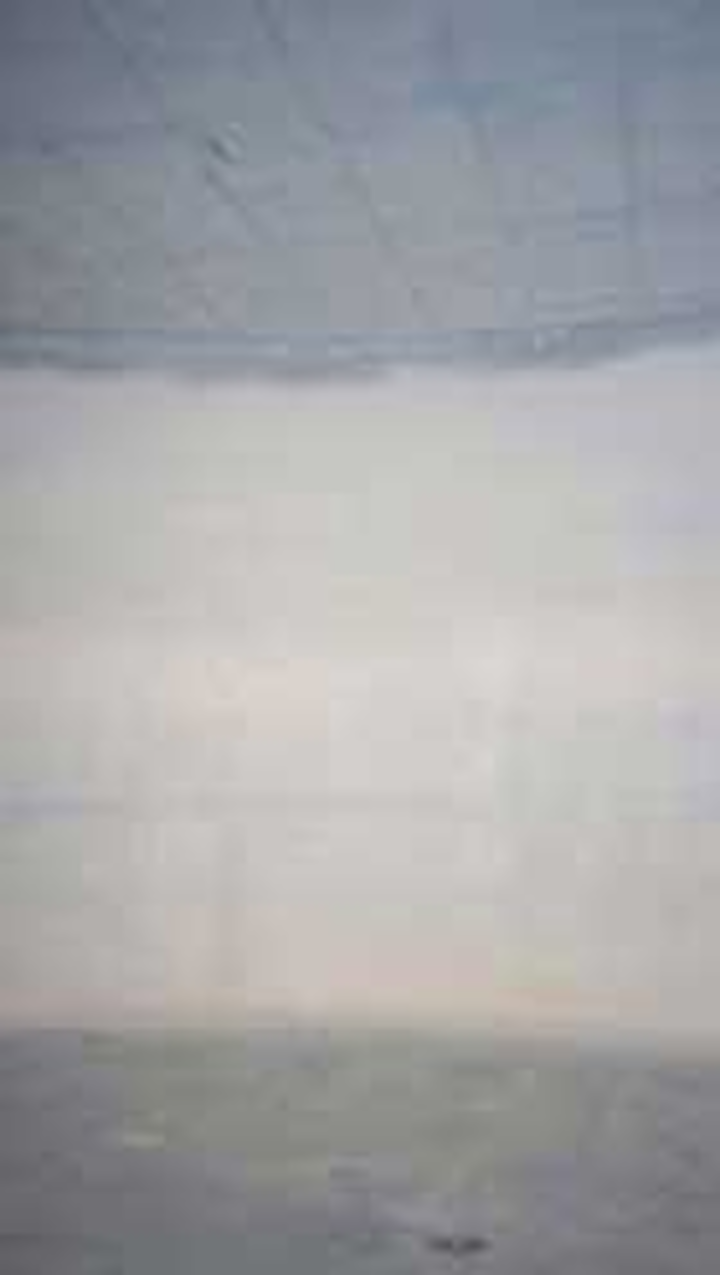 Two of the biggest challenges facing today's concrete wastewater treatment structures are cracking and deterioration of the concrete from hydrogen sulfide attack. When leaks happen, not only does the owner of the treatment facility face difficulty with the EPA and other governmental regulators, but they are also left with a terrible mess to clean up.
"The typical protective coating used to protect the concrete tanks and structures used in wastewater treatment plants is coal tar epoxy," said David Axt, technical consultant with Liquid Plastics Inc., a company that specializes in supplying protective coatings for wastewater treatment facilities. "One of the problems with coal tar epoxy is that it's a carcinogen, so those who are applying it need to wear respirators and other safety equipment. This means that the owners of the facility have to worry about workers' safety and possible compensation claims."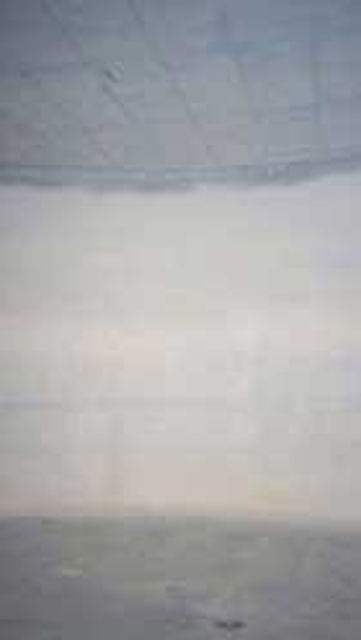 The interior of the Idaho Falls tank after coating with Cemprotec Elastic.
Click here to enlarge image
Additionally, Axt said, coal tar epoxy needs to be applied to a completely dry surface. This means after a new tank is cast and is leak tested, it needs to sit for at least 28 days after being drained so the epoxy can be applied. Waiting this time period can be a major drain on any project budget. This is why Axt said he has been finding a positive response to two new types of concrete coatings for wastewater treatment plants: Flexcrete's Cemprotec Elastic and Cemprotec E942.
"Both Cemprotec Elastic and Cemprotec E942 are cementitious modified polymer coatings that were designed for the protection of concrete and ferrous metals in some of the worst exposure conditions possible. This means they lend themselves to working well in wastewater plants," Axt said. "Even though they hold up extremely well to the demanding conditions, they're very easy to apply with a brush, roller or spray. Once cured, Flexcrete's Cemprotec Elastic forms a highly alkaline, permanently elastomeric coating that not only protects the concrete and other substrates from water penetration and carbon dioxide diffusion, but also accommodates movement in cracks and joints."
Cemprotec E942 is an epoxy modified version of a Portland cement-based coating, hard in physical qualities, impervious to water and chloride ions, and resistant to lower pH's than conventional cementitious coatings.
The main difference between the two coatings is Cemprotec Elastic has a rubberized nature and is best used over cracked substrates. E942, on the other hand, cures into a rigid coating that stands up well to abrasive environments and chemical attacks. Since coming on the market about 5 years ago, Axt has worked with a number of wastewater treatment facilities across the country to help design Cemprotec Elastic and E942 solutions to their corrosion problems.
"With Flexcrete's Cemprotec Elastic and E942, the saturation of the concrete that takes place during leak testing is actually part of the priming process. Because the Cemprotec materials incorporate advanced cement chemistry, the moisture actually helps bond the coatings to the concrete. The ease of applying the coatings is just the icing on the cake," Axt said.
The coatings are typically are applied in two coats using a brush, roller or spray. The first coat is approximately 40 mils thick and a second coat is applied at the same thickness a few hours later. An 80 mil coat of E942 is the equivalent of 13 feet of concrete cover because of its dense matrix. Cemprotec materials not only prevent hydrogen sulfide damage, depending on concentrations and operating conditions, but Cemprotec E942 can also be used to reinstate cover on concrete where there was spalling due to low original cover over the concrete reinforcing.
"Within a couple of day's time period, the tanks, spillways and other surfaces can be completely treated and ready for use," Axt said.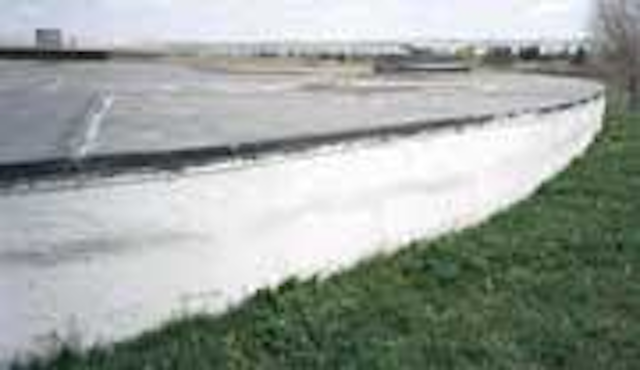 The Idaho Falls tank after coating with Flexcrete's Cemprotec Elastic
Click here to enlarge image
One project that has been successful is the Idaho Falls, ID, Water Department. Liquid Plastics provided Flexcrete's Cemprotec Elastic to coat two different chlorine contact tanks: one for external protection of the concrete against freeze/thaw and the other for internal protection against leakage. The project was carried out in 1999 and has performed without a problem.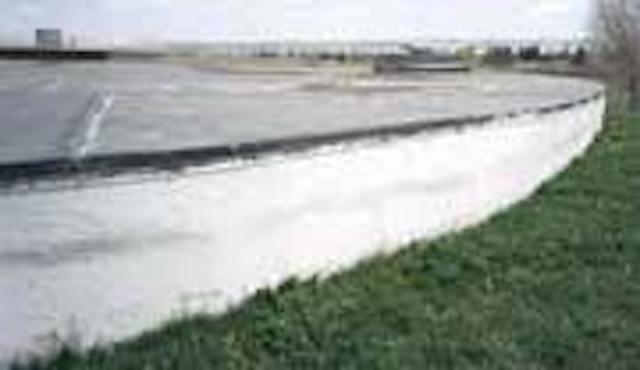 A deteriorated chlorine contact tank in Idaho Falls before coating.
Click here to enlarge image
"One of our most challenging projects to date was a wastewater treatment plant in Weiser, ID. They had aeration basins that had been suffering from leaks since being poured in the mid 1980s," Axt said. "In 1998, Weiser had the Cemprotec Elastic coating applied to the basins and last May I went back to check on them. After three years of continuous service, they were very dirty but the coating looked like the day we first applied it. There were no cracks or delamination. It was very satisfying to see that we were able to solve their problem and for the first time in 15 years they had tanks that didn't leak."
If Flexcrete's Cemprotec Elastic or E942 ever cracks, it stays in place and the repair process is as simple as a recoat with local reinforcing over the damaged surface.
"If Cemprotec Elastic is applied to new construction, it's a simple matter of recoating when cracks appear," Axt said. "The coating has excellent abrasion resistance and takes substrate movement without loosing integrity. Unreinforced it will take 1 mm of movement; reinforced it will take up to 3 mm."
Liquid Plastics Inc. formulates and manufactures an extensive range of protective coating membranes and concrete repair materials. The company's products such as Decothane, Decadex and Steridex provide material solutions for architects, engineers, and end users throughout the world. The company is also the American supplier for Flexcrete's Cemprotec line of products. The company is based in Middletown, Connecticut, and is a member of the Iotech Group and a sister company of Liquid Plastics Ltd. of Lancashire, England. For more information about Liquid Plastics Inc. visit www.liquidplasticsinc.com or call 888-635-5228.