New Products
American Tank & Vessel specializes in the design, engineering, fabrication, installation, repair and reconstruction of tanks, vessels, spheres and other steel plate products.
Mar 1st, 2003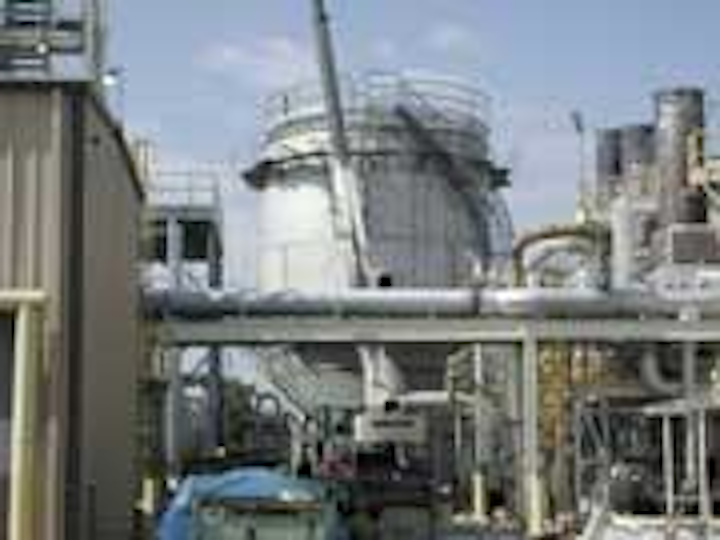 Tanks, vessels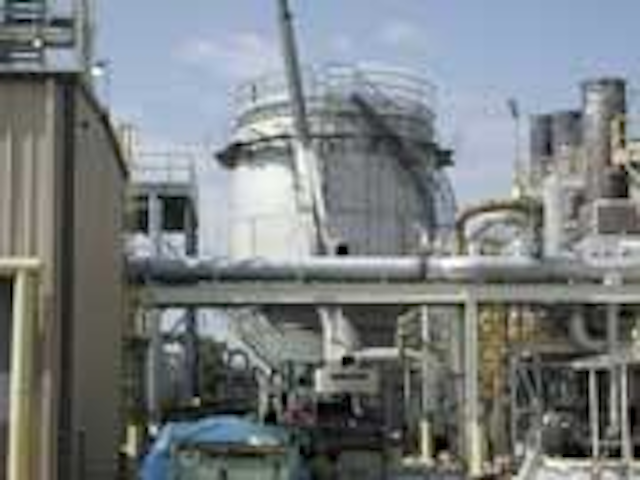 Click here to enlarge image
American Tank & Vessel specializes in the design, engineering, fabrication, installation, repair and reconstruction of tanks, vessels, spheres and other steel plate products. Products include wastewater treatment tanks and clarifiers. The company is currently expanding a waste treatment facility in Florida and providing not only the reactor but the buildings, piping and civil work.
American Tank & Vessel, Inc.
Mobile, AL
Tel: 251-432-8265
Website: www.at-v.com
Fiberglass grating
A new line of molded fiberglass grating is available from Delta Composites. The grating, often used as walkways or catwalks, is 20% to 30% stiffer than other product and lighter and more corrosion-resistant than steel. The grating is chemical and fire-resistant. The gratings are available in a wide range of thicknesses and panel sizes.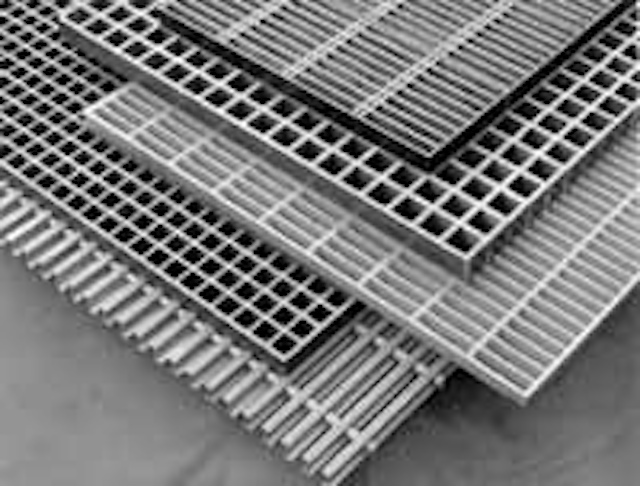 Click here to enlarge image
Delta Composites
Houston, TX
Tel: 281-449-4900
Web: www.deltacomposites.com
Liquid feed system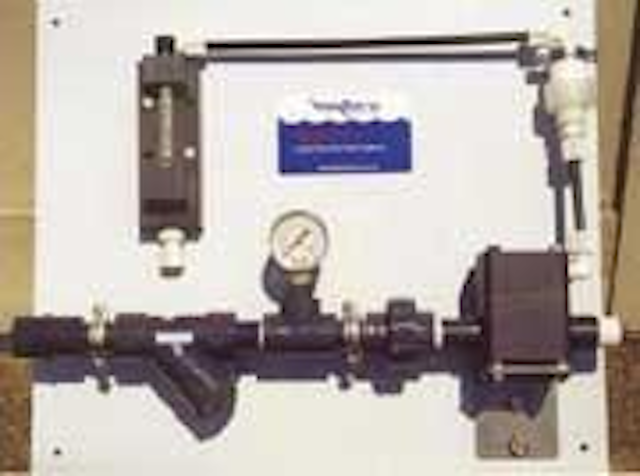 Click here to enlarge image
The Series LF Liquid Chemical Feeders from Hydro Instruments are a family of fully vacuum operated, chemical solution feed systems, consisting of the following components: a Metering Assembly, Venturi Nozzle and Backflow Prevention Device. The purely mechanical design and a minimal number of rugged, machined parts (and no moving parts during operation) guarantee simple operation, maximum durability and minimal maintenance.
Hydro Instruments Inc.
Quakertown, PA
Tel: 215-538-1367
Web: www.hydroinstruments.com
Polymer test kits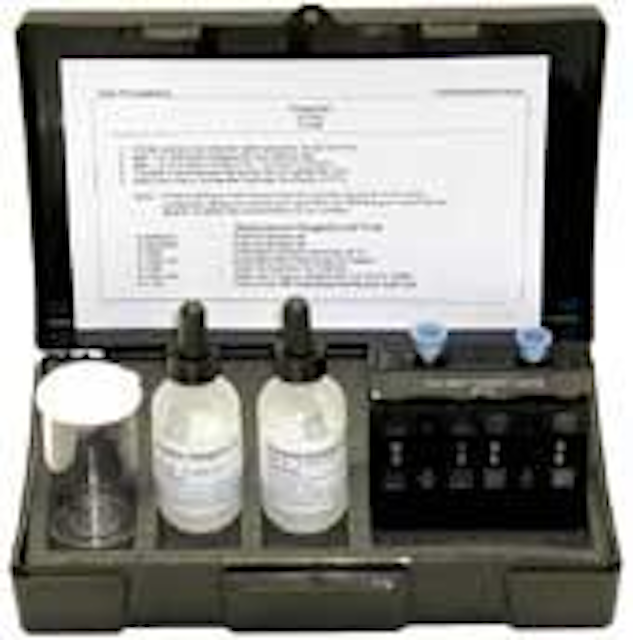 Click here to enlarge image
The Polymer Test Kit C-0185 from WET Inc. is designed to be a low cost alternative to a colorimeter for testing water treatment polymers. It is also designed to be used in a more rugged environment than the lab style colorimeter. The methodology of the C-0185 is based on a charge neutralization process which causes water treatment polymer(s) to coagulate, resulting in turbidity.
World Environmental Tech., Inc.
Carol Stream, IL
Tel: 877-938-4621
Web: www.wet-usa.com
AMR meter brackets
Maddox Bracket Co. has developed the "Bracket Monkey" to enhance the use of radio read transmitter units. Its easy-to-use design simplifies installation of the read unit, reduces the time required for the install and eliminates the possibility of future trips to the site for adjustment or realignment. Its adjustable height setting allows installation of the read unit at the height needed to maximize data transmission.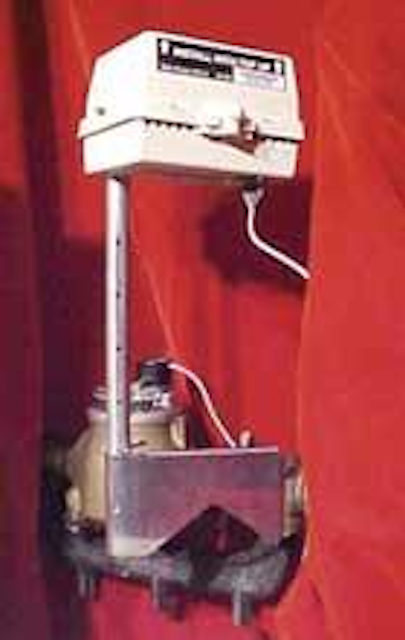 Click here to enlarge image
Maddox Bracket Co.
Westfield, IN
Tel: 317-896-5149
Web: www.maddoxbracket.com
pH sensors
pHD™-series sensors, manufactured by Hach/GLI, use a patented Differential Electrode Technology that features three measuring electrodes instead of the two contained in conventional pH sensors. The process electrode and standard electrode measure the pH differentially with respect to a third ground electrode. This technique provides accuracy, reduced reference junction fouling, and virtually eliminates ground loops. The benefit is greater reliability with less downtime and maintenance.
Hach/GLI
Loveland, CO
Tel: 970-663-1377
Web: www.gliint.com
Jet aeration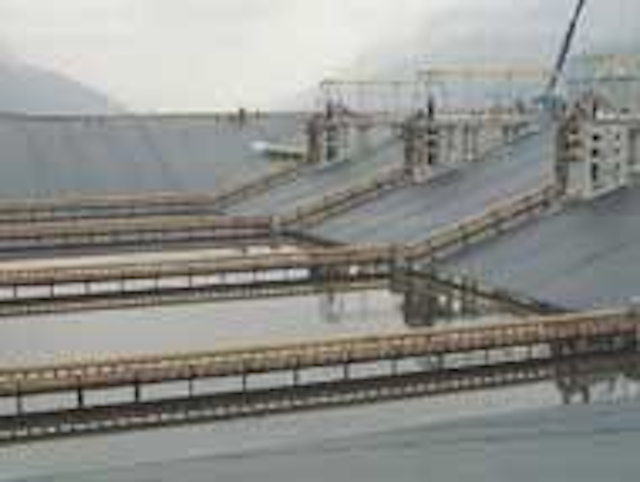 Click here to enlarge image
Jet aeration systems from Mixing Systems Inc. are used for aeration and mixing of in ground aeration tanks. The aerators are being used to replace high and low speed surface aerators. They reduce the emissions of VOC gases into the atmosphere. The systems are suitable for aerating deep tanks that require low maintenance, energy efficiency, and low VOC emissions.
Mixing Systems, Inc.
Dayton, OH
Tel: 937-435-7227
Web: www.mixing.com
Hydrant blow-offs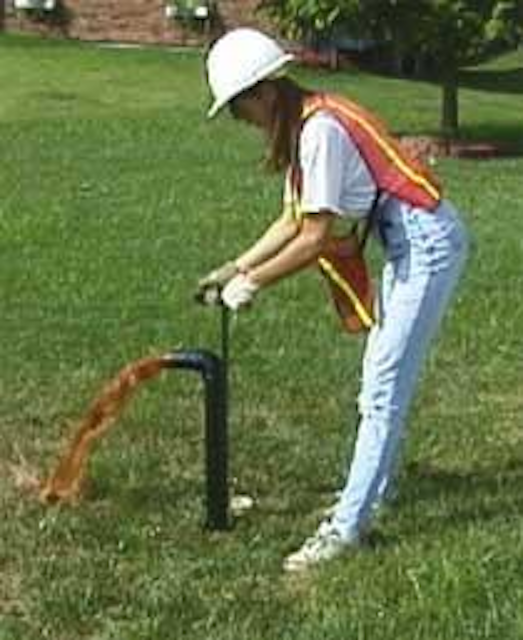 Click here to enlarge image
Kupferle Foundry's new #TF500 Blow-Off installs underground in a 5-1/4" adjustable valve box. Ideal for cul-de-sacs, this non-freezing unit allows quick and easy flushing. And, because all parts are extractable from above the ground, there will never be a need to dig to repair. All units can be converted to automatic flushers at a later date. Optional features include a sampling port and all-brass construction.
Kupferle Foundry Co.
St. Louis, MO
Tel: 800-231-3990
Web: www.hydrants.com
Non-Clog Pumps
The ITT A-C Pump NS series non-clogs pump wastewater and non-corrosive liquids with soft solids. Applications include: pumping raw sewage, lift stations, treatment plants, storm water, pumping stations, as well as dewatering. The series is an industry accepted design featuring a two vane, non-clog impeller, back pull-out for easy access, a casing with five discharge positions and an external impeller adjustment for renewal of hydraulic performance. A dynamic seal, Equiseal®, solves sealing problems by eliminating the need for a water flush. The series is available in both vertical and horizontal models in sizes from 4" to 12" with capacities to 9000 gpm and heads to 275 feet.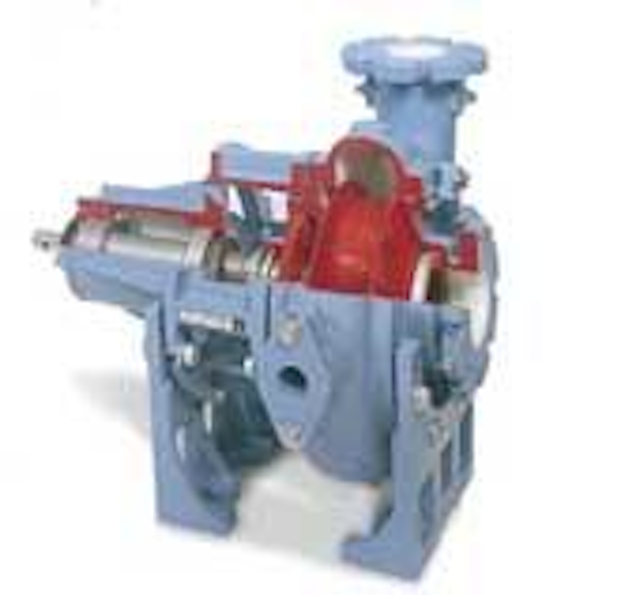 Click here to enlarge image
ITT Industries, Inc.
White Plains, NY
Tel: 800-734-7867
Web: www.ittacpump.com
Chlorinating, dechlorinating
Measurement Technologies introduces the new 3M-CLB H2O Neutralizer™ designed for super chlorinating and all dechlorinating needs. The lateral by-pass block assembly is manufactured from brass allowing the device to handle a 12.5% sodium hypochlorite solution without corrosion problems. The company's 3M devices create a full vacuum of 29 inches, and can achieve complete performance with flows from as low as 5 gpm to over 1,000 gpm.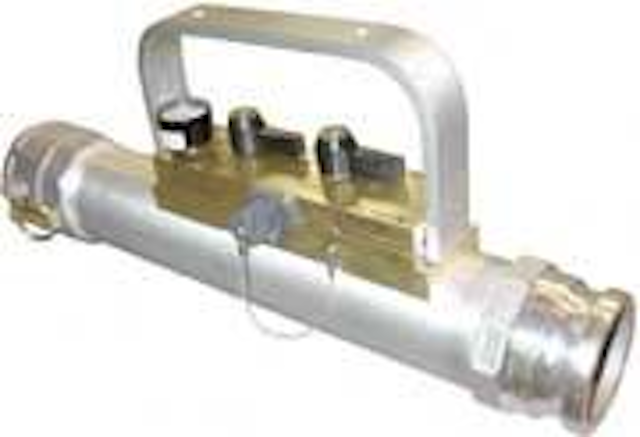 Click here to enlarge image
Measurement Technologies, Inc.
Redmond, WA
Tel: 877-889-8482
Web: www.h2oneutralizer.com