Products & Services: Detectors, Monitors, Recorders
Collection of Detectors, Monitors, Recorders products and services.
Dec 9th, 2013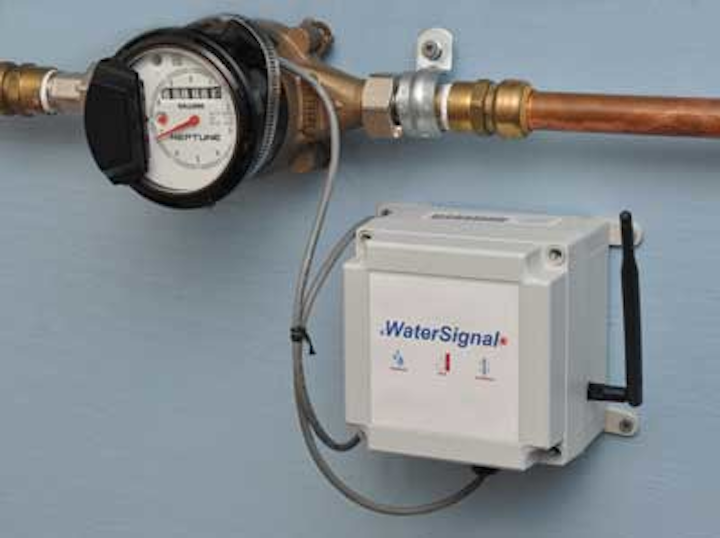 Wireless water usage monitoring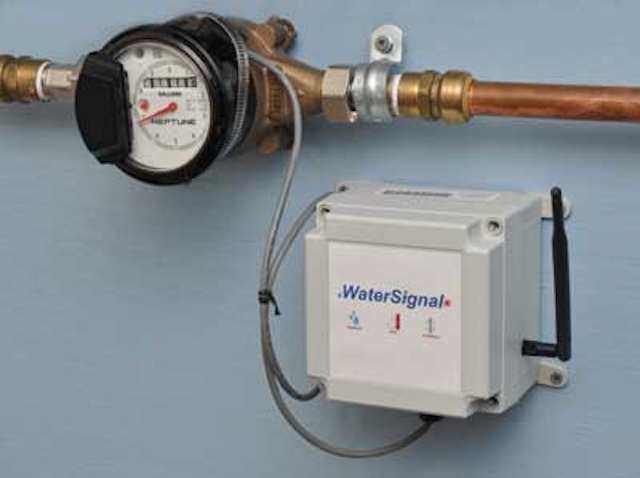 WaterSignal has introduced a wireless system that continuously monitors water usage in real-time to help building owners, managers and engineers detect water spikes related to potential catastrophic leaks. A self-contained, non-intrusive monitor listens to the pulse of the water meter, and real-time data is sent wirelessly to a website portal to view the properties' water consumption by the month, day or even down to the hour. And if a major leak occurs, the device alerts the manager or engineer that a water spike above the preset limit has occurred. The alert can be sent to both a computer and a smartphone for the manager to act upon and can be customized for business hours as well as after hours and weekends.
WaterSignal
www.watersignal.com
Communication gateway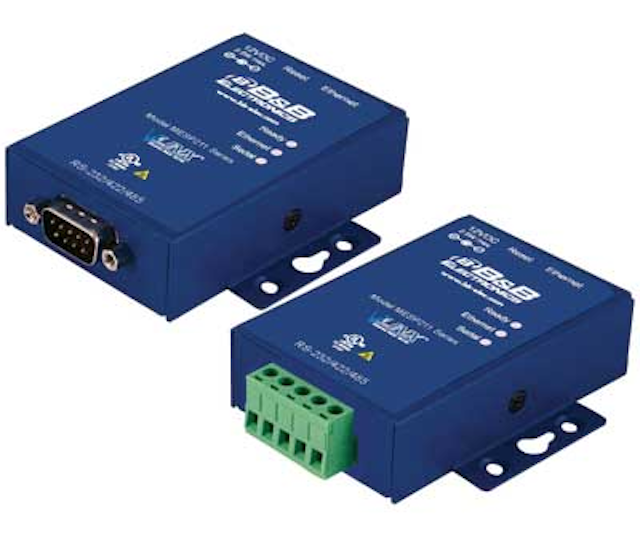 B&B Electronics has expanded its family of Vlinx Modbus Communications Gateways with the MESP211, a low-cost, compact gateway designed to convert Modbus ASCII or Modbus RTU serial signals into Modbus TCP Ethernet. The MESP211 connects Modbus devices to Ethernet networks to monitor and control Modbus devices from anywhere on the Ethernet LAN or WAN, and its flexible configuration allows serial and Ethernet, Masters and Slaves. Designed for harsh environments and cramped spaces, the compact gateway features a wide (-40˚C to +80°C) operating temperature, heavy industrial specifications and a rugged IP30 metal case that is panel (standard) or DIN rail mountable.
B&B Electronics
www.bb-elec.com
Wireless pressure/flow monitoring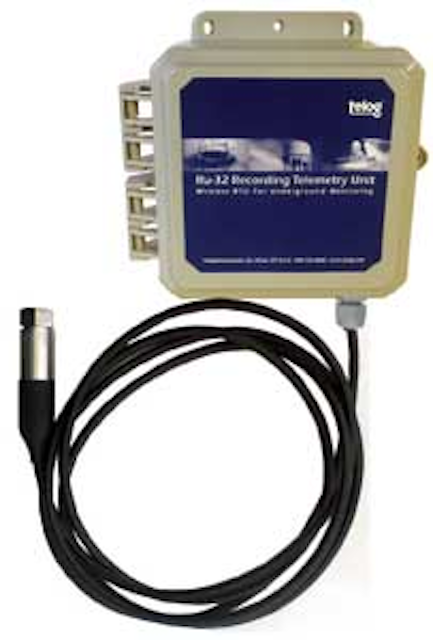 Telog's Ru-32 & Ru-32m recording telemetry units (RTUs) provide real-time monitoring and alarming of pressure and flow sensors in harsh underground environments typical of water distribution systems. The Ru-32 is a versatile, five- channel RTU that can be supplied with one or two pressure sensors and can additionally interface up to two digital inputs (pulse and/or event) and one analog voltage or potentiometer input. Applications include water system pressures, underground water level, mag meters, pressure reducing valves (flow and pressure), and pressure relief valves.
Telog Instruments
www.telog.com
Monitor, controllers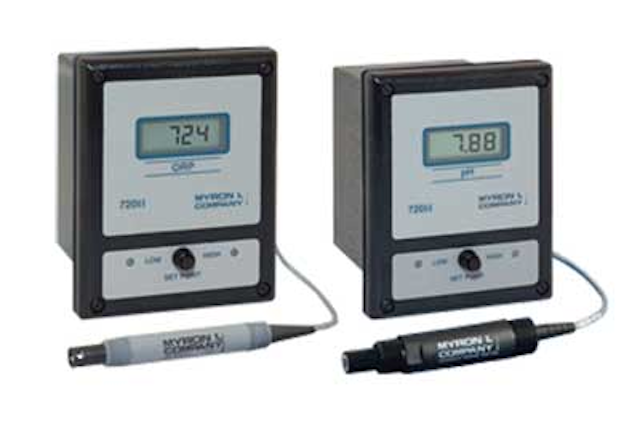 The advanced "isolated" circuitry of Myron L's 720 Series II pH/ORP monitor/controllers guarantees accurate and reliable measurements, completely eliminating ground-loop and noise issues. The unique sensor preamp allows for longer distances between the sensor and the monitor/controllers without the loss of accuracy or reliability. All Myron L monitors/controllers feature a highly-refined and precise temperature compensation circuit (TC). This feature perfectly matches the NERNST equation correcting the displayed reading to +25°C. The TC may be disabled to conform to USP requirements. Standard on all controller models is a heavy-duty 10-amp output relay, operating on either increasing or decreasing readings. Bright green/red LEDs indicate above/below set point readings. All 720 Series II models feature an IP65/NEMA 4X water-resistant and corrosion-proof rated enclosure. Compact in size, at 152 x 122 mm/6 x 4.8 in., the models are suitable for panel, bench or surface mounting.
Myron L Co.
www.myronl.com
Chlorination/dechlorination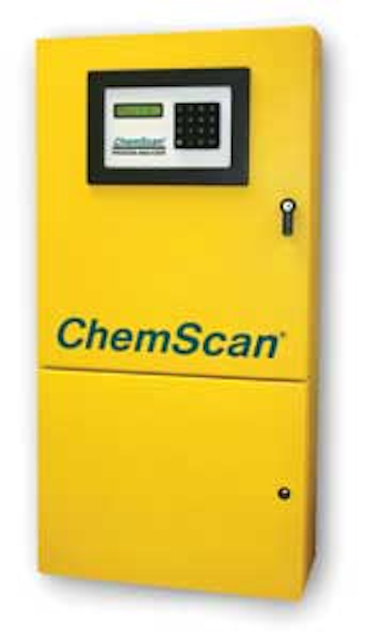 The ChemScan UV-2150/DC Process Analyzer from ASA Analytics is suited for chlorination/dechlorination monitoring. It is designed to detect both residual chlorine and dechlorination chemicals from appropriate points in the treatment process, at concentrations as low as five hundredths of a part per million. Chlorine is detected using a modified iodometric approach with multiple wavelength detections of the iodide to iodine conversion, while a dechlorination agent is detected by measuring an applied disinfectant residual compared to a baseline. Unlike other analyzers, the ChemScan system compensates for reagent deterioration by measuring a baseline during every analysis cycle and performing automatic zeroing and cleaning at programmed intervals.
ASA Analytics
www.asaanalytics.com
Intrusion detection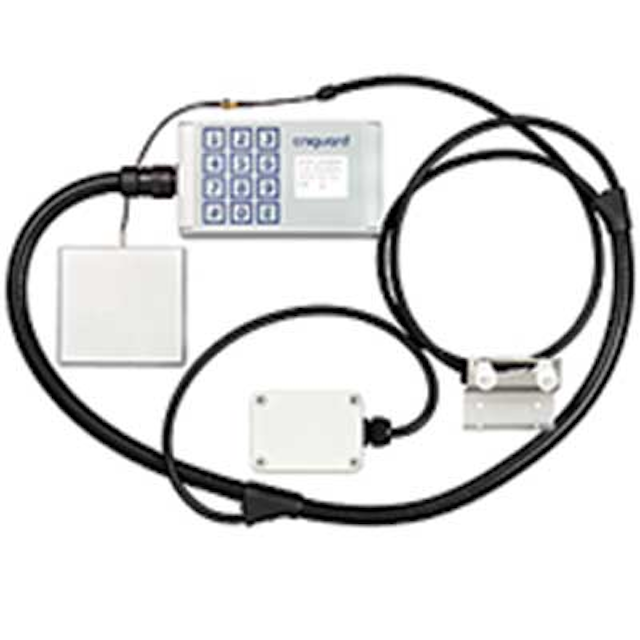 Bilco's CNIguard™ wireless intrusion detection system is specifically designed to protect access points in drinking water distribution systems against the threat of intentional contamination. The system uses a patented Smart Sensing Technology to detect tampering such as drilling, grinding and cutting, while virtually eliminating false alarms as it can distinguish between real threats and common occurrences such as heavy rain, hail, etc. The system consists of a controller and a series of detectors that are easily mounted to access points throughout a water treatment facility including pumping stations and wells in remote areas. Encrypted radio signals are used to communicate between these devices.
Bilco
www.bilco.com