New Literature
Compilation of print and digital information resources for the municipal water and wastewater markets.
Jun 1st, 2013
Level, flow products
SOR® now has an introductory brochure, available on its website, that is easily downloaded to a mobile device, especially tablets. As part of a rebranding strategy, the company has created an electronic brochure that highlights key products manufactured at its factory. The brochure also introduces the tagline, "Engineered to Order, with Off-the-Shelf Speed." This theme emphasizes what SOR has done for years: custom designed products to meet specific application requirements. The brochure details the company's pressure, temperature, level and flow products for a wide variety of industries and applications.
SOR Inc.
www.sorinc.com
---
Instrumentation
Omega Engineering is upgrading its website to provide an easier interface that can be recognized globally. The site will have an updated look and improved navigation. The homepage, headers, footers, and navigation will undergo some revisions, but overall the experience should still seem familiar. Key goals include a more streamlined and cleaner layout with consistent and clearer navigation.
Omega Engineering
www.omega.com
---
Hydraulic erosion control
The Erosion Control Technology Council (ECTC) has published a comprehensive General Usage and Installation Guideline for Hydraulic Erosion Control Products (HECPs). This guideline is the result of consensus among leading manufacturers of HECPs in the industry and is designed to satisfy the needs of engineers, designers and other end-users of these products. The guideline may be used as a specification by regulatory agencies on proper installation techniques.
Erosion Control Technology Council
www.ectc.org/HECPs Guidelines.pdf
---
Stainless steel enclosures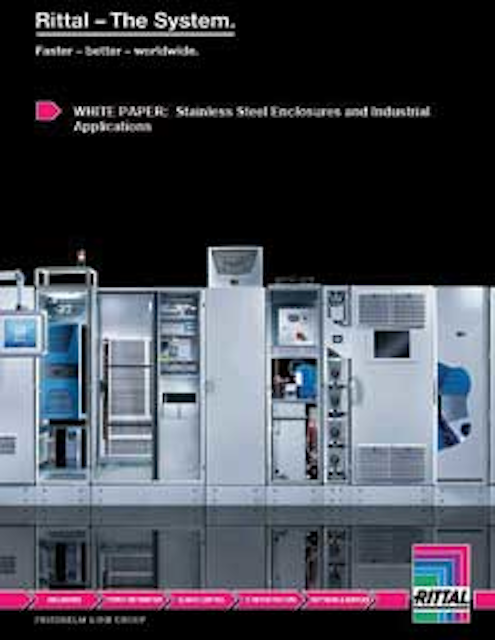 Rittal Corp. has released a white paper entitled "Stainless Steel Enclosures and Industrial Applications." The paper outlines many of the technical aspects of stainless steel that are crucial to the selection of industrial enclosures including composition, distinguishing properties of different grades, chemical resistances, suitable applications, and general benefits offered by stainless steel when compared to carbon steel enclosures. The updated publication includes references linking selected industrial markets with appropriate stainless steel grades, finishes and applications.
Rittal Corp.
www.rittal.us/literature
---
Erosion control
Profile Products has launched an online video resource library for contractors and specifiers of erosion control systems. The video library showcases more than a dozen segments of varying themes, including product demonstrations, application instruction guides and technical video segments. Video topics discussed include an in-depth look at the importance of understanding soil properties and its effect on a project's results; proper mixing and application techniques for hydraulic mulch; and laboratory demonstrations that illustrate differing yield and coverage results, as well as water-holding capacities of various erosion control solutions.
Profile Products LLC
www.profileevs.com
---
Sight glass guide
L.J. Star has released a white paper that offers straightforward guidance on how to select the appropriate sight glass for various applications. The checklist is designed to help engineers consider all the available options for optimal sight glass performance. Go to http://www.ljstar.com/publications/pdf/SightGlassSelectionWhitePaper.pdf to download the white paper. The "Step-by-Step Guide to Sight Glass Selection" will help engineers determine not only which of the two types of sight glass best suits their needs (a sight glass window or a sight flow indicator), but details numerous important considerations, including: Viewing requirements, optimal viewing area size, mounting types, and available materials and their compatibility.
L.J. Star Inc.
www.ljstar.com
---
Design-build guide
The Water Design Build Council has released the Progressive Design-Build Procurement Guide, the first comprehensive procurement guide for use by municipal officials pursuing design-build projects. The five-volume guide includes sample Request for Qualification (RFQ) and Request for Proposal (RFP) documents for use in conducting progressive design-build (PDB) single and double stage procurements, as well as a sample agreement/contracts, all based on industry best practices.
Water Design Build Council
www.waterdesignbuild.com

More WaterWorld Current Issue Articles
More WaterWorld Archives Issue Articles