Products & Services: Pumps
Collection of Pump products and services.
Sep 27th, 2013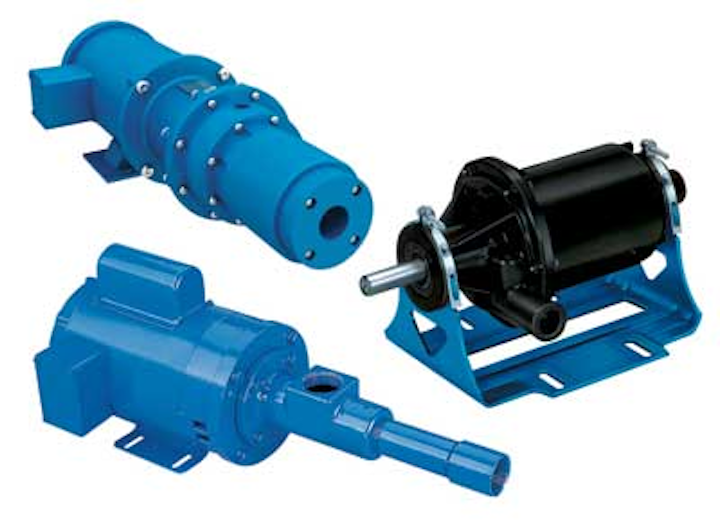 Small pumps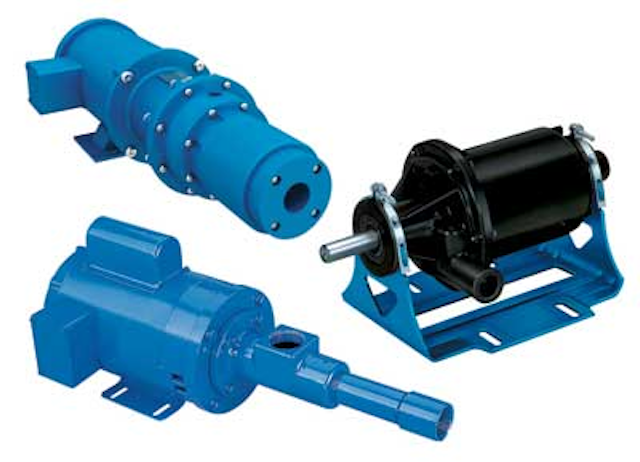 The Moyno™ Small Pumps are a cost-effective solution for applications from clean, clear liquids to abrasive and corrosive fluids. They are ideal for water sampling, chemicals, oily water, slurries, drainage, and drum transfer, among numerous other applications in an extensive range of industries. The Moyno Small Pump line includes metering pumps, mag drive pumps and general utility pumps.
Moyno Inc.
www.moyno.com
Level controller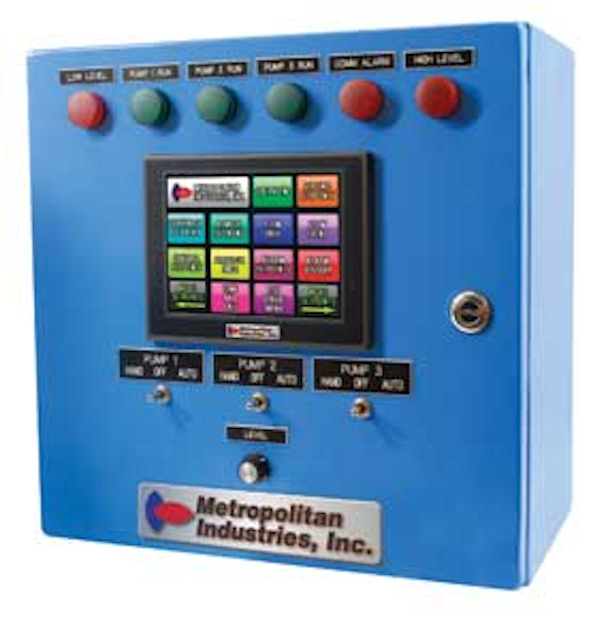 The LMS II level management system from Metropolitan is a pre-programmed level controller with a color touch-screen operator interface. It allows users to seamlessly alter pump options, transducer options and more, providing access to basic SCADA features at a cost-effective price. The LMS II is a menu-configurable, constant speed, down-level controller, allowing for the control of one to three pumps, with optional pre-programmed configurations for single/dual level transducers, 0-20 mA flow meter input and a completely redundant float backup controller.
Metropolitan Industries Inc.
www.metropolitanind.com
Pump controller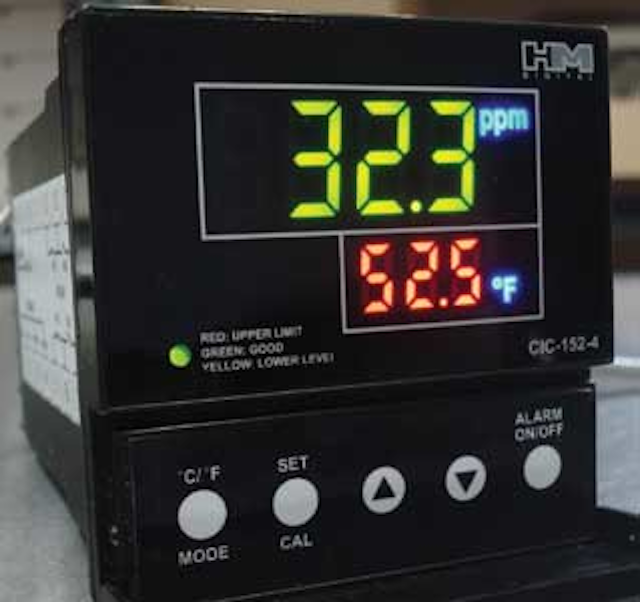 HM Digital introduces its new dual control pump/injection controller (model CIC-152). This new dual set point controller allows users to monitor and control TDS/EC levels within a specific range. The controller can be wired to activate a device, such as a pump, if the TDS/EC level rises above or falls below the user-defined maximum and minimum. There are also two independent maximum and minimum warning alarm settings independent of the control points.
HM Digital Inc.
www.tdsmeter.com
Skid pumping system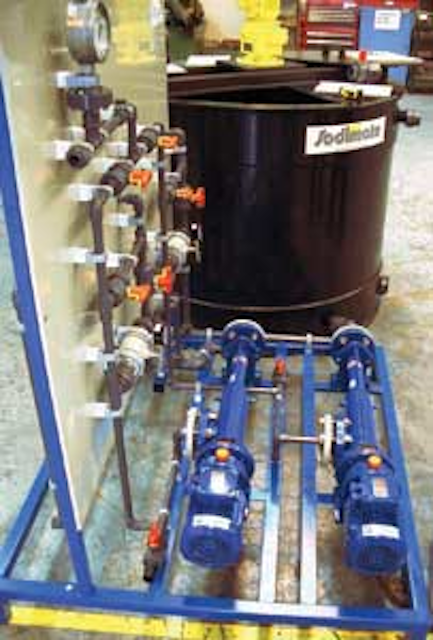 Sodimate Inc.'s mounted slurry system integrates a slurry tank, skid pumps and controls, and is pre-wired and ready to use, allowing for quick installation and startup. Typical slurry tank fabrication material includes high-density polyethylene (HDPE), stainless steel, or fiber glass, and volume can range from 130 gal to 500 gal. Completely dust-free, the skid pump system is specifically fabricated to be used with dry hydrated lime, powdered activated carbon (PAC) and polymers.
Sodimate Inc.
www.sodimate-inc.com
Peristaltic pump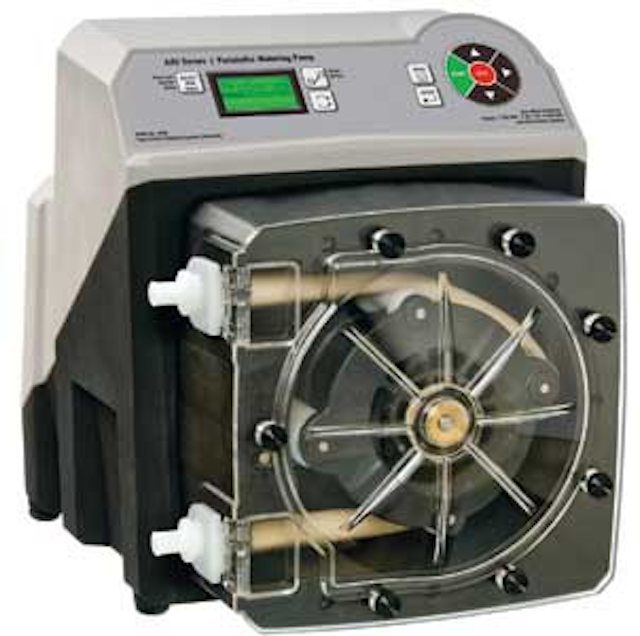 The heavy-duty A4 from Blue-White is the largest of the ProSeries® Flex-Pro® peristaltic metering pumps. It has an output up to 158 GPH/10,000 mL/min, with a max pressure rating of 125 PSI/8.6 Bar. The A4 features an exclusive, patented method for extending pump tube life. Other A4 exclusive, patented features include the Tube Failure Detection System, which alerts the operator if tube failure occurs and shuts down the pump until the problem is resolved. A patented Safety Switch also helps ensure operator safety by only allowing the pump to operate in maintenance mode while the front cover is removed.
Blue-White Industries
www.blue-white.com
Bypass pump system ensures success of discharge flume project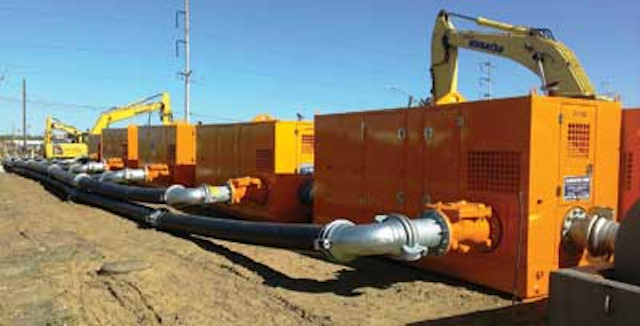 Associated Pump is working with a general contractor who is constructing a new drainage structure in New Orleans, La., on Claiborne Ave. The project involves connecting the new box culvert to an existing drainage structure at a discharge into a drainage canal. While making the connection between old and new culverts, the plans call for construction of a new discharge flume in the area of the existing culvert's current discharge. Therefore, the new flume is to be built in the discharge area without interrupting drainage. Associated Pump has supplied the pumps to bypass dry weather and light rain flow from the 10 x 20 existing culvert that drains into the Monticello Canal to allow the contractor to construct the new structure. The system in place consists of 4 ea. 12" and 1 ea. 6" critical silent diesel pumps by passing flow around the construction area.
The five pumps are set up on top of the existing covered canal with floats set for automatic operation. The contractor has installed a sand dam on each side of the work area. For normal flows, the pumps work on floats and turn on and off automatically as needed to bypass the drainage in the existing culvert. During a heavy rain event, the dams wash out and the pumps are turned off.
Associated Pump has worked with the contractor to develop the system to bypass the existing culvert. The company installed the pumping system and continually monitors the operation and makes adjustments as needed. The system has been in place since February 2013 and has worked as planned to allow construction of the new discharge flume.
Associated Pump and Supply Inc.
www.associatedpump.com