Products & Services: Lab, Sampling & Analysis
Collection of equipment and services related to lab, sampling and analytical items.
Dec 1st, 2017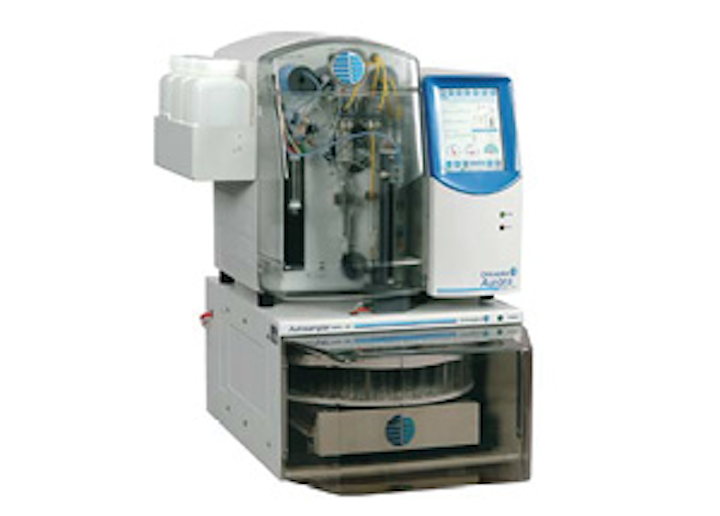 TOC analyzer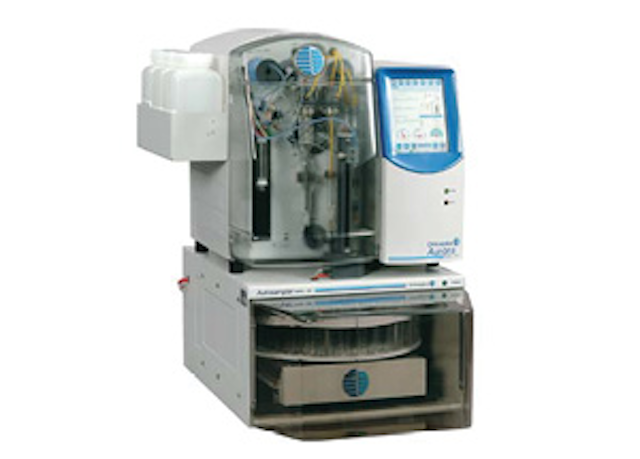 The new 1080 Combustion Total Organic Carbon Analyzer from OI Analytical tackles the toughest aqueous samples with ease, including sea water. Designed for drinking water and wastewater facilities for municipalities and industry. Features include: wide operational range (50 ppb-2,000 ppm/C); supports TC/TIC/TOC/NPOC analysis techniques and standard measurements; patented Smart Slide injector extends O-ring life and reduces maintenance; and patented Tube Guard extends furnace tube life, and reduces maintenance.
OI Analytical
Distance/level sensor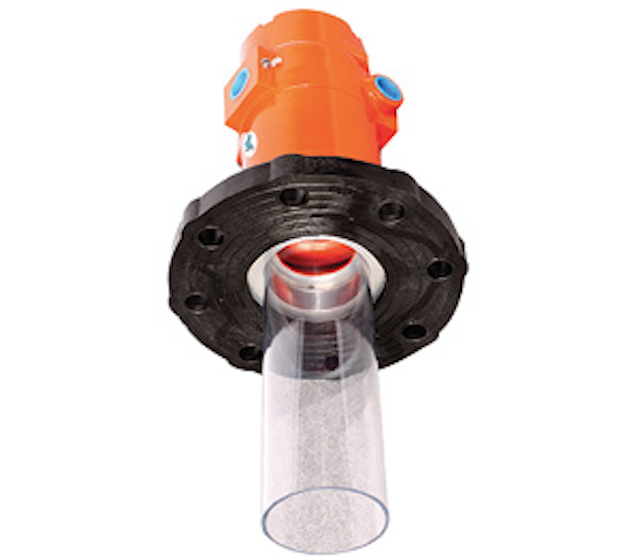 The new OptioLaser distance/level sensor from Hawk Measurement Systems can be used for blocked chute detection, barrier detection, machine detection, stock pile monitoring, and point level measurement. Providing reliable, accurate distance and level measurements across numerous industries, it incorporates a sophisticated infrared 905 nanometers time-of-flight laser technology. A light energy wavelength travels to the material being measured. Any solid or liquid target in its path will reflect back a certain percentage of the emitted energy; calculating the distance based on the transit time the laser pulse travels to the material and back.
Hawk Measurement Systems
Smart, portable pH meter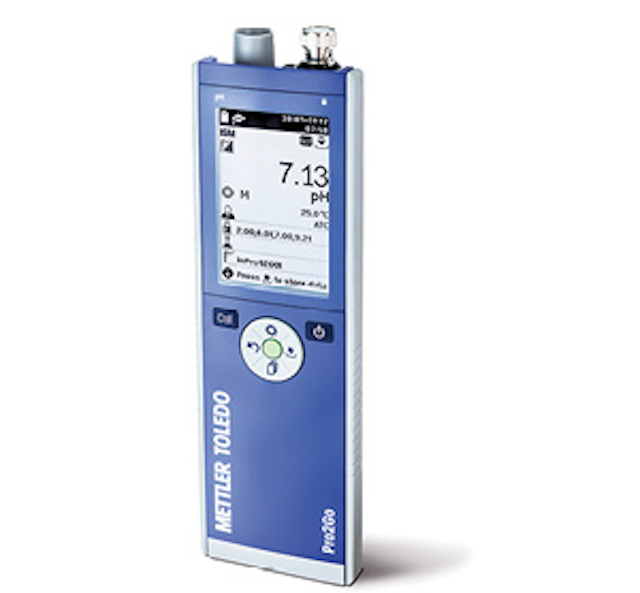 The Pro2Go™ portable pH meter provides rapid measurement, one-handed operation and great durability. For increased operating confidence, it also informs the operator when the attached sensor will need to be calibrated or replaced. The rugged, water-resistant meter is compatible with both analog and METTLER TOLEDO's digital Intelligent Sensor Management (ISM™) pH/redox probes. ISM's features include Plug and Measure operation for error-free setup.
Mettler Toledo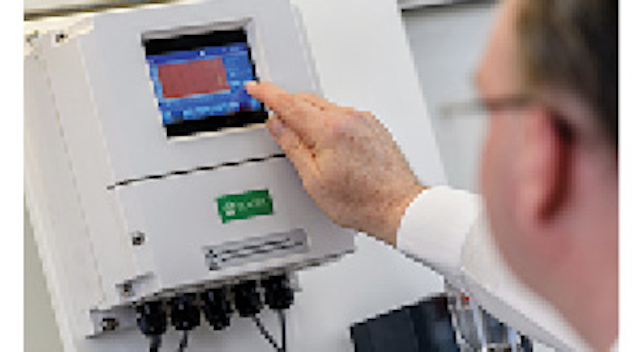 Chlorine analyzer and controller
De Nora's Capital Controls® MicroChem®3, is a multi-parameter water analysis system offering both measurement and control of chlorine-based compounds and other critical elements in one instrument that can be tailored to individual applications. Features include a color touchscreen display, menu-driven software for seamless set-up and operation, and a USB interface for software updates and data log downloads. It can be used in conjunction with De Nora's range of wet ends to measure and control any combination of chlorine, chlorine dioxide, pH, ORP, and conductivity.
De Nora
Water quality testing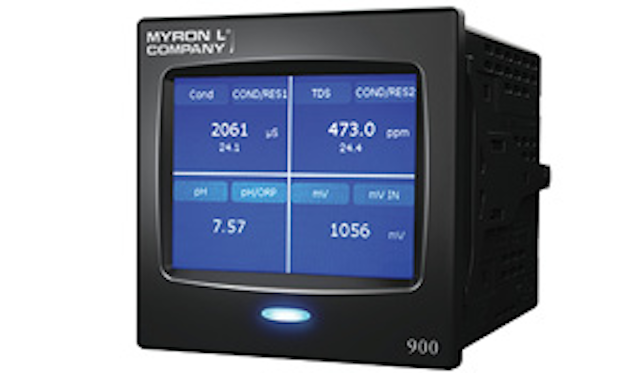 Because no two applications are exactly the same, Myron L® Company's 900 Series Monitor/Controller's suite of signal inputs can be configured to display a variety of measurement types: conductivity, resistivity, salinity, TDS, pH, ORP, temperature, mVDC, flow, pulse and % rejection are all available. The 900 Series includes a 4-20 mA current loop, two-wire transmitter input that can be defined and scaled to display measurements how you need them displayed. A 3.5" resistive touchscreen can be configured to display information for up to four different inputs simultaneously.
Myron L® Company
Water level temperature meter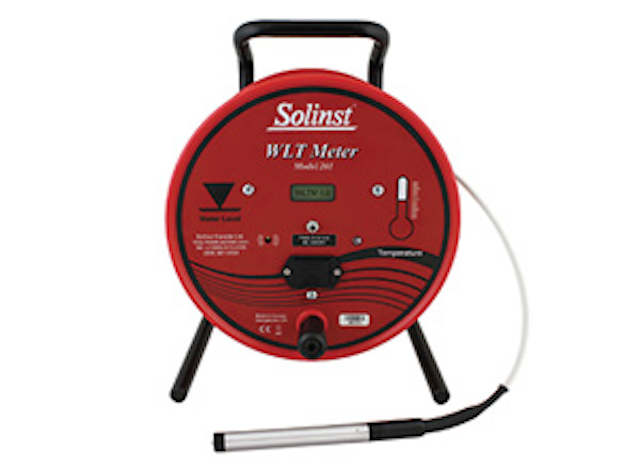 Solinst Canada Ltd.'s Model 201 Water Level Temperature Meter (WLT) indicates static water level and measures the temperature of water. Designed for profiling temperature in wells, tanks and surface water and other applications, the WLT Meter features a standard 9V battery, providing 90 hours of on time, to power the electronics. There is an auto-off after 8 minutes of inactivity. Measures temperature from -20˚C to 125˚C with an accuracy of ±0.5˚C. The probe is rated IP68 and can be submerged to 1,000 ft (300 m). Temperature measurements are displayed on an LCD readout on the front of the faceplate.
Solinst Canada Ltd.
Portable parallel analyzer platform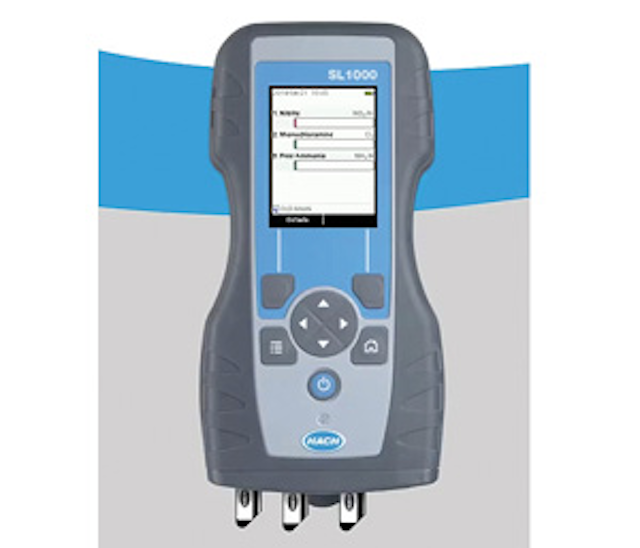 Hach has expanded its Chemkey® chemistries available for the Hach SL1000 Portable Parallel Analyzer™ instrument (PPA) for drinking water applications. With this new expansion, which includes an ammonia Chemkey that tests both free and total combined ammonia, users can test up to seven total parameters simultaneously. These commonly-tested parameters will help users keep track of the quality of their drinking water and the health of their distribution system more easily than ever before. SL1000 is simple to use, offering operators of all skill levels the flexibility to test for the parameters that are relevant to their process.
Hach