PRODUCTS & SERVICES: DISINFECTION
Aquionics specializes in the manufacture and distribution of medium pressure UV systems for both municipal drinking water and wastewater applications.
Nov 1st, 2006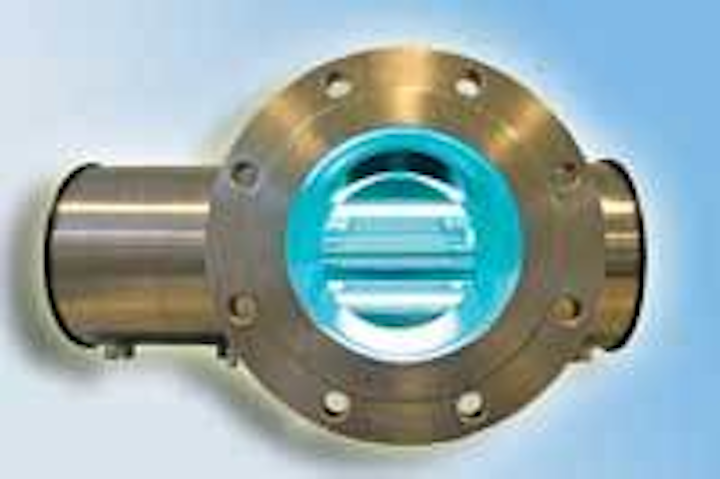 UV disinfection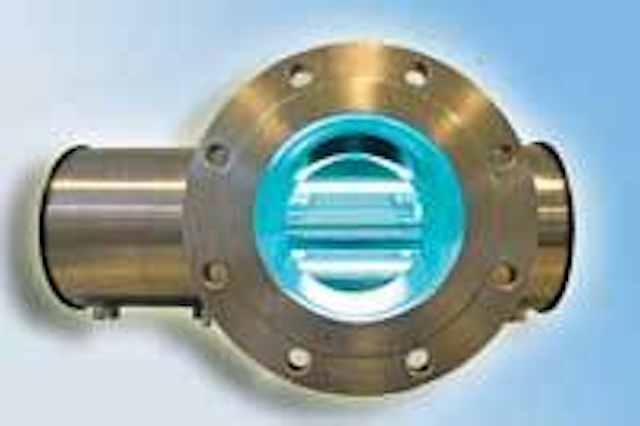 Click here to enlarge image
Aquionics specializes in the manufacture and distribution of medium pressure UV systems for both municipal drinking water and wastewater applications. By emitting UV over a wide range of the spectrum, the lamps damage a wide range of intracellular molecules, such as enzymes, in addition to DNA. This broad damage permanently inactivates the cells' DNA repair mechanisms.
Aquionics Inc
Erlanger, KY Tel: 859-341-0710 Web: www.aquionics.com
Hydrant flushing
Keep chlorine residuals high on dead-ends with Kupferle's #9400 automatic flushing device. The device has it's own controller that is capable of flushing nine times per day, with each flush being up to four hours each. A 9-volt battery powers the device and each unit drains to prevent freezing. A UV-resistant, locking domed cover keeps all components protected.
Kupferle Foundry Co.
St. Louis, MO
Tel: 800-231-3990
Briquette chlorinator
Briquette chlorinator
Click here to enlarge image
Designed for sanitizing drinking water and wastewater, Arch Chemicals' Constant Chlor® Plus Briquette Chlorinator automatically delivers a consistently accurate dose of available chlorine. The chlorinator uses the company's dry calcium hypochlorite briquettes, providing an alternative to liquid bleach and chlorine gas systems. The system delivers up to 250 pounds of available chlorine daily through a solid-state, controlled spray cycle.
Arch Chemicals Inc.
Norwalk, CT
Smyrna, GA
Tel: 770-803-2524
Web: www.archchemicals.com
Chlorine residual analyzer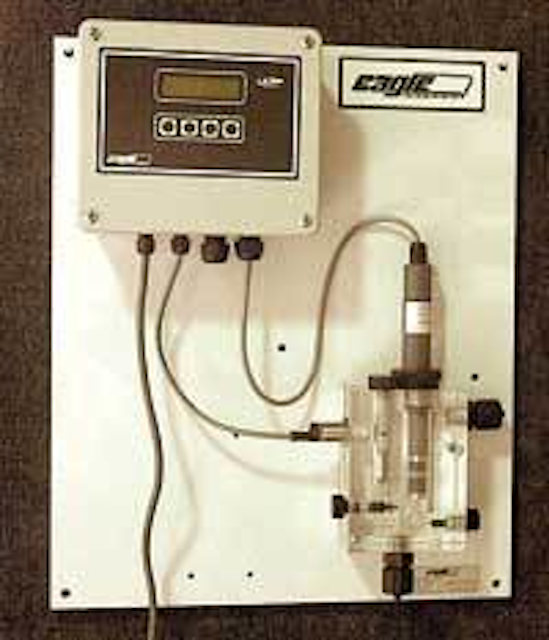 Click here to enlarge image
The new Eagle Model RP-1000 Chlorine Residual Analyzer provides the accuracy of amperometric measurement with the convenience and reduced maintenance of a probe-type device for reduced installation and maintenance costs and simplified system startup. The measuring element is an amperometric membrane probe that can be provided for measurement of either free or total chlorine residual. The instrument provides an isolated 4-20 mA output for remote indication, recording or data logging, and up to four user-configurable alarms. The probe is mounted in a flow-through assembly having an integral flow meter and valve for maintaining sample flow at an optimum rate.
Eagle Microsystems Inc.
Pottstown, PA
Tel: 800-780-8636
Web: www.eaglemicrosystems.com
Free chlorine measurement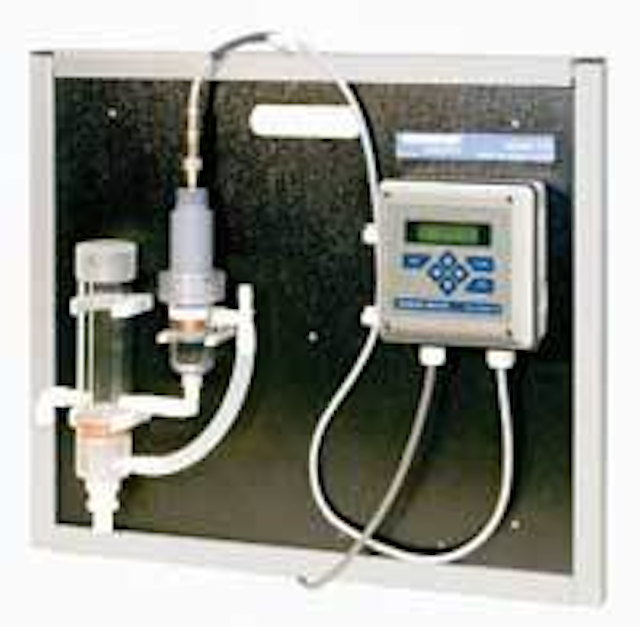 Click here to enlarge image
With the introduction of the Rosemount Analytical Model FCLi, Emerson Process Management now offers pH-independent free chlorine measurement. With the new meter, the pH adjustment occurs inside the sensor, producing a reading that changes less than 5% per unit change in pH. The meter can measure free chlorine in water having pH as high as 10.0. The linear range of the sensor is 0 to 20 ppm (mg/L).
Emerson Process Management
Irvine, CA
Tel: 949-757-8500
Web: www.raihome.com
Residual chlorine meter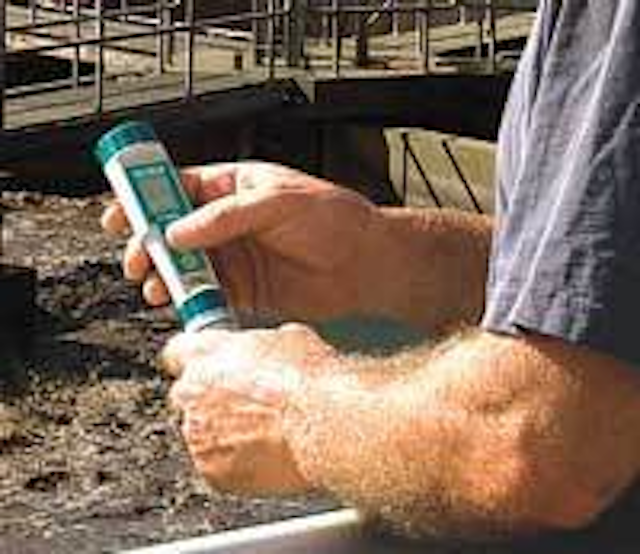 Click here to enlarge image
Extech Instruments now offers a new offset adjustment feature for its ExStik® Total Residual Chlorine Meter, Model CL200. The meter's reading in ppm can now be precisely adjusted to match the value of a known standard or to agree with previously established references. The meter monitors Total Chlorine Residual which includes free chlorine and/or chlorine bound to nitrogenous compounds, (chloramines).
Extech Instruments
Waltham, MA
Tel: 781-890-7440
Web: www.extech.com
Chemical metering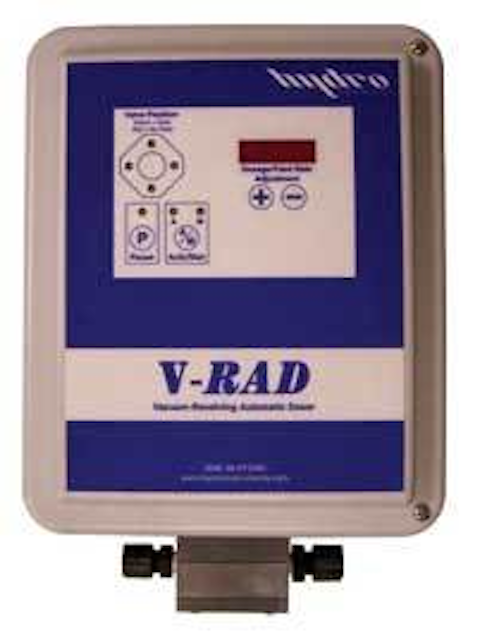 Click here to enlarge image
Hydro Instruments' V-RAD (Vacuum - Revolving Automatic Doser) is designed to meter low feed rates of liquid chemicals, such as sodium hypochlorite. The chemical is fed under vacuum, which eliminates all pressurized chemical lines. The chemical passes through a fixed-diameter orifice in shortly spaced intermittent pulses (allowing a larger orifice to be used). The dramatic pressure gradient across the orifice eliminates the concern of vapor locking. Most importantly, the feed direction through the orifice is reversed every 15 seconds. In this manner, the device is self-cleaning. The orifice is preceded by a "pocket", which serves to carry any large solids around the orifice.
Hydro Instruments
Perkasie, PA Tel: 888-384-9376 Web: www.hydroinstruments.com
Multi-gas monitor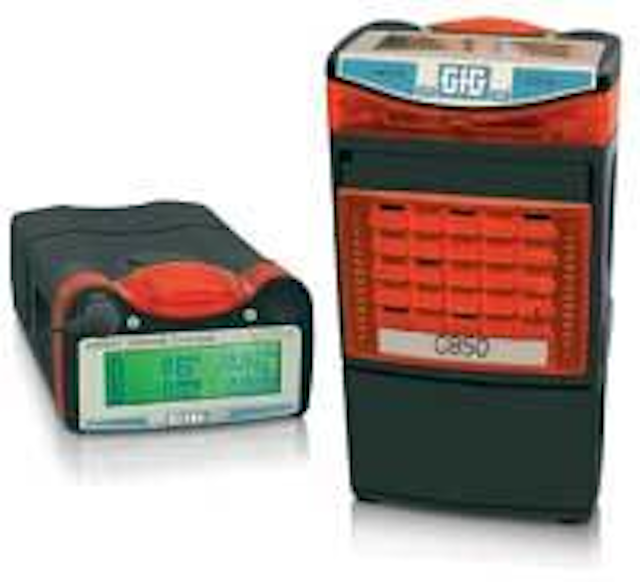 Click here to enlarge image
GfG Instrumentation offers the G850 AutoCal® Series Multi-gas monitor with ToxAlert. The monitor detects chlorine (Cl2) in a range of 0 to 10 ppm. The ToxAlert feature provides protection from hundreds of unknown toxic gases. Other features of the monitor include AutoCal® automatic calibration, extended battery life, and three alarm modes. The AutoCal® feature simplifies and reduces calibration time. The monitor recognizes the sensor type, detection range, calibration interval, and alarm threshold values.
GfG Instrumentation Inc.
Ann Arbor, MI Tel: 734-761-5168 Web: www.gfg-inc.com
Sodium hypochlorite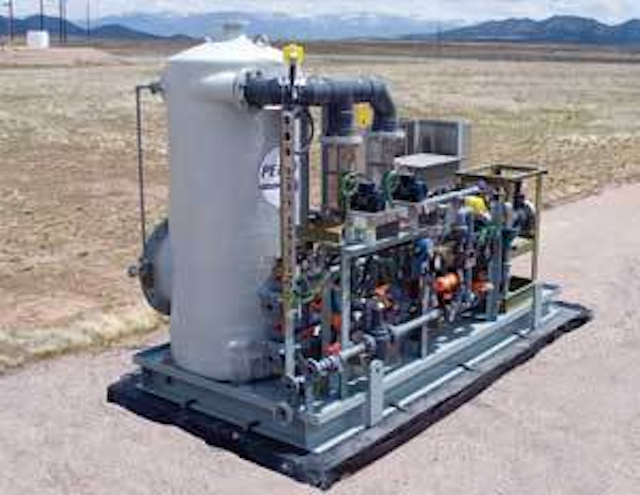 Click here to enlarge image
Pepcon Systems' ChlorMaster® line provides on-site sodium hypochlorite generation for water applications and odor control. Water and wastewater disinfection, potable water chlorination, marine organism control and odor control systems are available. The company's electrolytic cells are installed worldwide. As a custom equipment manufacturer, the company can provide an electrochlorination system to meet specific project objectives. The company has been designing electrochlorinators for more than 30 years. During this time, continuous technological improvements to its electrolytic cell designs have culminated in the Pepcon Bipolar Model Cell. It's unique electrode plate design results in high current efficiency, low power consumption, and compact system designs.
Pepcon Systems
Cedar City, UT
Tel: 435-865-5045
Web: www.pepconsystems.com
Emergency shutoff system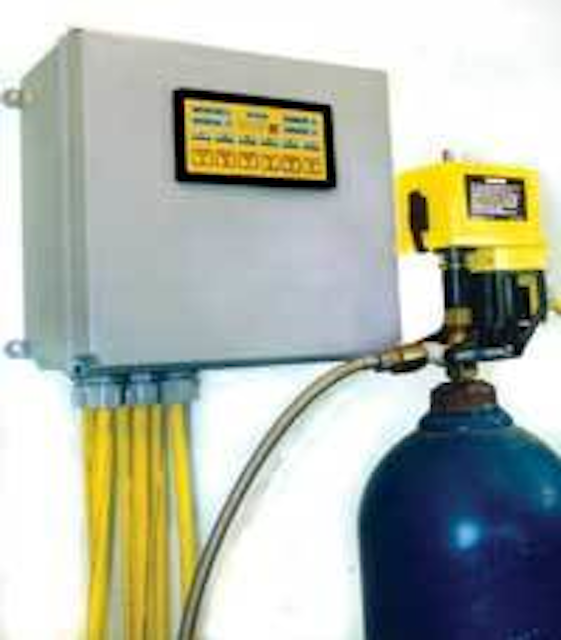 Click here to enlarge image
Halogen Valve's HexaconTM Model II control system quickly closes up to six EclipseTM actuators on toxic gas cylinder and ton container valves when activated by panic buttons or remote gas sensors. The newly designed Model II computer system applies 30 foot-pounds of torque for test closures and 50 foot-pounds of torque for emergency closures of the cylinder valve. The system can provide a SCADA network with actuator closure status and error codes to quickly analyze any problems and take the appropriate corrective action.
Halogen Valve Systems
Irvine, CA
Tel: 877-476-4222
Web: www.halogenvalve.com
On-site disinfection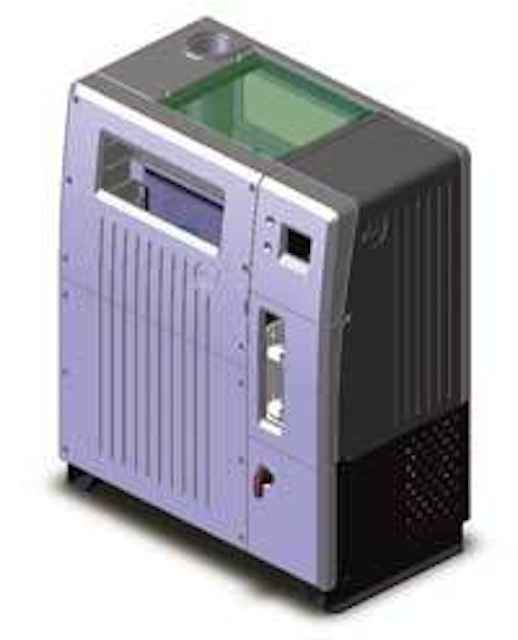 Click here to enlarge image
Miox offers mid-size generators ranging in capacity from 25-200 pounds FAC per day. The systems are modular and can be coupled together for even more capacity and redundancy. With the new cell design, a customer will be able to expand capacity within the same enclosure. Redundancy can be achieved with multiple cells, so that any single unit can be taken off line for maintenance without impacting performance of the other units.
Miox Corp.
Albuquerque, NM Tel: 888-646-9426 Web: www.miox.com
Taste, odor control
Applied Process Technology has announced the availability of HiPOx Plus, a waste-free Advanced Oxidation Process (AOP) that targets taste and odor issues in drinking water. The system combines ozone and hydrogen peroxide to form hydroxyl radicals, aggressive oxidants that react chemically with taste and odor compounds. The process simultaneously removes a wide range of volatile organic compounds (VOCs) and micro-contaminants as well.
Applied Process Technology Inc.
Pleasant Hill, CA Tel: 888-307-2749 Web: www.aptwater.com
Hypochlorite generating sys.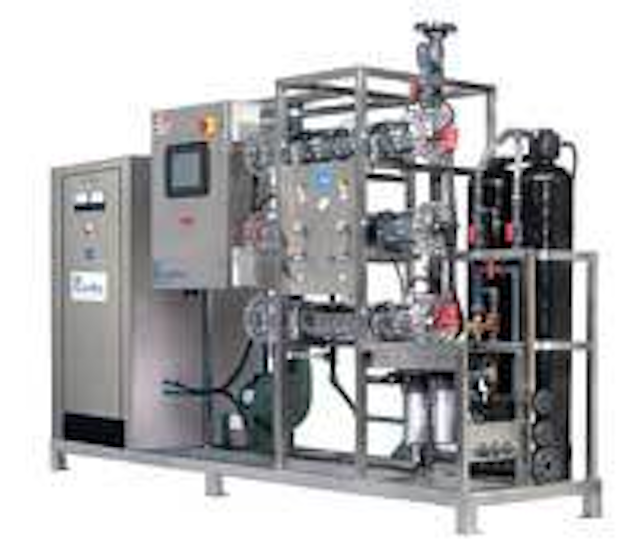 Click here to enlarge image
Severn Trent Services has been designing, manufacturing, installing, operating and servicing ClorTecTM On-site Sodium Hypochlorite Generating Systems since 1988. The company recently introduced a new skid-mounted system. The new system integrates the company's on-site generation technology into a pre-packaged design that can be installed and producing hypochlorite in less than one day. The on-site hypochlorite systems range in capacity from 6 to 3000 pounds per day, generating an 0.8% sodium hypochlorite solution by combining three common consumables: salt, water, and electricity, to produce a chlorine equivalent.
Severn Trent Services
Torrance, CA
Tel: 800-524-6542
Web: www.severntrentservices.com
Electrolytic chlorination
Click here to enlarge image
The OSEC® On-Site Electrolytic Chlorination system from Siemens Water Technologies is widely used in drinking and wastewater disinfection applications. The system produces sodium hypochlorite on-site and on-demand from salt, water and electricity. This eliminates the transport, handling and storage difficulties associated with commercial sodium hypochlorite or chlorine gas. The system can also significantly lower operating costs. Operation is completely automatic, making the system ideally suited for remote or unmanned locations. Standard capacity systems are available from 12 to 2,000 pounds per day.
Siemens Water Technologies
Tel: 800-525-0658
Disinfection, oxidation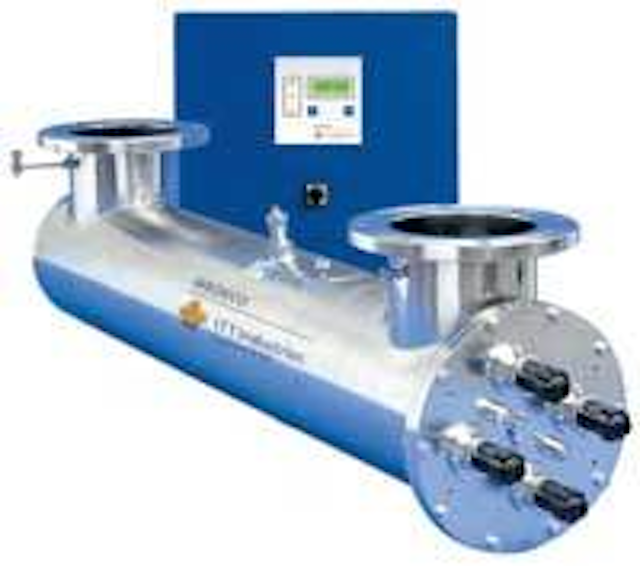 Click here to enlarge image
WEDECO, a unit of ITT Industries, manufactures ultraviolet disinfection and ozone oxidation systems for drinking water treatment. From very small municipalities to some of the world's greatest cities including Vancouver, Stockholm, and more, the company's BX and K Series ultraviolet disinfection units have been selected to deliver non-chemical disinfection.
ITT-WEDECO
Charlotte, NC
Tel: 704-716-7600
Web: www.wedeco.com
Electronic cylinder scales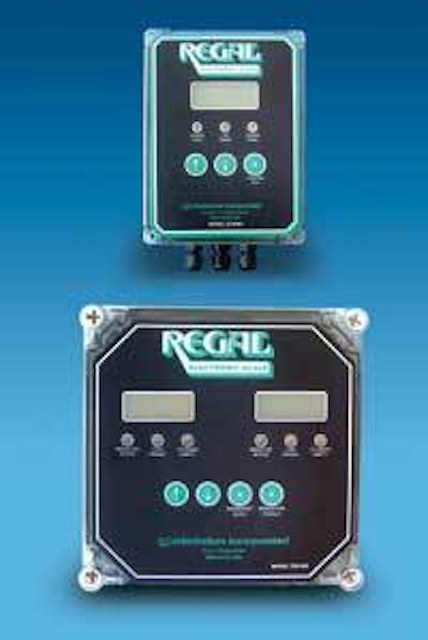 Click here to enlarge image
Chlorinators Inc. recently introduced the Regal Series ECS (Single and Dual Electronic Cylinder Scales.) The scales offer a low-profile base and solid PVC platforms with centering posts for exact positioning of cylinders. They can accommodate chlorine, sulfur dioxide, or ammonia cylinders. The scales feature stainless steel electronic strain gauge load cells, LCD displays, event annunciators and an auto-zero feature with backup keypad button.
Chlorinators Inc.
Stuart, FL
Tel: 800-327-9761
Web: www.regalchlorinators.com
Residual chlorine monitor
The HS scientific CLX OnLine Residual Chlorine Monitor has a precision range of 0-6 mg/l (displayed to 10 mg/l) and is based on proven Colorimetric DPD Chemistry. It is designed for processes that require continuous monitoring of residual Free or Total Chlorine levels. User selectable cycle times (90 seconds - 10 minutes), 4-20 mA and RS-485 Modbus outputs that can be used to control feed pumps and user selectable alarms allow complete manual or automatic control of chlorine dosing. The new flow-through design maintains cuvette cleanliness and allows for viewing of optical operations. The instrument is housed in a shatterproof case with access to all service functions and reagents. Unattended operation and low chemical usage equates to low operating and maintenance costs.
HF scientific Inc
Fort Myers, FL
Tel: 239-337-2116
Web: www.hfscientific.com
Disinfection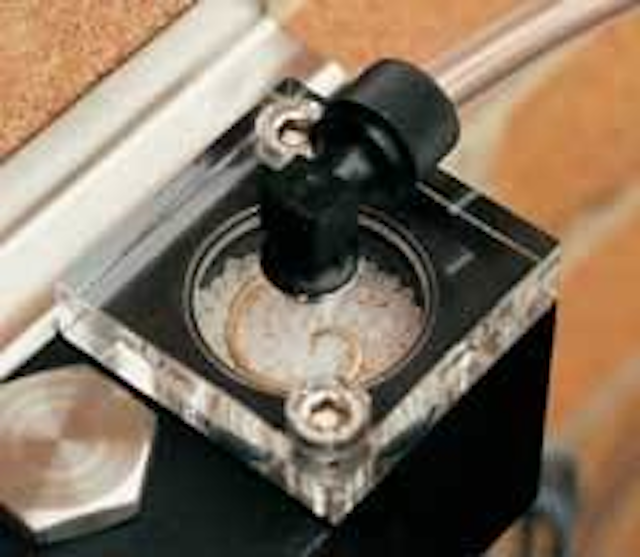 Click here to enlarge image
ITT-Portacel offers gas and liquid vacuum dosing products and systems for the disinfection of drinking water and wastewater. The company's product range encompasses manual and automated gas and liquid dosers, residual chlorine analyzers, evaporators, change over systems, ejectors, vacuum regulators, gas header systems and ancillaries, gas detection systems, and package disinfection systems. Its service offers include engineered systems, design, product testing, refurbishments and upgrades, installation and commissioning, training and service contracts.
ITT-Portacel
The Woodlands, TX
Tel: 281-363-2091
Web: www.portacel.com
Tablet chlorination system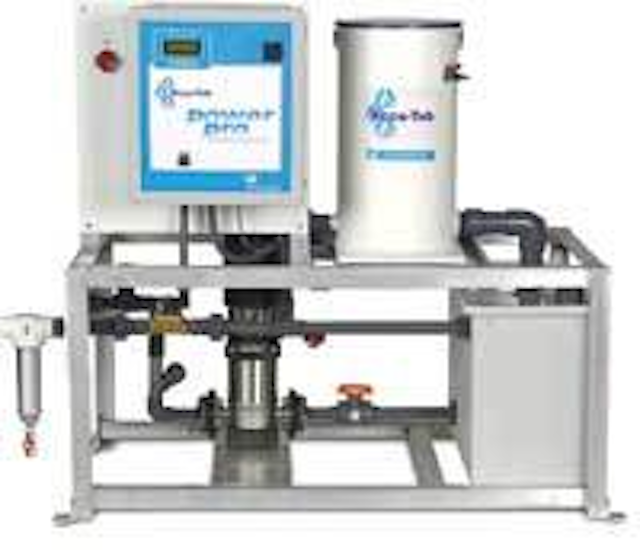 Click here to enlarge image
PPG Industries has introduced the newly designed PowerPro® chlorination unit incorporating the Accu-Tab® chlorinator and tablets. The Accu-Tab System's patented chlorinators and 3-inch calcium hypochlorite tablets together allow for consistent and controllable chlorine dosages. The tablets are specifically formulated for controlled erosion. The PowerPro chlorination units are designed specifically for use with the Accu-Tab tablets and chlorinators. The units provide a compact, turnkey system. The systems are available with multiple chlorinators, automatic controllers, weight scales, and are SCADA compatible.
PPG Industries Inc.
Monroeville, PA Tel: 800-245-2974 Web: www.ppgaccu-tab.com/ind
Ozone performance testing
Spartan Environmental Technologies, a distributor and manufacturer of chemical oxidation and disinfection equipment, is collaborating with Biosolutions to provide laboratory services to document ozone efficacy for specific applications. Ozone demand for a source water and dosage estimates for applications such as color removal or COD reduction can be determined in the laboratory. Spartan's product line includes a full range of ozone generators, odor control systems and a proprietary electrolytic system for the removal of organics from water.
Spartan Environmental Technologies
Mentor, OH Tel: 440-368-3563 Web: www.spartanwatertreatment.com