PRODUCTS & SERVICES: SLUDGE
Godwin Pumps offers solids and sludge handling Sub-Prime® electric submersible pumps for small volume sewer bypass pumping
Jun 1st, 2006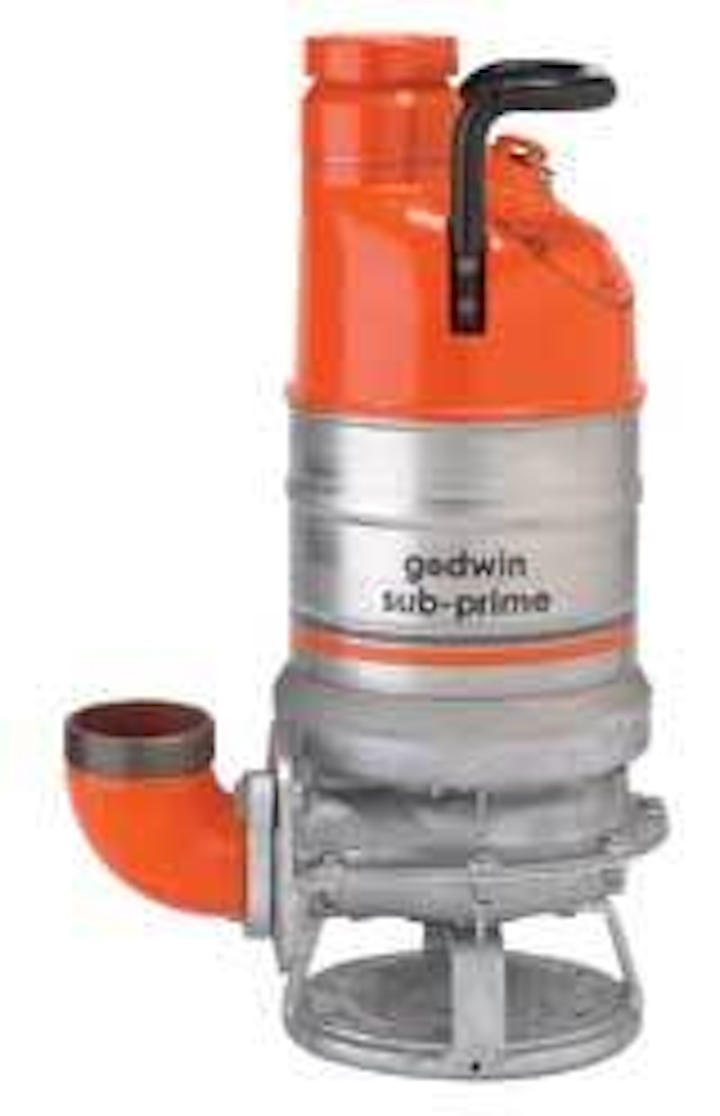 Sludge, sewage pumps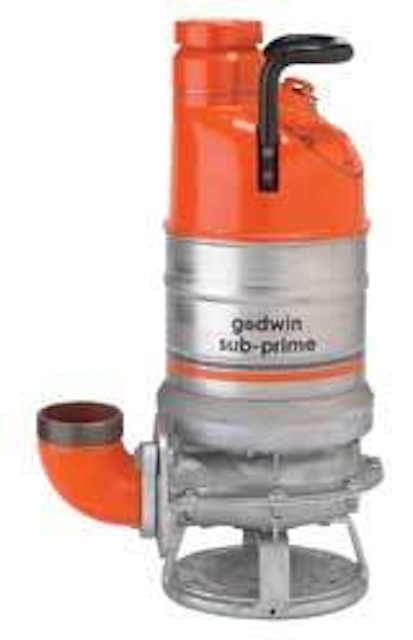 Click here to enlarge image
Godwin Pumps offers solids and sludge handling Sub-Prime® electric submersible pumps for small volume sewer bypass pumping (0.1 - 0.5 mgd). Available in single and three phase models ranging from 3 hp to 8 hp, the pumps feature a recessed vortex impeller suited for solids found in sewage and sludge. An oil bath mechanical seal design allows for indefinite dry running during low or no flow conditions.
Godwin Pumps
Bridgeport, NJ Tel: 856-467-3636 Web: www.godwinpumps.com
Sludge information portal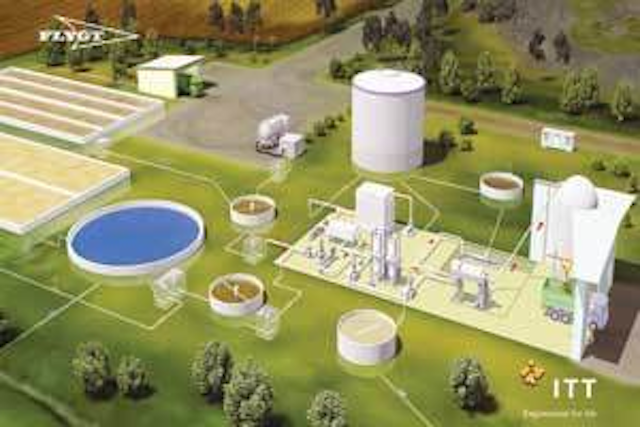 Click here to enlarge image
ITT Flygt had developed a sludge information portal that will help customers design sludge transport systems. The portal, www.flygt.com/sludge , includes system design recommendations, FLYPS (friction loss calculator and pump selection program), educational videos, brochures, specifications, performance curves, O&M manuals, parts lists and testimonials.
ITT Flygt Corp.
Trumbull, CT Tel: 203-610-0853
Grit processing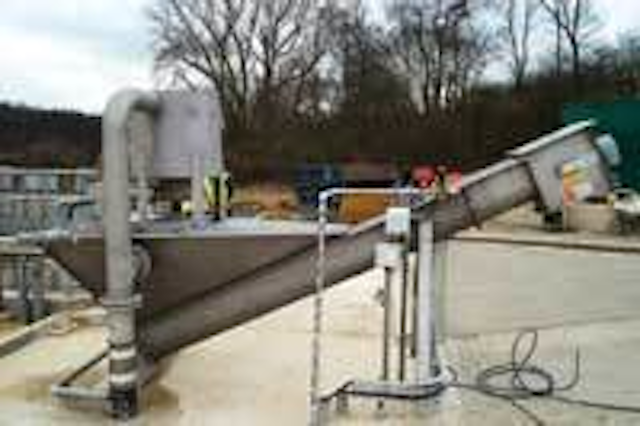 Click here to enlarge image
Grit-Cleanse™, offered by Hydro International, is a grit washing, classification and dewatering device providing a constant grit quality with very low organics content, typically less than 5% residual fecal organics by weight. Special features include full odor control lids, a dynamic separator inlet and washer unit, shaftless spiral screw, multiple overflow weir arrangement, scum capture and no submerged bearings.
Hydro International
Portland, ME
Tel: 207-756-6200
Web: www.hydro-international.biz
Biosolids minimization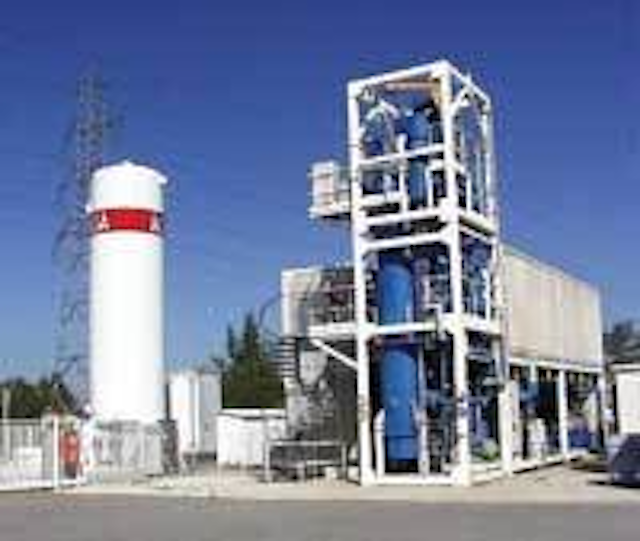 Click here to enlarge image
Kruger, a Veolia Water Solutions & Technologies company, offers a number of biosolids treatment technologies. Its Athos® hydrothermal oxidation process minimizes biosolids volumes by as much as 98%. To accomplish this reduction while remaining odor free, the process operates in a completely closed environment and uses pure oxygen to mineralize organic carbon content.
I. Kruger Inc.
Cary, NC
Tel: 919-677-8310
Web: www.krugerusa.com
Spherical connectors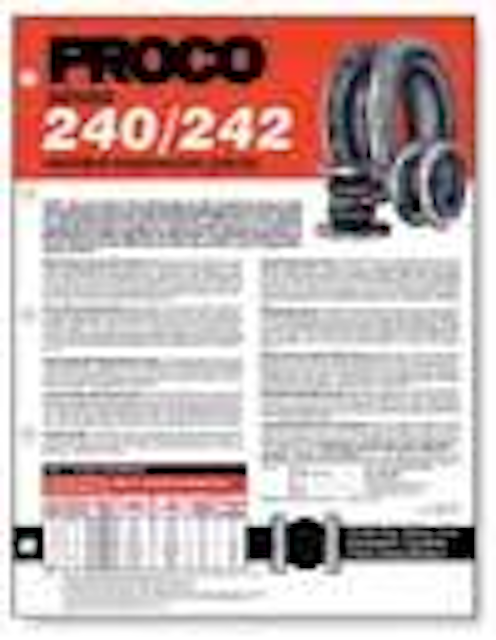 Click here to enlarge image
Proco's Series 240/242 spherical expansion joints are suitable for use in sludge lines. A self-flushing arch will keep flow from being impeded. The Proco 240/242 sphere is also an excellent choice for blower applications. Common elastomers for water/wastewater service are Neoprene, EPDM and Nitrile.
Proco Products
Stockton, CA
Tel: 800-344-3246
Web: www.procoproducts.com
Anaerobic gas storage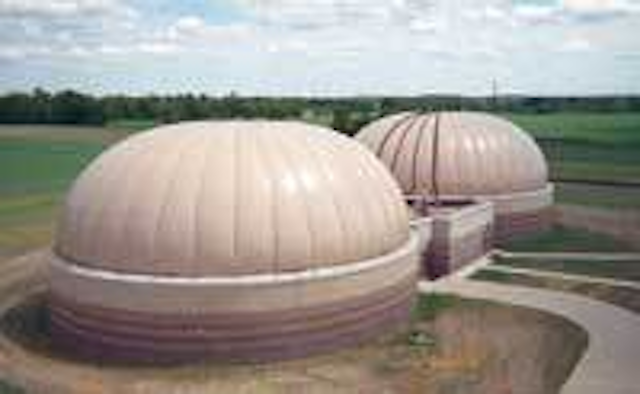 Click here to enlarge image
The Dystor® gas holder is an anaerobic digester cover suitable for use on primary and secondary digesters. This manufacturer installed, dual membrane system is able to use the entire water depth for solids storage, as well as operate at variable operating pressures. Its dome shape maximizes gas storage and membranes are sealed to the top of the wall so odors can't escape.
USFilter Envirex Products
Waukesha, WI Tel: 262-547-0141 Web: www.usfilter.com
Drying systems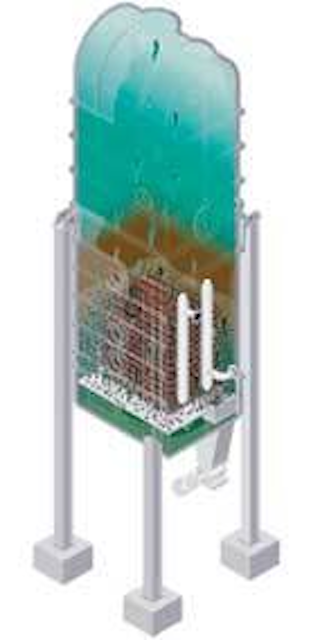 Click here to enlarge image
Schwing America's Material Handling Division recently introduced Fluid Bed Drying Systems for municipal applications. This indirect-heated, closed-loop system for granulation, drying and cooling of municipal biosolids produces a Class A reusable product. As wet material is fed directly into the dryer, the system automatically accommodates fluctuations in incoming dry solids content without blending or pre-conditioning the material.
Schwing America Inc.
White Bear, MN Tel: 651-429-0999 Web: www.schwing.com
Basalt-lined piping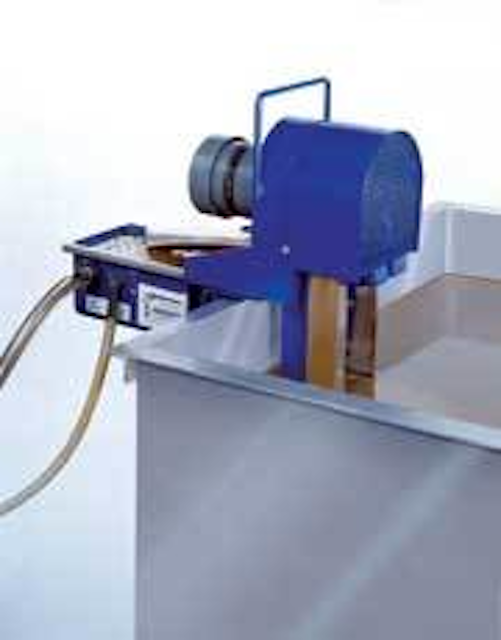 Click here to enlarge image
Abresist piping is designed to handle grit, sludge or biosolids being conveyed in wastewater plants. The basalt-lined piping lasts five times longer than ½" cast iron. Pipes, elbows and fittings are custom engineered for each application and can be provided in a variety of end connection arrangements to retrofit into existing systems or install in new ones using flanges, grooved couplings, compression couplings or welded attachments.
Abresist Corp.
Urbana, IN
Tel: 800-348-0717
Sludge pumping

Click here to enlarge image
The Moyno® 2000 HS System is an alternative to piston pumps and open conveyors for dewatered sludge transfer in municipal wastewater treatment. It features an integral hopper with a twin-screw auger feeder and Moyno G4 progressing cavity pump that handles semi-dry, high solids, dewatered municipal sludge to over 50 percent solids.
Moyno Inc.
Springfield, OH
Tel: 877-486-6966
Web: www.moyno.com
Sludge thickener
The Enviroquip Membrane Thickener is a sludge thickener available for installation at new or existing treatment plants to increase the capacity of aerobic sludge processing and storage tanks. The membrane thickener is available in numerous sizes to meet the needs of both conventional and MBR wastewater treatment plants and is specifically targeted to plants with less than 6.0 mgd influent flow.
Enviroquip Inc.
Austin, Texas
Tel: 512-834-6000
Web: www.enviroquip.com
Biosolids odor control
Altivia offers VX-456™, a proprietary liquid mixed-oxidant applied to biosolids to immediately control odor causing sulfides and related malodors as well as prevent the biological generation of sulfides. The mixed-oxidant does not form chlorinated organics, and forms environmentally friendly by-products. The company also offers full service water treatment programs to the municipal market. It provides odor assessments, full-service programs, products, equipment, monitoring and reporting.
Altivia Corp.
Houston, TX Tel: 866-258-4842 Web: www.altivia.com
Biosolids reduction process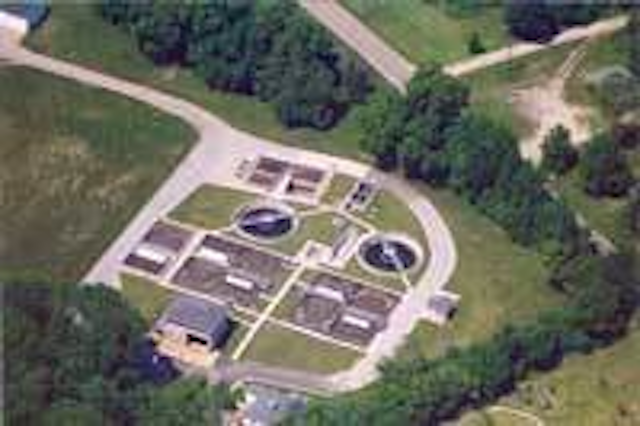 Click here to enlarge image
The new Cannibal™ sludge reduction process, by USFilter's Envirex Products, can virtually eliminate biological solids wasting in municipal and industrial wastewater treatment plants. Using a patent pending solids "interchange" process, the system reduces most of the waste sludge typically hauled or removed from an activated sludge treatment plant. Only trash, grit and inerts are removed from the process.
USFilter Envirex Products
Tel: 262-547-0141 Web: www.usfilter.com
Peristaltic pump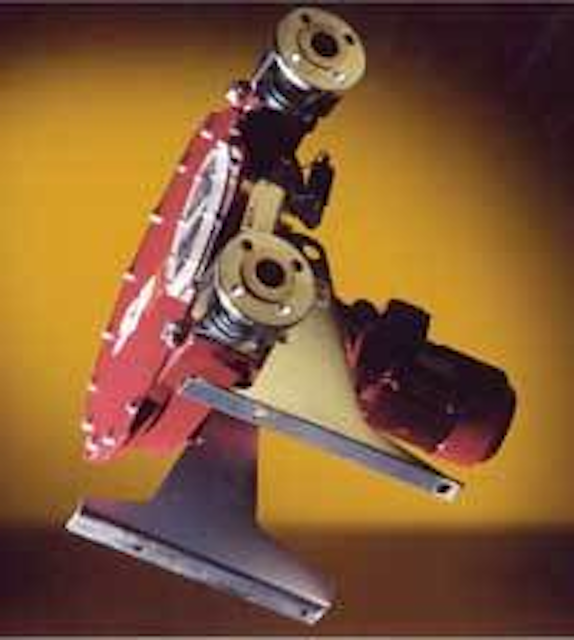 Click here to enlarge image
Watson-Marlow Bredel offers the heavy-duty SPX pump for challenging environmental applications. The pump handles a variety of harsh materials, such as sludge, abrasive slurries and corrosive chemicals. Unlike other pump types, the highly abrasive nature of lime slurries does not affect pump life. With the self-loading design, hose replacement is simplified.
Watson-Marlow Bredel Pumps
Tel: 800-282-8823
Web: www.watson-marlow.com
Composting, drying equipment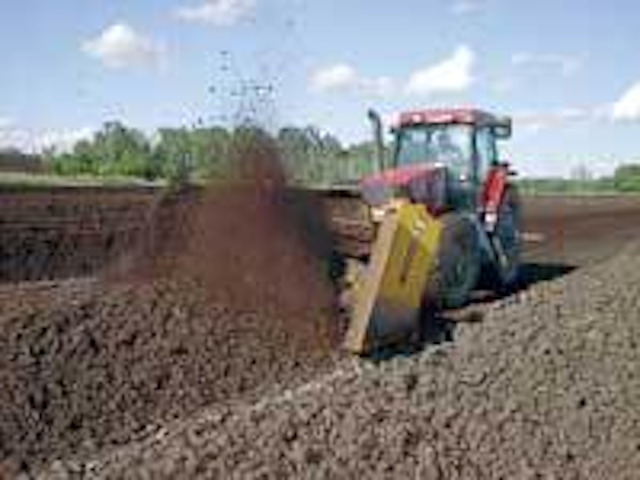 Click here to enlarge image
Brown Bear produces several machine sizes for both composting and accelerated air drying of biosolids, as well as accelerated air drying of alum and lime sludges for potable water plants. In the wastewater industry since 1978 and the potable water industry since the early 1990s, the machines are used through the United States and several foreign countries.
Brown Bear Corp.
Corning, IA
Tel: 641-322-4220
Web: www.brownbearcorp.com
Conveyors

Click here to enlarge image
Serpentix Conveyor's new all stainless steel TransPorter conveyors are perfect for hauling sludge, grit, and screened material in small wastewater treatment plants. A ¾ HP drive and a tension station are combined with standard curved track and straight track sections and supports to achieve over 20 utilitarian conveyor layouts up to 50 feet in length. Incline angles of 45 degrees are typical.
Serpentix Conveyor Corp.
Westminster, CO
Tel: 303-430-8427
Web: www.serpentix.com
Trash pumps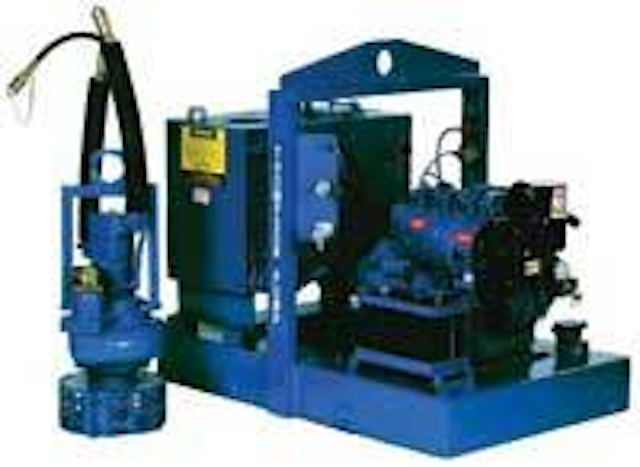 Click here to enlarge image
Thompson Pump's Hydraulically Driven Submersible Trash Pumps are suitable for use in sludge dewatering systems and for general dewatering. With sizes ranging from 3" to 12", the ability to handle up to 4.5" solids, and capacity up to 6900 gpm, the company's HST pumps and HPU pump ends provide an answer when high heads or high lifts become a factor on job sites. The submersible pump end eliminates suction lift limitations, allowing pumping in deep excavations, manholes or open pits.
Thompson Pump & Manufacturing Inc.
Port Orange, FL
Tel: 800-767-7310
Web: www.thompsonpump.com
Sludge dewatering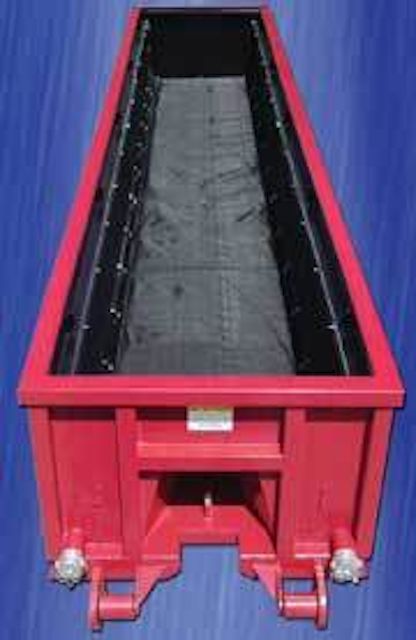 Click here to enlarge image
The Flo Trend Container Filter system is used to dewater liquid waste from wastewater treatment plants, water treatment plants, equipment wash stations, sumps/lagoons, grease traps, and a host of other client needs. The model pictured, a 10 yard roll-off box, is the newest member of the Flo Trend lineup. The company's unique new design, an extremely narrow roll-off design, was created to meet a client's specific needs.
Flo Trend Systems
Houston, TX
Tel: 800-762-9893
Web: www.flotrend.com
Mobile sludge dewatering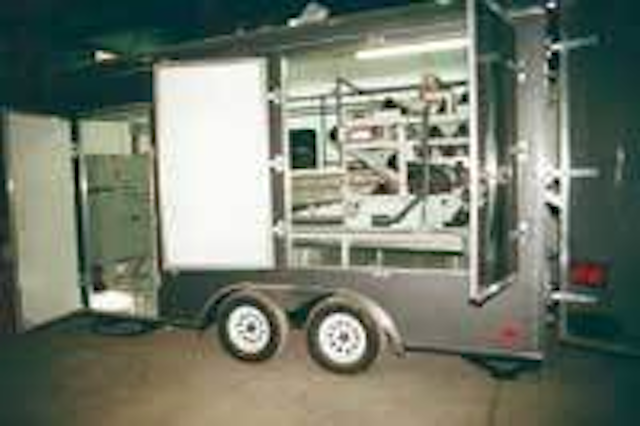 Click here to enlarge image
Phoenix Process Equipment offers a variety of mobile sludge dewatering systems. Components are selected to suit material processing requirements and provide flexibility in a turnkey system, skid or trailer mounted. The company designs and manufacturers a variety of dewatering machines for slurry volume reduction and process dewatering in the industrial wastewater and municipal water and wastewater markets.
Phoenix Process Equipment Co.
Louisville, KY
Tel: 502-499-6198
Web: www.dewater.com
Centrifuge, belt press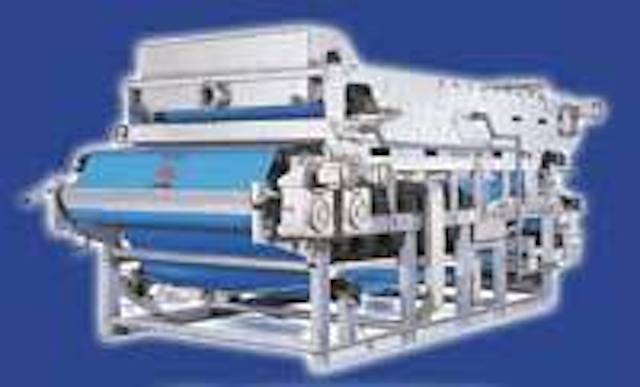 Click here to enlarge image
The Ashbrook Simon-Hartley W Series Centrifuge is now available in North America. The centrifuge − employing Tomoe technologies − combines 3,200 plus Gs; centrifugally cast stainless steel bowls; sintered tungsten carbide tiles; and a patented quasi-axial conveyor design. The company also offers its Klampress® belt press in a three belt configuration that increases throughput volumes and significantly increases dewatering and thickening capabilities.
Ashbrook Simon-Hartley
Houston, TX
Tel: 800-362-9041
Web: www.as-h.com
Polymer control system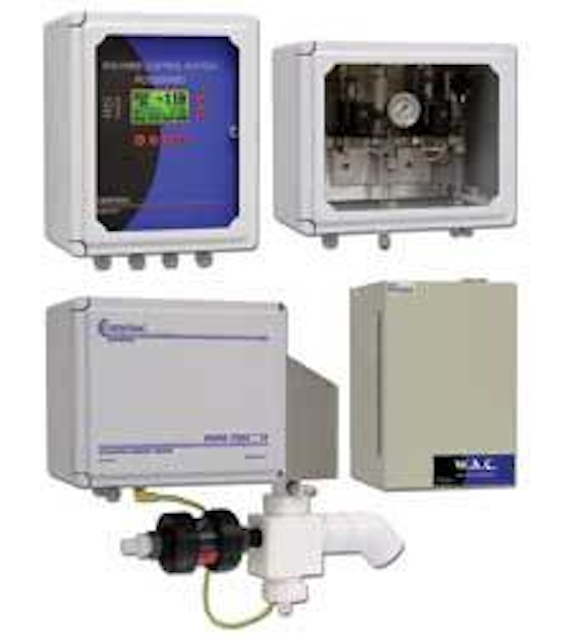 Click here to enlarge image
Chemtrac Systems' Polymer Control System model PCS5500 can help optimize polymer addition for liquid solids separation such as clarifiers, centrifuges, belt filter presses, rotary drum thickeners, dissolved air flotation, and gravity belt thickeners. The on-line instrument measures the net charge after the addition of polymer, i.e. sample stream of centrate/filtrate. A change in polymer concentration, sludge concentration, sludge characteristics or flow will result in a change in charge indicating a need to increase or decrease polymer feed.
Chemtrac Systems, Inc.
Norcross, GA
Tel: 800-442-8722
Web: www.chemtrac.com
Polymer dosing
Click here to enlarge image
Pollardwater.com offers equipment needed to control polymer dosing in a water or wastewater treatment plant. The company offers LMI pumps that are specifically designed for pumping polymers and other high viscosity liquids used in dewatering of sludges. The pumps are designed with either an Acrylic or Polypropylene head with 316 SS check balls to allow for easy flow of the thickest of liquids.
Pollardwater.com
Redmond, WA
Tel: 800-437-1146
Web: www.pollardwater.com