PRODUCTS & SERVICES — AERATION
Wastewater treatment facilities that require reliable monitoring of dissolved oxygen (DO) for aeration, activated sludge, and nutrient removal control can optimize those processes with the new sc100 Controller from Hach.
Feb 1st, 2006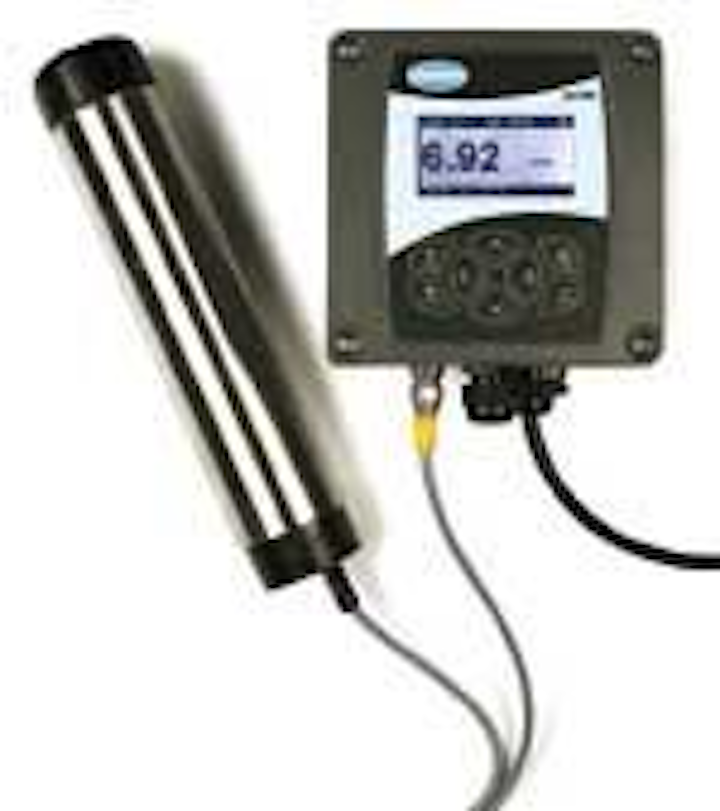 DO control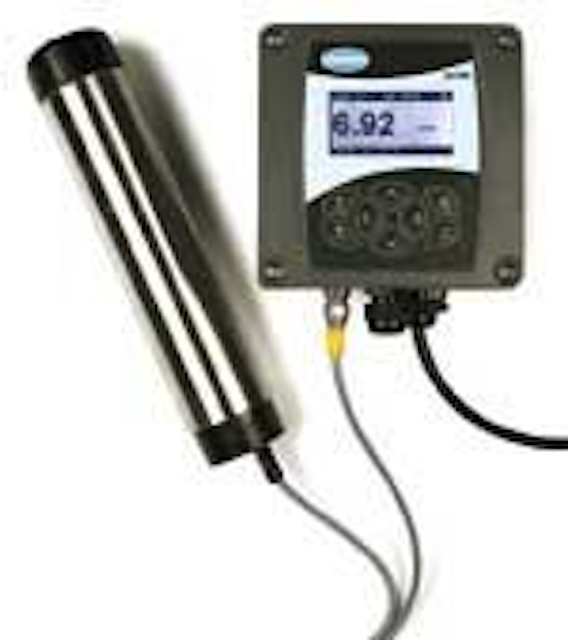 Click here to enlarge image
Wastewater treatment facilities that require reliable monitoring of dissolved oxygen (DO) for aeration, activated sludge, and nutrient removal control can optimize those processes with the new sc100 Controller from Hach. With it, process managers can choose to use the company's new LDO® Dissolved Oxygen (DO) Probe, which uses luminescent technology and eliminates the typical drawbacks of membrane components; a Hach membrane-methodology DO probe; or both, as conditions and requirements dictate.
Hach Co.
Loveland, CO
Tel: 800-227-4224
Web: www.hach.com
Gas diffuser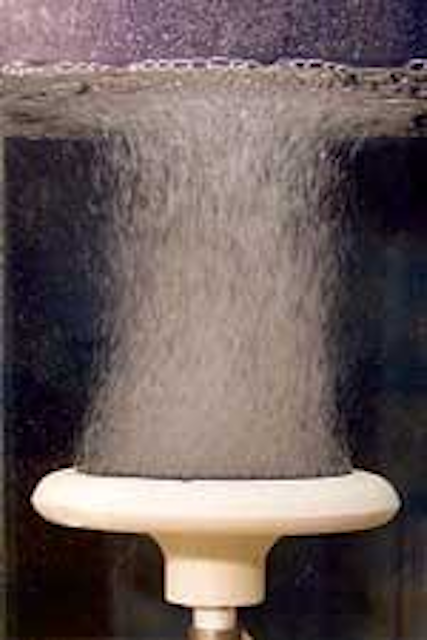 Click here to enlarge image
Filtros has been issued a United States Patent for an all-ceramic gas diffuser for use in water and wastewater treatment. This one-piece design is formed of a gas permeable porous alumina diffuser ceramically bonded at high temperatures to an impervious ceramic holder yielding a corrosion resistant product. Stainless steel components, polymer gaskets and cements of any kind have been eliminated. Due to its leak free design, customers expect to experience lower operating costs by achieving higher efficiencies. Lower maintenance costs are also realized due to its gasket free design and one piece construction.
Filtros Ltd.
East Rochester, NY
Tel: 800-633-2143
Web: www.filtrosltd.com
Blower packages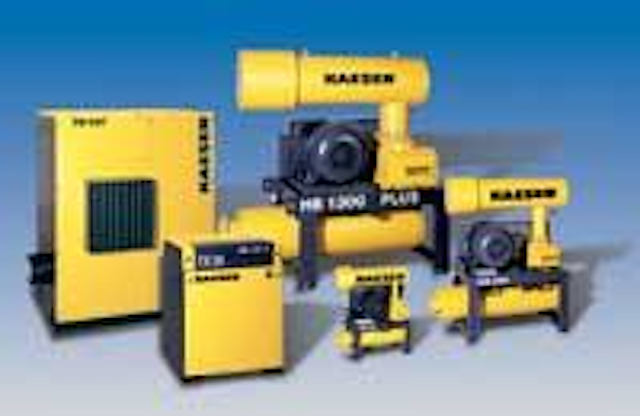 Click here to enlarge image
Kaeser blower packages include the blower, motor and silencer as well as all the necessary accessories for a wide range of pressure and vacuum applications. The company also offers piping, filters, and system control components such as variable speed drives, sequencers, regulators and unloaded start valves. It can customize the unit as well as the installation - and integrate the performance of multiple blower packages for the specific application.
Kaeser Compressors Inc.
Fredericksburg, VA
Tel: 800-777-7873
Web: www.kaeser.com
Aeration system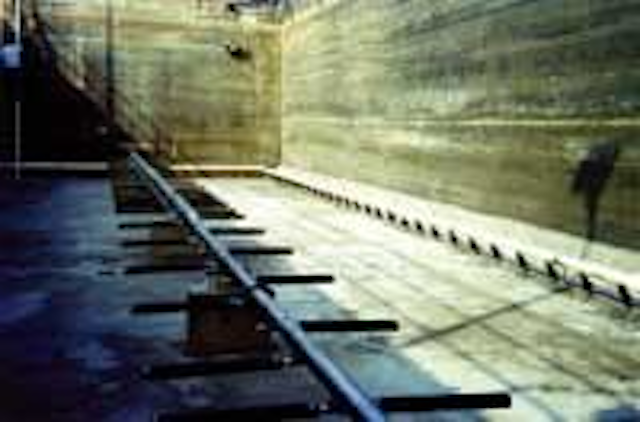 Click here to enlarge image
Tideflex Technologies' aeration system combines coarse and fine bubble aeration components to improve mixing and oxygen transfer while preventing backflow and clogging. The custom engineered system uses the Tideflex® TFA coarse bubble diffuser to provide rapid mixing while the company's Tubeflex Fine Bubble Air Diffuser provides the fine bubble supplement. This combination increases transfer efficiency due to the entrainment in higher velocity loops created by the TFA.
Tideflex Technologies
Carnegie, PA
Tel: 412-919-0919
Web: www.tideflex.com
Membrane diffusers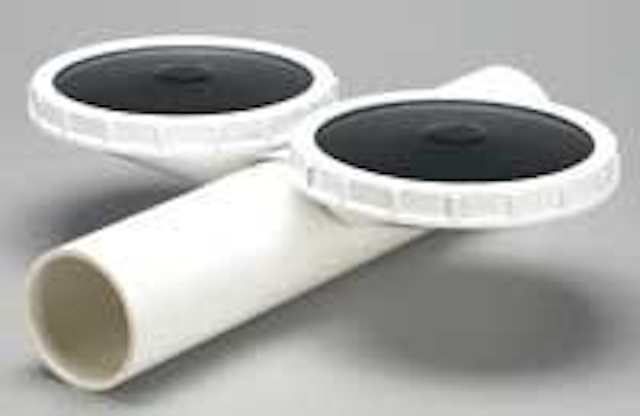 Click here to enlarge image
The Envirex® Diamond™ edition membrane diffuser from USFilter, a Siemens Business, offers improved standard oxygen transfer efficiency (SOTE) values, higher maximum airflow limits per diffuser, lower diffuser headloss and longer diffuser life. Compared to other leading membrane diffusers, the custom-formulated EPDM material gives it a 50% greater tensile strength, which ultimately results in longer product life.
USFilter Envirex Products
Waukesha, WI
Tel: 262-521-8332
Web: www.usfilter.com
Floating aerator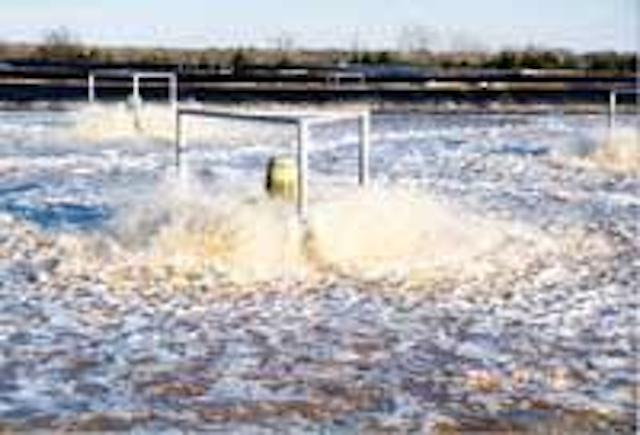 Click here to enlarge image
The Aqua-Lator® aerator, available from USFilter Aerator Products, is a high speed floating mechanical aerator. The aerator's pumping action transfers oxygen by breaking up the wastewater into a spray of particles, creating more surface area for atmospheric pressure to drive oxygen into the wastewater. The aerators are widely used to treat wastewater at municipalities.
USFilter Aerator Products
Roscoe, IL
Tel: 815-623-2111
Web: www.usfilter.com
Aeration control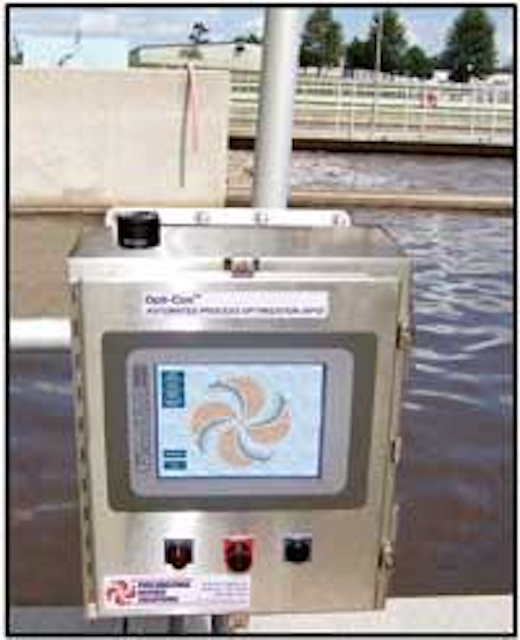 Click here to enlarge image
Philadelphia Mixing Solutions offers the Opti-Con(tm) control system for monitoring mixing and aeration equipment performance, managing equipment energy costs, and enabling preventative maintenance. The controller offers touch screen input, an animated GUI, secure remote Ethernet access and full system optimization from a central location. The controller is fully compatible with existing SCADA systems. As an optional Phase II upgrade, a Mixer Health Monitoring system is available. It monitors vibration, temperature, oil, etc., providing insight into the health of the mixing system.
Philadelphia Mixing Solutions
Palmyra, PA
Tel: 800-956-4937
Web: www.philamixers.com
Flowmeter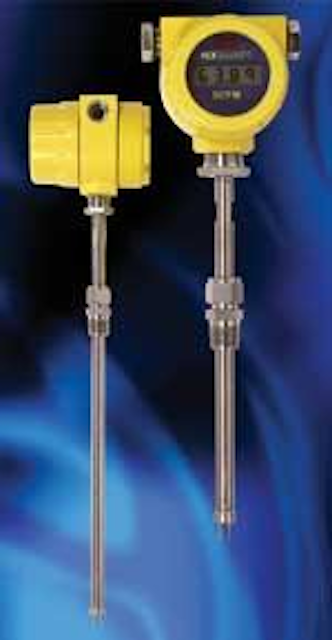 Click here to enlarge image
Designed with a thermal flow sensing element combined with an optimized feature set for wastewater treatment aeration applications, the new ST50 Flowmeter from Fluid Components International (FCI) measures air in line sizes from 2" to 12". It measures air flow from 1 to 125 SFPS. Accuracy is +2% of reading, +0.5% of full scale, with repeatability of +0.5% of reading. The insertion-type flowmeter has no moving parts. It is available as a blind transmitter or with a large LCD digital display, which can be built-in (integral) with the main transmitter or provided as a remote readout that can be located up to 50 feet away.
Fluid Components International
San Marcos, CA
Tel: 800-863-8703
Web: www.fluidcomponents.com
Blower systems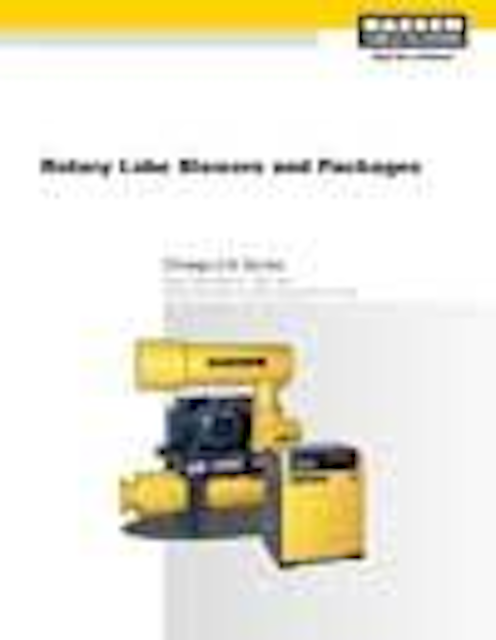 Click here to enlarge image
Kaeser Compressors has updated its blower product catalog. The 20 page, four-color piece details its line of Omega rotary lobe blowers and blower packages from 3 to 300 hp and flows up to 5350 cfm. It includes the latest models in the Omega Pak and Com-paK Plus integrated package designs. Readers can learn how the optimized Omega two-lobe and tri-lobe blowers and packages can reduce maintenance, energy consumption, and noise levels. See how the company's wide scope of supply can simplify blower system design and purchasing. Package system features include built-in silencers and inlet filters, pre-mounted check and relief valves, TEFC motors, and auto-tensioning v-belt drives.
Kaeser Compressors Inc.
Fredericksburg, VA
Tel: 800-777-7873
Web: www.kaeser.com
Turbine agitator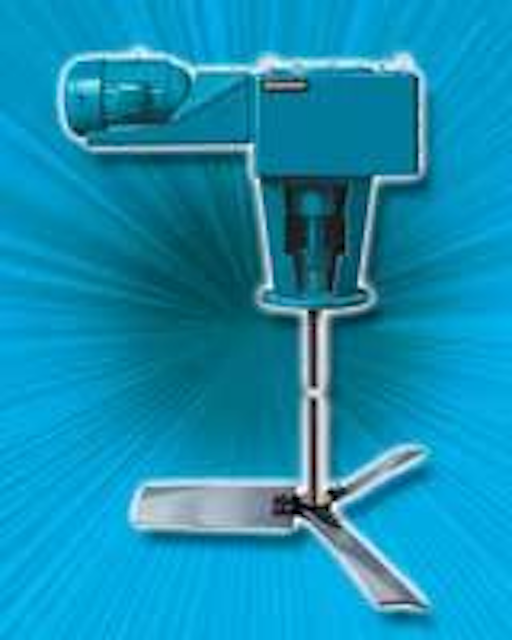 Click here to enlarge image
Chemineer's HT Turbine Agitator is capable of handling virtually any process from aeration and sludge conditioning to chemical make up and disinfection. The agitators are ideal in critical applications where reliability is a key consideration. These agitators are available with output speeds from 5 to 350 rpm and drive sizes from 1 to 1,000 hp. The design results in high strength, low wear, quiet operation, and minimal maintenance.
Chemineer Inc.
Dayton, OH
Tel: 937-454-3200
Web: www.chemineer.com
Blowers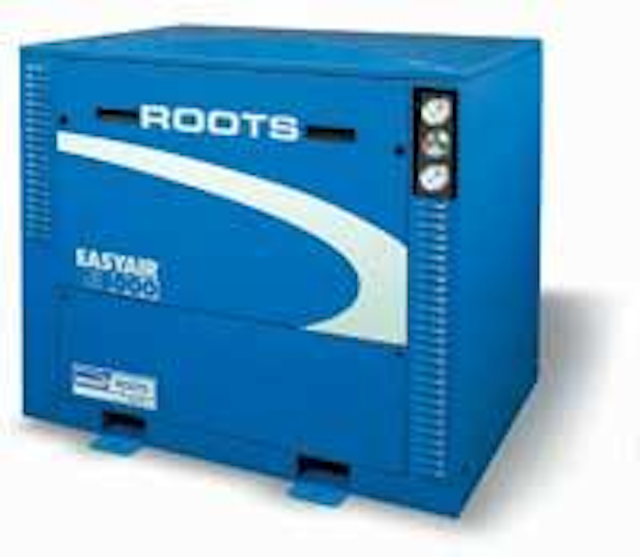 Click here to enlarge image
The Dresser Roots EasyAir™ 8000 is a skid-mounted blower unit with all piping, valves and instrumentation in place. Produced for both vacuum and pressure applications, the new package features a powder-coated noise enclosure for durability and quiet operation plus easy access for service/maintenance. Roots-designed, the package is available with a wide range of optional equipment and can be specifically designed to meet exact customer requirements.
Dresser Roots
Houston, TX
Tel: 877-363-7668
Web: www.rootsblower.com
DO control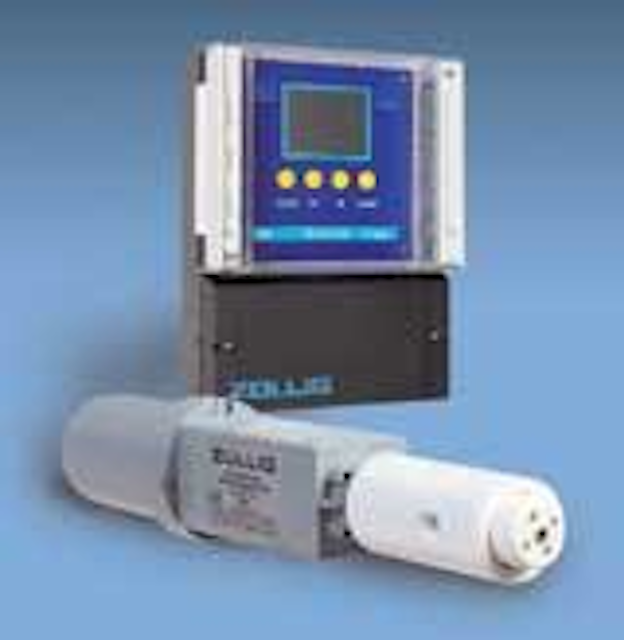 Click here to enlarge image
Emerson offers the Züllig dissolved oxygen system, which can reduce cleaning and calibration frequency in harsh industrial and municipal wastewater treatment environments. This non-membrane galvanic sensor has two insulated electrodes continuously polished by a rotating diamond grindstone.
Emerson Process Management, Rosemount Analytical Inc., Liquid Division
Irvine, CA
Tel: 800-854-8257
Web: www.raihome.com
Jet aeration, mixing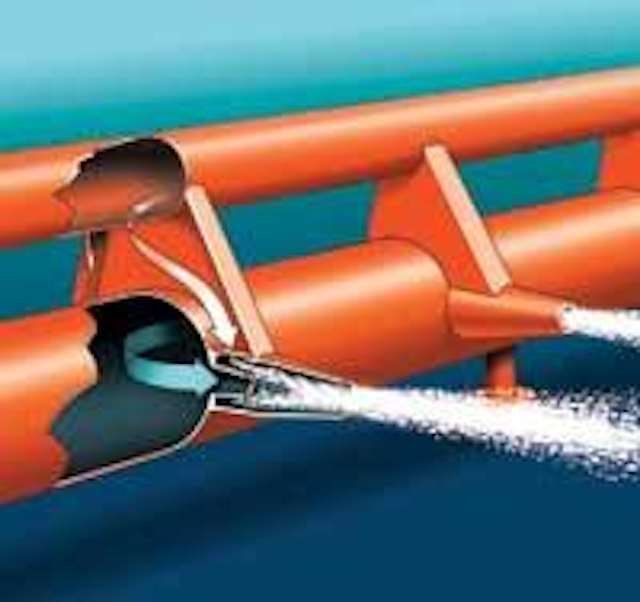 Click here to enlarge image
MTS (Mass Transfer Systems) for more than 20 years has specialized in the supply of jet aeration and jet mixing systems for biological wastewater processes. The majority of its products are engineered systems consisting of MTS jet aerators, in-basin piping, recirculation pumps, blowers, and out-of-basin piping and accessories. The company also offers the Multi-Aspirator submersible aerator, which provides efficient aeration without the need for a blower.
Mass Transfer Systems
Walpole, MA Tel: 508-660-9150 Web: www.mtsjets.com
Submerged aeration system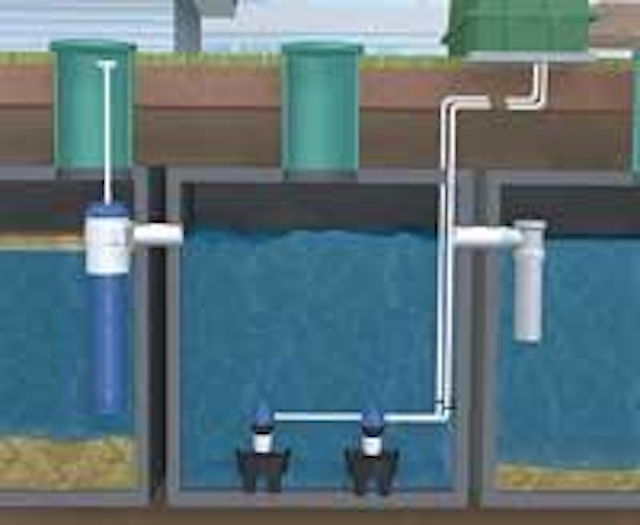 Click here to enlarge image
Bio-Microbics recently introduced the Lixor™ submerged aeration system, a Venturi-type diffuser designed to provide aeration and mixing in a variety of wastewater applications. Low-cost pre-aeration, aeration, sweetening and mixing are just a few of the system's potential uses. Individual or multiple units may be used in many ways as part of a wastewater plant design to help achieve desired treatment goals.
Bio-Microbics Inc.
Shawnee, KS Tel: 913-422-0707 Web: www.biomicrobics.com
Aeration system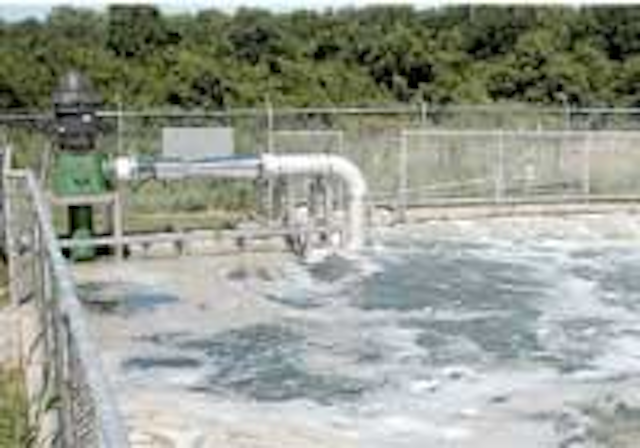 Click here to enlarge image
The Mazzei AirJection® aeration system provides high efficiency oxygen transfer in a small footprint design, with no depth limitations. The system comes with a certified Standard Oxygen Transfer Rate and documented Alpha values of 0.9 and higher. The process uses a recirculating pump and patented Mazzei® Injectors to dynamically introduce oxygen into the water system. It is then delivered to the bottom of the pond, tank or reservoir and discharged through Mass Transfer Multiplier Nozzles™ which increase oxygen transfer in the surrounding water.
Mazzei Injector Corp.
Bakersfield, CA
Tel: 661-363-6500
Web: www.mazzei.net
Process aerator/mixer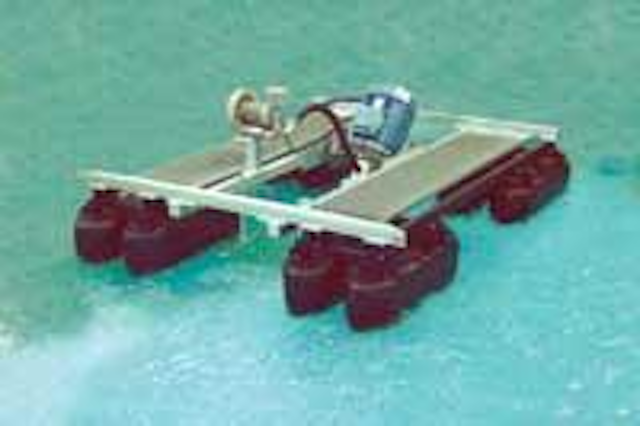 Click here to enlarge image
Aeration Industries' Aire-O2 Triton® process aerator/mixer provides oxygen transfer and mixing up to 33 feet deep, and dual-function operation for Biological Nutrient Removal process control in a single unit. Low-speed (900 rpm) operation ensures extended aerator life and quiet operation. Other benefits include flexible mounting options for float and bridge mountings. The system's splash free, sub-surface air injection and mixing provides improved winter performance and no aerosols.
Aeration Industries International Inc.
Minneapolis, MN
Tel: 800-328-8287
Web: www.aireo2.com