PRODUCT SHOWCASE
Hach Company has introduced the new sc100 Controller and its growing family of compatible digital sensors.
May 1st, 2006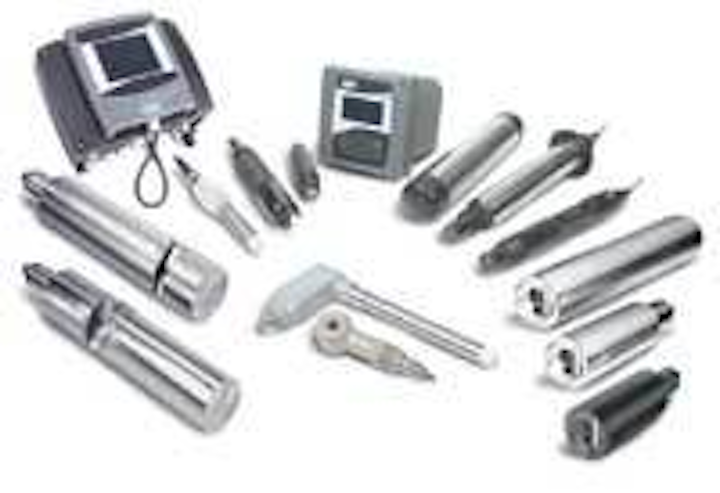 Digital sensors, controller
Click here to enlarge image
Hach Company has introduced the new sc100 Controller and its growing family of compatible digital sensors. The controller accepts any two sensors - in mix-or-match arrangement - from the selection of Hach digital sensors now available, including those for pH, ORP, conductivity, dissolved oxygen, and turbidity. Each sensor is designed for simple 'plug and play' connection, ready for deployment without special cabling, configuration or software. Water treatment process operators can connect two model 1720e low-range turbidimeter sensors, or one model 1720e and one pH sensor, to a single sc100 analyzer. Similarly, operators monitoring various stages of wastewater treatment can use Hach LDO™ dissolved oxygen probes and/or pH and ORP sensors.
Hach Co.
Loveland, CO Tel: 800-227-4224 Web: www.hach.com
Access doors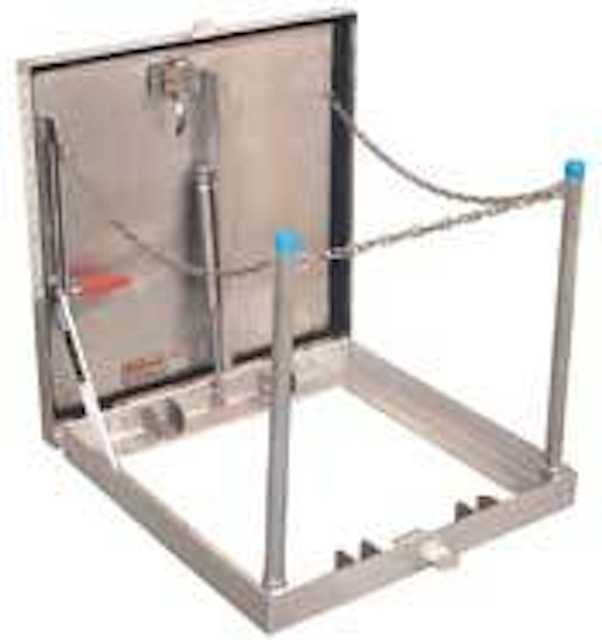 Click here to enlarge image
Bilco's TypeSM Surface Mount Access Door provides a solution for access to underground vaults that do not require the use of a flush-mounted door. Constructed of aluminum and equipped with heavy-duty stainless steel hardware, the door features a concealed internal mounting flange. The doors' overlapping cover design is fully-gasketed to shed water and prevent debris from entering the areaway, making it ideally suited for water treatment, reservoir and other industrial and municipal applications where the infiltration of contaminants is a concern.
Bilco Co.
New Haven, CT
Tel: 203-934-6363
Web: www.bilco.com
Pipeline strainer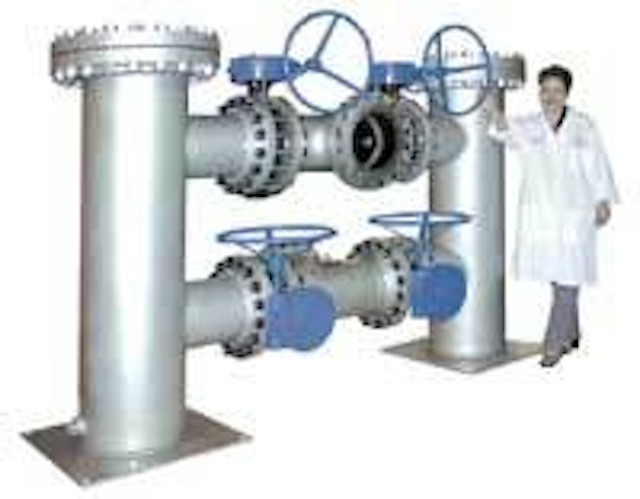 Click here to enlarge image
The Eaton Model 950 Fabricated Duplex Pipeline Strainer continuously removes particulate matter sized from ½" down to 45 microns from the flow in pipeline systems. The system flow never has to be shut down for strainer basket cleaning. Because the strainer is fabricated, as opposed to being made from a casting, it is cost effective to modify to suit exact application requirements. Users and specifiers can "design" a duplex strainer that meets their exact needs with no compromises. Specifications such as inlet/outlet placement and location, physical size, cover types for the strainer basket chambers, automatic operation, and steam jackets are among the items that can be customized. The strainers are manufactured in carbon steel or type 316 stainless steel for pipelines 2" to 36" in size. All sizes feature a very large strainer basket "free area" ratio for excellent flow characteristics and a low start-up pressure drop.
Eaton Filtration LLC
Elizabeth, NJ
Tel: 908-787-1000
Web: www.eaton.com
Brass relief valve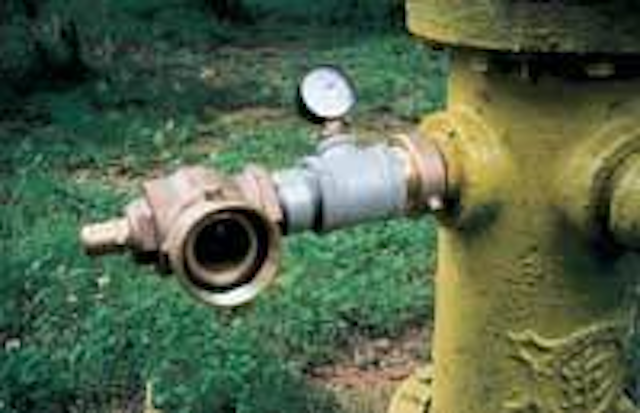 Click here to enlarge image
Norman Noe offers a brass relief valve designed to help regulate and lower pressure in a piping network when utilities are forced to pump water directly into their system while their water storage tank is off line during painting or for other reasons. The valves are installed on fire hydrants. They have a sturdy brass body, 2½" ASE brass fire hydrant and fire hose adapters, and a pressure gauge.
Norman Noe Co. Inc.
Nineveh, IN
Tel: 317-933-2274
Web: www.normannoewatertankinspection.com
Sampling system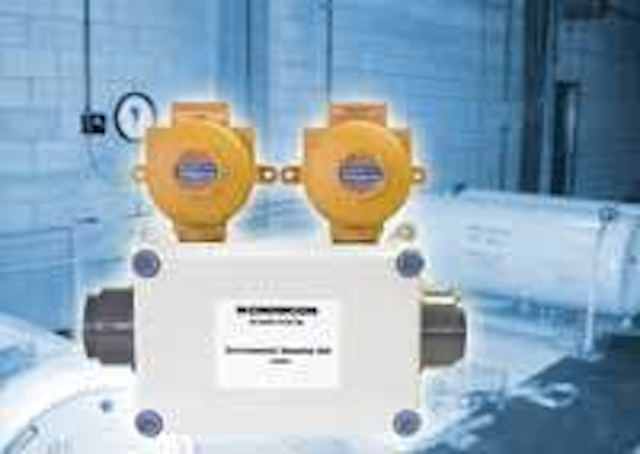 Click here to enlarge image
The new Environmental Sampling Unit (ESU) from Crowcon is designed for monitoring high density, toxic gases such as chlorine and sulphur dioxide where positioning a conventional sensor is not practical. The unit's chamber is fitted with an Xgard detector and an electric fan draws air into the chamber via a sampling pipe. The ESU is ideal for monitoring large enclosed areas such as chlorine storage areas. One unit can monitor up to 36 feet of sampling pipe, eliminating the need for multiple sensors mounted at floor level. The device can monitor from a single point, along an entire floor space, or even areas subject to flooding such as wet wells. Its high impact plastic enclosure makes the ESU particularly suitable for harsh environments. The device is monitored using the company's Gasmaster or Vortex wall-mounted control panels, which show gas levels and monitor the fan to warn if it slows or stops. If there is a gas leak, fan blockage or fan failure, a local sounder is activated, alarms are indicated and outputs are sent via relays and 4-20 mA or RS-485 Modbus signals.
Crowcon Detection Instruments
Erlanger, KY
Tel: 859-957-1039
Website: www.crowcon.com
Free chlorine sensor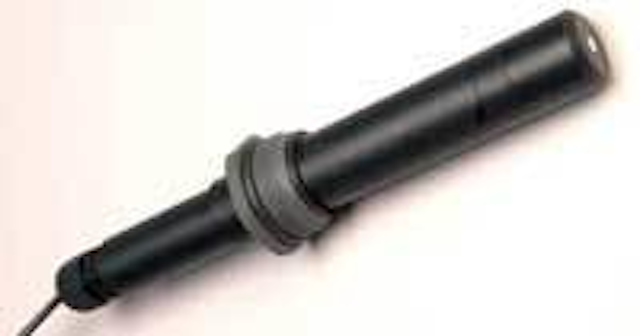 Click here to enlarge image
New free chlorine amperometric sensors available from Sensorex are ideal for monitoring FCl- levels in the 0-2 ppm, 0-5 ppm and 0-10 ppm ranges. Proven amperometric technology provides real time FCl- in-line measurements. The sensor's 4-20 mA output can be input into a variety of devices which can accept and scale a 4-20 mA signal. The company also offers pH electrodes and a pH controller. Its special flow cell with a vortex generator provides a stable, bubble free measuring environment.
Sensorex
Garden Grove, CA
Tel: 714-895-4344
Web: www.sensorex.com
Pressure wash, steam clean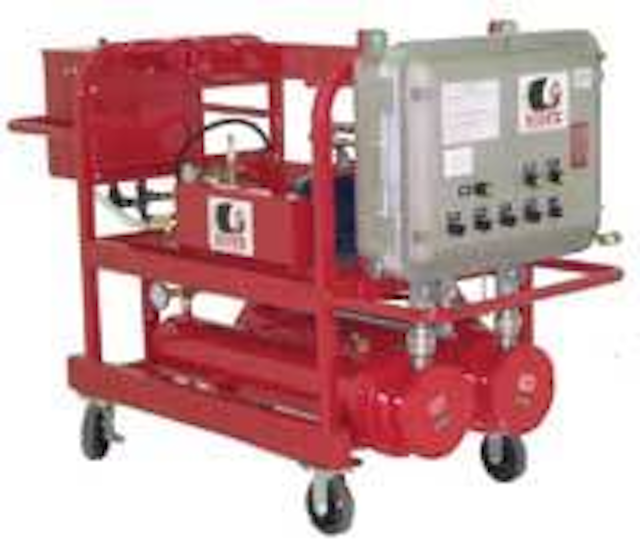 Click here to enlarge image
Sioux Steam Cleaner offers a line of application-specific all-electric pressure washers, steam cleaners and combination units that are ideal for cleaning tanks, grit collectors, belt thickeners, and process equipment in wastewater treatment plants. These units use electricity to heat the water. Storage tanks are not required and water temperature is available instantly and continuously. The units are designed for use both indoors and outdoors and are ideal for areas where air quality is a priority. The company offers over 45 models with ratings of 0.6 - 5.75 gpm and 100 - 3000 PSI.
Sioux Steam Cleaner Corp.
Beresford, SD
Tel: 888-763-8833
Web: www.sioux.com
Remote monitoring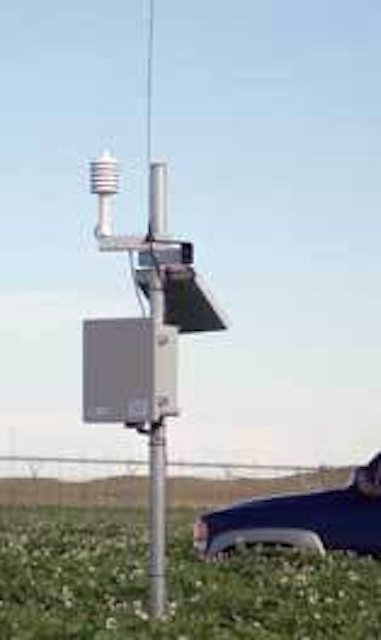 Click here to enlarge image
Automata has introduced the Mini-Sat™ Field Station, providing remote monitoring and control from anywhere in the world. Satellite direct transmission produces communication between the remote field station and the Internet for unlimited networking capability. It can be centrally located in the field, at a pump station, or at a water level monitoring site. The system is particularly competitive at remote, isolated sites with a reasonable amount of data flow. The user can be notified of any changes through email or via pager, or can view any changes on the Internet. These units can be used in a network with single user software such as the company's Field Vision or in a web server application providing a turn key system. Only an unobstructed view of the sky is needed for communication. The user requires no infrastructure.
Automata Inc.
Nevada City, CA
Tel: 530-478-5882
Web: www.automata-inc.com