New Products
New products involved in the water industry
Dec 1st, 2016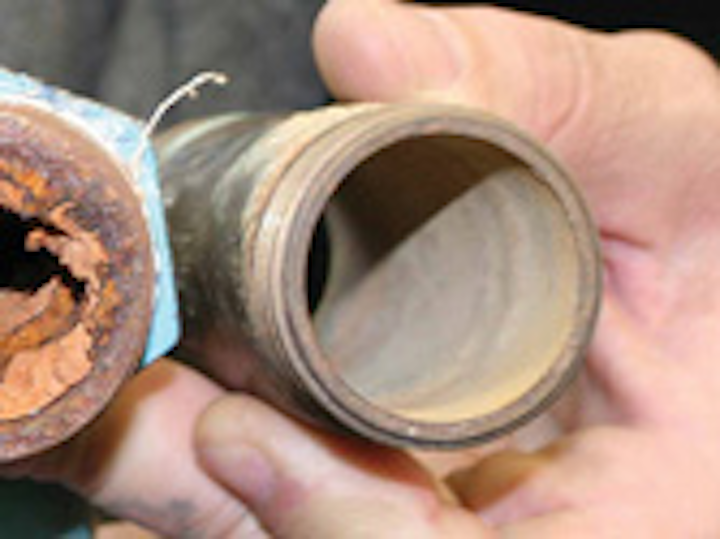 Pipe protection
Folmar™ Pipe Protection from Great Water Tech is a proprietary, silicate-based mineral solution that prevents corrosion, scale, metal leeching, and the formation of disinfection by-products (DBPs) throughout all levels of water infrastructure. The formulation creates an ultra-thin, super-hard glass layer on the interior of the pipe wall, which separates the metal and water. In addition to preventing corrosion and contamination, Folmar™ Pipe Protection fills and seals small cracks and crevices, maintaining the integrity of the piping system.
Great Water Tech
Level meters
The Water Level Meter 100 and 200 from In-Situ include static and drawdown modes, allowing users to switch from static level readings to drawdown mode for low-flow and pump tests. The IP68-rated probe can be submerged in depths of up to 300 meters (1,000 feet), and features a safety disconnect, allowing the probe to be released if it gets trapped. The quick-connect probe can then be easily and reliably replaced in the field; there's no need to send the meter in for repair. The 100 model has Kevlar-reinforced polyethylene tape and is laser engraved, while the 200 model uses ASME-certified high-tensile steel tape encased in a polyethylene jacket.
In-Situ Inc.
Coupling with split rubber element
ABB introduces the Dodge Raptor coupling that features patented WingLock™ technology, a finite-element optimized, winged elastomeric design that provides longer driven equipment life and increased reliability. WingLock technology increases surface area at the most critical regions of the element, resulting in higher bond strength, improved fatigue resistance, and up to 5.9 times longer life than competitive urethane designs. A non-lubricated flexible natural rubber element yields up to 50% lower stiffness, resulting in improved vibration damping, and industry-leading misalignment capabilities. For reduced maintenance, the Raptor offers a split element for easy installation and replacement without moving or re-aligning connected equipment.
ABB
Level control options
Singer Valve's LCP-TP Single Process Level Controller is designed to complement Singer's Single Solenoid Operated/Override Control Valves and sensor. This combination package is ideal for filling any kind of tank with water that requires filling to a level setpoint and then drawing down the level of the tank to a secondary setpoint before activating the fill cycle again, which ensures tank turn over. The controller is programmed with customized level control algorithms and offers both local control via interactive display or remote control via 4-20 mA or Serial Modbus SCADA communication.
Singer Valve
Sewage pumps
Xylem's Goulds Water Technology brand 3SD sewage pumps offer advanced innovations and system solutions through non-clog dual seal and seal sensor probes. 3SD pumps combine dual hard-face mechanical seals with a 300 Series stainless-steel keyed shaft motor for defense against harsh environmental conditions. The commercial-grade pumps are designed for continuous operation in commercial, industrial and residential applications, such as farms, hospitals, sewage systems, and flood and pollution control. Their cast-iron, two-vane, semi-open, non-clog impellers with pump-out vanes for mechanical seal protection ensure maximum efficiency. The pumps come in single- and three-phase options with a 1.5 to 5 horsepower range.
Goulds Water Technology, a Xylem Brand
Automatic volumetric feeder
Scaletron Industries has introduced a new line of volumetric screw feeders for metered dispensing of powdered or pelletized chemicals into water, wastewater and chemical treatment processes. The Model VMF-28™ auger-style feeders feature a fully integrated Scaletron scale. Precise dosage amounts are automatically weighed and added to treatment processes without requiring an operator to measure and weigh amounts. Data is displayed at a central monitoring station where operators can quickly make adjustments as necessary from the control panel. Besides saving operators time, the new VMF feeders improve accuracy because the integrated scale continually monitors weight loss or gain.
Scaletron Industries Ltd.
Plug-and-play smart output mag meters
McCrometer's FPI Mag® Flow Meter, SPI Mag™ Flow Meter and Ultra Mag Flow Meter all provide a highly effective solution for AMR and AMI in support of utility smart grids that help conserve valuable water resources, reduce expensive non-revenue water costs, and simplify daily operations and routine maintenance. Available for line sizes from 4 to 138 inches in hot tap or full bore styles, which can be solar/battery or AC/DC powered. Mag meters can transmit data on a schedule or on demand, as well as receive diagnostic queries to ensure or update meter operation.
McCrometer
Rapid deployment
PureTech Systems' latest software release is focused on rapid deployment. The new capability provides advanced video detection and autonomous sensor control for mobile platforms or vehicles in just a few minutes. The result enables mobile surveillance platforms to be moved rapidly between observation positions, and once there, be quickly enabled for automated video detection and sensor operation. A rapid camera calibration process allows for critical autonomous video capability, such as long range map-based camera control, target detection and classification via video analytics, slew to radar and scan to target.
PureTech Systems Inc.
Stator pump
NETZSCH Pumps North America introduces the new iFD-Stator® 2.0, which combines efficiency, economy and environmental safety in one system. Featuring a two-part, reusable stator housing and replaceable stator, the iFD-Stator 2.0 is compatible with all NEMO NM series progressing cavity pumps. With simple, compression-free assembly and disassembly, the defined compression for the iFD-Stator 2.0 is automatically generated when the elastomer collar is fastened. The new housing concept of the iFD-Stator 2.0 is easier to handle than the previous generation and delivers a longer service life than competing options. Delivers reduced pulsation and improved fluid flow compared to conventional stator design.
Netzsch Pumps
Polymer pump
FLEXFLO® from Blue-White is an A-100N polymer pump that handles high viscosity polymers used in water and wastewater treatment. A-100N peristaltic metering pumps are equipped with Blue-White's exclusive, built-in Tube Failure Detection system (TFD). If TFD senses tube failure, the pump will automatically shut off and energize a relay or switch, permitting communication with external equipment such as a back-up pump or alarm. This eliminates costly polymer spills and clean up. No false triggering is caused by condensation and wash down procedures.
Blue-White® Industries
Wireless, battery-powered water monitoring
Trimble's Telog® 41 Series of wireless, battery-powered sensors for water monitoring applications are Internet of Things (IoT) sensors that use innovative, low-power, Long-Range (LoRa® technology) wireless communications to remotely measure and monitor water, wastewater and groundwater systems including water pressures, flows, levels and rainfall volumes. The sensors work in combination with Telog cloud-hosted and on-premise software to allow utilities to more easily and economically deploy wireless monitoring. The sensors extend across a utility's existing monitoring programs for better tracking, measurement and reporting of water usage, sanitary and combined sewer overflows (CSO/SSO) and flooding, leakage and non-revenue water (NRW).
Telog
Battery-powered flowmeter
KROHNE's WATERFLUX 3070 flowmeter provides precise measurement, no moving parts, and maintenance-free service. It is the first battery-powered meter for the drinking water industry with built in flow, pressure, and temperature measurement with one sensor. The addition of pressure and temperature in a single measuring point allows users to be more aware of leaks and use these readings in leak-detection systems. Zone water balance, water abstraction, pressure management, or water billing data is provided in real time. Its rectangular sensor shape and efficient coil construction optimizes the flowing velocity, flow profile, and accuracy in all flow conditions.
KROHNE Inc.