Products & Services: Detectors, Monitors, Recorders
Collection of detector, monitor & recorder related equipment products and services.
Dec 1st, 2016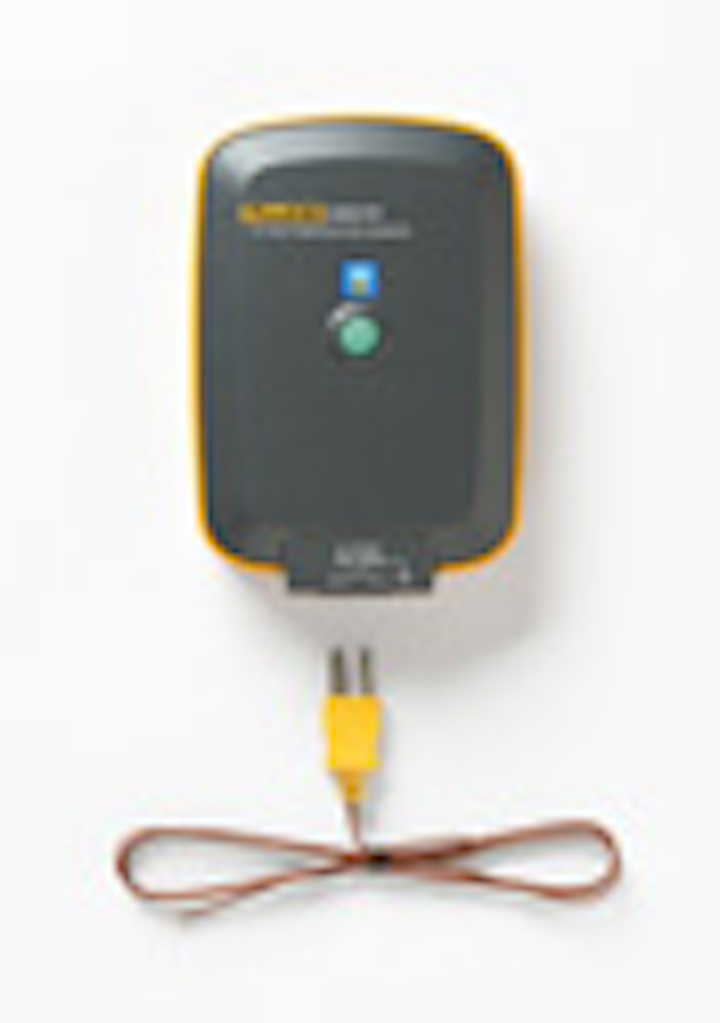 Portable monitoring device
Fluke Condition Monitoring is a new system of rugged voltage, current, temperature, and power sensors that can be moved from asset to asset or left in place for continuous monitoring. Maintenance teams get a practical, scalable system that delivers the continuous data and alarms they need to prevent equipment downtime without costly equipment retrofits or specialized training. The system consists of wireless sensors and a gateway that receives signals from the sensors from up to 30 feet away and works seamlessly with other Fluke technologies, such as iFlex® current probes, current clamps, temperature sensors and three-phase power monitoring.
Fluke Corporation
Overflow prevention
The ADS ECHO™ is a self-contained, wireless sewer level monitoring solution that alerts operators via text or email messages when flow levels exceed critical thresholds. The monitor features ultrasonic sensing technology providing high-accuracy, focused level measurement from the top of the manhole into the pipe invert at distances up to 20 feet. ECHO is designed for ultra-low power consumption, yielding up to a five-year battery life. It provides utilities with early warning of preventable blockages, such as fats, oils, and greases (FOG); root intrusion; silt/sediment; and debris.
ADS LLC
Wastewater monitoring
Xylem's YSI-branded IQ SensorNet (IQSN) is a modular continuous monitoring and control system for wastewater treatment, providing real-time data from every aspect of the process, including pre-sedimentation, biological tanks, and effluent. The IQSN integrates a sensor network, capable of accepting up to 20 additional sensors at any time. The system enables better network visibility and management, early detection of network failures, cost savings, and improved compliance with regulatory targets.
YSI, a Xylem brand
Wireless hydrant pressure recorder
Effectively address customer pressure complaints with Telog's HPR-32 hydrant pressure recorder. This recorder is a low-profile, rugged unit that is easily installed by one person on a standard 2.5" hose nozzle outlet. The recorder enables monitoring of system pressures and trends, min, max and average pressure history at any user interval. Data is internally recorded and wirelessly transferred to your host computer on a schedule or in response to pressure faults or transients. Once installed, data is immediately available via Telog software.
Telog, A Trimble Company
Process monitoring sensors
Sensorex has expanded its SD7000 family of Differential pH/ORP Sensors, adding four new models to suit a wider range of online process monitoring applications. The three-electrode differential sensor design results in less maintenance for operators, minimized down time, longer sensor life and overall greater reliability. Process pH or ORP is measured differentially with process and protected inner reference electrodes, compared to a third ground electrode. The inner reference electrode is surrounded by a known concentrated pH 7 buffer that resists process contamination, maintaining its pH level with minimal dilution effects. A double junction salt bridge further guards against contamination.
Sensorex
Real-time monitoring
Future Design Controls has introduced the PR Series of Paperless Chart Recorders with intuitive color touch interface providing real-time process display and data logging. Available in 4.3", 5.6" and 12.1" touchscreen displays, they are ideal for flow applications and more, supporting up to 48 analog inputs, 96 external devices via serial Modbus or Ethernet IP. The SMARTDAC+® GX/GP series paperless recorders and GM series data acquisition systems include an advance reminder notification, calibration correction feature, and options that facilitate communications with a variety of equipment.
Future Design Controls