New Products
New products involved in the water industry
Jun 1st, 2016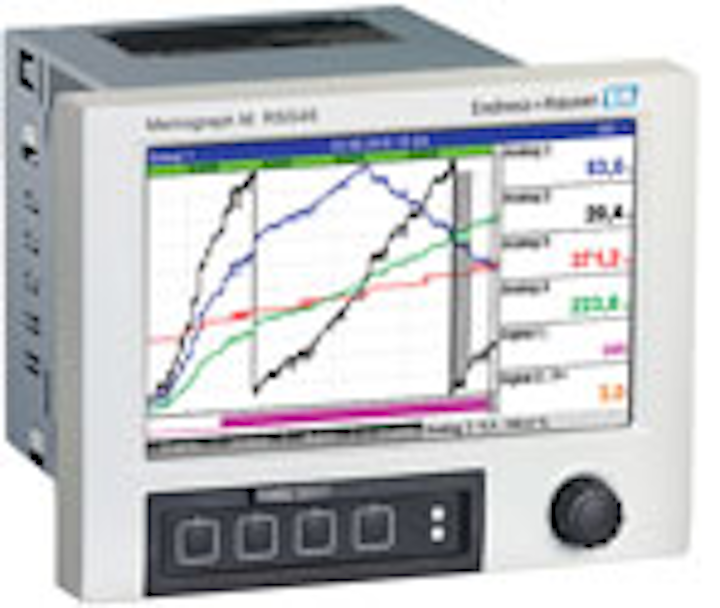 Data manager
A compact data acquisition system, the RSG45 from Endress+Hauser acquires, displays, records, archives, analyzes and transmits process data to control systems, PCs and maintenance devices. The device can serve as a data acquisition system for small process control applications and acquires up to 14 discrete and 20 universal/HART analog inputs from process sensors, displays sensor data on its 7-inch multicolor TFT screen, records the data internally, performs math calculations and alarm checks, and transmits the data to a PC or any control system via Ethernet, RS232/485, Modbus, Profibus DP or PROFINET digital communication links.
Endress+Hauser Inc.
Rugged diaphragm metering injector pump
Blue-White's ChemPro® M diaphragm metering injector pump is designed for injection of aggressive and/or viscous chemicals. Equipped with a variable speed DC motor, ChemPro M offers smooth, quiet chemical dosing with no hard pulses. A full stroke every time prevents vapor lock. Chem-Pro is fitted with Blue-White's patent pending DiaFlex® single layer PVDF diaphragm, resulting in an all PVDF pump head. DiaFlex provides excellent chemical compatibility and exhibits zero breakdown or delamination. The result is a reduction of required field maintenance and downtime.
Blue-White Industries
Detachable level transmitter
Viatran's Model 595 detachable level transmitter features an industry-exclusive detachable body, which allows for quick sensor swap and replacement without removal of the installed cable. To swap, the user simply pulls up the sensor, twists the coupling sleeve until no longer engaged, and then separates the two halves. Units can also be re-attached in the same manner, without the need for special tools. A triple O-ring seal prevents fluid ingress. Each unit also undergoes extensive leak testing prior to shipment. Available in ranges from 0-16 inches W.C. to 0-335 feet W.C.
Viatran
Turbo blower
Xylem Inc.'s Sanitaire TurboMAX blower is a high-speed turbo blower line offering high-efficiency, low-maintenance blower technology to reduce energy consumption and operating costs. Sanitaire TurboMAX blowers are engineered with a permanent magnet, high-speed motor paired with the latest air foil bearing technology resulting in a long lifetime and low maintenance requirements. Available in 13 blower sizes, 15-600 kilowatts (kW), and flow rates of 700-41,000 cubic meters per hour per blower, which can satisfy oxygen demands for plants 5,000-1.5 million person equivalent (PE) and above.
Xylem
HDPE pipe-joining system
Victaulic's Refuse-to-Fuse™ Joining System for HDPE pipe enables the installation of HDPE pipe up to 10 times faster than fusing while meeting or exceeding the performance capabilities of fused joints. Assembled with a standard socket or impact driver, Victaulic HDPE couplings do not require special equipment or certified crews. The couplings also permit HDPE pipe to be installed in-line, even in vertical orientations and tight spaces.
Victaulic
Flow meter with Modbus capabilities
Sparling Instruments has begun production on a Modbus-capable version of its TigermagEP™ electromagnetic flow meter. Responding to requests from customers for an electromagnetic flow meter with integrated Modbus for use in digitally controlled or automated systems, TigermagEP electromagnetic meters, whether integral or remote style, which are already installed in a system, can also be upgraded to Modbus by adding an optional Modbus-enabled transmitter or module. The modules are easy to change out in the field, so it's fast and simple to integrate existing TigermagEP mag meters into a Modbus network.
Sparling Instruments
Mobile enterprise app
Retriever Communications' Retriever Prepare is a mobile enterprise app that aims to improve field worker efficiency and productivity by eliminating the need for manual or Excel-based pre-job planning processes. Created for sectors that manage multi-stage work orders/projects, such as public works, the solution aims to improve the service experience by removing the disconnect between appointment makers, dispatchers and field technicians. Features include appointment management and job planning in an easy-to-use platform.
Retriever Communications
www.retrievercommunications.com
Plug valves
The Flo-E-Centric® plug valves from Flomatic Corporation are round-port eccentric plug valves designed in compliance with ANSI/AWWA C517-09. The body, bonnet and plug (NBR encapsulated) are constructed of ASTM A536 grade 65-45-12 ductile iron and flanges are rated ANSI class 150. All fasteners and washers are stainless steel.
Flomatic Corporation
Circle No. 226 on Reader Service Card
Double wall piping system
Asahi/America Inc.'s Poly-Flo® co-extruded double containment piping system is ideal for installations with space constraints and systems where thermal expansion and contraction are present. Poly-Flo is a complete system including full pressure fittings, drainage fittings and machined fittings. This system is available in 1x1-1/2", 2x3" and 4x6" and operates up to 150 psi at 68°F. The system is available with manual and low-point leak detection sensors. Joining the upgraded system only requires standard welding equipment; no special clamps or inserts are necessary. Asahi/America offers butt fusion welding equipment and weld training for all of its piping systems.
Asahi/America Inc.
Explosion-proof pressure switch
The Ashcroft® B-Series NEMA 7/9 explosion-proof pressure switch is now available with a 316 stainless steel enclosure for demanding operating environments, including salt water spray. These switches are IP66 rated and are approved for use in most NEC Class I and II hazardous locations. Each pressure switch can be fitted with a variety of diaphragm materials (including Monel for NACE applications) or with an external diaphragm seal to resist caustic or corrosive media.
Ashcroft
Hydrant lock
The Intimidator® Hydrant Lock from McGard is designed to control illegal use, vandalism and water theft from hydrants. It attaches easily to the hydrant in minutes, using common hand tools. No time consuming, costly drilling and tapping is necessary. The hydrant is then operated utilizing a special wrench, available only from McGard.
McGard
Borehole pump
Goulds Water Technology has introduced the e-GS 4-inch high-capacity borehole pump, specifically designed for use in 4-inch and larger wells. The e-GS 4" has an innovative floating stack hydraulic design that enables sand and abrasives to pass easily. The product is ideal for use in irrigation systems, pressure boosting, geothermal systems and fountain applications. The stainless steel pump casing is corrosion resistant and has a built-in check valve to prevent drain backflow and hold pressure in the system. Newly designed impeller and diffuser combinations improve efficiency and performance, allowing for higher pressures per given horsepower - with flows up to 120 GPM and head up to 1,400 feet.
Goulds Water Technology, a Xylem brand
Customizable smart graphics displays
The OMEGA® OM-SGD Series of panel meters with bright color TFT smart graphics displays are available in 3 screen sizes. They offer a wide operating power supply voltage range of 4 to 30 Vdc and two alarm outputs. Waterproof NEMA 6 (IP67) versions are also available. Using the provided Simple Wizard-based configuration software, select from over 40 standard display configurations to program in seconds to your exact requirements
OMEGA
Sensor package
Turner Designs now offers a C6P Submersible Sensor package enabling up to six sensors in a corrosion-resistant, highly durable, Delrin plastic housing able to withstand even the harshest of environments. Modeled after the popular C3, the C6P can be configured with up to 6 optical sensors ranging from deep UV to IR. An antifouling copper plate and a mechanical wiper are available as options to minimize biofouling on and around the sensors. Each C6P comes with a factory-installed temperature sensor.
Turner Designs