New Products
New products involved in the water industry
Jul 1st, 2016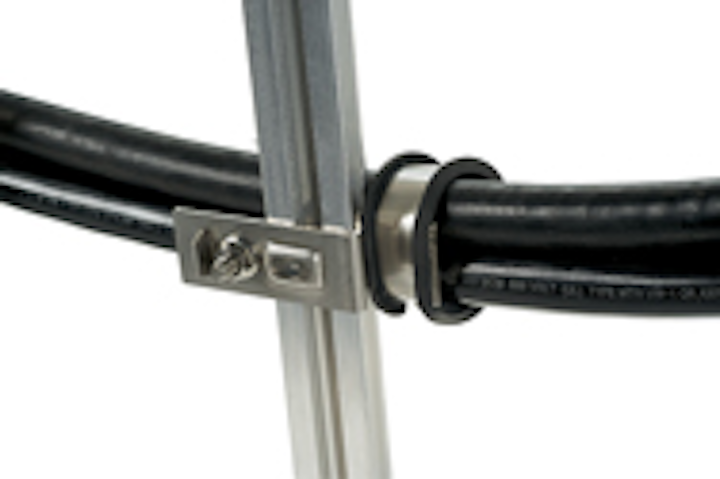 Metal strapping system
Severe weather, intense UV rays, high vibration, and galvanic corrosion are all variables that can sacrifice performance and create safety hazards. The Pan-Steel® MS75 Metal Strapping System from Panduit is now available in 201 and 316 stainless steel to deliver maximum performance, high strength, and enhanced job site safety. Designed to work together in extreme conditions, the MS75 metal strapping, buckles, and installation tool reduce installation time by as much as 50% when compared to competitive offerings.
Panduit
Petrolatum tapes
Denso Petrolatum Tapes can be used to protect pipes, flanges, valves and irregular shapes in aggressive soils, vaults, wet environments and many other corrosive environments. Denso Petrolatum Tape meets AWWA C217 Standards. No special training or equipment is required to install and the product can be applied in arctic or tropical temperatures.
Denso North America
Analytics platform
A new release of Itron Total Outcomes includes features and functionality that help utilities make the most of their smart grid and smart metering data. The platform, which now features a unified interface for electricity, gas and water, can be accessed anywhere by utility staff or managed by Itron's team of experts. Analytics now include: voltage management, transformer load management, grid reliability, theft investigation, connectivity mapping, and phase identification and analysis.
Itron
Bleach delivery system
Olin Chlor Alkali Products has created a distribution network capable of delivering bleach from plants throughout the U.S. and Canada. Olin's proprietary rail-car technology means it can deliver high-quality bleach in a cost-effective manner to any customer location coast to coast. Olin also ships bleach by truck. The company's low-salt, high-strength technology allows Olin to deliver more active ingredient in each gallon of solution.
Olin Chlor Alkali Products
Storage solutions
Aquastore® storage solutions from CST include tanks, reservoirs, standpipes and composite elevated tanks. Aquastore's Vitrium™ glass-fused-to-steel/enamel coating and patented Edgecoat™ technology is an ultra-low maintenance, NSF-approved coating that never needs painting. Turn-key installation by the company's world-class dealer network provides a local single-point of contact for the life of your tank. Aquastore tanks meet all standard design codes such as AWWA D-103, ANSI/NSF Standard 61, AISC, FM codes and NFPA Standard 22. CST Industries is a global leader in the design and manufacture of Aquastore storage solutions.
CST Industries
Peristaltic metering pump
Watson-Marlow Fluid Technology Group is proud to release the new Qdos 120, offering flows up to 31.7 gallons per hour (gph) at a maximum pressure of 58 pounds per square inch (psi), double the flow of existing models in the Qdos range of peristaltic metering pumps. This latest addition to the product range builds upon the Qdos suite of high-accuracy chemical metering technology, and delivers a step-change in performance and usability compared to conventional solenoid or stepper-driven diaphragm metering pumps. All models in the Qdos family are designed to eliminate the need for ancillaries, boost productivity, and cut chemical wastage due to its highly accurate, linear and repeatable metering.
Watson-Marlow Fluid Technology Group
Non-contact radar transmitter
Magnetrol International has launched the Pulsar™ Model R96 Non-Contact Radar transmitter for accurate, reliable level control in process applications. Virtually unaffected by the presence of vapors or air movement within a vessel's free space, the two-wire, loop-powered, 6 GHz radar transmitter measures a wide variety of liquid media in process conditions ranging from calm product surfaces and water-based media to turbulent surfaces and aggressive hydrocarbon media. Features include an extensive measurement range of 130 feet (40 meters), advanced diagnostics with automatic waveform capture and data logging, and a powerful device type manager (DTM) with field configuration and troubleshooting capabilities.
Magnetrol International
Aluminum deflection elbows
The cast aluminum line of Smart Elbow® deflection elbows from HammerTek® is now offered in tube and pipe sizes from 1.5 inches to 12 inches in diameter. Engineered for dilute-phase and dense-phase pneumatic conveying of lime, powdered activated carbon, diatomaceous earth and other abrasive materials utilized in wastewater treatment, the deflection elbow prevents material from impacting the elbow wall and causing wear, failure and downtime. The elbows feature a spherical chamber that protrudes partially beyond the desired 90° or 45° pathway, which causes a ball of material suspended in air to rotate, gently deflecting incoming material around the bend without impacting the elbow wall or generating heat.
HammerTek Corp
Industrial-grade LTE router
The Digi TransPort® WR31 from Digi International® is a rugged, versatile enterprise LTE router built for critical applications operating in harsh environments. Designed for critical infrastructure environments where onsite visits are infrequent or impractical, the WR31 features advanced security and monitoring and is capable of operating on nearly any 3G or 4G LTE network. In addition, by supporting global HSPA+ and 4G LTE networks, the WR31 provides customers the flexibility to future-proof their router installation as wireless network requirements evolve.
Digi International
Ion exchange
Tonka Water's Pur-IX™ system is an ion exchange process that operates at maximum efficiency while producing minimum waste and salt usage. The system incorporates a series of ion exchange vessels, which are continuously treating water, and regenerating vessels through a multi-port valve. This continuous process provides maximum resin loading but prevents nitrate dumping with its parallel vessel configuration. The multi-port valve has specially designed ports that eliminate pressure spikes so even during stage rotation, the feed or well pump will never see adverse pressure conditions. The treatment processes include nitrate removal from potable water, softening and other applications.
Tonka Water
Cloth media filtration system
The new AquaPrime cloth media filtration system is designed as an economical and efficient solution for the treatment of primary wastewater and CSO applications. The AquaPrime system utilizes a disk configuration and the exclusive OptiFiber® cloth filtration media to effectively filter screened, de-gritted, raw municipal sewage. Easily handles significantly higher solids loading rates compared to secondary clarified effluent (by a factor of 3 to 5 times) with the added ability to sustain a low TSS concentration, making it an ideal solution for both combined sewer overflow (CSO) treatment, as well as primary treatment in lieu of conventional sedimentation systems.
Aqua-Aerobic Systems
Electric valve actuator
The new Valbia® VB008 "Mini" quarter-turn direct-mount electric actuator measures just 4-3/4" long by 2-3/4" wide. Used with 1/4" to 1-1/4" full-port, direct-mount ball valves, it provides the most compact and reliable automatic flow control for a wide range of applications. VB008 mini-actuators feature an F-03/05 pattern ISO-5211 direct-mount flange and square shaft slot for easy direct mount installation. The standard 110 VAC motor with Class II insulation meets CE standards and delivers 71 in/lbs. of torque in horizontal or vertical installations. A manual override, heater/thermostat, and LED indicator light are standard.
Bonomi North America
Online trace metals analysis
Aqua Metrology Systems is now offering online trace metals analysis in five minutes through an enhancement to the SafeGuard™ analyzer, which has been providing municipal and industrial users with accurate and reliable online measurements of trace metal contaminants for nearly two decades. The SafeGuard analyzer undertakes online analysis for up to two different trace metals including arsenic, chromium-6, selenium and more on a single automated unit. The standard SafeGuard system provides online measurements with an accuracy of 1 ppb for all trace metals, except for total selenium, which has an accuracy of 5 ppb.
Aqua Metrology Systems
Plumb and play ozone analyzer
The new plumb and play OZ80 Ozone Analyzer from Electro-Chemical Devices features a reagentless design for low operating costs and offers a choice of three factory-calibrated measurement ranges designed to help busy process and plant engineers achieve accurate measurement with a simple easy-to-install system that can be up and running in less than 15 minutes. The OZ80 Analyzer is factory assembled and factory calibrated prior to arriving at the plant and features powerful amperometric sensors to detect and monitor O3 levels in water. These amperometric sensors are manufactured with a gold cathode, a silver anode and a rugged microporous membrane.
Electro-Chemical Devices
Water level datalogger
Solinst Canada Ltd.'s latest release in their datalogger series, the Model 3500 AquaVent™ uses a vented pressure transducer for reliable, accurate datalogging of water levels in groundwater and surface water applications, with no need for barometric compensation. The AquaVent combines pressure and temperature sensors, datalogger, and FRAM memory for up to 120,000 data sets within a 7/8" x 7" (22 mm x 178 mm) stainless steel housing. It uses a gauged pressure transducer; it is open to the atmosphere via a vented cable to surface. Custom designed, durable vented cable assemblies are available to 500 feet.
Solinst Canada
Hybrid chemical metering pump
Blue-White®'s new Proseries-M® MD-3 chemical metering pump provides precision chemical metering for the treatment of municipal water and wastewater. The Hybrid MD-3 Diaphragm Metering Pump has 2000:1 turndown, and provides smooth chemical dosing with no pulsation dampener required. With 380 strokes per minute, the Proseries-M® MD-3 provides a remarkably steady flow. The MD-3 is built to provide long service life at high pressures and no pressure regulator is needed. A single model includes all necessary components for installation, and the drop-in-place design of the MD-3, along with conveniently built-in controls, make installation and set-up fast and efficient. The PVDF wetted end fittings allow for more than 14 inlet and outlet configurations.
Blue-White Industries
ZLD solution
Oasys Water's family of ClearFlo Water Transformation Solutions are specifically designed to tackle a diverse set of wastewater challenges. Oasys' ClearFlo Membrane Brine Concentrator (MBC)™ technology recovers more than 90% of fresh water in a simple and reliable membrane process, leaving a greatly reduced water volume to be recovered by the more costly and energy-intensive crystallization process. The ClearFlo Complete is an integrated end-to-end solution combining a pretreatment step with the ClearFlo MBC and adding a greatly reduced capacity crystallizer that together provide a complete liquid recovery solution.
Oasys Water
Biogas generator
WesTech has partnered with Cleanergy to bring the Cleanergy GasBox™ Biogas Generator to the United States. The Cleanergy GasBox™ generates electricity and heat from biogas using a Stirling engine. The GasBox™ requires minimal-to-no gas cleaning, which allows for small and mid-size wastewater treatment plants to achieve the power-generating benefits of biogas utilization. The GasBox™ can also run on biogas with a methane concentration as low as 18%, which alleviates the need at larger plants to burn off this biogas with a natural gas supplement. WesTech is ISO 9001:2008 certified.
WesTech Engineering Inc.
Pipe clamp
Krausz USA's HYMAX Clamp quickly and easily repairs holes and longitudinal cracks in water and wastewater pipes. With only two bolts to tighten (length sizes up to 12"), installation is simple and minimizes worker-time in the ditch. HYMAX CLAMP becomes a permanent part of the pipe that reliably withstands harsh ground conditions offering a durable, long-term repair solution. The weld-free construction and 100% stainless steel body make it extremely tough and resistant to corrosion while the waffle pattern gasket is securely connected with insulated bolts to the body of the clamp.
Krausz USA
Double wall tank
Cylindrical double-wall tanks from Assmann Corporation eliminate chemical spills without the expense of lined concrete containment. Assmann's molding process provides uniform walls with a heavier-top sidewall and dome for excellent chemical and corrosion resistance, while the primary inner tank and a secondary locked-on outer containment ensures against chemical spills. Constructed of molded high-density crosslinked polyethylene or FDA compliant linear polyethylene, the double-wall tanks provide an outer shell containment that equals 120% of primary tank capacities. The dome on the inner tank interlocks with the outer tanks' sidewall, sealing the secondary containment area and preventing debris from entering. The portable tanks provide a small footprint and are available in sizes ranging from 20 to 8,850 US gallons.
Assmann Corporation
Mobile light tower
The WCDE-4X500W-LED-MLK from Larson Electronics is a self-contained towable light tower that is equipped with a water-cooled diesel engine powering an eight-kilowatt Marathon generator with an 11.7 horsepower Kubota engine. Four, 500-watt LED lamps produce 240,000 lumens of light. Each unit comes with 48 CREE high-output LEDs producing 963 lumens each, arranged in rows and paired with high purity optics, capable of producing a wide spot beam. The Marathon generator provides stand-alone power for the light tower and incorporates a 45-gallon fuel tank, allowing the engine to operate for up to 80 hours. The telescoping tower on this unit reaches 25 feet when fully deployed and folds down to a compact four and a half feet for storage and transportation.
Larson Electronics