Resource Spotlight
Collection of books, etc. dealing with water issues.
Oct 1st, 2016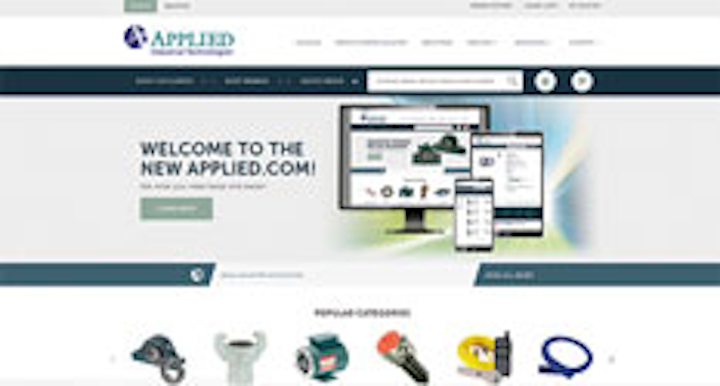 New website
Applied Industrial Technologies has launched a new e-commerce website providing visitors with a unique, user-friendly experience to quickly find the industrial MRO products and information they need. The redesigned site includes improved navigation and interactive functionality throughout, with full access to detailed product and order information. The site is designed to make finding and purchasing products both fast and convenient. Simplified search and navigation allows visitors to shop by product category, brand, part number and/or keyword phrase. Customers can also take advantage of parametric filters to narrow their search results based on key attributes, making product selection even easier.
Applied Industrial Technologies
Fluoridation manual
The American Water Works Association has released the sixth edition of M4 Water Fluoridation Principles and Practices. Completely updated with new and revised content, this manual guides drinking water systems through the installation, design, operation and maintenance of water fluoridation. Other key updates include new information on U.S. Centers for Disease Control and Prevention regulations, material for small systems and an appendix with example calculations and inspection checklists.
American Water Works Association
Company video
Super Products LLC recently produced a company profile video that highlights its equipment offering; product design and engineering procedures; manufacturing processes; and custom support department. Headquartered near Milwaukee, Wis., Super Products LLC has been a leading manufacturer of innovative truck-mounted vacuum equipment for municipal, utility, industrial and contractor use since 1972. Its line of Supersucker® industrial vacuum loaders, Camel® sewer & catch basin cleaners, Mud Dog® hydro excavators, and Durasucker® liquid vacuum trucks are recognized for their high quality, durability and ease of operation.
Super Products LLC
Video resources
Val-Matic now has a library of reference videos. A wide range of topics are covered, from how an air valve works to coating adhesion to making your system safe with an inflow preventer. If you are curious about how you can reduce slam with a Val-Matic check valve, protect your system with Val-Matic pump controls, provide power supply with Val-Matic accumulators or even just learn more about Val-Matic, the videos are available for viewing now.
Val-Matic
Nanotechnology handbook
A new, two-volume book entitled Nanomaterials for Water Remediation has been published by Smithers Rapra. The book covers the fundamental knowledge and recent advancements of research and development in the fields of nanotechnology, environmental science and water research. Volume 1 describes the various carbon materials being used to develop more cost-effective and high-performance water treatment systems. Volume 2 focuses on the use of inorganic oxides including metal and non-metal oxide materials for water remediation.
Smithers Rapra
New language on website
The Metropolitan Water District of Southern California has launched its water-saving website, bewaterwise.com, in traditional Chinese. Chinese-language readers can now visit the website for water-saving ideas, to gain access to rebates for water-efficient devices and to find information on other conservation programs and grants. The Chinese site is part of Metropolitan's ongoing efforts to help Southern Californians keep conserving. Metropolitan also has launched a $2.2 million advertising and outreach effort in five languages to encourage consumers and businesses to continue their water-saving efforts.
Metropolitan Water District of Southern California