New Products
New products involved in the water industry
Oct 1st, 2016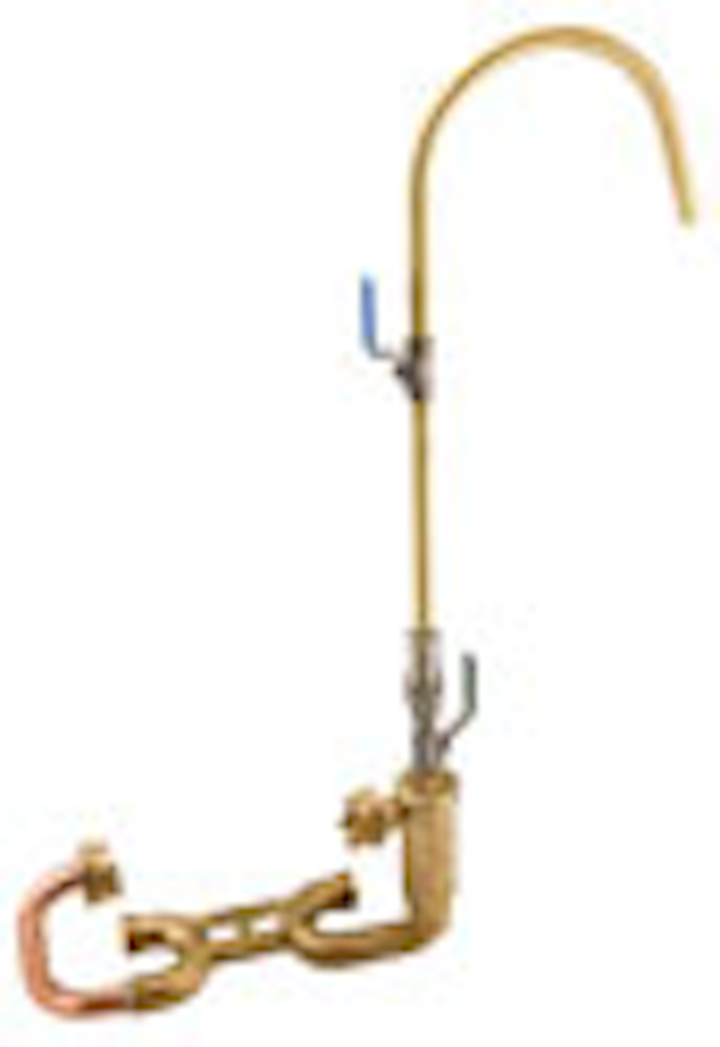 Sampling station
Ford Meter Box's Retrosetter Sampling Station makes drawing water samples easy. Simply disconnect the meter, connect the Retrosetter to the existing meter setting and reinstall the meter. The valved extension tube quickly connects to the quick-disconnect assembly on the Retrosetter. Ford offers many sampling station configurations with custom operating valves, connections and tubing lengths available.
Ford Meter Box
Isolator rings
Rubber lined Isolator Rings from Onyx Valve are an easy, reliable way to measure pressure on slurries, wastewater, sludge or any hard-to-handle fluid. They can be combined with virtually any pressure gauge, switch, or transmitter. Or, up to three instruments can be mounted on a single isolator ring. Guaranteed to never clog or plug, the patented Module Seal and integral block valve makes it easy to replace or repair the pressure instruments without removing the ring itself from the process pipe.
Onyx Valve
Ratchet cover
The new ratchet cover by Industrial & Environmental Concepts can be installed on concrete and metal wastewater tanks that are rectangular, square or circular. The ratchet cover controls odors and prevents rain, algae and evaporation. The durable cover gives operators quick access with options for windows, sampling ports, piping, etc. Each cover is custom designed for local snow loads, rain and wind. The membrane cover has a projected 15-year service life with minimal to no maintenance.
Industrial & Environmental Concepts
Temperature, level, conductivity monitor
The Model 107 TLC Meter from Solinst provides accurate, stable temperature and conductivity measurements, displayed on a convenient LCD display for easy reading. Static water level and depth of readings are read off Solinst PVDF flat tape, which is precisely laser-marked every 1/100 feet or millimeter. Tape lengths are available up to 1000 feet (300 meters). The TLC Meter is ideal for providing a general indication of contamination levels.
Solinst Canada Ltd.
Modeling solution
The V7.0 Generation of InfoWorks ICM from Innovyze is a comprehensive urban drainage modeling solution. Dynamic integration of one-dimensional (1D) hydrodynamic simulation of flows in rivers, open channels and pipe networks and two-dimensional (2D) hydrodynamic simulation of surface flooding in the urban environment and river floodplain provide a powerful solution for simultaneously modeling underground and aboveground elements of catchments to accurately represent all flow paths. The software also takes interactions of natural and man-made environments into account, and effectively simulates the impact of polluting runoff and effluent from urban areas on water quality.
Innovyze
Anti-fouling membrane
LG Water Solutions, part of LG Chem, has released a new anti-fouling (AF) brackish water RO membrane to its product catalog. The new LG BW 400 AFR boasts a proprietary chemistry that reduces performance deterioration due to organic and biological fouling, a common problem in various water treatment applications. The AF formulation obtains anti-fouling performance without losing the highly permeable nature of the membrane's surface. This makes the LG BW 400 AFR ideally suited for applications with high fouling potential such as wastewater reuse and reclamation, industrial wastewater treatment, and RO brine recovery.
LG Chem
Rechargeable handheld light
Larson Electronics' RL-11 rechargeable handheld HID light is a lightweight, ultra-rugged, ergonomic handheld light that operates for 90 minutes on a single charge of its 14.4-volt lithium-ion battery. The 35-watt, high-intensity discharge lamp produces a 3,500 lumen light beam capable of reaching distances up to 3,000 feet. A snap-on diffuser lens transforms this unit to a flood configuration producing a 200' x 200' light beam for close, wide-area illumination. This HID light is weatherproof and water and dust resistant.
Larson Electronics
Threaded isolation rings
Ashcroft has introduced the Type 82 threaded isolation ring. Equipped with 1/2 to 2 NPT threaded pipe connections, it is designed for smaller piping applications too narrow to accommodate an internal isolation ring. Also referred to as a "barrel seal," this economical flow-through design eliminates traps where clogs can form, thereby reducing the need for frequent maintenance. A smooth, flexible wall expands under pressure to displace isolated fill fluid into the measurement device. A choice of internal elastomer materials, fill fluids and housing materials (including 316 stainless steel) ensure compatibility with a wide range of process media and environmental conditions.
Ashcroft
Ozone Generation System
Aqua-Aerobic Systems' Aqua ElectrOzone™ Ozone Generation System is designed for safe operation and effective water treatment. The system's dielectric core is precision engineered for high dimensional accuracy on the ozone tubes allowing for consistent ozone generation, extremely low failure rates and efficient cooling. The system is ideal for potable water treatment, wastewater/water reuse and industrial applications that require ozone treatment for taste and odor control, bleaching/color removal, oxidation and disinfection.
Aqua-Aerobic Systems Inc.
Safety rope pull switches
The OMEGA® GLHD Series of safety rope switches are designed to mount on machines and sections of conveyors which cannot be protected by guards. These stainless steel heavy-duty switches will protect long conveyor lengths up to 250 m (820'). Unlike traditional mushroom head type emergency stop buttons, the GLHD Series of safety rope switches can initiate the emergency command from any point along the installed rope length and provide robust emergency stop, rope pull protection for exposed conveyors or machines. All GLHD switches conform to ISO13850 and EN60947-5-5 and can survive indoor or outdoor use including washdown NEMA 6 (IP67) rating.
Omega
Nitrate removal
Ionex SG's nitrate removal system, the IX-N™ system, reduces brine waste volumes from the typical two percent range of traditional systems to less than 0.5 percent of drinking water produced. A proprietary Selective Regeneration™ method isolates the nitrates into a vastly smaller volume than what's possible with standard ion exchange regeneration methods while optimizing safe components for reuse. The combination of the patented regeneration technique and Ionex SG's end-to-end waste management/disposal services delivers a robust nitrate removal system with lifecycle costs that are 10 times lower than standard ion exchange treatment systems.
Ionex SG
Rugged notebook
The DURABOOK SA14 rugged notebook from GammaTech is built tough to ensure the reliability and performance that water crews working in the field need. It meets or exceeds the most difficult environmental specifications, including: MIL-STD-810G for drop and vibration resistance; IP5X for dust and water resistance; and more. With optional office and vehicle docks, the SA14 is versatile and portable. It gives field engineers the information they need while its wireless connectivity capabilities increase productivity and efficiency with peers back in the office. With two battery packs, the SA14 can run up to 12 hours.
GammaTech
Two-way bellows control valve
The new Type 2380 two-way bellows control valve from Bürkert is a pneumatically actuated process valve with a single-action membrane drive. A PTFE bellows ensures the reliable separation of the media from the drive. The hygienic valve is ideal for demanding control tasks with small flow rates for which membrane valves are not suitable. Available in diameters from DN6 to DN20, the valve can be combined with seat diameters from 3 mm to 10 mm. The space-saving drive has a low internal volume, resulting in a compact design and short response times.
Bürkert Fluid Control Systems
Sensor technology
Sensorex has expanded its SD7000 family of Differential pH/ORP Sensors, adding four new models to suit a wider range of online process monitoring applications. The three-electrode differential sensor design results in less maintenance for operators, minimized downtime, longer sensor life and overall greater reliability. Process pH or ORP is measured differentially with process and protected inner reference electrodes, compared to a third ground electrode. The inner reference electrode is surrounded by a known concentrated pH 7 buffer that resists process contamination, maintaining its pH level with minimal dilution effects. A double junction salt bridge further guards against contamination.
Sensorex
System-wide monitoring
The Sentinel™ PRO remote monitoring system can interface with any water/wastewater processing equipment that uses a programmable logic controller (PLC) with Modbus sensors. The system monitors, delivers alarms and logs data input/output points from third-party Modbus sensors, transducers and PLCs. It supports Modbus RTU/485 and Modbus TCP. The system interacts with all existing sensors within a facility and provides operators with on-demand, real-time status and data acquisition from any Internet connected device. Only one Sentinel PRO unit is required to monitor up to 64 Modbus registers or 12 different digital or analog status conditions at remote pump stations and tank farms.
Sensaphone
Pneumatic pump controller
Graco's CycleFlo™ pneumatic pump controller now offers one unit operating on 100 to 240 VAC input power. The new CycleFlo controller has the functionality of two units in one, simplifying installation for end users. Designed to control pump speed and run time to deliver precise batching, metering and dosing of fluids at low and high pressures and flow rates. Featuring 32 batch presets and an intuitive programming interface, the CycleFlo controller ensures specific and repeatable fluid batches.
Graco Inc.
Hydraulic network modeling
New, free versions of the TdhNet hydraulic network model for water distribution systems and the TdhNetAPI provide for unlimited network sizes, Epanet file compatibility and SqLite database storage for data and results. TdhNet provides graphical data entry, SQL queries for results, and display options including contours and map coloring. The TdhNetAPI can be used with third-party programs for file and database access. Executable files are available for both MS Windows and Linux.
TdhNet
Check valves
Val-Matic's check valves are suitable for potable water, abrasive slurries and corrosive chemicals with a wide range of metallurgies, seating materials and accessories. Val-Matic's seven distinct check valves include the Dual Disc®, Foot, Silent Check, Swing Check, Swing-Flex®, Surgebuster®, and Tilted Disc®, which are highly engineered to provide long life and trouble-free performance. All Val-Matic check valves are certified NSF/ANSI 61 for drinking water and NSF/ANSI 372 Lead-Free.
Val-Matic
VFD series pump controller
The TECHNOLOGIC series from Bell & Gossett, a Xylem brand, is an intelligent pump controller with two advanced controller functions that reduce setup time by 50 percent. The Start-Up Genie ensures quick and easy commissioning with 10 preconfigured applications, preset pump protections and input/output options. Set-up time is approximately 15 minutes, compared to 45 minutes for similar products.
Bell & Gossett, a Xylem brand