Product Showcase
Collection of new products of special interest to the municipal water and wastewater markets
Mar 1st, 2016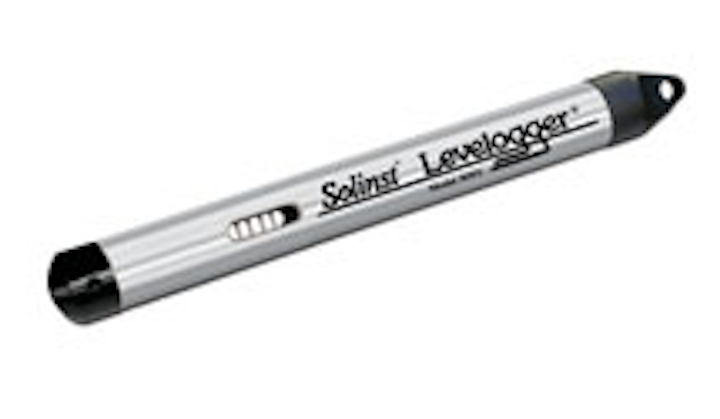 Water level, temp, conductivity datalogger
The LTC Levelogger Junior is a multi-parameter datalogger that collects water level, temperature and conductivity readings. It includes a memory for 16,000 sets of readings and a 5-year battery in a compact, waterproof stanless steel housing. The conductivity sensor is simple to calibrate, providing 2% accuracy from 500 to 50,000 μS/cm. Ideal for monitoring salinity, and providing a general indication of water quality.
Solinst Canada Ltd.
Prestressed concrete tanks
DN Tanks, the parent company of DYK Incorporated and Natgun Corporation, specializes in the design and construction of AWWA D110 prestressed concrete tanks used for potable water, wastewater, and chilled water. With over 130 years of combined experience, and over 2,500 tanks ranging in capacity from 40,000 gallons to 40 million gallons, DN Tanks offers expanded construction capacity, technical expertise and proficiency in multiple types of proven tank designs to provide customized liquid storage solutions. The company's tanks are designed to meet varying project requirements with the ability to withstand seismic activity, extreme climates, and severe site conditions.
DN Tanks
Low NPSHr, high-flow pump
The Sundyne LMV-803Lr is an API 610 compliant pump available in either OH3 or OH5 motor mounting configuration that provides ultra-low NPSHr performance - approximately 5 ft (1.5 m) across the entire performance range, for flows to 800 GPM (180 m3/hr) and heads to 1,000 ft (305 m). The ultra-low NPSHr allows the pump to be installed at grade level, eliminating the expense of installation in a pit and performing maintenance in a confined space. The vertical design is ideal for use in refineries, NGL, petrochemical and chemical plants, as well as light hydrocarbon handling services, such as bottom pumps for de-ethanizers.
Sundyne
Accurate polymer monitoring
The TOTE BIN SCALE™ from Force Flow allows plant operators to accurately monitor the amount of polymer being fed from IBC type totes for dewatering. Simply place your tote on the platform and monitoring begins. There's nothing to install inside the tote. The systems prevent costly over feed conditions and also enable the documentation of the actual amount fed. The systems feature remote monitoring from SCADA or PLC and are available with the new SOLO® G2 digital display or with the advanced Wizard 4000® Chemical Inventory Monitoring System. Comes with a full five-year warranty. Polymer day tank and drum scales are also available.
Force Flow
Static mixer
The Kenics™ KMX-V Static Mixer, the latest addition to Chemineer's leading product line, features a design that generates superior mixing per unit length for laminar flow and high/low viscosity ratio applications. The KMX-V utilizes cross-stream mixing and flow splitting to achieve very rapid blending. Each element is approximately one pipe diameter in length and consists of multiple intersecting blades, which generates fluid layers as the mixture flows downstream. Key design features of the Kenics KMX-V Static Mixer include superior mixing performance per unit length, proprietary V-shaped blades, liquid dispersion/gas-liquid contacting, standard diameters up to 24 inches, injectors designed to optimize process, and high volumetric flow ratios between main stream and additive.
Chemineer, a Brand of NOV
Commercial water meter
The OMNI compound (C²) water meter from Sensus is a technologically advanced commercial meter with patented Floating Ball Technology that lets you capture more revenue by accurately measuring a wider range of high and low flows. The single chamber design eliminates crossover water loss and features only one moving part inside the measuring chamber. Simple design means less maintenance and optimum performance throughout its long lifespan.
Sensus
More WaterWorld Current Issue Articles
More WaterWorld Archives Issue Articles