Resource Spotlight
Collection of books, etc. dealing with water issues.
Mar 1st, 2016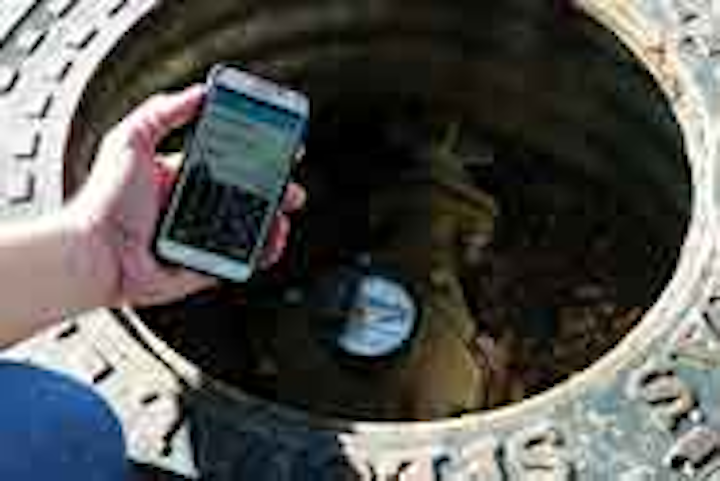 Meter reading for Android phones
The first full-featured meter reading system for Android smartphones from SmartPhone Meter Reading LLC (SPMR) eliminates the need for traditional and expensive handheld field computers that require extensive user training, complicated software updates and long-term service contracts. The SPMR meter reading app is compatible with Android-based smartphones and can be easily downloaded via a texted link. Using GPS technology, the app captures the coordinates of reading activity, pinpointing the exact location. As a reader records each meter's data, SPMR automatically uploads it in real time via the phone's cell data network or via WiFi. All data is uploaded to a secure Cloud Server and can be accessed at any time by the SPMR web users via a password-protected interface.
SmartPhone Meter Reading LLC
www.smartphonemeterreading.com
Pipe marking wallchart
Graphic Products has published a Wastewater Treatment Pipe Marking Wallchart that can be used to aid in maintenance and overall system performance through an accepted pipe marking standard. The chart illustrates how labels and valve tags are used to identify pipe contents, special hazards, and the direction of flow. These standardized pipe marker color-coding systems help eliminate confusion and maximize efficiency, as well as alert municipalities and public works departments to potential hazards in the event of a leak. The chart can be used to quickly help facilities with routine maintenance inspections.
Graphic Products
Conference materials
The Association of California Water Agencies (ACWA) has posted materials from its 2015 Fall Conference & Exhibition online. PowerPoint presentations and videos from keynote speakers, programs, forums, town halls and award programming from the December 2015 event are available now.
Association of California Water Agencies
Virtual classroom
Goulds Water Technology (GWT), a Xylem brand, is expanding its training and education programs to a global audience with the debut of its virtual classroom - Goulds Water Technology e-Learning. The online training program focuses on the latest advancements in residential, commercial and agricultural water technology applications and contains 11 new modules that focus on pump basics, discharge conditions, understanding pump curves, sizing and selecting pumps, pressure storage tanks and other similar topics. The modules are free for professionals, and new sessions will be added throughout the year to enhance course offerings in wastewater and for variable frequency drives.
Goulds Water Technology
Online lead resource community
The American Water Works Association has launched a web-based lead resource community for water professionals, media and the general public. The resource provides a place for water utilities to gain insight and guidance on lead service lines, the Lead and Copper Rule, corrosion control and other lead management issues. It also includes a news feed, public statements, legislative and regulatory developments, and research on lead in water. It also includes links to reliable lead information from sources such as the U.S. Environmental Protection Agency and the U.S. Centers for Disease Control, as well as links to upcoming in-person and online training opportunities.
American Water Works Association
Technical seminar
The Valve Manufacturers Association will host the 2016 Technical Seminar on Safety and the Environment March 9-11 in New Orleans. The seminar is designed for mid- to upper-level managers seeking a deeper understanding of the industry. Speakers include industry experts who will discuss how to keep people and operations safe from harm as well as how to meet increasingly stringent government regulations.
Valve Manufacturers Association
More WaterWorld Current Issue Articles
More WaterWorld Archives Issue Articles