New Products
New products involved in the water industry
Mar 1st, 2016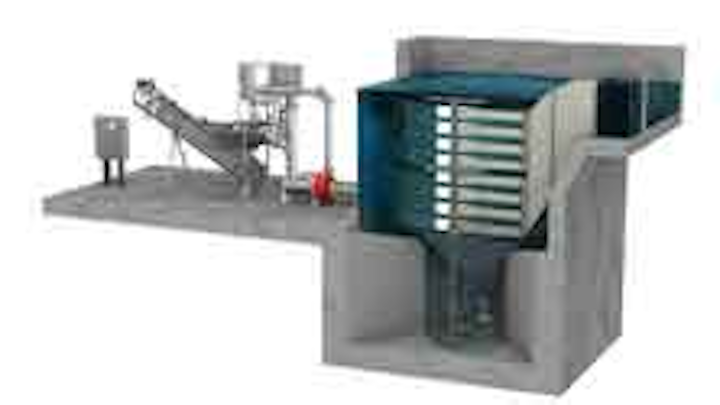 Grit removal system
Hydro International's HeadCell® advanced grit removal system is a modular, multiple-tray settleable solids concentrator. Its stacked tray design delivers outstanding grit removal efficiency by providing a large surface area in a small footprint, making it ideal for both new and retrofit applications. Using the Advanced Grit Management philosophy, the HeadCell can be designed to remove 85-95% of all grit entering the plant. The system can now be adapted for intermittent operation by incorporating Hydro International's fluidizing system into the sump and designing an expanded grit pot collector.
Hydro International
Thermoplastic pump
Plant services personnel and pump specifying engineers responsible for handling corrosive, abrasive and other aggressive fluids can now use Vanton's CHEM-GARD® CGA thermoplastic pumps, which are inert to such liquids and thereby provide longer service life than metallic or fiberglass pumps. They meet ANSI B-73.1 standards and are metal armored, thereby enabling them to handle the same nozzle loadings as metal pumps. Depending on the fluid handled, CGA pumps may be constructed of corrosion-resistant thermoplastics such as polypropylene (PP), polyvinyl chloride (PVC), polyvinylidene fluoride (PVDF) or other non-metallic materials.
Vanton Pump and Equipment Corp.
Agitator gearbox
The Chemineer Model 20 HT/GT agitator gearbox from NOV is specifically designed for agitator duties in a wide range of service industries. In comparison with a general purpose gear-drive of the same nominal AGMA torque rating, the Model 20 HT/GT gearbox has much longer bearing and gear lives, which translate to lower maintenance costs and greater productivity. The high-efficiency Model 20 HT/GT agitator gearbox features: double and triple reduction gearing options that decrease gear loads and noise levels; helical/spiral bevel (HT) and all helical bevel (GT) gears to reduce energy costs; case carburized gearing that reduces wear rate for 20+ year of service life; and reverse rotation capability for process flexibility.
NOV
Computational fluid dynamics software
Flow Science has announced the release of FLOW-3D/MP v6.1, the high-performance computing version of its flagship CFD software, FLOW-3D. FLOW-3D/MP v6.1 is fully synced with the latest developments in FLOW-3D version 11.1, including active simulation control, batch post processing and report generation. FLOW-3D/MP users are able to take advantage of the same accuracy in solving complex physics and numerics as well as increased usability in FLOW-3D but with a significant increase in performance.
Flow Science
Handheld multiparameter monitors
Liquiline To Go CYM290 and CYM291 portable handheld multiparameter monitors from Endress+Hauser are compatible with analog and digital sensors. Each device automatically detects when any Memosens sensor is connected and switches to the appropriate measured variable. By simply plugging a Memosens sensor into the monitor, a technician can measure conductivity, ORP, pH or oxygen. The battery-powered monitor also displays sensor type, serial number, zero point, slope, and date of calibration for the sensor. Liquiline To Go monitors permit a technician to enter a process area, connect the monitor into any Memosens sensor, read the measured value, transfer all data into the monitor, and calibrate the sensor.
Endress+Hauser Inc.
Ultrasonic level transmitter
The Sitrans LU150 from Siemens is a non-contacting ultrasonic transmitter with a range up to five meters. The device incorporates the sensor and the electronics in a single compact unit and can be used for continuous level measurement of liquids and slurries in open or closed vessels. IP68 rated, the Sitrans LU150 has a rugged, fully encapsulated PVDF sensor that is resistant to corrosion, chemicals and extreme shock. With only two cables to be connected, the device can be installed quickly and easily.
Siemens
Low profile, high volume chamber
The StormTech SC-160LP Chamber is an addition to the Advanced Drainage Systems StormTech product line and is 12 inches tall with an installed volume of 15 cubic feet of water for underground infiltration and detention systems. The new unit requires 14 inches of total cover to carry AASHTO HS-20 live loads, which reduces site development costs in shallow applications by minimizing the amount of needed fill and maximizing open infiltrative areas. The chamber requires no separation between chamber rows, making it easier for the contractor to install and also minimizing the aggregate required. It can be installed using an injection molded 8-inch end cap or a solid end cap.
Advanced Drainage Systems
High performance flow control
The RIKO® Plunger Valve from Rodney Hunt is designed to control the flow of water under pressure while minimizing cavitation and vibration. It is ideal for in-line energy dissipation and free-discharge applications, and is NSF-61-certified for contact with drinking water. Superior design directs the flow around the inner core within the valve body. This balances the pressure within the valve, prevents damaging cavitation, and eliminates vibration. The unique plunger seating profile - with a downstream profile ring and piston quad O-ring - creates a drip-tight shut-off. The high strength ductile iron body with epoxy coating, internal stainless steel components, fully enclosed shaft bearings, and bronze overlay piston guides create long-term corrosion resistance and long life. With over 70 years of service, RIKO® Plunger Valves have never needed a replacement component due to wear or corrosion.
Rodney Hunt Company
Mixing application solutions
NORD gearboxes are oil-tight, hygienic, and non-contaminating, which makes them ideal for mixing applications. Extremely rugged, the drives use heavy-duty bearings supported in NORD's one-piece UNICASE™ housing to handle substantial shaft loads. NORD gearboxes have high overload capacity to accept torques that can be especially high during the initial start-up period. Additionally, NORD provides an economical, compact drive solution for dual agitation systems.
NORD
Next-generation flow meters
Sierra Instruments' InnovaMass 240i and 241i vortex mass flow meters are an addition to the company's iSeries line, which has been specifically designed for precise flow energy management in multiple applications. Capable of measuring five process variables with one instrument, the InnovaMass flow meters now feature the revolutionary Raptor II operating system, providing end-users with flow measurement precision that promises to reduce energy costs and increase productivity. The new InnovaMass 240i/241i iSeries is ideal for saturated or superheated steam, gas, and liquid applications and measures mass and/or volumetric flow rate.
Sierra Instruments
Global mini-crane
OEM Smart-Rig Cranes recently added the CE certified S1 Global Model to its stock of portable floor cranes. The unique mini-crane is rated at 885 kg cap. (1,950 lb.), 800 mm wide (32 in.), 5.5 m hook height (18 ft.), with battery power and on-board charger, tilt alarm, hydraulics and pick and carry design for easy transport. The base of the S1 Global uses the same fold-out outrigger legs, pull back counterweight water tank, and three-piece manual pull out boom as the S1 Standard unit. The S1 Global introduces aesthetic and safety feature updates including a tilt sensor alarm, weatherproof on-board charger, test certificate, and CE certification for international use. The S1 Global has 30 meters of cable (100 ft.) and a 5.5-meter vertical hook height with a speed of 7-9 meters per minute (25-30 FPM).
Smart-Rig Cranes
USDA-certified biobased product certification
Raven Lining Systems has earned the USDA Certified Biobased Product Label for its AquataFlex® 505 and 506 products, hybrid novolac epoxy urethane coatings. The USDA Certified Biobased Product Label verifies that the amount of renewable biobased ingredients in the products meets or exceeds levels set by USDA. Both products are 100% solids, with zero VOCs, and NSF/ANSI 61 certified for potable water as well. The products deliver strong adhesion properties to properly prepared concrete, steel, aluminum, wood, composites and many other substrates.
Raven Lining Systems
Safe wastewater data logger
The new Intelligens wastewater remote data logger from Fluid Conservation Systems offers intrinsically safe (ATEX Zone 0 certified) data logging for wastewater applications. When used with the FCS SonicSens 2 ultrasonic level sensor or third-party sensors, it can be used to monitor open channels, combined sewer overflows, storm drains, storage tank levels and flood warning alarm sensors. The system uses multi-input functionality, which allows it to be used in combination with depth sensors (ultrasonic, radar, submersible), switch floats and overflow detectors, as well as Doppler velocity sensors. Data and alarms are transmitted wirelessly via cellular, with an option for SMS backup. Should a new alarm condition arise, the logger triggers an alert that can be sent to multiple recipients.
Fluid Conservation Systems
Flowmeter with improved accuracy, performance
Blue-White's engineers have taken the iconic F-300 Series flowmeters for pipe sizes 1 1/2" and 2" and enhanced both the features and accuracy (+/- 5%). The F-300 models now require far shorter pipe runs, making them more suited to installation in cramped equipment rooms. Float "bounce" has been eliminated, and a new, high-contrast red float comes standard with a magnet for use with alarm accessory, which detects flow/no flow. The NSF listing is in progress. Additional features include an easy-to-read dual scale (SCH40 GPM/SCH80 GPM for U.S. PVC models), and a screen printed on both sides of the meter body. Acceptable for outdoor installations (direct sunlight okay), the one-piece, machined acrylic meter body comes annealed for added strength and chemical resistance.
Blue-White Industries
Digester gas measurement
Fox Thermal Instruments has expanded the Gas-SelectX® gas selection feature available on the FT1 Thermal Mass Flow Meter. It now includes more pure gases and the new expanded 3-Gas Mix feature. The gas selection menu is designed to allow the user to choose from a list of different gases - in the field - for the meter to begin measuring flow of the specified gas. The FT1 is ideal for measurement of digester gas with a quick push of a button.
Fox Thermal Instruments
Data transfer device for Leveloggers
The DataGrabber is a simple, portable device that transfers data from Solinst Levelogger water level dataloggers in the field to a USB memory key. The DataGrabber uses one 9 V battery to operate. It features one push-button operation, and an LED light to indicate status. The DataGrabber connects to the top of a Direct Read Cable or directly to the Levelogger using an adaptor.
Solinst
Outdoor water sampling station
Complete with a weather-tight sealing closure and both wind and rain guards, the new EZ-01F outdoor sampling stations from American-MC Inc. provide a more pristine testing environment for evaluating water quality. Between sampling intervals and during the sampling process, the proprietary and patent-pending three-position, self-sealing lid works in concert with the EZ-01F's wind guards to produce the best possible sample. When the lid is closed between sampling intervals, the marine-application, stainless-steel, spring-loaded aluminum lid seals flush to protect the sampling station against weather, infestations and other contaminants from entering the testing chamber. The EZ-01F comes complete with both a 1" flushing valve with a 1" port and a 1/4" sampling valve with a 1/4" port. Meeting or exceeding all NSF 61 standards, the EZ-01F's heavy-duty, rust-free aluminum station body has a 10-year guarantee.
American-MC Inc.
Powerful cutting tool
Built tough to stand up to everyday use in the harsh environment on the job site, the ICS 701-A safely cuts with ease, speed, and portability. Featuring a powerful pneumatic motor that is ideal for cutting pipes or concrete in poorly ventilated spaces such as trenches or underground, the 701-A uses either PowerGrit® diamond chain to cut ductile iron pipe or Force4® diamond chain for cutting concrete. Based on the industry standard 890 series saw platform, this saw delivers 6.5 hp to users who rely on air compressors.
ICS Diamond Tools
UL-recognized pressure transducers
Ashcroft® T2, G2 & G3 pressure transducers are now recognized under the Component Recognition Program of UL. Designed for outstanding performance in extreme operating environments, these rugged sensors are approved for installation into UL-listed systems and equipment.
Ashcroft
More WaterWorld Current Issue Articles
More WaterWorld Archives Issue Articles