Products & Services: Pipe Installation & Maintenance
Collection of pipe installation & maintenance products and services.
Mar 1st, 2016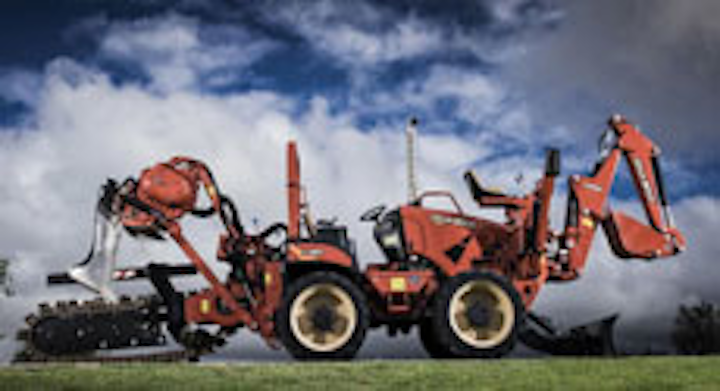 Ride-on trencher
The redesigned RT80 ride-on trencher from Ditch Witch®, a Charles Machine Works Company, features a compact profile, high-load axle capacity and turbocharged Tier 4 Deutz® diesel engine. The compact design and extensive axle capacity give the machine a best-in-class static load rating of 39,000 lbs (17,690 kg). A standard cruise control system senses changing load conditions and automatically adjusts for uninterrupted performance. Versatile attachment selections include a centerline trencher, sliding trencher, vibratory plow, earth saw, combination trencher/plow, microtrencher, backhoe and reel carrier.
Ditch Witch
Pipe bursting system
The Grundoburst static pipe bursting system from TT Technologies can pull in a variety of replacement pipe including PVC, DIP, ABS, cast iron, fusion-welded HDPE and VCP jacking pipe, and utilizes a specially designed bladed cutter head to make bursting ductile iron and steel pipe possible. Pulled by a hydraulic bursting unit, the cutter head's special cutting wheels split the host pipe. An attached expander spreads and displaces the split pipe into the surrounding soil while simultaneously pulling in the new pipe. Patented QuickLock bursting rods are linked together, not threaded. Six Grundoburst models are available for bursting 2-inch through 54-inch pipes and larger.
TT Technologies
Restraint end cap
Krausz USA has launched the HYMAX GRIP end cap, which uses universal teeth to securely cap pipes for a wide range of diameters. As pressure is applied to the end of a plastic or metal pipe, the HYMAX GRIP end cap's unique radial gripping system increases its hold. This new end cap can be used for permanent or temporary capping for plain end pipe, a test cap for hydrostatic tests, or an air release. It also features a one-bolt closure to enable quick and easy installation, and its radial closing design and sealing systems help eliminate installation errors. Made of highly durable ductile iron, the patented GRIP chain offers 360° restraint around the pipe.
Krausz Industries
Pipe monitoring hardware
PipeMinder from Syrinix is the next generation of monitoring hardware for utility companies. PipeMinder combines a 5-year battery life, automated alerts for transients and bursts, and high-resolution data capture. With PipeMinder utilities can see, at new levels of detail and accuracy, where they are at greatest risk of pipeline failure. The hardware operates with RADAR, Syrinix's cloud-based data analytics platform, and ensures utilities only receive the data they want or need to see.
Syrinix
Pipe brochure
HOBAS Pipe USA has issued a completely updated 72-page product brochure covering its centrifugally cast, fiberglass reinforced, polymer mortar pipe. It includes guide specifications, joint details, information on the manufacturing process and more. Updated charts and design guidelines for HOBAS Pipe's 126-inch pipe are now included. Installation guidelines are included for direct bury, sliplining, jacking and aboveground projects. It also includes general configurations of standard HOBAS Pipe USA fittings, although almost any mitered fitting can be constructed.
HOBAS Pipe
Benchtop pipe fitting
McElroy's SmartFab™ 125 is the first benchtop machine that offers a smarter way to socket fuse pipe and fittings for polypropylene piping systems. Advanced features of the SmartFab 125 include its innovative inserts, which have the ability to reduce ovality in pipe and fittings. It also has the added convenience of a pivoting heater so that it can easily accommodate fittings located on either side of the machine. The SmartFab 125 has four jaws that adjust to any desired spacing and each jaw clamps individually, which allows for a greater combination of pipe and fitting sizes.
McElroy
HDPE pipe coupling
The Victaulic Style 905 Refuse-to-Fuse coupling installs without the need to disassemble the coupling and can be installed using an impact gun or standard socket wrench. Available in 2- to 6-inch sizes, it meets or exceeds the rating of the pipe.
Victaulic
More WaterWorld Current Issue Articles
More WaterWorld Archives Issue Articles