Products & Services: Membranes & Related Systems
Collection of membranes & related systems products and services.
Mar 1st, 2016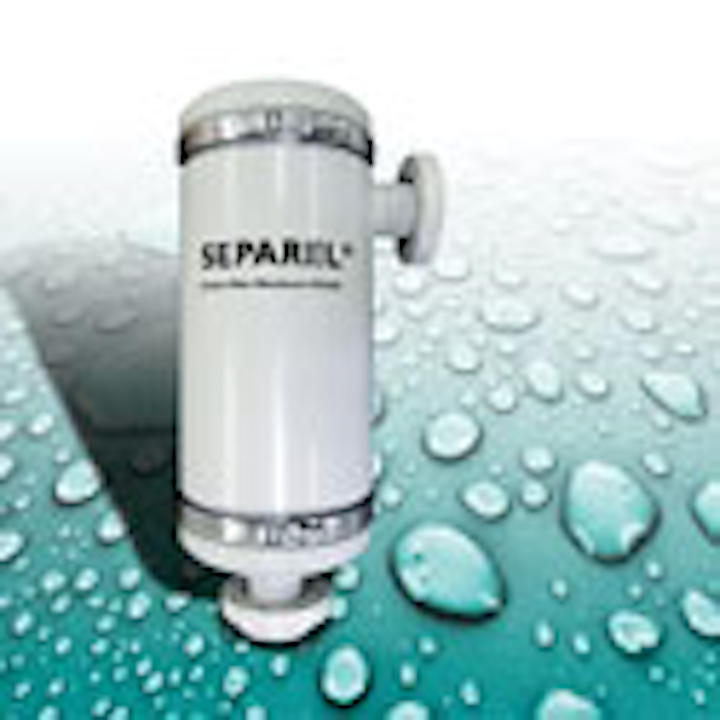 Degasification technology
DIC Corporation recently introduced its proprietary SEPAREL® hollow fiber membrane modules for wastewater and drinking water degasification. The SEPAREL hollow fiber membrane modules remove dissolved gases, such as oxygen and carbon dioxide, in water to prevent the formation of rust and bacteria in water treatment systems. SEPAREL modules can be installed in series within the same water treatment system to ensure sufficient degasification and achieve the desired ppb (parts-per-billion) level for various water treatment applications. The size of the SEPAREL module is directly related to the flow rate and vacuum pressure of the water treatment system.
DIC Corporation
Reverse osmosis elements
LANXESS now introduces novel reverse osmosis (RO) elements from its Lewabrane product line that display improved performance. Both the Lewabrane B400 LE ASD and Lewabrane B400 FR ASD provide for optimized flow in the RO element and thus lower energy consumption. They are optimized for applications in brackish water, have standard geometries (length: 40 inches; diameter: 8 inches) and are characterized by very low energy consumption and high fouling resistance. The feed spacers incorporated in the membrane elements are multifunctional, creating space between the membrane surfaces for fast-flowing water, supporting the membrane in the process and causing turbulent water flow.
LANXESS
SiC flat-sheet membrane
RODI Systems Corp. is now the exclusive North American distributor for the Cembrane SiC (silicon carbide) ceramic flat-sheet membrane. The Cembrane technology represents a new generation in membrane science providing high flux, low fouling, oil resistance, long life and tolerance to pH and temperature extremes. The Cembrane SiC membrane is chemically inert, oleophobic and has a low pH isoelectric point. These characteristics make Cembrane an ideal choice even for the most challenging applications such as high TSS and temperature/pH extremes. With features like outside-in filtration, compact design, high flux rate, and superior fouling resistance, the Cembrane product greatly reduces OPEX and required footprint versus other MF/UF filtration systems.
RODI Systems Corp.
RO feed spacer technology
Feed spacers are an essential component of reverse osmosis spiral wound elements and Conwed is proactively studying, testing and evaluating how feed spacers can impact reverse osmosis performance. The company has embarked upon a major R&D effort, in collaboration with university researchers, corporations and material suppliers, to develop the next-generation feed spacers that could impact RO performance. RO feed spacers, also known as scrim, mesh, net or netting, keep the feed channel open, allowing feed water to flow inside the feed channels, along the membrane element. The objective of the feed spacer, in addition to keeping the feed channel open, is to promote turbulence of the feed stream.
Conwed
Submerged membrane system with batch reactor process
The Aqua-Aerobic® MBR membrane bioreactor system is a unique, time-managed process that uses sequential aeration to promote biological nutrient removal in a simplified unit process. The integration of submerged membranes provides direct filtration of high-level mixed liquor suspended solids (MLSS). This unit process places the Aqua-Aerobic MBR system in a unique class of high-quality, membrane-coupled biological reactors. Advantages of the system include equalization, nitrification and denitrification within a single reactor while minimizing power costs through reduced energy needed for mixing, pumping and aeration. The system is ideal for applications requiring water reuse quality effluent.
Aqua Aerobic Systems Inc.
Packaged bioreactor system
The TITAN MBR™ packaged membrane bioreactor system from Smith and Loveless economically delivers effluent for up to 3 MGD (131 lps) per tank, allowing for water reuse. Fully submerged in the aeration zone, the flat-plate membranes maintain high permeability and flux rates, experience less wear and tear than hollow-fiber types, and can be cleaned in place.
Smith and Loveless Inc.
More WaterWorld Current Issue Articles
More WaterWorld Archives Issue Articles