Product Showcase
Collection of new products of special interest to the municipal water and wastewater markets
Aug 1st, 2016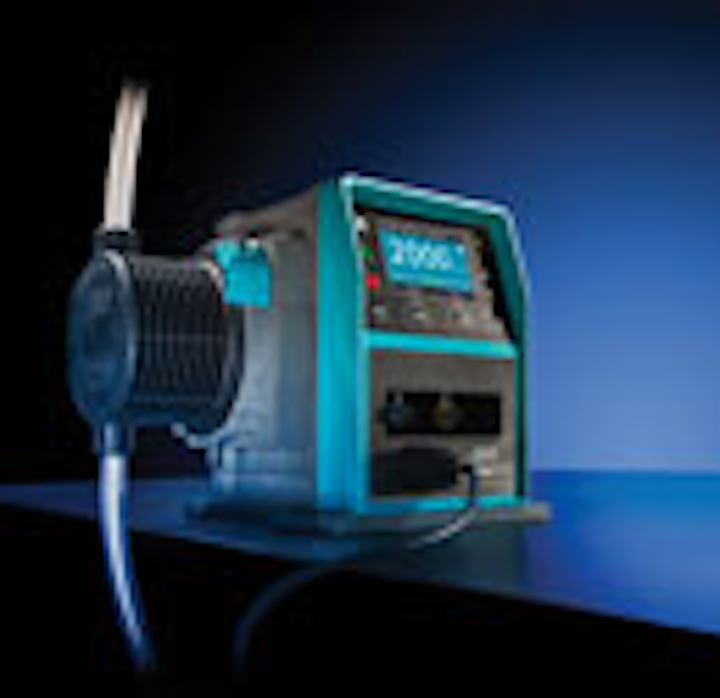 Peristaltic metering pump
Watson-Marlow Fluid Technology Group's new Qdos 120 offers flows up to 31.7 gallons per hour (gph) at a maximum pressure of 58 pounds per square inch (psi) - double the flow of existing models in the Qdos range of peristaltic metering pumps. This latest addition to the product range builds upon the Qdos suite of chemical metering technology and delivers a step-change in performance and usability compared to conventional solenoid or stepper-driven diaphragm metering pumps. All models in the Qdos family are designed to eliminate the need for ancillaries, boost productivity, and cut chemical wastage due to its highly accurate, linear and repeatable metering.
Watson-Marlow Fluid Technology Group
Hybrid chemical metering pump
Blue-White®'s Proseries-M® MD-3 chemical metering pump provides precision chemical metering for the treatment of municipal water and wastewater. The Hybrid MD-3 Diaphragm Metering Pump has 2000:1 turndown, and provides smooth chemical dosing with no pulsation dampener required. With 380 strokes per minute, the Proseries-M® MD-3 provides a steady flow at high pressures with no pressure regulator needed. A single model includes all necessary components for installation, and the drop-in-place design of the MD-3, along with built-in controls, make installation and set-up fast and efficient. The PVDF wetted end fittings allow for more than 14 inlet and outlet configurations.
Blue-White Industries
ZLD solution
Oasys Water's family of ClearFlo Water Transformation Solutions are specifically designed to tackle a diverse set of wastewater challenges. Oasys' ClearFlo Membrane Brine Concentrator (MBC)™ technology recovers more than 90% of fresh water in a simple and reliable membrane process, leaving a greatly reduced water volume to be recovered by the more costly and energy-intensive crystallization process. The ClearFlo Complete is an integrated end-to-end solution combining a pretreatment step with the ClearFlo MBC and adding a greatly reduced capacity crystallizer that together provide a complete liquid recovery solution.
Oasys Water
Non-contact radar transmitter
Magnetrol International has launched the Pulsar™ Model R96 Non-Contact Radar transmitter for accurate, reliable level control in process applications. Virtually unaffected by the presence of vapors or air movement within a vessel's free space, the two-wire, loop-powered, 6 GHz radar transmitter measures a wide variety of liquid media in process conditions ranging from calm product surfaces and water-based media to turbulent surfaces and aggressive hydrocarbon media. Features include an extensive measurement range of 130 feet (40 meters), advanced diagnostics with automatic waveform capture and data logging, and a powerful device type manager (DTM) with field configuration and troubleshooting capabilities.
Magnetrol International
Electric valve actuator
The new Valbia® VB008 "Mini" quarter-turn direct-mount electric actuator measures 4-3/4" long by 2-3/4" wide. Used with 1/4" to 1-1/4" full-port, direct-mount ball valves, it provides compact and reliable automatic flow control for a wide range of applications. VB008 mini-actuators feature an F-03/05 pattern ISO-5211 direct-mount flange and square shaft slot for easy direct mount installation. The standard 110 VAC motor with Class II insulation meets CE standards and delivers 71 in/lbs. of torque in horizontal or vertical installations. A manual override, heater/thermostat, and LED indicator light are standard.
Bonomi North America
Metal strapping system
Severe weather, intense UV rays, high vibration, and galvanic corrosion are all variables that can sacrifice performance and create safety hazards. The Pan-Steel® MS75 Metal Strapping System from Panduit is now available in 201 and 316 stainless steel to deliver maximum performance, high strength, and enhanced job site safety. Designed to work together in extreme conditions, the MS75 metal strapping, buckles, and installation tool reduce installation time by as much as 50% when compared to competitive offerings.
Panduit