Product Showcase
Collection of new products of special interest to the municipal water and wastewater markets
Jun 1st, 2017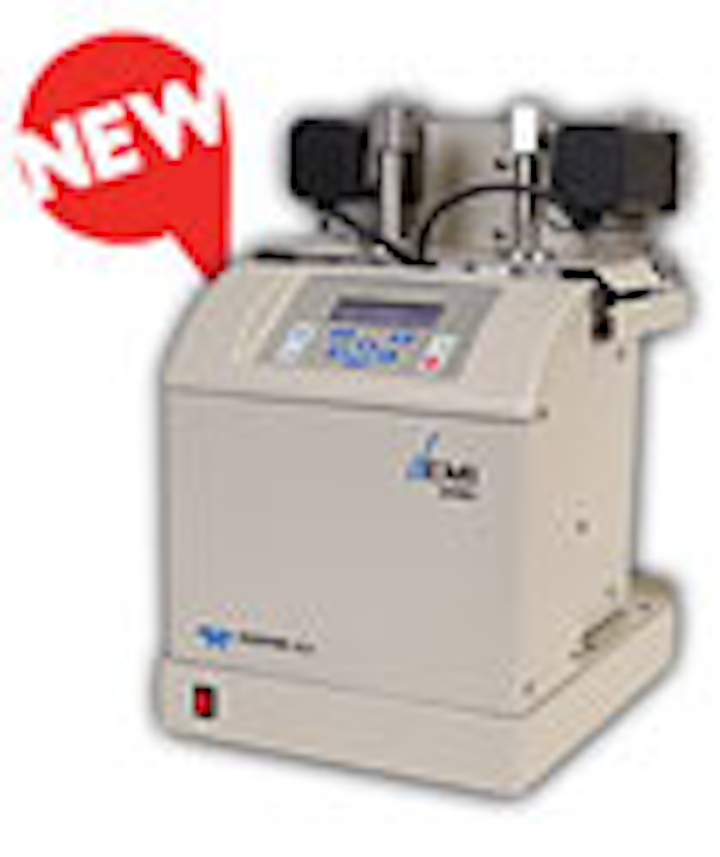 Continuous flow syringe pump
Teledyne Isco's Demi 2510S is a continuous flow syringe pump that boasts a small footprint and active valves. It was built for users seeking to upgrade to a continuous flow syringe pump as an alternative to the pulsing flow of a reciprocating pump. Small footprint of 10 inches by 12 inches. This is especially beneficial for customers that need to capitalize on limited bench space. The Demi is accurate (±1.0%) and features dependable flow rates up to 10 mL/min at 173.6 BAR (2,500 psi). Thus, a flow meter is not required.
Teledyne Isco
Check valves
ANVER's line of CheckVac Valves feature a low 0.17 psi cracking pressure with flow rates up to 63 CV and a one-piece shell to eliminate leaks. Unlike pressure check valves, they optimize system performance by not wasting the pump's power opening stiffer springs, resulting in up to four times better flow. Designed for vacuum clamping, lifting and holding applications. Made from a leak-free, seamless, one-piece anodized aluminum body with a smooth bore and have a plastic valve element with a specially tempered stainless steel spring and an O-ring seal. Offered in 1/4" through 2" NPT sizes.
ANVER Corporation
http://anver.com
Flow switch
The FlexSwitch® FLT93 Flow Switch from Fluid Components International reduces pump repair and extends pump life by detecting dry running conditions. FCI's dual alarm FLT93 Flow Switch reliably monitors the flow and temperature of liquids, gases, slurries and more. It is ideal for pump wet/dry detection. With its no-moving-parts design, it offers a highly robust scheme for pump protection with its dual alarm capability. It is a dual-function instrument that indicates both flow and temperature, and/or level sensing in a single device. Dual 6A relay outputs are standard and are assignable to flow, level or temperature.
Fluid Components International
Process control
The BLH Nobel brand of Vishay Precision Group Inc. released a new firmware upgrade, revision v1.3.0, for its G5 Series measurement amplifiers. Originally launched in February 2016, the new firmware upgrade offers: added flow rate (weight by rate) calculation capabilities; added diagnostic functionality; added excitation current measurement and supervision capabilities; updated Fieldbus data mapping; and added EtherNet/IP interface, using an optional installed module in the G5 Series Fieldbus slot.
BLH Nobel
Conductivity datalogger
Solinst Canada's latest release in its datalogger series is the LTC Levelogger Edge, which is a compact instrument that provides reliable datalogging of water level, temperature, and conductivity. It offers a number of upgraded features including an eight-year battery life, memory for 27,000 sets of readings, higher accuracy, six pressure ranges, and a Titanium ceramic PVD corrosion-resistant coating.
Solinst Canada Ltd.
Air-operated double diaphragm pumps
Graco has expanded its Husky™ line of corrosion-resistant stainless steel air-operated double diaphragm (AODD) pumps to include stainless steel ANSI/DIN welded flanges. The flanges are available in vertical and forward-facing orientations and feature a rotatable design that simplifies connection to process piping. The pumps range from 1/4" to 3" connections and produce flow rates up to 300 gallons per minute. Configurable in a wide variety of pump body materials and wetted elastomers, Husky AODD pumps are engineered to be compatible with challenging fluid characteristics, such as low and high temperatures, high levels of abrasives, and caustic and corrosive materials.
Graco Inc.