New Products
New products involved in the water industry
Jun 1st, 2017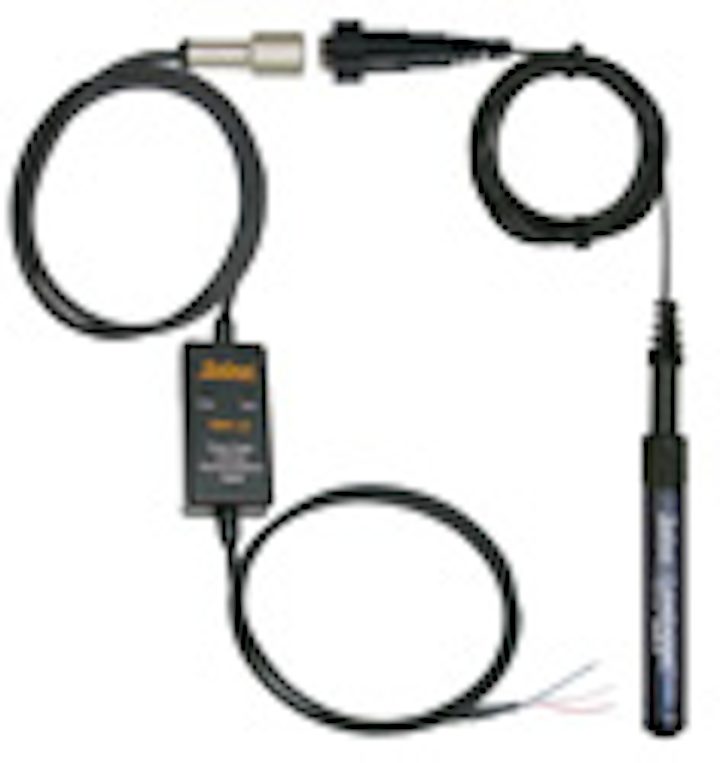 Water level dataloggers
Levelogger dataloggers from Solinst are SDI-12 compatible. Integrating accurate water level and temperature data into your monitoring network is easy. Simply connect the Levelogger using a Solinst SDI-12 Interface Cable to your datalogging device. Leveloggers can be programmed to record independently of the SDI-12 system, providing reliable back-up data. With high accuracy, lifetime calibration and durable design, Leveloggers are ideal for your monitoring needs.
Solinst Canada Ltd.
Redundant control system
Mitsubishi Electric Automation has paired its iQ-R Series integrated control platform with a redundant function module to create a redundant process control system for applications that require reliability. The iQ-R Series Process CPU/Redundant System is designed for applications that require near 100% uptime to prevent harmful or costly disruptions. Key features include: redundancy across multiple levels to reduce single-point failures; high availability at multiple levels for improved system reliability; and extensive visualization and data acquisition with Mitsubishi Electric SCADA MC Works64.
Mitsubishi Electric Automation Inc.
Continuous diagnostic monitoring
Endress+Hauser adds Heartbeat Technology to its Micropilot FMR5X free-space radar and FMP5X Levelflex guided radar level transmitters. Heartbeat Technology is an on-board diagnostics and instrument verification system that continuously monitors the status of mechanical, electromechanical and electronic components in the sensor, and sends alerts when it detects a problem. Alerts are sent in accordance with NAMUR recommendation NE 107 and are displayed at the device. The built-in diagnostics can detect process problems, such as build-up or foam before failure occurs. Verification information, reports, diagnostics alerts and instrument data can be viewed at the control and monitoring system.
Endress+Hauser
Ball valve
Asahi/America's next generation Omni® ball valve is the Omni Type-27. The compact ball valve's new design includes updated performance features and improved actuation capabilities. A new smooth ergonomic handle with open/shut indication tops the Omni Type-27. The rugged, injection-molded one-piece body includes a single-threaded and sealed end carrier; double stem O-ring seals provide added leak protection. A molded ISO top flange for actuation mounting can be factory-added to the Omni Type-27. Available with socket or threaded end connections in 3/8" through 2". Materials include PVC and CPVC, both with EPDM seals and PTFE seats. NSF-61 certified and rated 150psi at 70°F.
Asahi/America
Smart output mag meters
Smart Output mag meters from McCrometer are compatible with Sensus and Itron systems, which makes these mag meters plug and play into larger AMI and AMR systems. McCrometer has an electromagnetic flow solution for nearly every application from line sizes 4 to 138 inches: hot tap insertion meters or full bore type, battery/solar or AC/DC powered. Designed with a highly intelligent module in their transmitters that is similar to a communication protocol, McCrometer mag meters are able to transmit data on a schedule or on demand, as well as receive diagnostic queries to ensure or update meter operation.
McCrometer
Turbitity sensor with wiper
Turbidity measurements are often made in shallow waters and keeping the instrument optical face clear is particularly important. Turner Designs introduces a new turbidity sensor addressing this issue with a simple solution. Turbidity Plus is an accurate single-channel turbidity sensor including an integrated wiper which is triggered by the user. Designed for integration with multiparameter systems and dataloggers from which it receives power and the wiper trigger. Delivers a voltage output proportional to the turbidity of the sample, which can be correlated to nephelometric turbidity unit (NTU) values by calibrating with a standard of known concentration. Deployable to 200 m.
Turner Designs
Handheld magnetic wheeled encoded scanner
AUT Solutions has released an all new and improved encoded scanner, the NanoScan II. The modular, high-resolution, non-contact encoder is completely IP68 water-sealed with no moving parts. It now comes with a connector so longer encoder cables can be used or cables can be replaced if damaged. Cable can be sold as a spare part to a kit so the technician can replace it in a few minutes with no downtime. An optional high-temp encoder housing can be purchased, which has an air inlet port to allow the scanner encoder to be cooled with air for high-temperature applications (up to 500°F).
AUT Solutions
Hazard protection wear
DuPont's Tychem® 6000 F FaceSeal is a tight coverall that features an integral rubber seal around the hood aperture. Designed to provide a perfect fit and tightness when wearing a full-face mask, this garment is designed for applications where liquid leaks may be a particular hazard. The Tychem® 6000 F FaceSeal offers excellent frontal protection thanks to a horizontal back opening that allows the user to step into the garment before pulling on the upper section. The rear vent is then secured using a zipper and flap with poppers.
DuPont
Backup pumping system
Xylem's Godwin Dri-Prime Backup System (DBS) is an independent backup pumping solution that is permanently installed in a lift station for a variety of emergency situations. Plumbed directly into the wet well, the DBS automatically protects against loss of power in the event of transfer switch malfunction, as well as control panel, transducer and permanent pump failures. The Godwin DBS is customized using proven technologies to meet customer needs and complemented by Xylem support service.
Godwin Pumps, a Xylem Brand
Cabinet lighting
Weidmuller WIL is an industrial LED lighting solution designed to improve visibility for maintenance work in a range of applications that include standard industrial control cabinets and field applications. The new Weidmuller Industry Light (WIL), with an IP67 aluminum housing, can withstand harsh environmental conditions while delivering a space-saving and effective lighting solution in the cabinet or on the machine. Features a unique LED arrangement in a robust and compact 8-mm-deep housing. The 20° angle of the LEDs provides an ultra-wide light cone that can illuminate a broad area, eliminating the need to rotate the light for greater coverage.
Weidmuller
ASME Code-certified filter housings
Shelco Filters offers ASME Code certification for its USF Series and USB Series of filter housings. The certification follows globally accepted engineering standards, which ensures integrity, quality and durability in production and performance. Shelco's USF Multi-cartridge Housings and USB Bag Housings, which are entirely manufactured in the United States, are constructed in 304L or 316L stainless steel for maximum durability, are available to accept a wide variety of filter cartridges, and are designed to handle the most aggressive industrial filter applications. Shelco's heavy-duty ASME Code Cartridge Housings are available in various sizes, materials of construction and custom features.
Shelco Filters
Volumetric feeder
Scaletron Industries, Ltd.'s new VMF-28 Feeder with Carbon Package (Model VMF-28/CP) is a precision "loss in weight" measurement system designed specifically to provide accuracy in adding activated carbon in water treatment operations. The new unit features an integrated scale for accurate feeding plus a bag loading box that simplifies the addition of carbon to the system, and also enhances employee safety by containing carbon dust. The VMF-28/CP bag loading box is weld-sealed to contain dust. To further enhance employee safety, the VMF-28/CP Feeder offers an optional dust collector that can be fitted to the bag box.
Scaletron
Leak noise sensors for tight spaces
PermaNet F leak noise sensors from Fluid Conservation provide water network managers with a fixed-base cellular network to monitor leakage. The compact sensors were designed to quickly install into small underground spaces, providing readings with dramatically reduced noise interference compared to those taken with aboveground sensors. The sensors work by recording noise levels and tracking consistent noise to build a sound profile. Units can then detect a leak after only one night. The sensors communicate with host software using 3G cellular communication, allowing large amounts of data to be transferred with no radio mesh infrastructure to maintain.
Fluid Conservation
Submersible chopper conditioning pump
The Vaughan Conditioning Pump is a submersible chopper pump mounted on a portable stand and fitted with a high-velocity mixing nozzle. The Conditioning Pump recirculates the contents of wet wells by chopping and mixing to produce a homogeneous slurry that is more easily pumped out. Floating mats are removed and solids that have accumulated on the floor are re-suspended. The pump is mounted on a portable stand so it can easily be used in multiple locations at a single job-site, facility or municipality. Applications include: lift station conditioning, basin conditioning, influent station/channel conditioning, holding tank conditioning, and digester cleanout/homogenization.
Vaughan
Cantilevered, bearingless vertical pump
The Sump-Gard® SGK cantilevered, bearingless vertical pump from Vanton Pump & Equipment Corporation features a large diameter, plastic sleeved, stainless steel shaft that eliminates the need for immersing bearings or bushings, which enables the SGK pump to run dry for indefinite periods of time. The rugged SGK has a chemical-resistant, epoxy-coated, cast-iron motor bracket that accommodates NEMA, IEC and standard European motors. Available in lengths to 4 ft. (1.21 m) and flows to 1,000 gpm (227 m3/hr). Engineered to operate in corrosive, abrasive, hazardous and ultrapure fluid applications, the SGK is available in PVC, CPVC, PP and PVDF.
Vanton Pump & Equipment Corp.
Porometric mesh
Porometric mesh from GKD is a new wire mesh weave developed using the company's GeoDict simulation software. At a constant volume flow, the higher porosity of the porometric filtration mesh resulting from its design reduces the highest local pore velocity by up to 40% compared to conventional filtration meshes. In addition, the slit-like pores make backwashing easy. The mesh features a geometric pore opening of 150 μm and 175 μm.
GKD USA
Protective eyewear
3M's Personal Safety Division has expanded its SecureFit™ Protective Eyewear line by offering more features and deeper personalization with the debut of the new 3M™ SecureFit Protective Eyewear 600 Series. New options with the 600 Series include: Scotchgard™ Anti-fog Coating for long-lasting clarity; rugged anti-scratch (RAS) coating to help extend the life of the lens; photochromic and polarized lenses; and task-specific lens tints that help reduce glare, eye stress and fatigue in a variety of applications.
3M
Air operated diaphragm pump
IWAKI Air's new TC-X800 Series offers excellent flow rates and a new heavy-duty body design. This pump will operate at variable air pressures and is suited for both start/stop and fully continuous duty pumping applications. They can easily handle high head pressure and long discharge lines. Maximum flow rates at 211.3 GPM (800 LPM) and maximum discharge head 280 ft. (85 m). Available in stainless steel, aluminum, polypropylene and cast iron.
IWAKI Air