Product Showcase
Collection of new products of special interest to the municipal water and wastewater markets
Jul 1st, 2017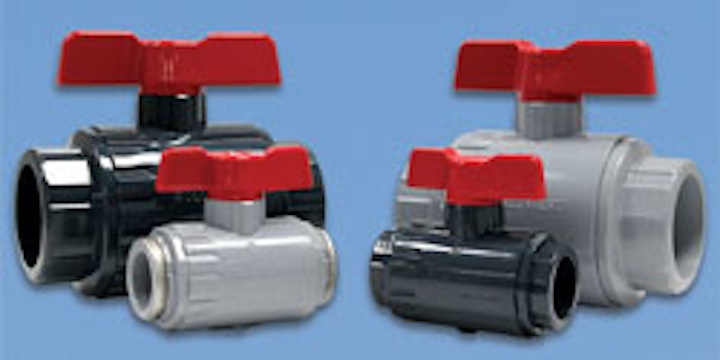 Ball valve
Asahi/America announces the next generation Omni® ball valve: the Omni® Type-27. The compact ball valve's new design includes updated performance features and improved actuation capabilities. A new smooth ergonomic handle with open/shut indication tops the Omni Type-27. The rugged, injection-molded one-piece body includes a single-threaded and sealed end carrier; double stem O-ring seals provide added leak protection. A molded ISO top flange for actuation mounting can be factory-added. Available with socket or threaded end connections in 3/8" through 2". Materials: PVC and CPVC, both with EPDM seals and PTFE seats. NSF-61 certified and rated 150psi at 70oF.
Asahi/America
Air operated diaphragm pump
IWAKI Air's new TC-X800 Series offers excellent flow rates and a new heavy duty body design. This pump will operate at variable air pressures and is suited for both start/stop and fully continuous duty pumping applications. They can easily handle high head pressure and long discharge lines. Maximum flow rates at 211.3 gpm (800 lpm) and maximum discharge head 280 ft. (85 m). Available in stainless steel, aluminum, polypropylene and cast iron.
IWAKI Air
ASME Code-certified filter housings
Shelco Filters offers ASME Code certification for its USF Series and USB Series of filter housings. The certification follows globally accepted engineering standards, which ensures integrity, quality and durability in production and performance. Shelco's USF Multi-cartridge Housings and USB Bag Housings, which are entirely manufactured in the United States, are constructed in 304L or 316L stainless steel for maximum durability, are available to accept a wide variety of filter cartridges, and are designed to handle the most aggressive industrial filter applications. Shelco's heavy-duty ASME Code Cartridge Housings are available in various sizes, materials of construction and custom features.
Shelco Filters
Volumetric feeder
Scaletron's new VMF-28 Feeder with Carbon Package (Model VMF-28/CP) is a precision "loss in weight" measurement system designed specifically to provide accuracy in adding activated carbon in water treatment operations. The new unit features an integrated scale for accurate feeding plus a bag loading box that simplifies the addition of carbon to the system, and also enhances employee safety by containing carbon dust. The VMF-28/CP bag loading box is weld-sealed to contain dust. To further enhance employee safety, the VMF-28/CP Feeder offers an optional dust collector that can be fitted to the bag box.
Scaletron Industries
Porometric mesh
Porometric mesh from GKD is a new wire mesh weave developed using the company's GeoDict simulation software. At a constant volume flow, the higher porosity of the porometric filtration mesh reduces the highest, local pore velocity by up to 40% compared to conventional filtration meshes. In addition, the slit-like pores make backwashing easy. The mesh features a geometric pore opening of 150 μm and 175 μm.
GKD USA
Backup pumping system
Xylem's Godwin Dri-Prime Backup System (DBS) is an independent backup pumping solution that is permanently installed in a lift station for a variety of emergency situations. Plumbed directly into the wet well, the DBS automatically protects against loss of power in the event of transfer switch malfunction, as well as control panel, transducer and permanent pump failures. The Godwin DBS is customized using proven technologies to meet customer needs and complemented by Xylem support service.
Godwin Pumps, a Xylem Brand