New Products
New products involved in the water industry
Jul 1st, 2017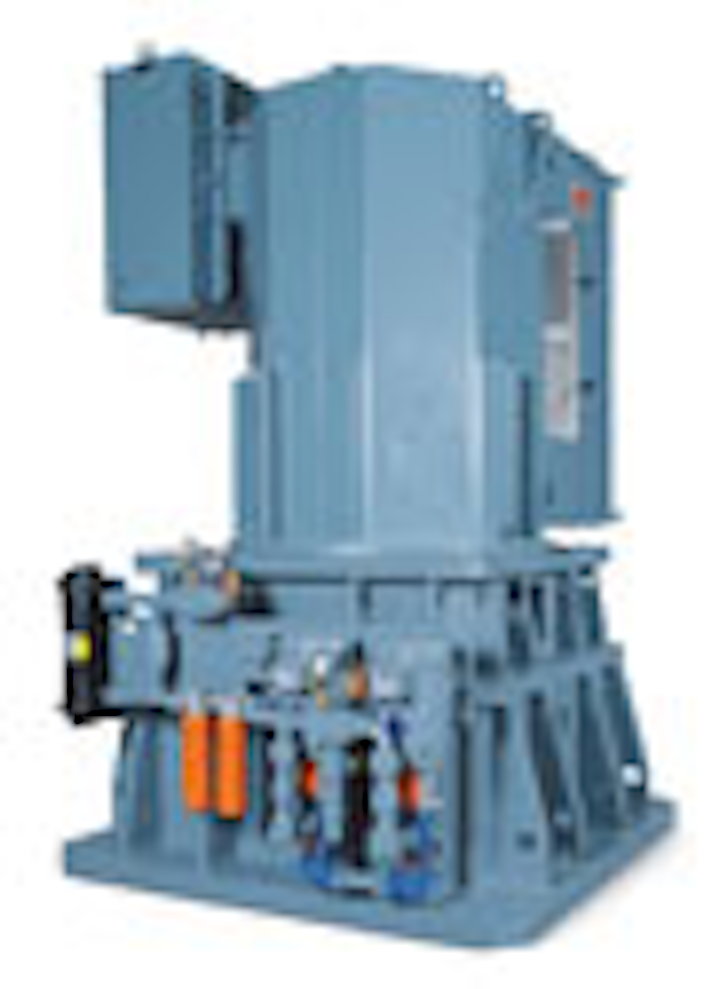 Efficient drive package
The Baldor-Dodge Vertical GearMotor is built on a standard low pole count induction motor platform utilizing proven Dodge planetary gearing. This results in a smaller, lighter, highly efficient drive package. The Baldor-Dodge Vertical GearMotor product line is available in six sizes for vertical pump speeds from approximately 100 RPM to 500 RPM. The Vertical GearMotor has torque ratings from 550,000 in-lbs. through 7,000,000 in-lbs. and approximate power ratings from 750 HP to over 25,000 HP, depending on output RPM.
Baldor Electric Company
Insulated riser clamp
The Klo-Shure Titan Insulated Riser Clamp series from Hydra-Zorb is made to fit vertical pipe runs and create a clean vapor barrier after insulation. Titan risers are molded with high-strength plastic with a crush-resistant design and a vertical load rating range of 1,000-2,000 lbs. These clamps offer three times faster installation with a dramatically improved finished appearance.
Hydra-Zorb Co.
Phosphorus analyzer
Endress+Hauser's Liquiline System CA80PH orthophosphate analyzer for monitoring water treatment processes is available in four measuring ranges. Two use the standard molybdenum (blue method) for low range measurement down to 50 μg/L, and two use the molybdate vanadate method (yellow method) for high range measurements up to 50 mg/L. The CA80PH automatically obtains a water sample from the process, filters it, adds the reagent, measures the intensity, and then cleans the sampling system with compressed air or water in preparation for the next test.
Endress+Hauser
Cantilevered, bearingless vertical pump
The Sump-Gard® SGK cantilevered, bearingless vertical pump from Vanton Pump & Equipment Corporation features a large-diameter, plastic-sleeved, stainless-steel shaft that eliminates the need for immersing bearings or bushings, which enables the SGK pump to run dry for indefinite periods of time. The rugged SGK has a chemical-resistant, epoxy-coated, cast-iron motor bracket that accommodates NEMA, IEC and standard European motors. Available in lengths to 4 ft. (1.21 m) and flows to 1,000 gpm (227 m3/hr). Engineered to operate in corrosive, abrasive, hazardous and ultrapure fluid applications, the SGK is available in PVC, CPVC, PP and PVDF.
Vanton Pump & Equipment Corp.
Truck mounted sewer jetter
The new SuperJet® truck mounted jetter from Super Products LLC features a double-acting, single-piston, hydraulically-powered water pump offering 1:1 oil to water ratio and rated design capacity of 100 gpm and 3,000 psi continuous duty. Single engine design emits lower sound levels and results in 40% reduction in fuel usage compared to dual-engine units. It has a rear compartment that's heated with an 80,000 BTU/hr heater that enables year-round operation. An easy-to-use control panel includes adjustable engine throttle with water pressure speed dial; on/off water pump PTO; water pressure (psi) and gallons per minute (gpm); and hose reel joystick, pay-in/pay-out with speed control.
Super Products LLC
Handheld HAB indicator
Turner Designs' CyanoFluor is a new handheld fluorometer equipped with optics for detecting chlorophyll (CHL) and phycocyanin (PC) responses from natural water samples. CyanoFluor uses these responses to calculate and report a PC to CHL ratio for estimating the relative abundance of cyanobacteria within a phytoplankton population. By monitoring PC to CHL ratios over time, users can tell whether environmental conditions are changing and favoring cyanobacterial production, which typically leads to the formation of HABs. CyanoFluor also provides raw fluorescence readings, which can be used to estimate chlorophyll concentrations. Factory-calibrated. Solid-state optoelectronics ensure long-term instrument stability.
Turner Designs
Data collection, sharing app
Using the Solinst Levelogger App and Interface, the company's Levelogger water level dataloggers can be downloaded and programmed in the field. To communicate with your Levelogger, the Levelogger App Interface is the hardware connection that provides a wireless Bluetooth® link to your smart device. Connect using a direct read cable or adaptor. Data can be e-mailed to your colleagues directly from the app.
Solinst Canada Ltd.
Gas valve actuator
The Terminator™ Actuator from Halogen Valve Systems can now be used on chlorine ton containers as well 150 lb cylinders to instantly stop the flow of chlorine in case of an emergency. Emergency chlorine shutoff is initiated when the controller receives a close contact signal from a leak detector or included emergency shutoff switch and a relay output provides remote indication that an emergency close sequence has been performed.
Halogen Valve