Product Showcase
Collection of new products of special interest to the municipal water and wastewater markets
Apr 1st, 2017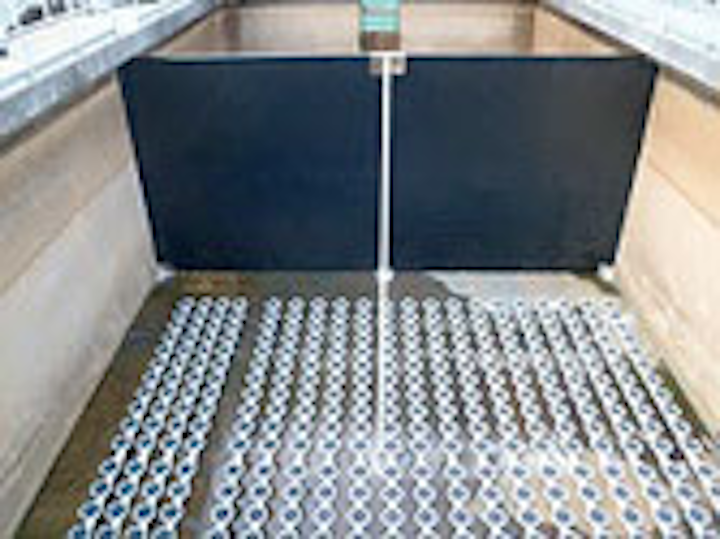 Tank baffles
Director™ II Tank Baffles from Environetics are designed for tank-based waste treatment operations. The baffles are custom manufactured from heavy-duty reinforced geomembrane materials to improve flow patterns in new or existing circular or rectangular tanks. Director™ II is a cost-effective upgrade for activated sludge systems to provide dramatic savings in energy costs by reducing power requirements.
Environetics Inc.
Analyzer kit
The Thermo Scientific EPA 8270D analyzer kit enables environmental monitoring laboratories to rapidly implement U.S. EPA Method 8270D for the determination of semivolatile organic compound concentrations in drinking and wastewater. The new kit delivers simple separations on a single CG column. Consists of pre-developed and validated methods; a user guide for aided implementation of the method under either the Thermo Scientific TraceFinder Environmental and Food Safety (EFS) software or the Thermo Scientific Chromeleon Chromatography Data system (CDS) software; a TG-5MS GC column; and other related materials to reduce the amount of time and effort required for method development and implementation.
Thermo Fisher Scientific
Electric actuators for continuous underwater use
A new version of AUMA's proven SA and SAEx multi-turn actuators is suitable for continuous underwater use. A universal sealing system combined with comprehensive corrosion protection qualifies these actuators for underwater use. Double-sealed cable glands at the electrical connection, inner seals - some in pairs - on all housing covers, and a one-piece solid shaft effectively prevent the ingress of water. The actuators are qualified for up to 15 m head of water, with higher heads of water available on request. Torques from 10 Nm to 1,000 Nm are covered.
AUMA
Density measurement
The Dynatrol® Density System offers accurate and quality measurement of density, specific gravity, percent solids or percent concentration in-line or in vessels. The Density cells come in a full range of corrosion-resistant materials that are both weathertight and explosion-proof. They also serve broad temperature and pressure ratings - with no moving parts for long operating life. Applications may include magnesium hydroxide, caustic soda, soda ash, alum slurry, ferric salts, sulfuric acid, lime slurry, flocculants, etc., in power plants, chemical plants, paper mills or municipal water treatment facilities.
Dynatrol
Transmitters with radar sensing technology
GF Piping Systems has expanded its automation product line with two new level transmitters. Radar Level Transmitter Type 2290 features non-contact radar technology in a compact, economical unit. Available in a variety of different materials to resist even the most corrosive environments, the 2290's tank-mapping function makes it easy to block out objects like internal pipes, welding seams, stirrers or heating elements. Radar Level Transmitter Type 2291 is designed for continuous level measuring of conductive or non-conductive liquids, pulps or solids and maintains consistent measurement even under extremely tough conditions like turbulent process vessels.
GF Piping Systems
Deluge fire valves
Singer's three new fire valves include: Electronic Operated Deluge Valve, Pneumatic Operated Remote Control Deluge Valve and the Electric Pneumatic Operated Deluge Valve. These valves are built to last with stainless-steel seats and fasteners and are heat-fused with a red epoxy coating. Coupled with Singer's SRD technology, these valves last longer than flat diaphragm valves and have more flexibility in sizing. Deluge Valves are available in globe style 3"-8" (80-200 mm) and are ANSI class 150 with 300 flanges and grooved ends. These deluge valves automatically open to fill the fire protection system very quickly.
Singer Valve