Resource Spotlight
Collection of books, etc. dealing with water issues.
Apr 1st, 2017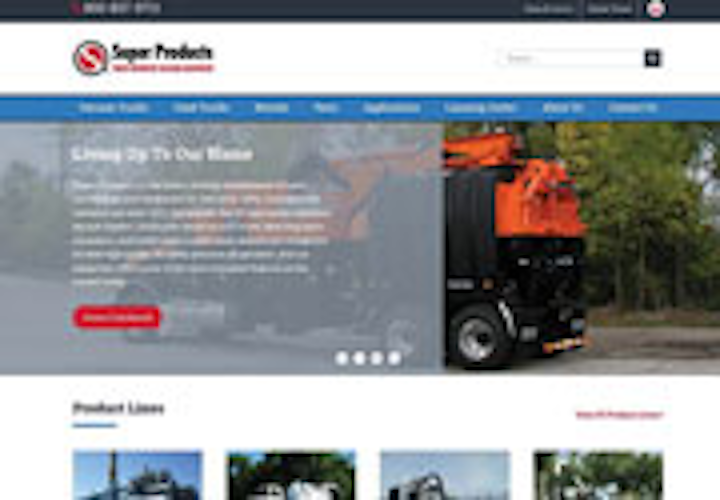 New website
Super Products, LLC, the truck-mounted vacuum equipment manufacturer, has launched a newly-designed website that features its line of products as well as information on the company's rental offering, used equipment inventory and nationwide Super Store locations. In addition to providing details and specifications on its Supersucker® industrial vacuum loaders, Durasucker® liquid vacuum trucks, Mud Dog® hydro excavators, and Camel® sewer and catch basin cleaners, the new site features sections that contain videos highlighting the feature and benefit advantages of the company's equipment. The site also contains a thorough listing of representatives, dealers and nationwide location listing.
Super Products LLC
New association logo
The National Rural Water Association has chosen a new logo to represent the association. New logos are also planned for Water University, the WaterPro Community and WaterPro Conference. The association chose to update the logo based on NRWA's membership growth and program development since the previous logo. In the years since the previous logo was approved, NRWA has expanded to include a State Affiliate in all 50 states, launched Water University, the WaterPro Community, the WaterPro Conference and the Workforce Development Center's apprenticeship program.
National Rural Water Association
Benchmarking report
The American Water Works Association has released the newest edition of Benchmarking Performance Indicators for Water and Wastewater. The report assists utility managers in comparing how their utilities are performing against others in the water and wastewater sector. The report focuses on five areas of operation: organizational development, customer relations, business operations, water operations and wastewater operations; and for 43 key performance indicators. Historical trends from previous AWWA benchmarking surveys are also provided. For this report, data was gathered from a diverse group of utilities, ranging in size from serving under 10,000 customers to over 500,000.
American Water Works Association
Redesigned website
Assmann Corporation of America just launched a new user friendly website that allows visitors to easily find information on the company's line of corrosion resistant polyethylene/plastic tanks and containers in capacities up to 12,000 gallons, including double wall, vertical and horizontal tanks and secondary containers, as well as chemical feed stations. White papers are also available for downloading and feature Assmann's storage tanks and basins and accessories and general tank information. The new website also offers product literature and customer testimonials. Visitors can also join Assmann's mailing list and receive e-newsletters with future product and company information.
Assmann Corporation of America
Product Index