Product Showcase
Collection of new products of special interest to the municipal water and wastewater markets
Feb 1st, 2017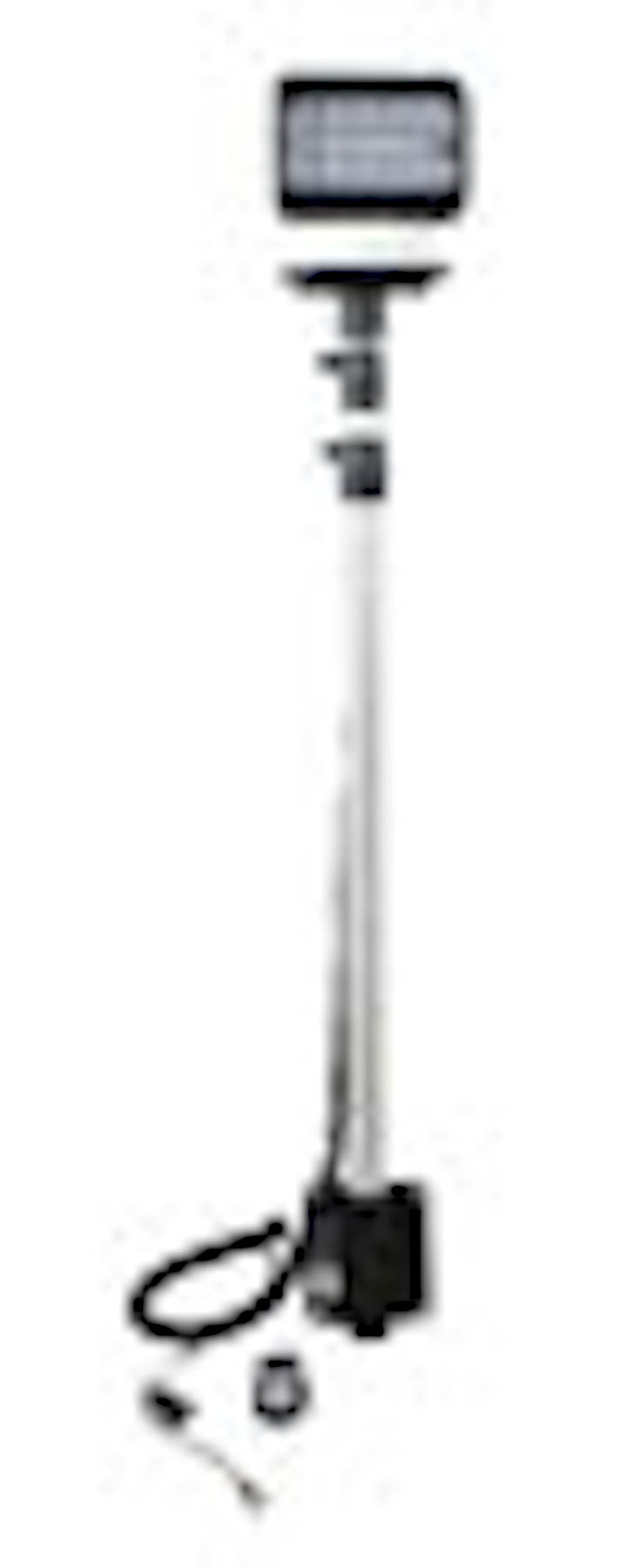 Remote controlled LED light pole
Larson Electronics has released a 36-watt temporary fixed-mount LED mini light tower for general work areas and other applications where an easily deployable and reliable source of lighting is needed. The TPM-GL20004-16CC LED light tower contains one LED light head that produces 2,520 lumens while using 36 watts of power. It is operated with a single wireless remote control that rotates the light a full 370° horizontally and 170° vertically. An aluminum light pole extends from four to nine feet and includes a mounting bracket.
Larson Electronics
SCADA platform update
PcVue 11.2 is the latest platform update for Supervisory Control and Data Acquisition (SCADA), Building Management Systems (BMS) and Human-Machine Interface (HMI) solutions. Advancements in building equipment communications also include native KNX and COMMEND SA ICX driver (for intercom monitoring and control) along with the established LonWorks and Modbus drivers. PcVue 11.2 offers the consolidation and integration to support convergence of smart buildings, distributed energy resources (DER), infrastructure, transportation, and industrial automation. The release includes built-in drivers for energy management and smart grid interoperability including IEC 61850, 61400-25, 60870-5-104 & DNP3.
PcVue Inc.
Membrane filtration technology
Water Planet's PolyCera® membrane filtration technology is based on advanced polymeric materials. Available as flat sheets or in Water Planet's proprietary spiral monolith elements, PolyCera membranes extend the range of polymeric membrane filtration to the most challenging applications. Water Planet's spiral monolith elements leverage PolyCera's benefits in a ceramic-like cross-flow, back-washable filtration module. Water Planet's testing to date shows OpEx savings up to 40% relative to commodity polymer membranes and 80% relative to ceramic membranes. The result is the first commercial membrane product with ceramic-like performance and polymer-like economics.
Water Planet
Variable speed drive
Schneider Electric's Altivar 320 Machine iDrive allows machines to perform better with less downtime and lower total machine costs. The Altivar 320 drive offers advanced connectivity via Ethernet (Modbus TCP, Ethernet/IP, Profinet, EtherCAT) or serial (Modbus RTU, CANopen, Profibus DP, DeviceNet) based networks; reliable motor control for synchronous and asynchronous motors; proven functionality in harsh environments, operating in ambient temperatures up to 60°C, and class 3C3 coated printed circuit boards to protect against corrosion; and comprehensive embedded safety solutions for simple or complex machines from 0.25 Hp to 20 Hp.
Schneider Electric
High-density signal conditioning modules
A full line of microBlox isolated signal conditioning modules are now available from Acromag. Offering over 175 models, microBlox uB modules can safely interface a wide variety of voltage, current, temperature, frequency, and other field signals with a ±5 V or 0-5 V DC output to host measurement and control systems. Users can select modules with fixed ranges or wireless configuration via Bluetooth on an Android or iOS mobile device. Acromag's free Agility app for smartphones and tablets simplifies setting custom I/O ranges and optional alarm functions. The app can also display input signal values and create sharable trend charts.
Acromag
Stator pump
NETZSCH Pumps North America introduces the new iFD-Stator® 2.0, which combines efficiency, economy and environmental safety in one system. Featuring a two-part, reusable stator housing and replaceable stator, the iFD-Stator 2.0 is compatible with all NEMO NM series progressing cavity pumps. With simple, compression-free assembly and disassembly, the defined compression for the iFD-Stator 2.0 is automatically generated when the elastomer collar is fastened. The new housing concept of the iFD-Stator 2.0 is easier to handle than the previous generation and delivers a longer service life than competing options. Delivers reduced pulsation and improved fluid flow compared to conventional stator design.
Netzsch Pumps