New Products
New products involved in the water industry
Feb 1st, 2017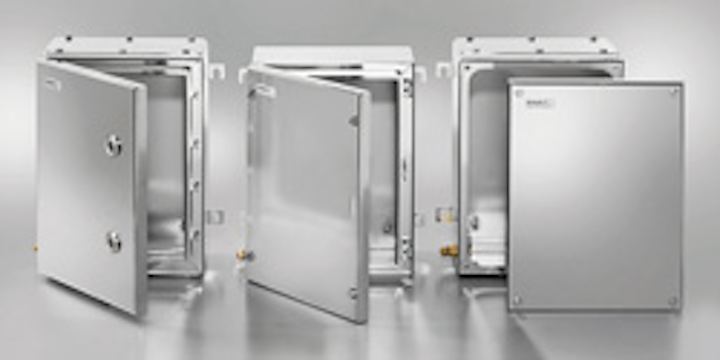 Steel enclosures for hazardous areas
Weidmuller has expanded its Klippon® TB (Terminal Box) range of hazardous area steel enclosures with the introduction of three new versions: the MH (Multi-Hinge), QL (Quarter-Lock) and FS (Fixed-Screw). These new enclosures feature a range of approvals that include cULus, AEx, ATEX and IECEx ratings, making them suitable for use in Class 1/Division 2 and Class 1/Zone 0, 1, 2, 20, 21 and 22. They comply with the latest requirements covering equipment for use in potentially explosive atmospheres, making them ideally suited for harsh-environment applications.
Weidmuller
Stator
NETZSCH Pumps North America's new iFD-Stator® 2.0 combines efficiency, economy and environmental safety in one system. Featuring a two-part, reusable stator housing and replaceable stator, the iFD-Stator 2.0 is compatible with all NEMO® NM® series progressing cavity pumps. Changing the stator within the housing is easy, with simple, compression free-assembly and disassembly; the defined compression for the iFD-Stator 2.0 is automatically generated when the elastomer collar is fastened. The new housing concept of the iFD-Stator 2.0 is easier to handle than the previous generation and delivers a longer service life than competing options, leading to reduced downtime and maintenance.
NETZSCH Pumps & Systems
https://pumps.netzsch.com/en
Intelligent sensors for analytical measurement
The DS80 Intelligent Sensor Series from Electro-Chemical Devices features a standard modular design, which can be customized for the accurate and reliable measurement of pH, ORP, DO, conductivity, resistivity and numerous specific ions. With their replaceable cartridge sensors, the sensors provide multi-parameter analytical measurement. They can be customized for a wide range of measurements in the most rugged environments to perform unique tasks unavailable with off-the-shelf analytical sensors. The sensors store and identify calibration information and communicate via MODBUS RTU with the ability to connect directly to a programmable logic controller (PLC) or a computer with a MODBUS RTU emulator.
Electro-Chemical Devices
String lights
The VPLMSL-10-5FT-12.3-GL-NL-NP temporary construction string light set from Larson Electronics incorporates 10 hand lamps, equipped with a ceramic socket capable of accepting an LED, incandescent, or compact fluorescent lamp up to 100 watts. This set includes 10 polycarbonate globes with metal globe guards. The globe guard enclosure provides protection for the enclosed bulb and features a hook that allows operators to hang the task lights overhead. Five feet of 12/3 SOOW cable is stretched between each droplight, while three feet of cord terminates at each end. Designed for temporary illumination and daisy chain connections across the job site.
Larson Electronics
Algae prevention
Foam Design's NEW GEN™ Lagoon Biomedia reduces the risks of algae growth in lagoon-based water treatment centers. NEW GEN uses a proprietary formulation to promote nitrification and subsequent denitrification processes within the lagoon area, resulting in effective water treatment without pumping the water out of the lagoon. The unique shape of NEW GEN Lagoon Biomedia maximizes the growth of biofilms, allowing solids age to be decoupled from the lagoon's hydraulic retention time (HRT). NEW GEN Biomedia reduces algae risks, reduces maintenance costs, increases potential lifespan of lagoon-based treatment centers and substantially improves treatment capacity of the lagoon.
Foam Design Inc.
Intelligent pump controller
The fifth generation HYDROVAR is an intelligent pump controller that accurately adapts to system demands and can reduce energy consumption of a pump by as much as 70 percent. Capable of running systems with up to eight pumps, it has multimaster functionality, enabling each individual pump to take control if one or more units or sensors are not active. The drive comes standard with BACnet and Modbus capabilities for seamless Building Management System (BMS) integration. Optional Wi-Fi for remote connection to the unit via any mobile device, laptop or PC is also available.
HYDROVAR, a Xylem brand
Wastewater pumping system
Xylem's Flygt Concertor is a smart, interconnected wastewater pumping system that senses the operating conditions of its environment, adapts its performance in real time and provides feedback to pumping station operators. Its intelligent control system combines IE4 motor efficiency, N-hydraulics and integrated power electronics. Field tests conducted around the world showed energy savings of up to 70% compared to a conventional pumping system; clog-free pumping operation and clean wet wells saving up to 80% in vacuum cleaning costs; and compact design, reducing cabinet size by up to 50%.
Xylem
Portable data loggers
The OM-DAQXL Series is a new OMEGA exclusive portable handheld data logger that delivers high performance and functionality. This series offers 8 or 16 universal analog inputs, fast sampling rates, large data storage, and a 7-inch TFT color touch-screen display offers advantages such as an intuitive user interface, easy channel configuration, data logging and play back. Ideal for a wide range of applications including R&D and industrial labs, chemical, water treatment or HVAC process monitoring.
OMEGA