ACE17 Product Showcase
Collection of new products of special interest to the municipal water and wastewater markets from the ACE17 Conference
May 1st, 2017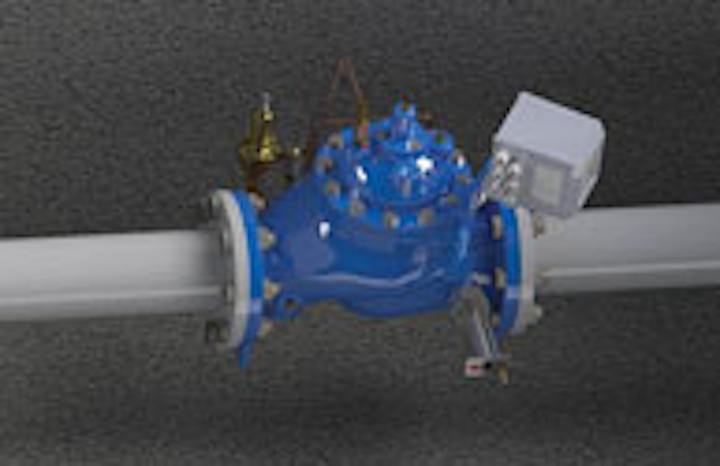 Battery operated flowmeter
The Battery Operated SPI-MV Convertor from Singer Valve can run independently of an external power source for 3-5 years. It can also be paired with an external AC or DC power source so the battery portion becomes a backup when power outages occur. A small solar panel can be added to extend the lifetime to 10-15 years. Comes in the standard 3-key touch local convertor with Die Cast Aluminum IP67 housing. It has variable sampling frequencies that can be adapted to fit the installation needs. Options include dual totalizer pulse output and internal data logging.
Singer Valve
Advanced metering analytics
BEACON® AMA from Badger Meter helps cities achieve their smart water goals: better customer service and efficient, sustainable operations. BEACON AMA combines the intuitive BEACON AMA software suite with proven ORION® AMI technology, giving water utilities greater visibility and control over utility management. BEACON AMA uses a managed solution approach - plus fixed and cellular networks - to deliver a simple yet powerful end-to-end solution. Built-in infrastructure management services and a flexible system design eliminate maintenance and technology concerns. Discover just how "smart" your water can be.
Badger Meter
Emergency repair clamp kit
Ford's Emergency Repair Clamp Kit provides flexible pipe repair for a wide variety of pipe sizes. Covering most pipe diameters between 4.50" and 33.74", this restockable kit equips any water utility for pipe emergencies. The kit contains various sizes of stainless steel bands with EPDM gaskets, an O.D. tape, a repair clamp sizing matrix and an O.D. chart.
Ford Meter Box Company
Compact, modular online analysis
The Type 8905 Online Analysis System is a modular system for monitoring all important water parameters on one platform. It is a multichannel multifunction unit for the Burkert sensor cubes and electronic modules from the efficient device integration platform (EDIP). The EDIP allows high flexibility by using modularity in the hardware as well as in the software of the system. Type 8905 is the device for continuous measurement of high-priority water parameters such as pH value, chlorine for disinfection purposes, conductivity, ORP value, turbidity, and temperature. The touchscreen allows on-site configuration of newly installed modules.
Burkert Fluid Control Systems
Valve and damper drives
Beck manufactures electric actuators for industrial control valves and dampers. Beck valve and damper drives are designed for continuous modulating or direct AC control, and are suitable for difficult environments. Engineered to the high-performance standards of today's sophisticated control instrumentation, Beck's electric actuators maximize final control element performance, providing responsive, repeatable actuation. Beck has been manufacturing in Pennsylvania since 1936.
Beck
Mapping technology
ESRI, a global market leader in geographic information systems (GIS), offers the most powerful mapping and spatial analytics technology available. Since 1969, ESRI has helped customers unlock the full potential of data to improve operational and business results. ESRI engineers the most advanced solutions for digital transformation, IoT, and location analytics to create the maps that run the world.
ESRI
Drinking water solutions, services
Rely on Evoqua's family of trusted brand solutions and services for your safe water challenges. The company provides filtration/pathogen removal, disinfection management, and contaminant removal and services.
Evoqua
Prestressed concrete tanks
DN Tanks is at the forefront of the prestressed concrete tank industry and specializes in the design and construction of AWWA D110 storage tanks used for potable water, wastewater, chilled water and other liquids. With over 3,000 tanks ranging in capacity from less than 100,000 gallons to over 40,000,000 gallons, DN Tanks offers expanded construction capacity, unmatched technical expertise and proficiency in multiple types of proven tank designs to provide customized liquid storage solutions. Tanks are designed to meet varying project requirements with the ability to withstand seismic activity, extreme climates, and severe site conditions.
DN Tanks
Disinfection safety
Maximize the safety of your chlorine disinfection system by using a ton container scale and an emergency valve shutoff system. The Chlor-Scale® ton container scale from Force Flow safely cradles a chlorine ton container while providing critical feed and chemical inventory information. The Halogen Eclipse® emergency valve shutoff system instantly closes the container valve when a signal is received from a leak detector, panic button or from SCADA.
Force Flow/Halogen Valve
Zero break membranes
Aqua-Aerobic® Membrane Systems featuring NO BREAK Aqua MultiBore® membranes are available in both polymeric and ceramic options. Each system is designed to effectively remove suspended solids, particulate phosphorus, bacteria, and other harmful impurities resulting in safe, high-quality water. Every membrane system is designed specifically for the application. Ideal for drinking water, surface water treatment, industrial water, tertiary wastewater, and reuse applications requiring low effluent suspended solids or phosphorus.
Aqua-Aerobic Systems
Tanks, coatings
Tank Connection provides premier bolted RTP designs with unmatched coating options. The LIQ Fusion 7000 FBE powder coating system is a powder-on-powder coating system designed for superior performance in liquid storage. Based on its formulation and two-fire process, QUA AGT 2020 is a glass/porcelain enamel coating system that outperforms other glass coatings. Apex Domes by Tank Connection are custom-designed aluminum domes for both new construction and retrofit applications that leverage the latest in design and technology.
Tank Connection
Digital pressure gauges
Keller digital pressure gauges are cost-effective solutions in any pressure monitoring applications where a local display is required. Several versions are available to ensure that your needs are met. Available features include min/max display, selectable units, 5 kHz scan rate for transient capture, and data recording.
Keller America
Meter data management
Allegro Advanced Meter Infrastructure (AMI) for water utilities provides fully automated consumption reporting, plus meter Revenue Impact Alerts™ (leak, theft, tamper). This powerful tool with Harmony Meter Data Management (MDM) Software helps address non-revenue water, and empowers ratepayers to self-manage their water consumption behavior through real-time data sharing, web portal, and phone app budgeting notifications.
Master Meter
Water treatment
SUEZ in North America operates across all 50 states and Canada providing drinking water, wastewater and waste collection service to 7.4 million people; treats 570 million gallons of water and 815 million gallons of wastewater; offers water treatment and advanced network solutions to 16,000 industrial and municipal sites; processes 55,000 tons of waste for recycling; rehabilitates and maintains water assets for more than 4,000 municipal and industrial customers; and manages $4.1 billion in total assets.
SUEZ
Coating solutions
PPG Protective & Marine Coatings has decades of experience and innovation that have enabled the company to develop a complete range of proven coating solutions to protect assets in the world's most challenging conditions. PPG has an extensive portfolio of coatings for the protection of water storage and wastewater assets.
PPG Protective & Marine Coatings
Butterfly valves
Val-Matic American-BFV® Butterfly Valves are offered in 150B and 250B AWWA Classes with flanged end connections in sizes 3"-144" and mechanical joint end connections in 4"-48". They are designed with ANSI 125 flanges or ISO PN10 and PN16 flanges in sizes 4"-12". The valve fully complies with AWWA C504 and C516, certified NSF/ANSI 61 for drinking water and NSF/ANSI 372 Certified Lead-Free. Features include standard epoxy interior, continuous uninterrupted seating, and the Tri-Loc™ seat retention system allows for field adjustment/replacement without the need for special tools or epoxies. The valve's disc is constructed of ductile iron for improved headloss and added strength.
Val-Matic Valve & Manufacturing Corp.
Online THM analyzer
Real-time environmental quality data drives smart decisions. Aqua Metrology Systems offers the only online THM Formation Potential analyzer, the THM-100-FP™, which provides real-time predictions of future THM levels in distribution networks. The instrument performs six online samples daily, a combination of TTHM and THM-FP. Benefits include: early characterization of the THM-FP of water quality leaving treatment plant, early prediction of future THM levels at critical points in the distribution system, better management of the treatment process and mitigation of compliance risk.
Aqua Metrology Systems
Pipe maintenance
Total Piping Solutions is a manufacturer of wide-range, high-performance products for the water and wastewater industries. Included products are: Triple Tap Tapping Sleeve and Line Stop Fittings; the Quick Cam Repair Clamp and Quick Sleeve for Bell Encapsulation; Quick Cam Hot Tap Saddles and Line Stops; T3 Service Saddle; and the TX3 Coupling. All products are proudly made in the USA.
Total Piping Solutions
Tank preservation
Sherwin-Williams Protective & Marine Coatings experts provide assistance regarding surface preparation and selecting the correct system to combat corrosion, extend service life, prevent interruptions, and preserve water quality. The INFINITANK tank preservation program for steel and concrete showcases products that improve life cycle performance.The Poly-Cote™ polyurethane coatings deliver rapid throughput featuring a field repair kit for easy repair and maintenance.
Sherwin-Williams Protective & Marine Coatings
http://protective.sherwin-williams.com
Learning center
Learn to improve operational and water system efficiency. Act faster when customers have issues. Find out how to take back your work day with data and network management. Connect departments and do more with Neptune's Connected Utility Partnership Program™. It's a new experience at Neptune's Learning Center during ACE17.
Neptune Technology Group
Sanitary filtration solutions
Rosedale Products is a leading technology developer of liquid filtration systems and waste minimization products internationally. With more than 50 years of experience, Rosedale technicians help customers find the best, most cost-effective approaches to their filtration needs.
Rosedale Products Inc.
Worker location app
Clevest's Automated Worker Location app is a cost-effective solution for utilities to locate contractors, borrowed crews, and their own crews through the workers' smartphones and tablet devices - without installing in-vehicle hardware. This easy app provides the real-time GPS location of workers in the Mobile Workforce Management system, helping increase the efficiency and productivity of field operations while instantly improving worker safety. The app is deployed in just two simple steps: the office creates user accounts and invites workers, then workers download it from Google Play or Apple iTunes.
Clevest
Pipe protection encasements
On new installations of ductile iron pipe, it is good, cheap insurance to protect your project with polyethylene encasements. Polywrap is an easy-to-install sleeve that is pulled over the pipe at time of installation. This is the most economical as well as effective way to protect ductile iron pipe from exterior corrosion. There are many types of polywrap; 8MIL linear low density is the most common. While it is typically black, colors are available to mark what the pipe is being used for.
AA Thread Seal Tape
Waterworks tools
Trumbull Industries manufactures Waterworks Tools, built for your most demanding jobs. Offering tools such as Double Socket Ratchet Wrenches, Hydrant Operating Wrenches, Valve and Curb Keys, Meter Wrenches, Main Valve Keys, Manhole Cover Hooks, Soil Probe Rods, and many others.
Trumbull Industries Inc.
Chemical feeder
The Eagle Microsystems VF-100 Dry Chemical Feeder is constructed of stainless steel and utilizes a rugged direct-drive to ensure optimum performance and durability in harsh chemical feed environments. The VF-100 can be optimized for any dry feed application with options like dust collectors, wetting cones, solution tanks, flow pacing control, extension hoppers, and multiple screw and motor ranges to accommodate any required feed rate. With no external gears, pulleys, chains, belts, or lubrications required, the VF-100 is user-friendly and low maintenance. The Eagle Microsystems VF-100 is rugged, reliable, and completely customizable to fit any process need.
Eagle Microsystems
Ammonia monitor
The Q46N Free Ammonia Monitor is designed for the continuous measurement of free ammonia, total ammonia, and monochloramine in potable water. It is intended for monitoring chloraminated water to minimize the amount of excess ammonia in the system. One of the features of the Q46N is that it has a fast response time for real-time ammonia measurement. Some ammonia monitors operate in a "batch" mode, where a sample is taken and several minutes of wait time are required before the measurement is updated. These delays can cause problems in controlling chemical feed. Provides continuous, real-time updates for better process control.
Analytical Technology Inc.
Potable water mixers
Tanks need mixing and the best solution is also the fastest one. Easy to install. Simple to integrate. No tank entry required. The GridBee® GS Series complete floor-to-surface mixing creates uniform disinfectant distribution, which reduces disinfectant usage and saves you money. No more stagnation. No more short-circuiting. Better water all year round; ice-free in winter. GridBee® GS Series Electric Mixers start at less than $7,000.
Medora
DIN rail power supplies
The newest generation of QUINT POWER power supplies gives control engineers improved configuration and diagnostics to ensure reliable power to the control system. Phoenix Contact has added near-field communications (NFC), real-time monitoring, coordinated surge protection, and a configurable DC output characteristic to the proven QUINT POWER line. User-definable settings allow monitoring of real-time DC current, power, or voltage using a 4-20 mA analog output.
Phoenix Contact
Hybrid metering pump
The Proseries-M® MD-3 Hybrid Diaphragm Chemical Metering Pump is carefully engineered to provide precision chemical metering for treatment of municipal water and wastewater. MD-3 is NSF 61, CE, ETL and NEMA 4X certified. It has 2000:1 turndown, provides smooth chemical dosing with no pulsation dampener. With 380 strokes per minute, it provides steady flow. Output rates to 58 GPH (220 LPH), pressures to 145 psi. Equipped with conveniently built-in controls. PVDF wetted end fittings allow for over 14 inlet and outlet configurations. All-inclusive ordering means units are sold complete with necessary components for drop-in-place installation. Five-year warranty.
Blue-White Industries
Wafer style check valve
Flomatic Corporation introduces a new all 316 Stainless Steel Wafer Style Check Valve Model 888S6 and Model 888S6R. This new wafer check valve is available in sizes 2"- 8" with metal-to-metal seating (888S6) or with a Buna-N option (888S6R) for a drip tight sealing. The Model 888 valve is designed for simple flange supported installation and will operate equally well in any position and is suitable for ANSI 125# or 250# mounting. The double-guided, spring-loaded poppet system maximizes efficiency and minimizes water hammer with an easy field-exchangeable internal system. The Model 888 is recommended for booster pump systems, mechanical contractors, general utilities, irrigation systems and HVAC liquid service.
Flomatic
Trending software
For over 30 years Canary has specialized in providing fast and easy-to-use trending tools. Canary Software's five must-have trending features are: 1) display more than 200 trends; 2) create high/low limits and define multiple thresholds; 3) perform calculations featuring multiple tags and mathematical operators; 4) time-shift and aggregate data with ease; and 5) export directly from charts to Excel.
Canary
Sensor interface
Take your data monitoring beyond the meter with the Sensus® Smart Gateway Sensor Interface. A cost-effective, battery-powered interface, Smart Gateway connects to analog and digital sensors. Transmitting data over the FlexNet® communication network, utilities can receive water pressure, leakage, level, temperature and status data from remote areas and applications where power lines and other networks don't reach. Explore how FlexNet lets the data flow like never before.
Sensus, a Xylem brand
http://sensus.com
Flow control
Minimize the time and cost associated with engineering, procuring, assembling and installing a flow control solution like SEEPEX ALPHA Systems. Achieve complete process reliability, by-product minimization and chemical consumption reduction results using these plug-and-play progressive cavity dosing pump systems in a variety of chemical metering applications.
Seepex
Calibration columns
Plast-O-Matic thermoplastic calibration columns are a quick and convenient way to measure or verify pump flow rates, chemical dosing, or chemical feed systems with higher accuracy. Designed for precise, efficient testing with a variety of installation options, they feature all-PVC construction for a wide range of liquids. They are pressure rated to 75 psi, and a 60-second test period provides superior accuracy to shorter test periods.
Plast-O-Matic
Wedge gate valve
Mueller Co. has redesigned the flanged (FLxFL) end connection type in the 350-psi resilient wedge gate valve product offering. Using the same bonnet and body design as the mechanical joint type, the new redesigned FLxFL end connections are now available in sizes 4"-12" with the A-2361, P-2361, and T-2361 models. These valves comply with AWWA C515 standards and are UL listed, FM approved for 350 psi working pressure. These valves are designed to address the growing demand of increased pressure applications.
Mueller Co.
Check valve
The newly engineered Style 790 check valve from Proco Products is one of the lowest headloss valves on the market today. Its unique design provides rapid dispersion of head pressures and low cracking pressures prevent upstream flooding. The Style 790 is an elastomeric valve suitable for municipalities, airport runway runoffs and railway washouts. Many types of elastomers are available making the 790 valve compatible with virtually all service conditions. Proco's standard Neoprene elastomer is offered with a fungicide-, algae- and barnacle-resistant compound that prevents internal foreign growth, thus reducing maintenance costs.
Proco Products Inc.
Heavy-duty covers
CST Industries has installed over 350,000 tanks and 18,000 covers in more than 125 countries. CST is home to world-class brands including Aquastore®, HydroTec® (formerly Columbian TecTank®) and OptiDome®. CST's aluminum domes, flat-panel covers and reservoir covers are versatile enough to permit a wide range of accessories important to the water and wastewater industry. CST tanks are available in bolted and welded designs, capacities of 4,000 to 6,000,000+ gallons, and in-ground, standpipe or elevated configurations. CST tanks and covers are manufactured in U.S. ISO-certified facilities and supported by service teams worldwide.
CST Industries Inc.
Smart infrastructure solutions
Aclara provides end-to-end smart infrastructure solutions (SIS) to more than 800 water, gas, and electric utilities globally, offering a single point of contact from initial planning to implementation and beyond. Aclara's solutions portfolio includes meters and edge devices, advanced metering infrastructure (AMI), headend and consumer engagement software, installation services, and provision of labor and data analytics to equip operators with the actionable intelligence needed to manage their distribution networks.
Aclara
Turbidimeters
The EPA-approved TU5 Series platform employs a patented optical design that sees more of your sample than any other turbidimeter, delivering the best low-level precision and sensitivity while minimizing variability between measurements. For the first time, you will be able to remove uncertainty about which measurement to trust between your lab and process instruments, thanks to identical 360° x 90° Detection Technology in any TU5 Series turbidimeter.
Hach
Wireless hydrant pressure monitoring
Trimble Unity software combined with Telog wireless hydrant pressure recorders provide a GIS-centric cloud and mobile platform for monitoring system pressures, transients and trends, and min, max and average pressure history at any user-defined interval. Hydrant pressure recorders can store data internally for many months, wirelessly transmitting on a defined schedule, and provide alerts and alarms in response to pressure faults or transients, delivering a complete solution for proactive pressure and leakage monitoring and management.
Telog, A Trimble company
Chlorine system
Designed via feedback from actual field users, Constant Chlor® Systems from Lonza are the versatile solution for effective, easy-to-use sanitizing and disinfecting. Using patented spray technology, Constant Chlor® feeders dissolve Constant Chlor® Plus Briquettes from the bottom of the hopper, delivering a consistently accurate dose of liquid available chlorine. Both the feeder and the briquettes are NSF listed for use in drinking water applications. Constant Chlor® Systems: Your calcium hypochlorite alternative to gas and liquid bleach products, providing outstanding solution consistency.
Lonza Water Treatment
Cordless power pipe beveler
Portable and great for field work, Reed's adjustable beveler with cordless power deburrs and bevels plastic pipe. Using an adjusting knob and guide plate, the tool adjusts to cut 0" to 5/8" long, 15° bevel on 2" pipe and larger. It is used for most PVC glued joints and some sizes of bell and gasket joints. The CPBKIT cordless power pipe beveler consists of the beveler attachment paired with a powerful 18 V cordless die grinder with a 4.0-amp hour lithium-ion battery. The grinder runs at 22,000 RPM. Ideal for large diameter plastic pipe.
Reed Manufacturing
Ion exchange system
The MIEX Mini from IXOM Watercare is a packaged ion exchange system that uses MIEX® resin to remove targeted species from water and wastewater streams in low-flow applications. The MIEX® Mini allows for fluidized upflow treatment and downflow in situ regeneration, all in a single vessel to minimize equipment costs. With standardized treatment modules offered from 50 to 500 GPM capacities, low installation and operating costs, and a small footprint, the MIEX® Mini is the perfect size for most low-flow applications.
IXOM Watercare