New Products
New products involved in the water industry
May 1st, 2017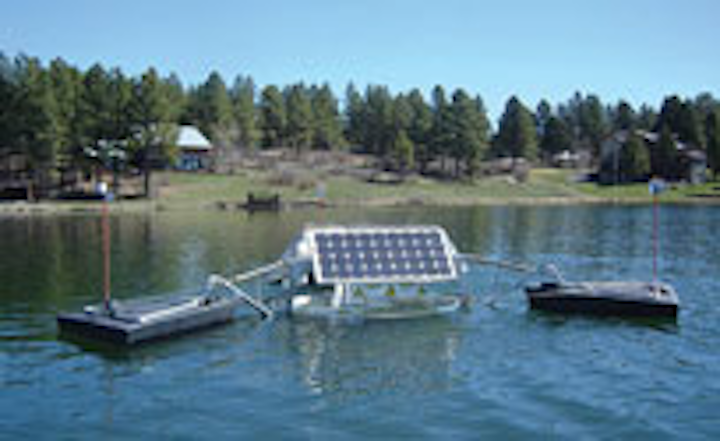 Lake circulators
Cyanobacteria blooms decrease available recreation days, create taste and odor issues, and can emit dangerous cyanotoxins without warning. SolarBee® Lake Circulators are a consistently successful lake management strategy for cyanobacteria (blue-green algae) bloom mitigation and overall lake water quality improvement.
Medora Co.
Continuous flow syringe pump
Teledyne Isco's Demi 2510S is a continuous flow syringe pump that boasts a small footprint and active valves. It was built for users seeking to upgrade to a continuous flow syringe pump as an alternative to the pulsing flow of a reciprocating pump. Small footprint of 10 inches by 12 inches. This is especially beneficial for customers that need to capitalize on limited bench space. The Demi is accurate (± 1.0%) and features dependable flow rates up to 10 mL/min at 173.6 BAR (2,500 psi). Thus, a flow meter is not required.
Teledyne Isco
Valve handbook
GF Piping Systems has introduced a comprehensive, 200-page Valve Technical Handbook that provides a valuable new resource for customers seeking detailed valve information in an all-inclusive document. Over 20 manual valves and 22 actuated valves in a variety of styles are covered. These include ball, 3-way-ball, diaphragm, butterfly, check and angle seat valves, as well as pressure regulating valves and rotameters. The full-color handbook is available in both digital and print format.
GF Piping Systems
Check valves
ANVER's line of CheckVac Valves feature a low 0.17 psi cracking pressure with flow rates up to 63 CV and a one-piece shell to eliminate leaks. Unlike pressure check valves, they optimize system performance by not wasting the pump's power opening stiffer springs, resulting in up to four times better flow. Designed for vacuum clamping, lifting and holding applications. Made from a leak-free, seamless, one-piece anodized aluminum body with a smooth bore and have a plastic valve element with a specially tempered stainless steel spring and an O-ring seal. Offered in 1/4" through 2" NPT sizes.
ANVER Corporation
Curved bill check valve
The Tideflex® TF-1 Check Valve from Red Valve features a bill that is formed into a curve that returns to a closed position every time, achieving the tightest possible seal for backflow operations, particularly at low flow rates. The eccentric, flat-bottom design allows installation where the invert of the pipe is close to the floor. The stronger engineered spine provides long-term performance while handling water weight.
Red Valve
Conductivity datalogger
Solinst Canada's latest release in its datalogger series is the LTC Levelogger Edge, which is a compact instrument that provides reliable datalogging of water level, temperature, and conductivity. It offers a number of upgraded features including an eight-year battery life, memory for 27,000 sets of readings, higher accuracy, six pressure ranges, and a titanium ceramic PVD corrosion-resistant coating.
Solinst Canada Ltd.
Interface level switches
The Type CL-10DJI, Dynatrol® Interface Level Switch has been designed for level detection of interfaces between a liquid and a settled bed of solids. The DJI Interface Detector operates successfully with consistent results on applications such as carbon/water interface, sand/water interface, catalyst/liquid interface, steeping processes, and other selected applications including interface detection between liquids of significant viscosity differences. Reliable operation can be achieved with this control in problem applications where the level of solid material is difficult to detect within a specified liquid. The DJI Interface Level Switch is approved for Class I, Group D; Division 1 service.
Automation Products Inc. – DYNATROL Division
Flow switch
The FlexSwitch® FLT93 Flow Switch from Fluid Components International reduces pump repair and extends pump life by detecting dry running conditions. FCI's dual alarm FLT93 Flow Switch reliably monitors the flow and temperature of liquids, gases, slurries and more. It is ideal for pump wet/dry detection. With its no-moving-parts design, it offers a highly robust scheme for pump protection with its dual alarm capability. It is a dual-function instrument that indicates both flow and temperature, and/or level sensing in a single device. Dual 6A relay outputs are standard and are assignable to flow, level or temperature.
Fluid Components International
Emergency shutdown valves
Assured Automation's ESD Series Emergency Shutdown Valve features a resettable thermal shutoff, making it simple to test a complete shutoff and reset, eliminating the need for stroke testing. ESD tests are required by the Pipeline and Hazardous Materials Safety Administration. The valves include 150F/300F fire-safe flanged ball valve designed to the API 607-5 standard in stainless or carbon steel, in sizes from 1/2" to 8"; F Series spring return pneumatic actuators; explosion-proof solenoid valve; and FM-approved FireChek® (a testable and resettable thermal shutoff). The assembly is available for actuation temperatures of 135°F, 150°F or 165°F.
Assured Automation
BIM design and CAD library
Asahi/America now offers building information modeling (BIM) design files through its website. Engineers, estimators, and designers can easily download BIM and CAD files through the company's online catalog. The new library contains approximately 1,000 BIM files for Asahi/America's most popular manual valves including the Type-57 butterfly and Type-21 ball valves. BIM files for the company's Air-Pro® compressed air piping system are available also. BIM software platforms include Revit® MEP, AutoCAD® MEP, and CADmep™. Supported CAD software platforms include AugtoCAD®, Pro/ENGINEER®, Catia®, SolidWorks®, and Solid Edge®.
Asahi/America Inc.
Air operated double diaphragm pump
IWAKI Air is proud to introduce the 2" TC-X500 Series Air Operated Double Diaphragm Pump. The pumps can operate with variable air pressures and are suited for both start/stop and fully continuous duty pumping applications. They can easily handle high pressure and long discharge lines. An ideal choice for the safe transfer of a limitless variety of liquids across many industries: corrosive chemicals, liquid slurries, abrasive particle slurries, viscous liquids, fuel, oils, glues, inks, and flammable liquids, just to name a few. Maximum flow rate is 190.2 GPM (720 LPM), maximum discharge head is 280 ft. (85 m). Available in: stainless steel, aluminum, polypropylene, PVDF (Kynar®).
IWAKI Air
Satellite-based connected worker solution
Honeywell's new satellite-based connected solution helps governments, companies and other organizations monitor the location and safety of workers in remote locations. Personal Tracker utilizes Iridium's low-earth orbit satellite network. It can be used as a stand-alone, two-way communications device or can be clipped to a backpack to serve as a tracking beacon. It can also be paired with an iPhone so that users can access a Honeywell mobile app that offers features such as interactive SOS, messaging, push notifications, trip information and situational awareness. With Iridium's two-way communication capabilities, even when used as a stand-alone alerting and tracking beacon, the Personal Tracker can receive location requests and configuration updates.
Honeywell
Process control
The BLH Nobel brand of Vishay Precision Group released a new firmware upgrade, revision v1.3.0, for its G5 Series measurement amplifiers. Originally launched in February 2016, the new firmware upgrade offers: added flow rate (weight by rate) calculation capabilities; added diagnostic functionality; added excitation current measurement and supervision capabilities; updated Fieldbus data mapping; and added EtherNet/IP interface, using an optional installed module in the G5 Series Fieldbus slot.
BLH Nobel
Ball check valve
Flomatic Corporation's new Model 408S6 Ball Check Valve meets AWWA standard C508 check valve flanged to flanged lay lengths. The Model 408S6 valve body features a 316 Stainless Steel body and access port. These valves are designed to meet demanding wastewater and stormwater pumping applications. They are available in a 4" size and other sizes will be available in the future. The Model 408S6 meets the standards as set forth in the Consolidated Appropriations Act of 2014 (i.e., American Iron and Steel [AIS]).
Flomatic Corporation
Microwave switch
The Gladiator Microwave Switch from Hawk Measurement provides a high-power circular polarized microwave pulse that is emitted from the sending unit to the receiving unit in a transmission chain of approximately 100 pulses per second. Used in water and wastewater treatment facilities to detect potential blockage, barrier and machine detection, and detection of sludge between two points. The G1 allows for better penetration and product build up.
Hawk
Glass/porcelain enamel coating line
Tank Connection's new glass-fused-to-steel tank panel line expansion features AQUA Advanced Glass Technology (AGT) 2020™, designed to address all deficiencies with consistent production quality. AQUA AGT 2020™ is formulated to provide superior, long-term field performance in water, wastewater and industrial liquid storage applications. AQUA AGT utilizes a two-furnace fire application, which represents the best process for firing high-quality porcelain enamel.
Tank Connection