New Products
New products involved in the water industry
Mar 1st, 2017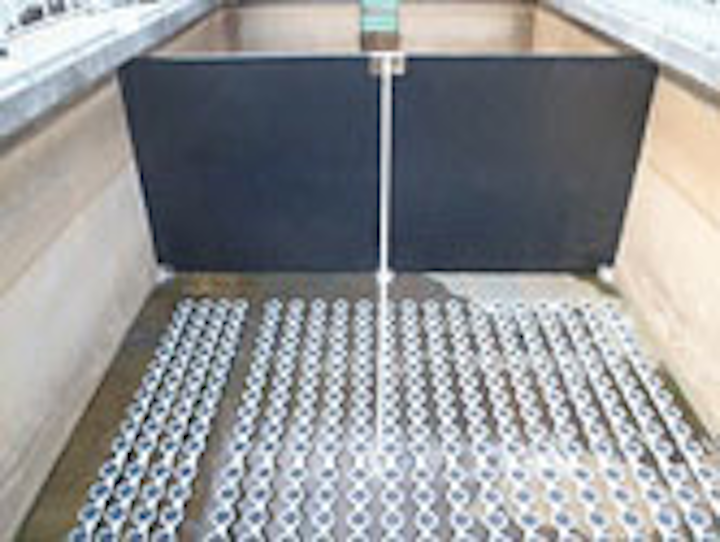 Tank baffles
Director™ II Tank Baffles from Environetics are designed for tank-based waste treatment operations. The baffles are custom manufactured from heavy-duty reinforced geomembrane materials to improve flow patterns in new or existing circular or rectangular tanks. Director™ II is a cost-effective upgrade for activated sludge systems to provide dramatic savings in energy costs by reducing power requirements.
Environetics Inc.
Analyzer kit
The Thermo Scientific EPA 8270D analyzer kit enables environmental monitoring laboratories to rapidly implement U.S. EPA Method 8270D for the determination of semivolatile organic compound concentrations in drinking and wastewater. The new kit delivers simple separations on a single CG column. Consists of pre-developed and validated methods; a user guide for aided implementation of the method under either the Thermo Scientific TraceFinder Environmental and Food Safety (EFS) software or the Thermo Scientific Chromeleon Chromatography Data system (CDS) software; a TG-5MS GC column; and other related materials to reduce the amount of time and effort required for method development and implementation.
Thermo Fisher Scientific
Electric actuators for continuous underwater use
A new version of AUMA's proven SA and SAEx multi-turn actuators is suitable for continuous underwater use. A universal sealing system combined with comprehensive corrosion protection qualifies these actuators for underwater use. Double-sealed cable glands at the electrical connection, inner seals - some in pairs - on all housing covers, and a one-piece solid shaft effectively prevent the ingress of water. The actuators are qualified for up to 15 m head of water, with higher heads of water available on request. Torques from 10 Nm to 1,000 Nm are covered.
AUMA
Density measurement
The Dynatrol® Density System offers accurate and quality measurement of density, specific gravity, percent solids or percent concentration in-line or in vessels. The Density cells come in a full range of corrosion-resistant materials that are both weathertight and explosion-proof. They also serve broad temperature and pressure ratings - with no moving parts for long operating life. Applications may include magnesium hydroxide, caustic soda, soda ash, alum slurry, ferric salts, sulfuric acid, lime slurry, flocculants, etc., in power plants, chemical plants, paper mills or municipal water treatment facilities.
Dynatrol
Transmitters with radar sensing technology
GF Piping Systems has expanded its automation product line with two new level transmitters. Radar Level Transmitter Type 2290 features non-contact radar technology in a compact, economical unit. Available in a variety of different materials to resist even the most corrosive environments, the 2290's tank-mapping function makes it easy to block out objects like internal pipes, welding seams, stirrers or heating elements. Radar Level Transmitter Type 2291 is designed for continuous level measuring of conductive or non-conductive liquids, pulps or solids and maintains consistent measurement even under extremely tough conditions like turbulent process vessels.
GF Piping Systems
Deluge fire valves
Singer's three new fire valves include: Electronic Operated Deluge Valve, Pneumatic Operated Remote Control Deluge Valve and the Electric Pneumatic Operated Deluge Valve. These valves are built to last with stainless-steel seats and fasteners and are heat-fused with a red epoxy coating. Coupled with Singer's SRD technology, these valves last longer than flat diaphragm valves and have more flexibility in sizing. Deluge Valves are available in globe style 3"-8" (80-200 mm) and are ANSI class 150 with 300 flanges and grooved ends. These deluge valves automatically open to fill the fire protection system very quickly.
Singer Valve
Water management services, solutions
Hitachi Consulting Water Management Solutions tailor water management services with an approach that includes detailed assessments, leading technologies and equipment implementation, as well as water management intelligence systems, and ongoing management and maintenance. Solutions include: water and chemical monitoring, pH management, treatment solutions; infrastructure, process/behavior and Key Performance Indicator (KPI) solutions; metering infrastructure, information management, plant KPI dashboards; cleansing and remediation, recycling and reuse, membrane solutions; plant infrastructure, treatment solutions, waste management; NPDES permit management, risk avoidance FMEA, OpEx/CapEx reduction; and on-call service engineers, replacement part ordering, annual equipment evaluation, and ongoing management and maintenance.
Hitachi Consulting
Pressure monitoring
The Hydro-Guard® pressure monitoring system provides water professionals with pressure data throughout the distribution system and near-time alerts when conditions change. Often installed in district metering areas (DMAs), pressure zones, water tanks, or system interconnects, this innovation from Mueller Co. can be integrated with existing SCADA systems, assists with hydraulic model improvements, and supports rapid decision-making.
Mueller Co.
Ultrasonic meter
Badger Meter's newest addition to the family of E-Series® Ultrasonic meters is the E-Series Ultrasonic Plus with Integrated Shutoff Valve. Offering all the benefits of the original E-Series meter, the Ultrasonic Plus features a patented flow restriction valve that supports open, closed and partial closed settings. It allows water utilities to actuate the valve remotely through BEACON® AMA software to temporarily restrict water service safely and efficiently. A permanent seal maximizes field life through a patent-pending, magnetic-coupled valve. And, because of the meter's flexible, tamper-proof modular design, utilities can install the meter first and the valve later.
Badger Meter
Digital data collection
The WaterTrax Mobile app has been designed to collect data on a mobile device at the source. Improve data collection efficiency by eliminating redundant and manual data entry and reporting processes. With WaterTrax Mobile, once data is entered in the field using any mobile device, the data is synced and available in the WaterTrax database. Alerts are triggered through the app if sample results have issues, letting those in the field and in the office know in real time if there are potentially any water quality issues. WaterTrax Mobile eliminates transcription errors with single data entry while protecting data integrity.
WaterTrax
Pocket water meters
The new and improved Oakton® EcoTestr™ pH2+ and CTS pocket testers offered by Cole-Parmer provide more user-friendly options for better results. The Oakton EcoTestr pH2+ Pocket Meter has an expanded 4-digit, dual-line display that shows pH and temperature simultaneously. The Oakton EcoTestr CTS Pocket Meter is now a 3-in-1 tool that can measure conductivity, total dissolved solids and salinity. The expanded 4-digit, dual-line display shows the parameter and temperature simultaneously. The meter also has single-point calibration. Both testers have a larger display with a better viewing angle and a more intuitive interface than previous models.
Cole-Parmer
Rotary lobe pumps
The full service-in-place TORNADO® T2 rotary lobe pump from NETZSCH is designed for the various sludge conveyances in sewage treatment plants. Removing the cover plate on the TORNADO T2 allows quick and easy access to the pump chamber. The rotors can be removed and replaced easily and quickly because they are not bolted or keyed to the shafts inside the pump head. The rotors' geometry allows their independent removal without the need for special tools. With the full service-in-place design, the TORNADO T2 saves time and costs in sewage treatment, ensuring conveyance can continue as quickly as possible after necessary downtime.
NETZSCH
High performance pipe
HPXR™ 75 pipe from Advanced Drainage Systems provides heightened levels of stiffness, is available in a range of sizes, and yields significant cost benefits. The design of the pipe incorporates a corrugated polypropylene pipe with a smooth outer wall that incorporates oriented fiberglass reinforcement, creating a pipe with increased stiffness and installation performance. Available in diameters ranging from 30 to 60 inches, and 13 and 20 foot lengths. HPXR 75 will allow for a broad range of backfill materials and installation conditions, reducing costs while increasing installation speed with confidence of consistent line and grade.
Advanced Drainage Systems
Plug-in current transformers
WAGO's Plug-in Current Transformers with CAGE CLAMP® Connection measure AC currents in 230 V, 400 V and 690 V low-voltage mains. The current transformer can be loaded with up to 120% of the nominal current, allowing you to measure peak currents without damaging the transformer. The current transformers of accuracy Class 1 and Class 3 can be mounted on either round cables or current bars. Plug-in Current transformers are equipped with the vibration-proof and maintenance-free CAGE CLAMP® connection. The output is accessible from two sides, allowing the conductor to be easily terminated even in space-restricted applications.
WAGO
Conductivity datalogger
Solinst Canada Ltd.'s Model 3001 LTC Levelogger Edge is a compact instrument that provides reliable datalogging of water level, temperature, and conductivity measurements. The product offers a number of upgraded features over previous LTC versions, including an 8-year battery life, memory for 27,000 sets of readings, higher accuracy and 6 pressure ranges. It also features a titanium ceramic PVD corrosion-resistant coating and a 3-year warranty. The 4-electrode platinum conductivity sensor has a wider calibrated conductivity range, with autoranging from 0 to 100,000 μS/cm.
Solinst Canada Ltd.
Admixture for concrete
KALMATRON® KF-A is a powder added to concrete mixes. It alters the interior structure of concrete, providing liquid and vapor impermeability, and works in a wide variety of temperatures up to +400°C without failure or cracking. It works as a water reducer during mixing and pumping; a plasticizer during transportation and placement; a shrinkage-controlling and curing compound during setting time; a strength gainer and impermeability performing agent during hardening time; and a rebar corrosion inhibitor during batching. Safe for use with drinking water and food containing structures.
KALMATRON
Rechargeable flashlight
The new INOVA® T10R™ Rechargeable Tactical LED Flashlight and Power Bank from Nite Ize® is able to project a beam more than a quarter mile for up to six hours. The T10R is rechargeable, shockproof, crushproof, water resistant, and is also a power bank charging source. With an aerospace-grade aluminum body and Type III mil-spec, hard-coat anodized finish, the T10R is extremely durable, making it ideal for professionals working in harsh conditions.
Nite Ize
Secure, rugged tablet
DT Research has released enhancements to its DT311 rugged tablets, including integrated hardware-software encryption capabilities with a secure camera option to address data security and image transmission vulnerabilities during field operations. The tablet protects utility companies with removable encrypted data and camera security to guard against data loss or theft and control unwanted image transmission.
DT Research