Product Showcase
Collection of new products of special interest to the municipal water and wastewater markets
Jan 1st, 2017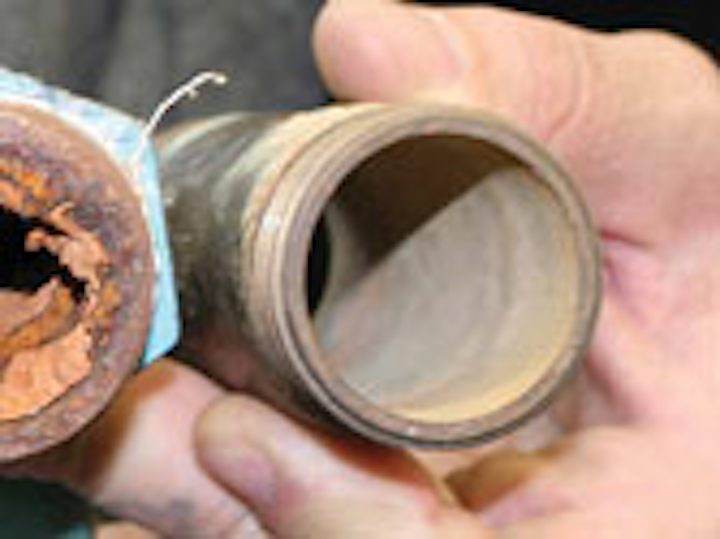 Pipe protection
Folmar™ Pipe Protection from Great Water Tech is a proprietary, silicate-based mineral solution that prevents corrosion, scale, metal leeching, and the formation of disinfection by-products (DBPs) throughout all levels of water infrastructure. The formulation creates an ultra-thin, super-hard glass layer on the interior of the pipe wall, which separates the metal and water. In addition to preventing corrosion and contamination, Folmar™ Pipe Protection fills and seals small cracks and crevices, maintaining the integrity of the piping system.
Great Water Tech
Level meters
The Water Level Meter 100 and 200 from In-Situ include static and drawdown modes, allowing users to switch from static level readings to drawdown mode for low-flow and pump tests. The IP68-rated probe can be submerged in depths of up to 300 meters (1,000 feet), and features a safety disconnect, allowing the probe to be released if it gets trapped. The quick-connect probe can then be easily and reliably replaced in the field; there's no need to send the meter in for repair. The 100 model has Kevlar-reinforced polyethylene tape and is laser engraved, while the 200 model uses ASME-certified high-tensile steel tape encased in a polyethylene jacket.
In-Situ Inc.
Level control options
Singer Valve's LCP-TP Single Process Level Controller is designed to complement Singer's Single Solenoid Operated/Override Control Valves and sensor. This combination package is ideal for filling any kind of tank with water that requires filling to a level setpoint and then drawing down the level of the tank to a secondary setpoint before activating the fill cycle again, which ensures tank turn over. The controller is programmed with customized level control algorithms and offers both local control via interactive display or remote control via 4-20 mA or Serial Modbus SCADA communication.
Singer Valve
Pressure relief valves
A.Y. McDonald has added 100 PSIG pressure relief valves to its line of relief valves in 3/4", 1" and 1 1/4". The line currently includes pressure relief valves 1/2" through 2" factory set to open at 30 PSI, 1/2" through 1" valves set to open at 75 PSIG, and 1-1/4" through 2" valves set to open at 65 PSIG. Accidental sticking of the pressure switch can cause the pump to develop pressure that could burst the tank but with the installation of an A.Y. McDonald pressure relief valve, this scenario is no longer a concern.
A.Y. McDonald
Wireless, battery-powered water monitoring
Trimble's Telog® 41 Series of wireless, battery-powered sensors for water monitoring applications are Internet of Things sensors that use innovative, low-power, Long-Range (LoRa® technology) wireless communications to remotely measure and monitor water, wastewater and groundwater systems including water pressures, flows, levels and rainfall volumes. The sensors work in combination with Telog cloud-hosted and on-premise software to allow utilities to more easily and economically deploy wireless monitoring. The sensors extend across a utility's existing monitoring programs for better tracking, measurement and reporting of water usage, sanitary and combined sewer overflows (CSO/SSO) and flooding, leakage and non-revenue water (NRW).
Telog
Coupling with split rubber element
ABB introduces the Dodge Raptor coupling that features patented WingLock™ technology, a finite-element optimized winged elastomeric design that provides longer driven equipment life and increased reliability. WingLock technology increases surface area at the most critical regions of the element, resulting in higher bond strength, improved fatigue resistance, and up to 5.9 times longer life than competitive urethane designs. A non-lubricated flexible natural rubber element yields up to 50% lower stiffness, resulting in improved vibration damping, and industry-leading misalignment capabilities. For reduced maintenance, the Raptor offers a split element for easy installation and replacement without moving or re-aligning connected equipment.
ABB