New Products
New products involved in the water industry
Aug 1st, 2017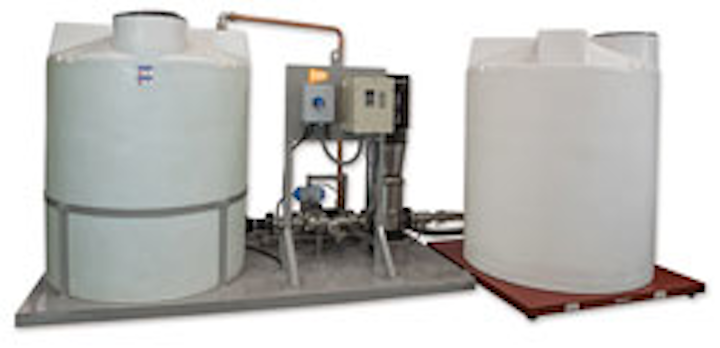 Recirculating system
Ford Meter Box introduces the AMS Test Bench Recirculating System. Designed to reuse water through the use of a two-tank system, the Ford Recirculating System seamlessly integrates to any Ford AMS Meter Test Bench. Traditional water meter testing sends all the water down the drain after the tests are complete. Ford's recirculating system eliminates this lost water by constantly recycling test bench water. This system provides a constant and steady flow for accurate tests.
Ford Meter Box
Metering data software
MARS Company has launched a new, enhanced version of M3 Enterprise Software Suite, the enterprise-grade software solution designed specifically for the waterworks industry. It provides both new and existing customers with the ability to capture valuable meter testing data based on their individual meter testing programs. Custom reporting, extensive data exporting features, and browser-based access allow multiple departments to have the power of data analytics to improve customer service, implement operational improvements, and make informed purchasing decisions. Enhancements include: system performance improvements for increased speed and efficiency, enhanced operational control for the mobile truck mount system, and comprehensive data export capability.
MARS Company
Rotary vane valve actuator
K-TORK vane actuators from Rotork are rotary actuators that do not require the conversion of linear to rotary motion. They are capable of delivering high-torque output and are suitable for a wide variety of water and wastewater treatment applications. Available in both double-acting and spring-return configurations, they can operate ball, butterfly, or plug valves as well as many other mechanisms, such as dampers, that require a 90-degree rotation. The compact design centers the actuator over the valve, eliminating side-load stress on the valve.
Rotork
Stormwater treatment device
The PerkFilter™ media filtration system for stormwater treatment from Oldcastle Stormwater is a media-filled cartridge filtration system where the number and size of cartridges is tailored to accommodate the water quality flow rate and to meet the specific needs of the project site. Each standard 18"-tall PerkFilter cartridge can treat up to 18 gallons per minute (gpm) of stormwater runoff. The system uses physical and chemical treatment processes such as sedimentation, filtration and sorption to remove TSS, metals, nutrients, gross solids, trash, and debris as well as petroleum hydrocarbons to reduce total pollutant discharge in stormwater runoff.
Oldcastle Stormwater, a division of Oldcastle Precast Inc.
Chlorine analyzer and controller
De Nora's Capital Controls® MicroChem®3, is a multi-parameter water analysis system offering both measurement and control of chlorine-based compounds and other critical elements in one instrument that can be tailored to individual applications. Features include a color touchscreen display, menu-driven software for seamless set-up and operation, and a USB interface for software updates and data log downloads. It can be used in conjunction with De Nora's range of wet ends to measure and control any combination of chlorine, chlorine dioxide, pH, ORP, and conductivity.
De Nora
Water quality testing
Because no two applications are exactly the same, Myron L® Company's 900 Series Monitor/Controller's suite of signal inputs can be configured to display a variety of measurement types: conductivity, resistivity, salinity, TDS, pH, ORP, temperature, mVDC, flow, pulse and % rejection are all available. The 900 Series includes a 4-20 mA current loop, two-wire transmitter input that can be defined and scaled to display measurements how you need them displayed. A 3.5" resistive, touchscreen can be configured to display information for up to four different inputs simultaneously, each displaying a different measurement type.
Myron L® Company
Data transfer device
The DataGrabber is a simple, portable device that transfers data from Solinst water level dataloggers in the field to a USB memory key. It uses one 9 V battery to operate, features one push-button operation, and an LED light to indicate status. Downloading does not erase the data from memory, and logging is not interrupted.
Solinst Canada Ltd.