Product Showcase
Nov 1st, 2011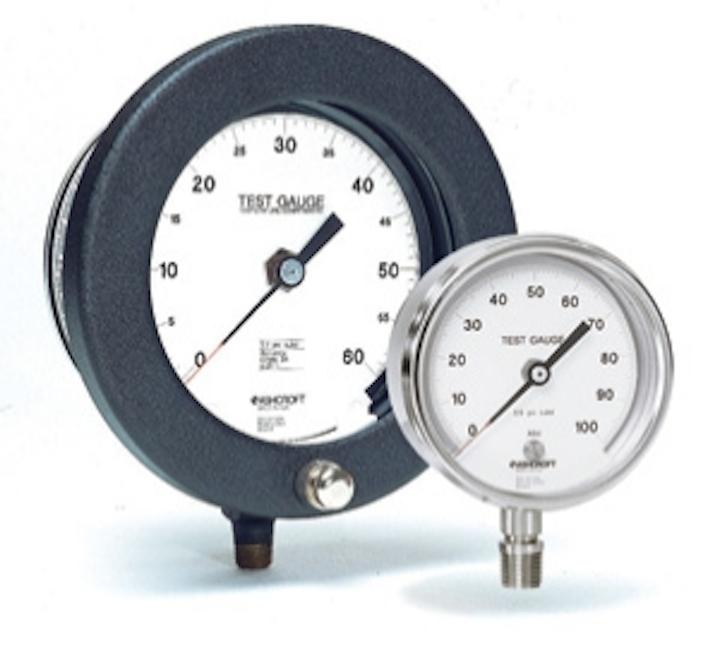 Master gauges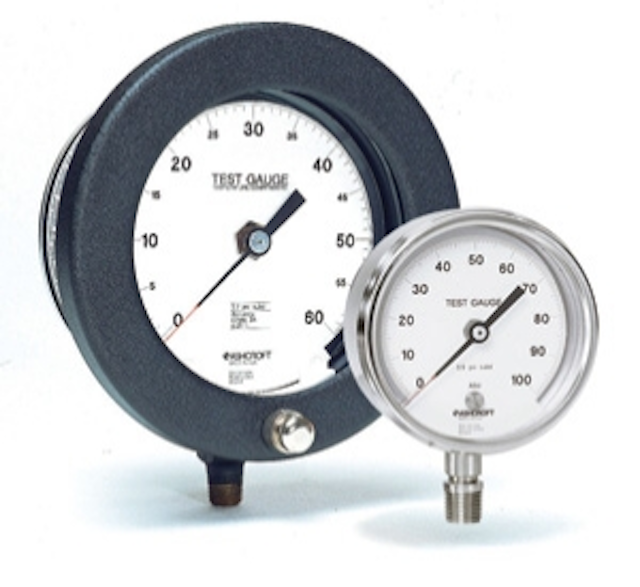 When testing or certifying pressure monitoring devices, the calibration is only as good as the master instrument used for comparison. Ashcroft has engineered the Type 1082 and 1084 test gauges for sustained accuracy and high reliability. Available in 4 ½", 6" and 8 ½" diameters, the Type 1082 boasts +/-0.25%FS accuracy in ranges from vacuum through 10,000 psi. An external zero adjuster, temperature compensation and Monel® wetted parts ensure precision and media compatibility. For field calibration, the 3" Type 1084 "pocket" test gauge is the smallest portable master gauge available, covering ranges to 1000 psi with 0.5%FS accuracy.
Ashcroft Inc., www.ashcroft.com
---
Communications Drivers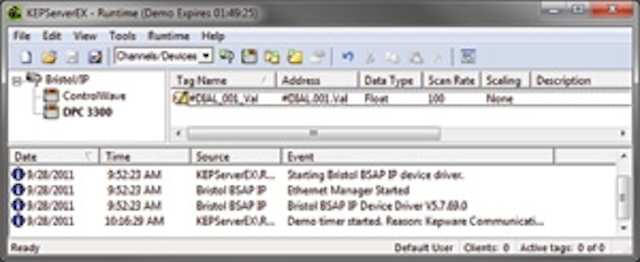 Kepware Technologies has released the new Bristol/IP driver, developed through a collaborative effort with Bristol Babcock. The driver runs on Kepware's KEPServerEX communications platform providing interoperability, centralized communications, On Demand scalability and industrial strength. The driver communicates with ControlWave Micro Series (CWP/LPS/CWR 02.00 or above firmware) and Network 3000 Series (DPC 33xx Models) controllers.
Kepware Technologies,
www.kepware.com
---
Drinking water aeration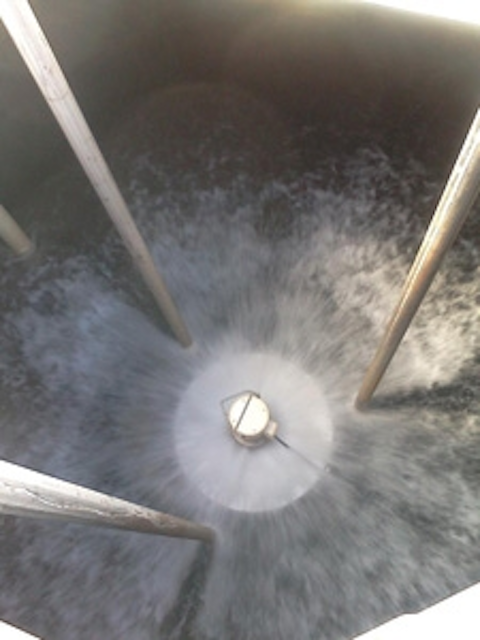 The Aqua-Jet® surface mechanical aerator, manufactured by Aqua-Aerobic Systems, has been approved by Underwriters Laboratory (UL) to meet ANSI/NSF Standard 61 requirements for use in potable water applications. The approval includes seven horsepower sizes from 1 through 15. These units are designated as model SS-PW and can be used for TTHM stripping applications or circulation in potable water treatment systems and reservoirs with a minimum volume of 100,000 gallons.
Aqua-Aerobic Systems Inc.,
www.aqua-aerobic.com
---
Ultrasonic flow meters
Sierra Instruments has introduced a new lineup of transit-time ultrasonic flow meters, the next generation Innova-Sonic® 205i and portable 210i models. New to the offering, the Innova-Sonic® 203 has been optimized for customers still looking for good performance, but needing a lower cost, less feature rich option for dedicated clamp-on ultrasonic metering. The 205i is the company's highest performing dedicated clamp-on instrument incorporating the latest developments in digital signal processing. The 210i portable clamp-on ultrasonic meter has received a complete repackaging into a smaller more light weight, hand-held configuration including new brighter display and pushbuttons.
Sierra Instruments,
www.sierrainstruments.com
---
Lateral inspection camera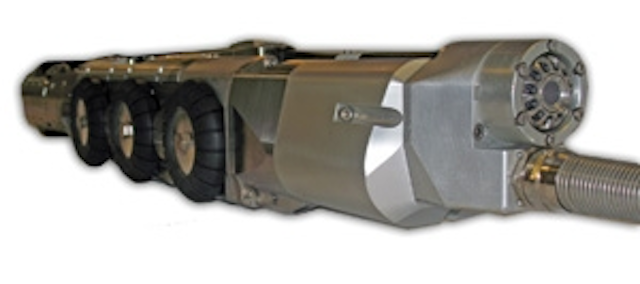 The self-propelled LAMP II from Cues is designed to perform lateral inspections while traversing the mainline. It is capable of a simultaneous pan, tilt and zoom inspection of the mainline. A new rear-viewing, color camera is now available for use with the LAMP II lateral launcher in 6" mainline and larger configurations. The rear-view camera facilitates the speed and simplification of the lateral launcher retrieval process.
Cues Inc.,
www.cuesinc.com
---
Flow monitoring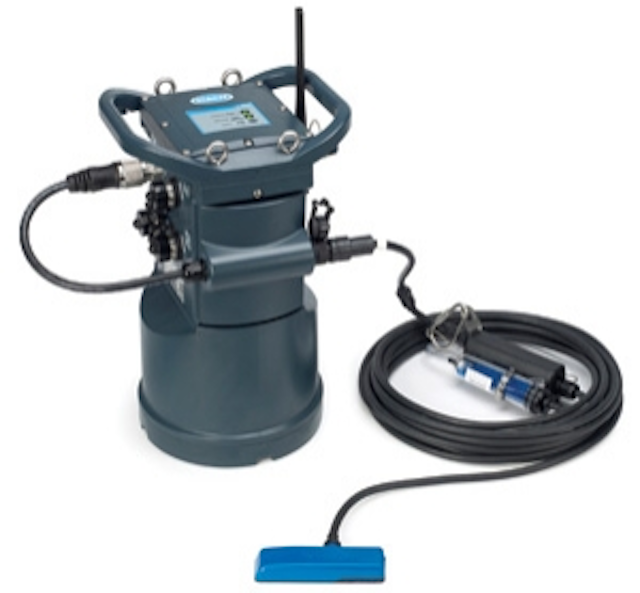 Hach has released its latest open channel flow monitoring solution, the AV9000 Area Velocity Analyzer Module for use with its Sigma Submerged Area Velocity Sensor and FL900 Series Flow Logger. The analyzer module uses advanced diagnostic tools to increase reliability and accuracy even in difficult sites such as those with non-uniform particle composition and turbulent flows. When the module is used with the FL900 Series Flow Loggers, users can easily access their flow data, set up event/alarm notifications and change meter programming via the internet 24/7 with FSDATA Flow Data Manager.
Hach Co. Flow Products and Services,
www.hachflow.com
---
Titrators
Metrohm USA has introduced the Ti-Touch, a new compact titrator for routine analysis. It is available for both Karl Fischer and potentiometric titrations. Up to 14 shortcuts can be defined for instant access to methods or routine operations. Features include a bench-saving footprint, chemical resistant housing, rugged touchscreen interface that does not require replacement films, and full network integration without a PC. Users can share methods between instruments, export secure PDFs and print to a network printer.
Metrohm USA,
---
Power winch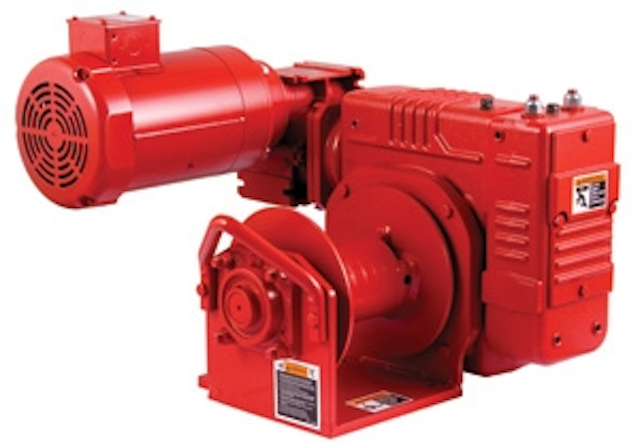 Thern has introduced the Atlas II Series power winch. With its lightweight cast aluminum body, the compact winch is designed to provide the durability and portability necessary to accommodate a broad range of wastewater applications and requirements. The two-ton load capacity is ideal for lifting mixers and pumps when installed on the company's 5PT30 Series transportable davit crane. Once raised, the fully rotating mast and boom allows for positioning of the pump or mixer for service. In addition, lifting handles built onto the Atlas II frame facilitate easy attachment of lifting straps for crane mounting, worksite positioning and transport.
Thern,
www.thern.com
---
Polymer blending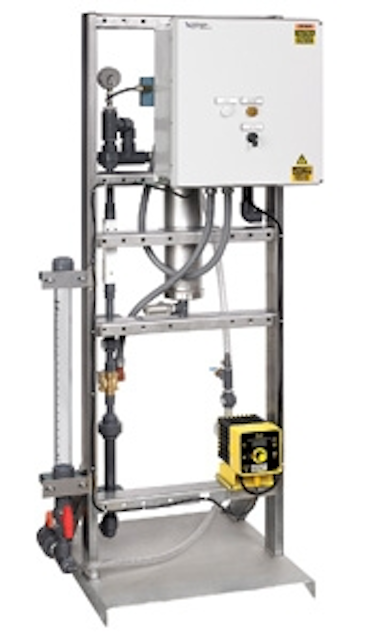 Fluid Dynamics now offers the L4-D and L6-D Series models within its dynaBLEND™ family of liquid-polymer blending systems. They are the smallest and lightest (175 lbs and 220 lbs, respectively) units in the family and feature a diaphragm pump. Both models are available in three sizes, with water dilution capacities ranging from 30 to 3,000 gph. Five diaphragm pump sizes are available with polymer flow-rate ranges from 0.02 to 8.0 gph. They have been designed to handle operating pressures to 100 psi and run on single-phase 115 vAC standard power.
Fluid Dynamics,
www.dynablend.com
More WaterWorld Current Issue Articles
More WaterWorld Archives Issue Articles