New Literature
Sep 1st, 2011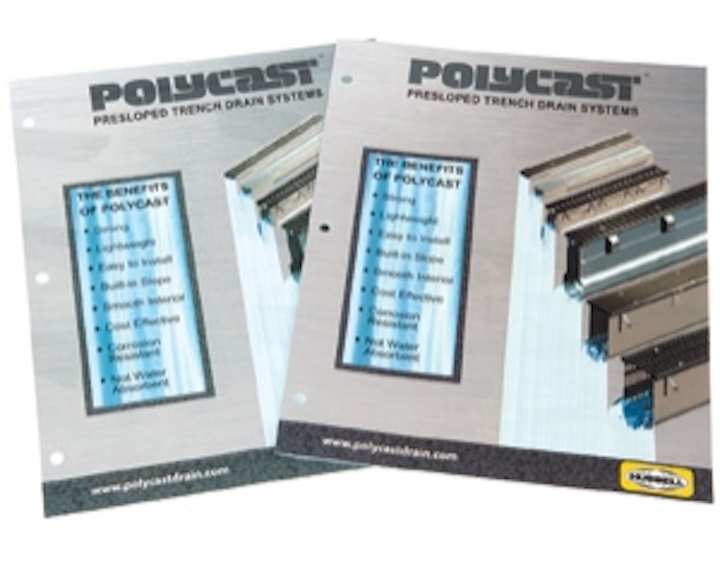 Trench drains
Polycast Trench Drain Bulletin PC-13 by Hubbell Power Systems shows the complete Polycast 400 through 900 Series Drains as well as the FP Series for long runs in concrete slabs. Bulletin PC-2 shows a comprehensive series of Polycast Drains as well as various grating designs and materials.
Hubbell Power Systems
Lenoir City, TN
Tel: 800-346-3062
Web: www.polycastdrain.com
---
Valves
Singer Valve has launched its new website, providing improved functionality for customers and sales representatives. The company's new online catalogue turns 288 pages into a simple peel-the-layers approach, helping users find exactly what they need. From that point the user can get specifications or operation manuals to print or download and place directly into a tender. Customers can even do an online quote to expedite the process. Users can also "ask a specialist", read FAQs, see real life Singer solutions in action and find out where and when the next training event will be.
Singer Valve
Surrey, BC
Web: www.singervalve.com
---
Flow, pressure monitoring
Brooks Instrument has launched a mobile version of its website, allowing users to more easily access company and product information with iPhones, Droids, Blackberry's and other small-screen mobile devices. The mobile website will enable users to quickly retrieve specific product information and documentation at any time and any place. The mobile website's content is organized into five categories: products, documentation, applications, contact us and career opportunities. Users will be able to download a variety of information direct to their phones.
Brooks Instrument, LLC
Hatfield, PA
Tel: 215-362-3527
Web: www.brooksinstrument.com
---
Water infrastructure
Wachs Water Services has launched a new website for utilities, municipalities and pipeline operators to help meet the growing challenge of managing and renewing aging water infrastructure. The website features improved functionality and a wealth of content, including case studies, articles and technical specifications that relate to the management of water network assets, including valves, hydrants and water mains.
Wachs Water Services
Buffalo Grove, IL
Web: www.wachsws.com
---
Hydraulic calculator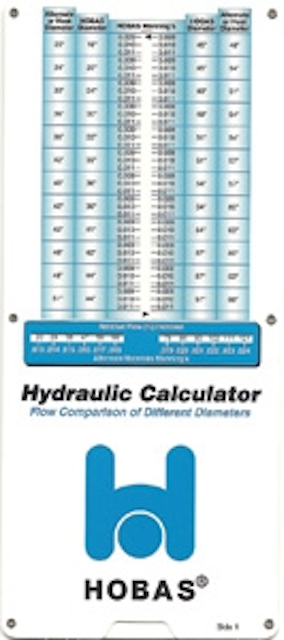 Hobas Pipe USA is offering a Hydraulic Calculator that compares flows of pipes of two different diameters. It uses the Manning's coefficient to account for various hydraulic scenarios and works for new construction or rehabilitation. This tool is provided free of charge as a quick reference guide. To request the free calculator, visit the company's website and click on the offer listed under the news section.
Hobas Pipe USA
Houston, TX
Tel: 800-856-7473
Web: www.hobaspipe.com
---
Lead in drinking water
Underwriters Laboratories has released a white paper, "An Overview of Regulations for Lead Levels in Drinking Water System Components", that examines federal and state regulations on the lead content in drinking water system components and outlines compliance options for manufacturers and distributors. While new national lead-free limits will go into effect in 2014, strict state limits and testing requirements are already in force. Manufacturers are working to bring their products into compliance by obtaining the necessary product certifications and testing services. To download the white paper, visit www.uluniversity.us/common/ncsresponse.aspx?rendertext=thoughtleadership.
Underwriters Laboratories
Northbrook, IL
---
Pump guide
PumpScout.com's comprehensive Pump Types Guide helps pump buyers determine which pump is the best fit for their job. The free, online guide includes 40 of the most popular centrifugal and positive displacement pumps used in mechanical, process and industrial applications. The guide provides descriptions of each pump as well as key features, recommended fluid, advantages and ranges for flow rates, total head and horse power.
PumpScout.com
Web: www.pumpscout.com
---
Mixing, agitation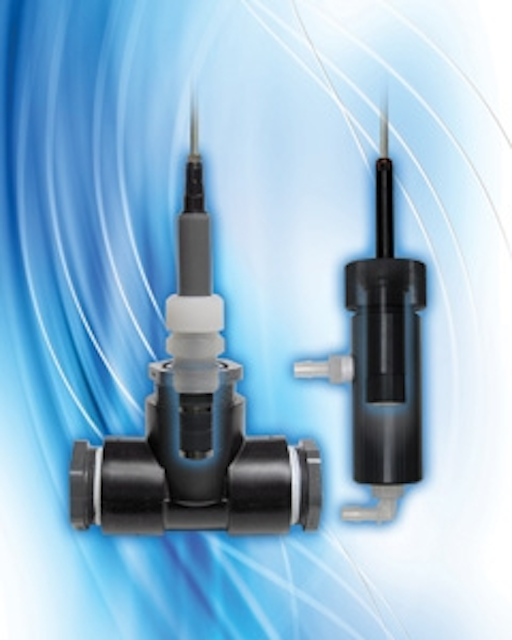 Chemineer offers a six-page brochure featuring its mixing and agitation solutions that increase productivity throughout the water and wastewater treatment processes. The company has extensive global experience in providing mixing solutions in a wide range of applications. The full-color brochure features detailed process flow charts indicating specific products for various stages of water and wastewater treatment.
Chemineer, Inc.
Dayton, OH
Tel: 937-454-3200
Web: www.chemineer.com
---
Plastic pipe
The Plastics Pipe Institute's website has been enhanced to simplify location of published engineering data, technical information and design tools. Changes enable faster discovery of available records and showcase new features including color-coded section tabs denoting PPI's Divisions which deal with specific types of infrastructure and pipe system applications. It is possible to translate most pages into various languages and to execute searches for topics using functionality that scans content from all online PPI PDF files.
Plastics Pipe Institute Inc.
Web: www.plasticpipe.org.
---
Water testing
Hach has updated its website, which now features a more powerful search, a clear and easy step-by-step checkout process for both products and services, and simpler browsing navigation. An improved search tool will help direct customers to exactly the product they are looking for. It includes the ability to filter results by parameter, product type, price and other options. Results can then be sorted based on price, best sellers and alphabetically. The new product page design includes anticipated delivery dates, documentation, videos, optional accessories and more. The site also offers suggested replacement products for obsolete parts, so customers can find comparable substitute products.
Hach Co.
Loveland, CO
Tel: 800-227-4224
Web: www.hach.com
More WaterWorld Current Issue Articles
More WaterWorld Archives Issue Articles