Geomembrane
Reinforced Polypropylene Geomembrane manufactured by Firestone Specialty Products can be used in a variety of municipal drinking, wastewater and industrial applications.
Dec 2nd, 2011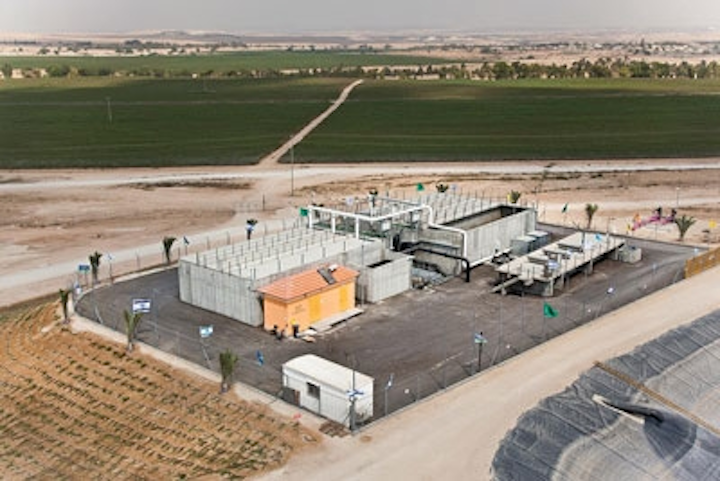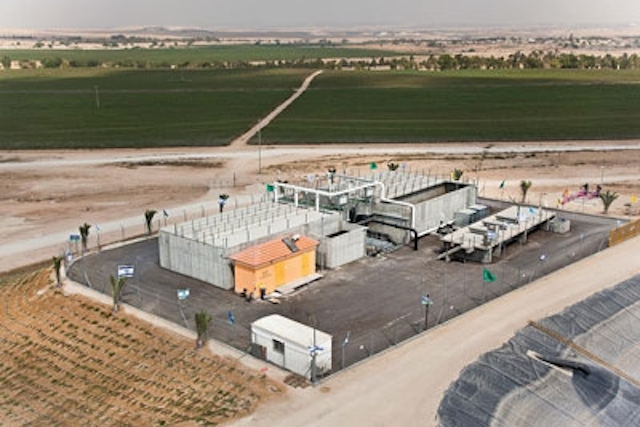 Reinforced Polypropylene Geomembrane manufactured by Firestone Specialty Products can be used in a variety of municipal drinking, wastewater and industrial applications. With a density between .92 and .94, the geomembrane is ideal in lining applications, as a floating cover or for gas capture and/or odor control. Designed with exceptional tensile strength, as well as chemical and environmental exposure resistance, the thermoplastic geomembranes protect against punctures and remain unaffected by UV, ozone and soil bacteria.
Firestone Specialty Products,
www.firestonesp.com/wwpf1
---
Hypochlorite injection system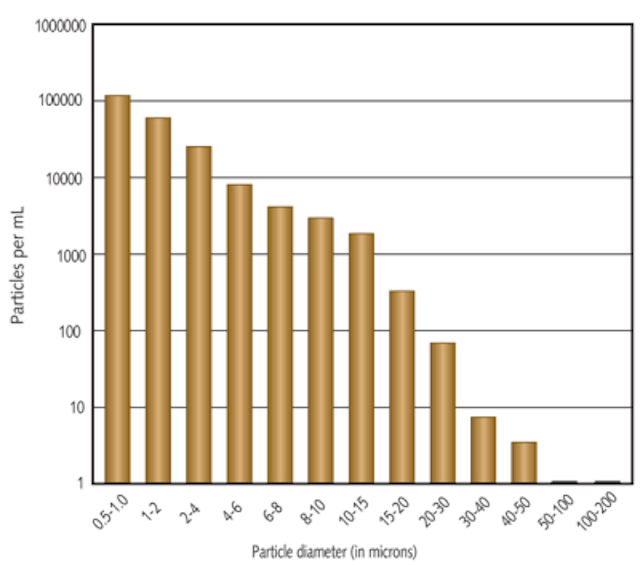 Fluid Metering has introduced the new Chloritrol™ valveless metering system for accurate injection of sodium and calcium hypochlorite. The system features a valveless duplex pump design. The first pump head is high pressure and injects the sodium hypochlorite directly into the water main. The second pump head functions to remove out-gas bubbles from the inlet side of the high-pressure pump head.
Fluid Metering Inc.,
www.chloritrol.com
---
Peristaltic tubing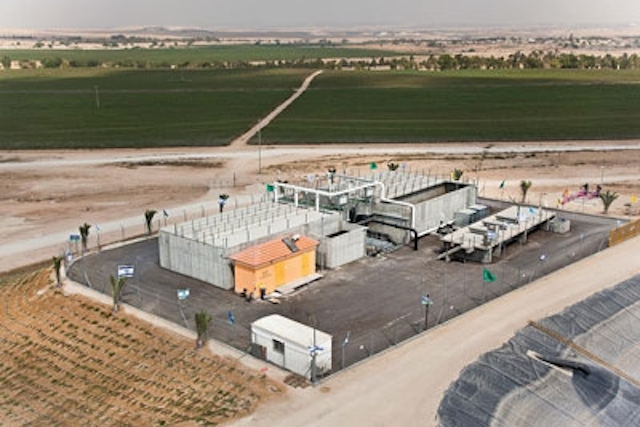 Building on its Sta-Pure® Pump Tubing, W.L. Gore &Associates has introduced Gore® High-Resilience Tubing Style 400, which features a composite of Viton® fluoroelastomer with the company's unique reinforcement technology. The Viton elastomer has exceptional resistance to a broad range of chemistries, including aliphatic and aromatic hydrocarbons, alcohols, nearly all inorganic acids at any concentration and steam. The reinforcement technology helps the tube last more than 50 times longer than standard Viton peristaltic pump tubing.
W.L. Gore & Associates,
www.gore.com/industrialtubing
---
Trace metal removal
Siemens has introduced a new specialty media that removes regulated metals from industrial wastewater, groundwater and storm runoff water. The SCU™ Trace Metal Removal Media removes trace levels of metals such as copper, zinc, lead, mercury, cadmium, trivalent chromium, nickel and others. The media can achieve levels below one ppb for most metals at flow rates up to 5,000 gpm. For mercury, the media can achieve levels below 12 parts per trillion (ppt), which meet the current U.S. targets for discharge into the environment.
Siemens,
www.water.siemens.com
---
Pump monitoring switch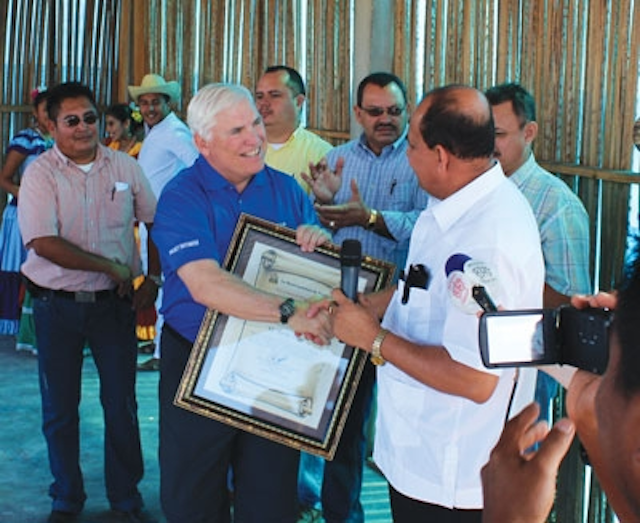 The FlexSwitch® FLT93 Pump Protection Flow Switch from Fluid Components International (FCI) can reduce pump repair and extend pump life by detecting dry running conditions caused by irregular liquid flows or slurries. The switch monitors the flow, level and temperature of liquids. It is ideal for pump wet/dry detection, where unexpected reductions in media flow rates may leave pumps vulnerable to over-heating conditions that can result in bearing or seal damage. With its dual alarm capability, the switch will detect a low-flow situation anywhere between 0.01 and 3 feet per second (FPS) and sound a warning.
Fluid Components International,
www.fluidcomponents.com
---
Bar Screen
JWC Environmental's new Bar Screen Monster™ is a self-contained reciprocating rake bar screen designed to capture and transport large amounts of wastewater debris to the discharge point. It uses industry exclusive features such as a fully submersible, explosion proof brake motor that drives the rake along the tracking system. As the carriage moves up, the rake removes debris from the bar rack. The unit consists of a fully replaceable, non-lube pin rack and tracking system for maintenance without removing the screen from the channel.
JWC Environmental,
www.jwce.com
---
Biogas energy system
Anaergia has introduced a new system to generate biogas energy at wastewater treatment facilities using advanced anaerobic digestion technologies. The patented system can create additional revenue streams for utilities by digesting food waste, fats, oils, grease and other high-strength waste streams. The company also offers "build, own, operate" solutions and power-purchase agreements that provide predictable long-term energy prices with no upfront capital or O&M investments, enabling the utility to focus on their core business.
Anaergia Inc.,
www.anaergia.com
---
Particle imaging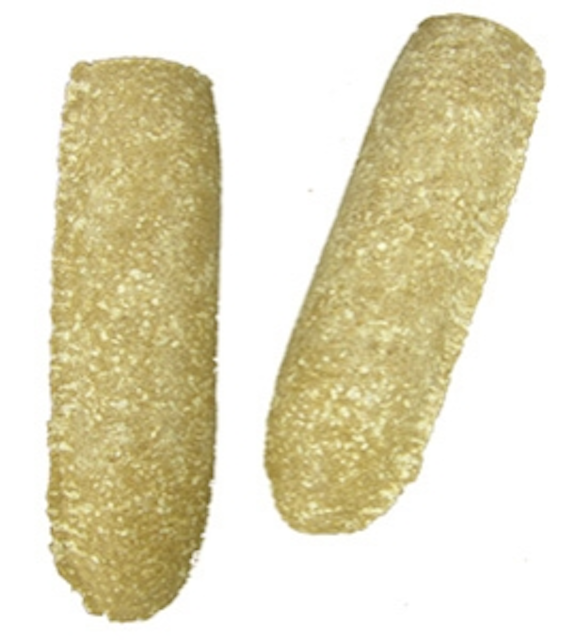 Fluid Imaging Technologies has introduced Visual Spreadsheet© V3.0 particle analysis software. A companion to the company's FlowCAM® particle imaging and analysis system that automatically detects, images and identifies particles and microorganisms, the new software features new graphing functionality that allows users to create custom scattergrams and histograms by choosing the variables on the x and y axes from a menu of the system's 32 different measurement parameters without rerunning the sample. Permitting the size, length, width, perimeter, roughness, intensity, fluorescence and the other parameters to be quickly switched both during and after processing, the software provides access to more than 1,000 different combinations for segmenting and evaluating the data from new perspectives that were previously unavailable on any type of analysis instrumentation.
Fluid Imaging Technologies,
www.fluidimaging.com
---
Rotary screw compressors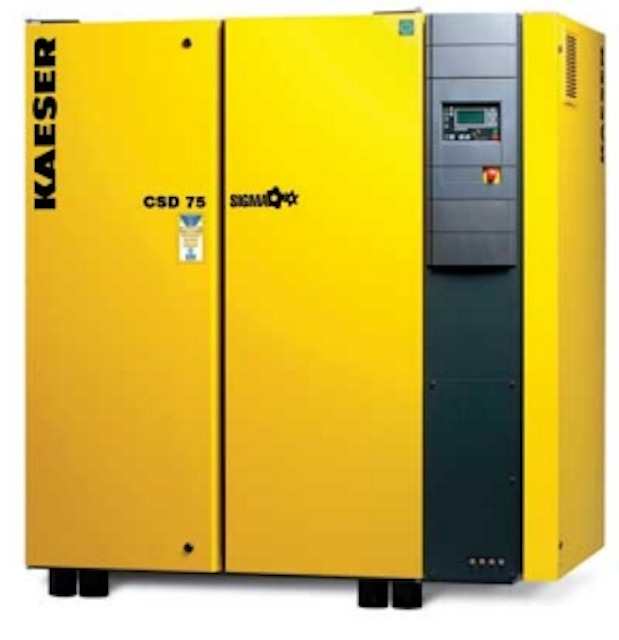 The redesigned CSD rotary screw compressor from Kaeser is available in flows from 186-565 cfm (60-125hp) and pressures to 217 psi. The compressors come standard with several new features including the Sigma Control 2 intelligent compressor control. The controller monitors 20 critical operating parameters and provides enhanced communications capabilities with a built-in Web server and standard Ethernet port. The control also equalizes runtime, extends maintenance intervals and prevents unnecessary starts with two-unit lead/lag sequencer programming.
Kaeser Compressors,
www.kaeser.com/sigma
---
PE fittings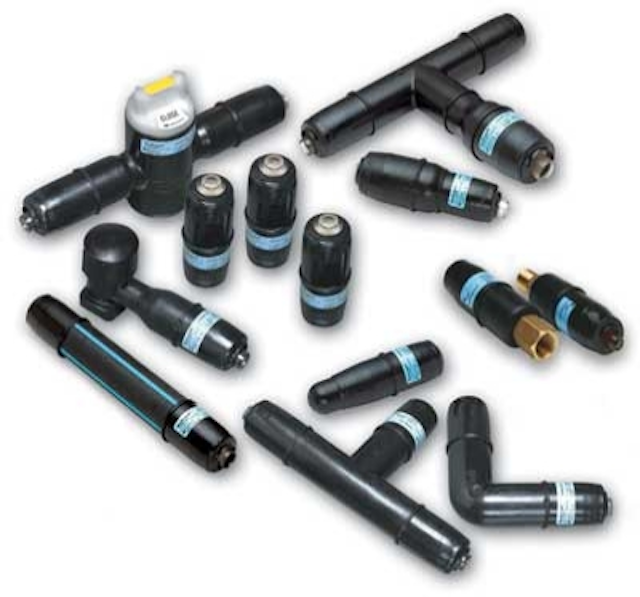 Elster Perfection's Hydrosert® line features lead-free polyethylene water fittings for connecting HDPE pipe. The fittings offer a quick installation with no loose components and a total installed cost savings versus conventional brass or pack type fittings.
Elster Perfection,
www.elster-perfection.com
---
Management software
GE's Smallworld Water Office software solution is a suite of data models, applications and integration products designed to help water supply and drainage utilities meet their current and future spatial asset management needs. The network model provides structure to meet customer demand for a full water supply production, transmission and distribution system. It is an addition to GE's integrated and customizable suite of Smallworld geospatial applications. The software can lower the cost of ownership for any utility by eliminating the need to develop, test and maintain a complex collection of applications and interfaces.
---
Casing isolators, spacers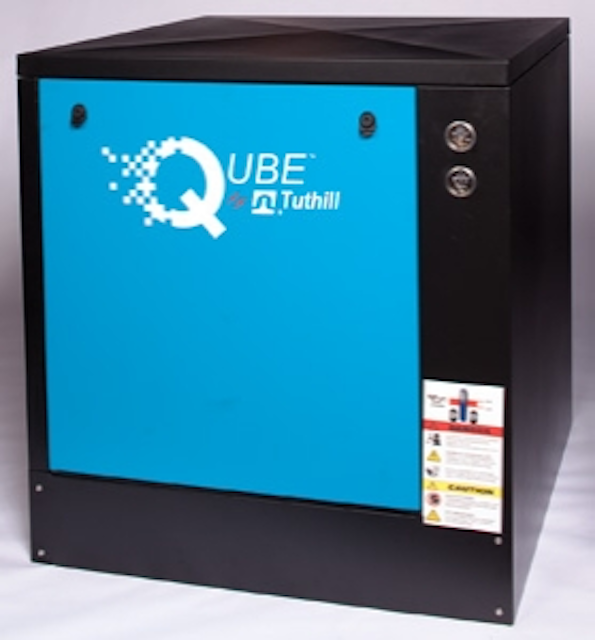 PSI/Pikotek, has added lower runner segments for securing carrier pipes in its Ranger II® non-metallic casing isolator/spacer system. The smaller sizes will be available in the mini, midi and medi segments for the boltless, UV-resistant, polypropylene system. They not only eliminate the need to cut down segments in the field, but also facilitate installation when confronted with smaller annular spaces for carrier/ casing pipe differentials.
PSI/Pikotek,
www.ranger2.com
---
Management software
Hach has introduced WIMS™ 7.2, the latest version of its Water Information Management Solution for Lean Operations. New features include enhanced electronic reporting capabilities, additional integrations with Hach instruments and improved usability for configuring dashboards, input forms and variable lists. The software platform is designed specifically to help water and wastewater utilities be more efficient and strategic in their operations. It provides real-time visibility and actionable data related to all facets of a water and wastewater utility, allowing operators to optimize resources (facilities, supplies and people) and control costs.
Hach Co.,
www.hachwims.com
---
Hose pumps
The Bredel SPX pump handles a variety of harsh materials, such as abrasive lime slurries and corrosive chemicals. The precision machined hose is designed for long life even when pumping slurries that cause other pumps to fail. With flow-rates up to 350 gpm and pressures up to 232 psi the pumps are designed for continuous duty under the most difficult application conditions. Peristaltic hose pumps are virtually maintenance-free, with no seals to replace, no check valves to clog, and no rotors and stators to wear out. Unlike other pump types, the highly abrasive nature of lime slurries does not affect pump life.
Bredel Hose Pumps,
www.wmpg.com
---
Mixers, circulators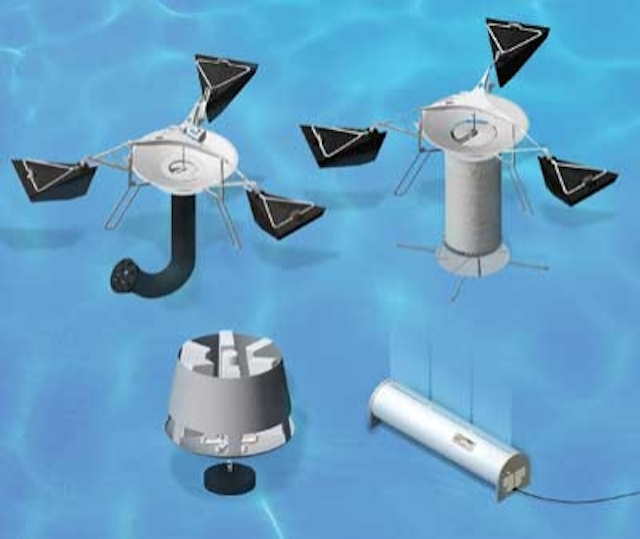 GridBee grid-connected mixers and circulators from SolarBee offer the same mixing benefits as the company's solar-powered machines for potable water, wastewater and freshwater pond applications. Developed from the same long-distance circulation technology as the solar-powered models, they help solve water-quality problems by creating a near-laminar flow that can prevent and control blue-green algae in lakes and raw water reservoirs, reduce aeration run-time in wastewater and eliminate stagnation and thermal stratification in potable-water storage tanks.
SolarBee,
www.solarbee.com
---
Aeration control
Endress+Hauser has developed an "Instrumentation for Aeration Control" package geared specifically toward advanced aeration control strategies. Instruments available measure dissolved oxygen, nitrate, ammonium, pH, suspended solids, temperature, air flow rates, air pressures and water levels in aeration basins to provide enhanced control of a process. The combination of sensors and transmitters ensures that the proper amount of air is blown through the system at the correct basin level, and that the process is removing nutrients from the water efficiently and reliably.
Endress+Hauser,
www.us.endress.com
---
Data management
FlowWorks has introduced new data editing and analysis tools, now included free as part of the company's web platform. The secure web platform is used for gathering, analyzing and understanding all forms of environmental monitoring data. The system is hardware neutral, receiving data from all manufacturers' flow and level meters, rain gauges and data systems. It also collects data directly from SCADA systems, USGS and NOAA environmental stations and more.
FlowWorks Inc.,
www.flowworks.com
---
Centrifugal pumps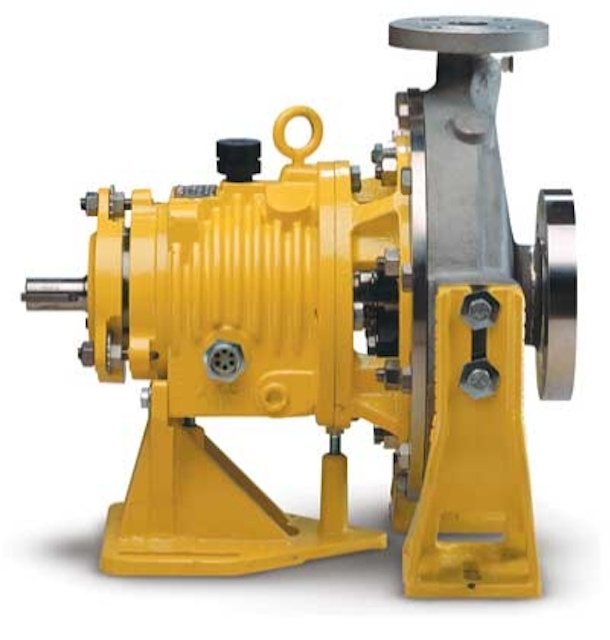 The Blackmer® System One® centrifugal pumps are designed for high-volume, severe-duty applications, including the water and wastewater industries. Designed around the seal where 90% of pump failures occur, the pumps have a stiffer, heavy-duty shaft and larger bearings resulting in a wide operational window off the Best Efficiency Point (BEP). This means facility operators can expect the pump to improve mean time between failures to reduce maintenance costs.
Blackmer,
www.blackmer.com
---
Grit removal
John Meunier, a Veolia Water Solutions & Technologies company, has introduced the Mectan V®, a new generation of induced vortex grit removal systems. The compact solution is engineered to remove grit over a wide range of particle sizes. It capitalizes on the enhanced conical design of the company's original Mectan® grit removal system. With its new configuration, the unit offers grit removal over a wide range of hydraulic conditions, providing multiple outlet channel positioning options, low headloss, lower power requirement, and a decreased carbon footprint.
John Meunier,
www.johnmeunier.com
---
Waste air recovery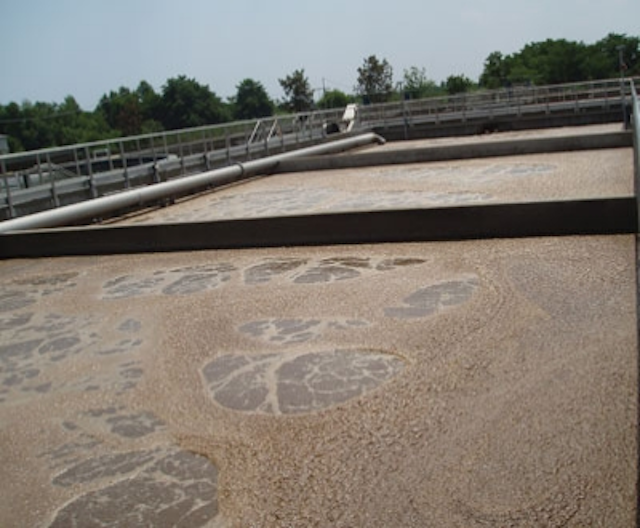 Using a patent-pending Waste Air Recovery System, or WARP Technology™, a new wind generator uses exhaust air produced by mechanical and HVAC equipment to produce electric energy. As part of a new agreement, Earthwise Environmental has begun marketing the product produced by GreenCycle Wind. Units range in 500-watt increments up to 4,500 watts and are semi-custom to meet the needs of almost all customers. They are stackable for multi-unit use and compact with a light design for one-person installation.
Earthwise Environmental,
www.earthwiseenvironmental.com
---
Vehicle tracking
Clevest Solutions has released version 3.3 of its GPS-enabled Automatic Vehicle Location (AVL) software. Built on best practices specific to utility field operations, the latest release makes managing a mobile fleet easier and more convenient with ESRI- and browser-based mapping capabilities in the office and in the field. The new capabilities are integrated with the company's workforce management solution for a single, geographic view of a utility's asset infrastructure and the work created, assigned, performed and managed within it.
Clevest Solutions,
www.clevest.com
---
Valve locks
Netherlocks' TVL (Throttle Valve Lock) allows users to secure a throttle, choke or control valve in any position. The TVL can help ensure that specific calibration settings are not changed without the proper clearance. It is integrated onto the valve and controlled by a single key which, when removed from the lockbox, renders the valve inoperable. Products like wires and chains to secure a valve allow small movements even while the lock is applied. When the TVL is used, it leaves no room for "play" and protects the valve's calibrated position. The lock is constructed from corrosion resistant 316 stainless steel and designed to withstand extreme operating environments.
Netherlocks USA,
www.netherlocks.com
---
Customer service
Level One has developed a New Customer Welcome Kit specifically designed to meet the needs of public utilities. The turnkey kit is easily customizable to provide a personalized greeting for new customers. The kit simplifies compliance with public utility commission requirements to provide information such as emergency procedures and contacts, conservation tips and explanations of responsibilities of the customer and of the utility.
Level One,
http://golevelone.com
---
Drip oil
Hydrotex® has released its Ultra-Kleen™ Drip Oil for potable water systems. The product is formulated with pharmaceutically pure synthetic base oils with an advanced USDA/FDA authorized non-toxic anti-corrosion system. These additives work synergistically with the oils to provide lubrication and corrosion control for water wells, potable water systems and agricultural irrigation systems. This product is registered with NSF International and meets the NSF/ANSI Standard 60 for use in potable water applications.
Hydrotex®,
www.hydrotexlube.com
More WaterWorld Current Issue Articles
More WaterWorld Archives Issue Articles