New Literature
Apr 1st, 2011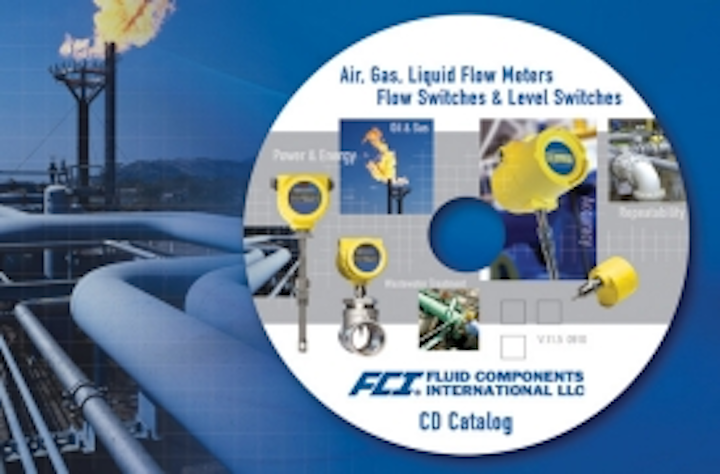 Flow, level measurement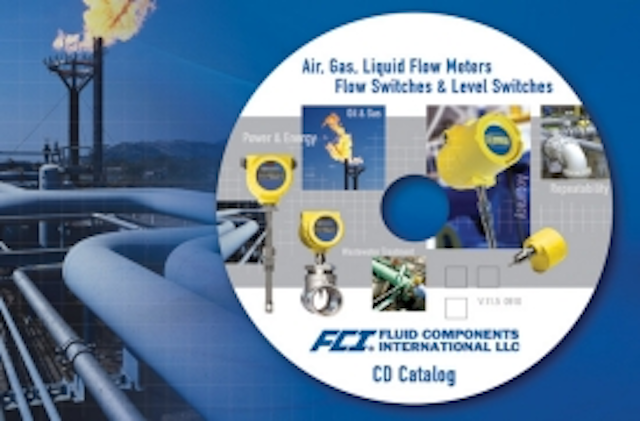 With helpful case studies, applications notes and best practices information, the new FCI Flow/Level Measurement Product and Services Catalog CD Release 11.5 provides a wide range of instruments that increase process productivity, reduce plant maintenance and lower operating costs. The catalog can help engineers in specifying the right flow, level or temperature instrument. The new CD explains FCI's precision thermal dispersion mass flow measurement technology, as well as providing comprehensive product specifications. It also includes the company's FAQ Library.
Fluid Components International
San Marcos, CA Tel: 800-854-1993
Web: www.fluidcomponents.com/cd
Circle No. 200 on Reader Service Card
---
Moisture, humidity measurements
The Michell Instruments' website offers information on the company's moisture and humidity measurement solutions. The company's humidity calculator is a comprehensive humidity calculation program that allows users to convert from dew-point temperature or relative humidity to a wide range of humidity related parameters, with pressure conversion and enhancement factors. Users can also download Michell's new literature, datasheets, range brochures, application notes and white papers in PDF format.
Michell Instruments Inc.
Newburyport, MA
Web: www.michell.com/us
Circle No. 201 on Reader Service Card
---
Enclosures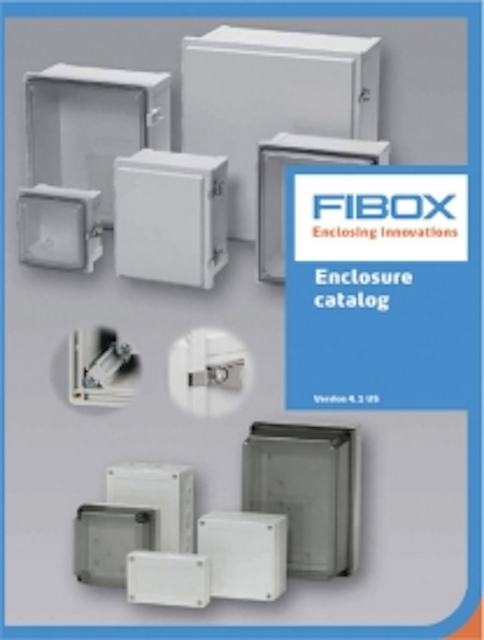 Fibox Enclosures has published its new 184-page, 4.1 US Enclosure Catalog, offered in hard copy and online. The catalog features nine RoHS compliant, corrosion resistant enclosure families, available in polycarbonate, plus selected availability in aluminum, fiberglass, and ABS. All families feature UL and cUL approvals. Applications include industrial, instrumentation, process control, solar and wind energy, and hostile environments. The catalog includes the newest addition to the Fibox family, the ARCA® JIC enclosure line. The enclosures provide customization, UV and chemical resistance, and wide temperature range. Other product lines include new sizes and accessories.
Fibox Enclosures
Glen Burnie, MD
Tel: 888/342-6987
Web: www.fiboxusa.com
Circle No. 202 on Reader Service Card
---
Double diaphragm pumps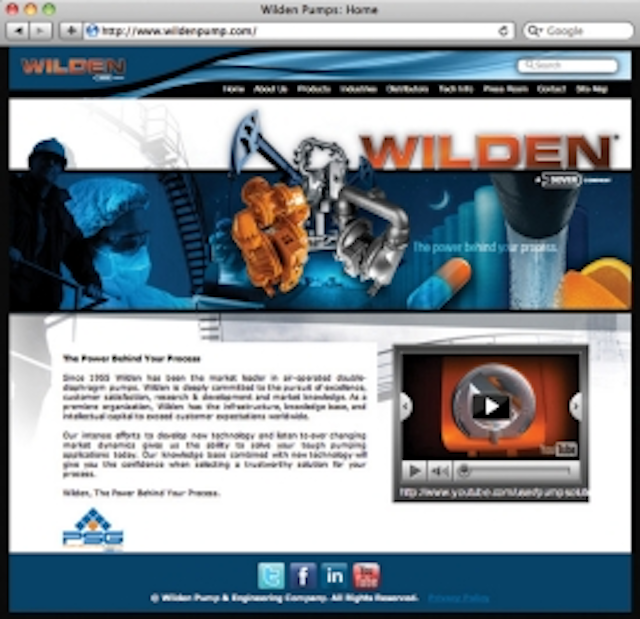 Wilden®, a provider of air-operated double-diaphragm (AODD) pump technology, has launched a new website. The site offers users the ability to search for products by brand, size, air distribution system and type. Users can also search for products by navigating through the industries served by Wilden, including water works and many more. Once users have navigated to an individual product page, new searchable product widgets are available to give users the option to further search through products.
Wilden
Grand Terrace, CA
Web: www.wildenpump.com
Circle No. 208 on Reader Service Card
---
Pump efficiency
The Hydraulic Institute Pump Efficiency Prediction guideline (HI 20.3-2010) is now available in a separate, self-contained publication. The guideline presents a simple method that will help pump users predict normally attainable efficiency levels at the best efficiency point (BEP) for selected types of rotodynamic pumps when the rate of flow, total head per stage, net positive suction head available (NPSHA), and the service conditions are known. Graphs are used extensively to portray the relationship of pump efficiency versus different parameters. The guideline contains information that explains how surface roughness and internal pump clearances affect pump efficiency and helps users understand the power consumption and efficiency loss created by bearings, lip seals, mechanical shaft seals, and shaft packing.
Hydraulic Institute
Web: eStore.Pumps.org
Circle No. 203 on Reader Service Card
---
Wastewater mixers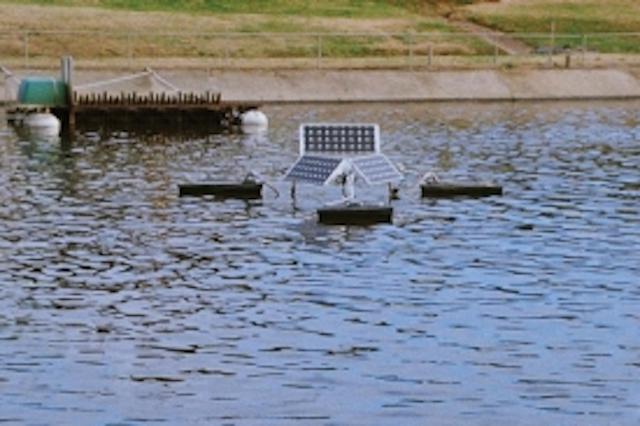 SolarBee offers a whitepaper on use of its SB10000 v18 mixers to reduce electric costs by 42 percent at the Eden, NC, activated sludge wastewater treatment plant. The solar-powered mixers take over the mixing function from brush aerators in the main reactor, cutting aeration requirements from 240 to 180 hp. The aerators are run only to provide the correct DO requirement. Additional results include precise DO levels for better control of BOD reduction, improved TSS level and sludge settling.
SolarBee
Web: http://wastewater.solarbee.com/white-papers
Circle No. 205 on Reader Service Card
---
Pump supplies
PumpScout.com is a dynamic search engine that helps pump buyers including engineers, maintenance professionals and contractors connect with pump suppliers and get price quotes. The website invites buyers to enter their pump system criteria and then identifies suppliers that sell the pump they need. Pump buyers can even specify whether they want service from a local or national supplier. The site features more than 80 pump suppliers and their product lines including Blackmer, AMT, Ruhrpumpen, Griswold, Wilden, and Cat Pumps. The suppliers' products serve multiple industries including water and wastewater. The site also includes numerous tips and tools from experts in the fluid handling industry.
PumpScout.com
Web: www.pumpscout.com
Circle No. 206 on Reader Service Card
---
Electronic test equipment
Fluke has published its new 2011 Test Tools Catalog. It features tools and expert advice on how test tool usage can improve the bottom line for commercial and industrial facilities. The catalog is available to order. The catalog details the full range of Fluke tools, including clamp meters, digital multimeters, laser distance meters, earth ground testers, electrical testers, indoor air quality tools, insulation resistance testers, power quality analyzers, process calibration tools, ScopeMeter tools, thermal imagers, thermometers, infrared windows, a vibration tester and accessories. Graphical illustrations of industrial and building facilities help readers understand which tool to use to diagnose and maintain their operations.
Fluke Corp.
Everett, WA
Tel: 800-443-5853
Web: www.fluke.com
Circle No. 209 on Reader Service Card
---
Flow products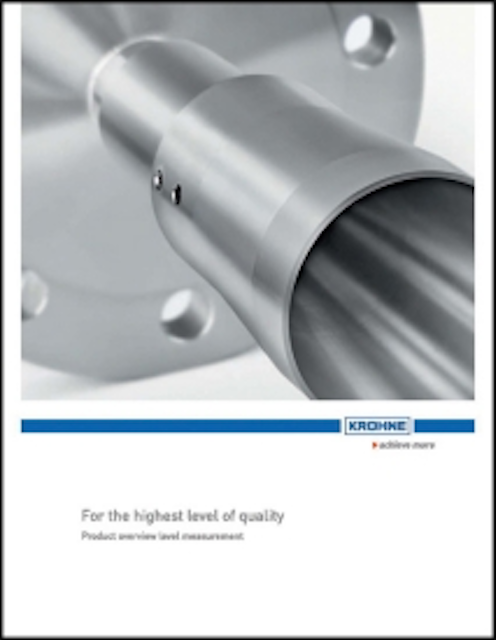 Krohne has published a new brochure for flow measurement products. The 58-page Level Product Overview brochure is designed to help customers choose the right flow device for their application, offering a chart that directs users to the most appropriate products. It includes information about the company's electromagnetic, variable, ultrasonic, mass and vortex flowmeters, as well its flow controllers. For each category of flow measurement products, the brochure provides product highlights, relevant industries, product specifications and full-color photographs. It also includes explanatory diagrams to illustrate the measuring principles applied.
Krohne Inc.
Web: www.krohne-downloadcenter.com
Circle No. 207 on Reader Service Card
---
UV technology
Aquionics has launched its new website, providing information, advice, and news on the company's UV technology, and UV water treatment generally. The new site will be a continually developing resource aimed at process engineers, plant designers, contractors, and anyone interested in discovering the benefits of UV technology in municipal, industrial, and aquatic applications.
Aquionics, a Halma Co.
Tel: 800-925-0440
Web: www.aquionics.com
Circle No. 204 on Reader Service Card
More WaterWorld Current Issue Articles
More WaterWorld Archives Issue Articles